Today, your website is one of the most critical factors of your online presence. That's why many cabinet manufacturers — especially those that began in the early days of the Internet — invest in professional web design.
A few factors make quality websites paramount. Kitchen and bathroom renovations are leading home improvement projects, while 80 percent of shoppers are starting their product research online, emphasizing the necessity for a website that's informative, fast, and easy-to-use.
At WebFX, we create intuitive websites for cabinetry that capture your brand, inviting new leads and revenue. That's why we've driven more than half a billion in revenue and maintained a client retention rate of almost 100 percent.
Learn more about web design for cabinet manufacturers below, or call 888-601-5359 (you can also contact us online) to chat about our award-winning web design services!
Why web design matters for cabinet manufacturers
For cabinet manufacturers, web design carries several responsibilities, including:
1. Defines user experience
Whether you're designing your next cabinet collection or your new website, you're considering the experience of users. In web design, user experience (UX) is a priority because it influences how users navigate and interact with your website.
Additionally, the customer experience matters more to consumers than your prices and products.
While approaches to user experience vary, the overall goal is to anticipate a user's needs before they even realize their need — like clicking on a larger version of an image, moving to another page, or filing a quote request.
Wolf Home Products demonstrates this concept. On their homepage, they offer a brief overview of their different cabinet series. They follow those overviews with a comparison sheet, reviewing the different prices, warranties, finishes, and more.
The design answers the users' question before they even ask it — "What's the difference between the collections?"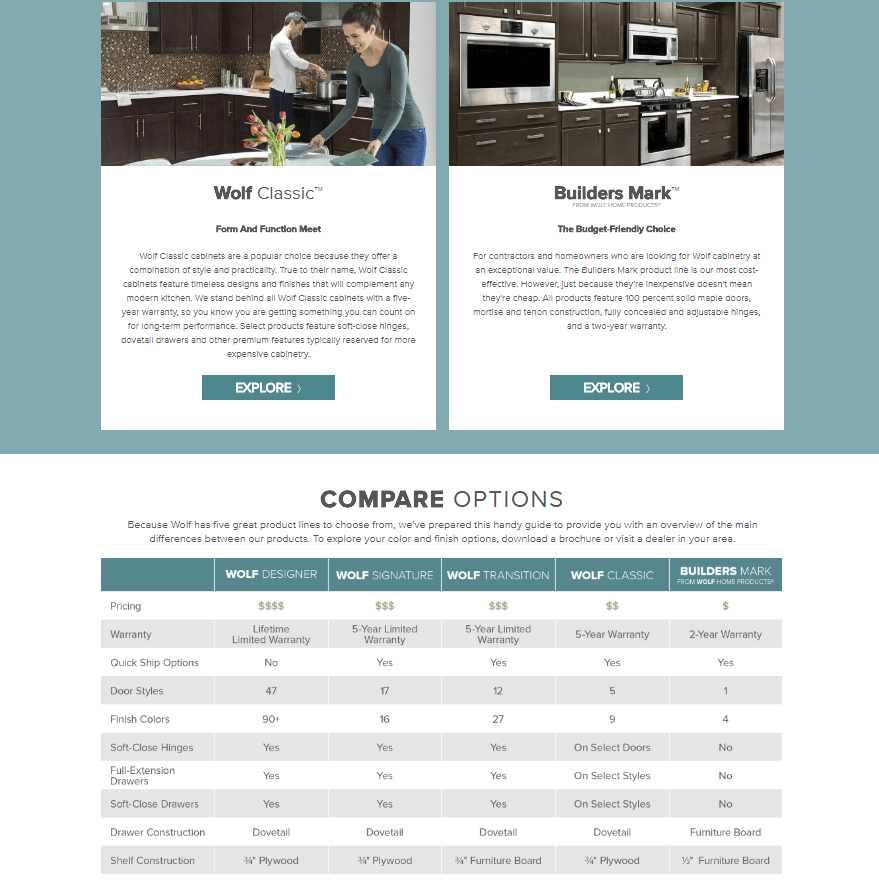 2. Represents company brand
Like the location, exterior, and interior of a brick-and-mortar store, your website represents the brand of your business, as well as its products. Do you stand for elegance and timelessness in your designs? Or, do you value sleek and modern? Who is your target audience?
Look again at Wolf Home Products, and now compare it to Medallion Cabinetry: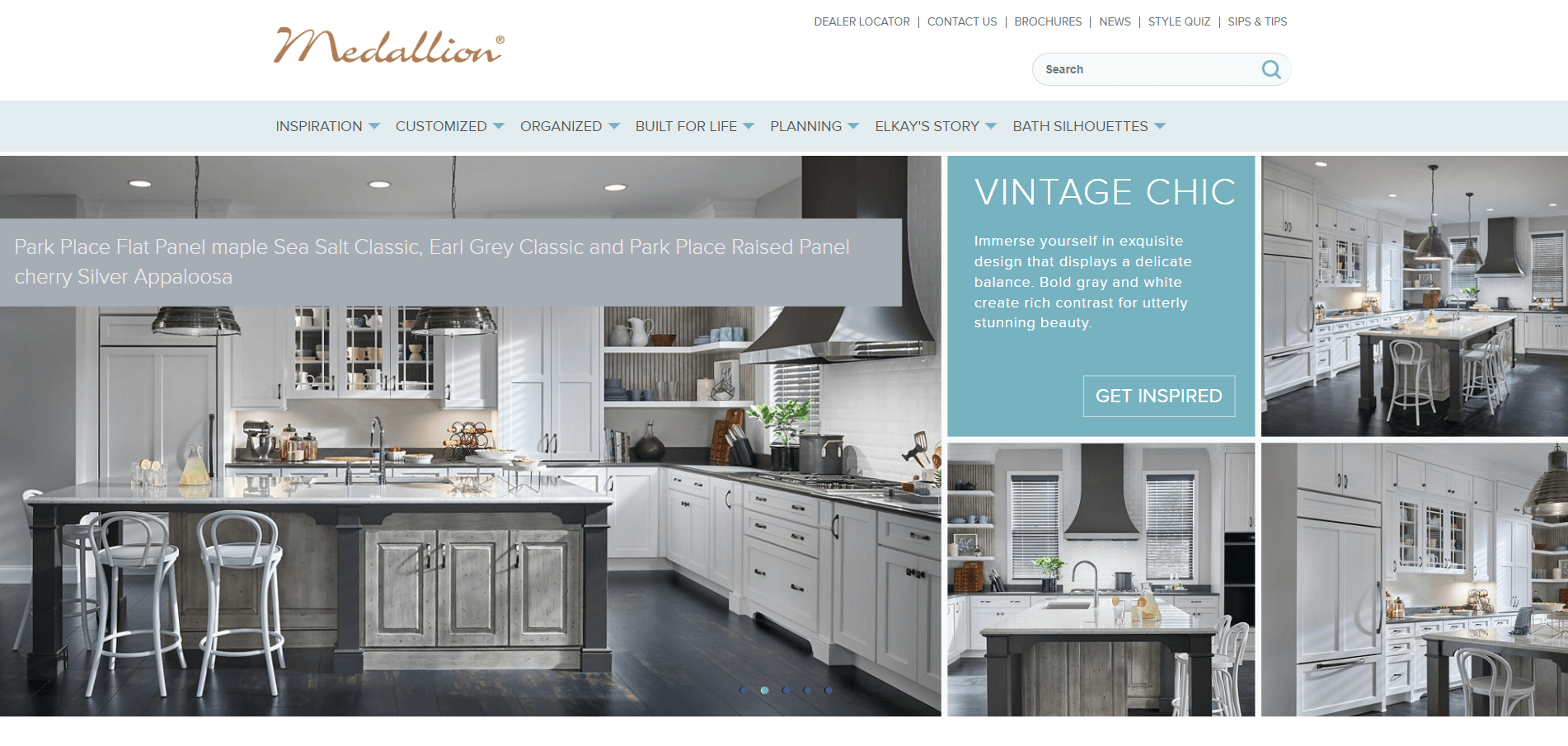 While Wolf Home Product shows a clear focus on family audiences, Medallion Cabinetry leaves its audience open, instead focusing on a lifestyle — in this case, vintage chic. The two brands are distinct from one another.
They accomplish that in multiple ways too, such as with the following features:
Images
Colors
Text
Content
They both, however, embody professionalism. That's what you want to consider when reviewing your current website. Is it professional? Does it encourage trust? Would people feel comfortable about providing their personal information, like a form of payment?
At WebFX, that's at the forefront of our designs. Our history of working with ecommerce stores allows us to design innovative, attractive, and secure websites that encourage customers to choose your company.

Our website redesign for Ceramcor, an ecommerce company for ceramic cookware, exemplifies this approach. It also led to Ceramcor increasing its annual revenue by 85 percent and decreasing its bounce rate by 60 percent — two significant accomplishments.
3. Sets you apart from competition
In addition to building customer trust and confidence, web design also allows your cabinetry company to distinguish itself from the competition. If your competitors feature outdated websites that encourage skepticism among shoppers, that's an advantage for you.
Unless it's your website that's outdated.
That's another reason why it's beneficial to partner with a professional website designer. It's a time- and resource-intensive process to design and create a website. It requires a specific skill set to make use of newer features of web design, such as for mobile devices, too.
If you're debating about skipping on a mobile-friendly website, don't — more than half of the world's Internet traffic comes from it.
4. Improves SEO
Today, search engine optimization (SEO) is everything. It helps your cabinet manufacturing website rank well in search results, which helps people find and purchase your products. The design of your website can also contribute to your on-page SEO strategy.
In website design, several coding elements contribute to SEO, including:
URLs
Title tags
Image alt tags
Page speed
Additional elements, like JavaScript, can also hurt your SEO. For crawlers, which search engines use to crawl and index the Internet, it's a challenge to decipher the content of a JavaScript element. That can leave your page unoptimized.
Due to the evolution of web design, it's become much more convenient for cabinetry companies to partner with a professional web designer. The fact that we specialize in Internet marketing, as well as web design, offers a unique advantage, as you can optimize and create your website at once.
Plus, our customer satisfaction score or Net Promoter Score (NPS) is almost 100 — and that's on a scale of -100 to 100, beating out many Fortune 500 companies.
5. Builds user trust
A variety of web design elements come together to form and build user trust, including:
Navigation
Professionalism
Branding
Payment security
Even your ranking in search results represents the trust of consumers, as well as other websites. By building your internal links — which are links to pages within your website — and earning backlinks — which are links from other websites to your pages — search engines recognize your authority or trust.
Of course, the quality of those backlinks will influence your level of authority. That's why it's vital that you earn high-quality backlinks from reputable websites, versus lower quality websites that'll offer little value to you.
We don't want to tell you about the work we do, we want to SHOW you.
View Our Portfolio

We've built over
Websites
in a variety of industries.
Hear What It's Like to Work With WebFX!

"WebFX has taken our PPC and SEO strategy to the next level. They always provide thoughtful ideas to further our brand awareness."
Cabinet Company
5 benefits of web design for your cabinetry company
In addition to providing your cabinetry business the means to showcase your brand, professionalism, and trust, web design also offers benefits that contribute to your growth and success — often in coordination with additional digital marketing strategies.
Five benefits of web design for your cabinetry company include:
1. Delivers an impressive ROI
If you treat users well on your website, that leads to substantial returns on your investment in redesigning or refreshing your website. In fact, every dollar you invest in UX offers a $100 retu
— that's a return of more than 9,000 percent!
More than 85 percent of customers are also willing to pay for a better experience. If your website features clunky navigation, broken internal links, or slow page speeds, you're eliminating yourself as a potential place of purchase.
If you have 1,000 shoppers visiting your website each month, that's 850 potential customers lost.
2. Decreases bounce rates
The fact that 89 percent of consumers shop with a competitor after a poor user experience corroborates that people will pay more for better treatment. That leads to several other statistics about how people respond to websites with a poor UX.
One is that almost 40 percent of users will stop interacting with a website if its images fail to load or take too long to load. This statistic is critical for cabinet manufacturers, as you're showcasing your various collections and designs via professional photographs.

Our redesign for the city of Ocean City New Jersey demonstrates this fact. By creating a brand-new desktop and mobile website, as well as optimizing it SEO, our experienced team decreased their bounce rates by more than 10 percent and increased their conversions by 40 percent.
3. Improves user impressions
The popularity of infographics emphasizes the importance of visuals to people. That's why more than 90 percent of first-impressions relate to design. In fact, when a user assesses the credibility of your website, 75 percent of their opinion comes from its design.
With a professional website designer, you can create a cabinetry website that engages consumers on a visual level, plus provides them with an intuitive experience that makes them stay on your website — and with your products.
4. Reduces product returns
Depending on your return policy, you may not have an issue with returns. For the industry, however, it's a $260 million problem — and one of the reasons customers often cite for returning products is that the product didn't match the description.
As a website designer for cabinetry companies, we focus on presenting your products with accuracy. That includes utilizing the images you provide of your cabinetry, as well as producing quality copywriting for SEO.
It's one of the many reasons why our client retention rate is almost 100 percent!
5. Supports mobile visitors
It's essential to support mobile users today — 80 percent of the world's Internet users own a smartphone, so you want to provide a UX experience that considers any device they may use to view or purchase your products
With a responsive website design, which adapts to the size of a user's screen, you can provide your target audience with an intuitive website. Mobile-friendly websites also improve the opinion of more than 60 percent of consumers, which is another bonus.
That kind of opinion, as well as consideration, can lead to better revenue and conversions for you.
Our digital marketing campaigns impact the metrics that improve your bottom line.
See More Results

WebFX has driven the following results for clients:

$3 billion
In client revenue

7.8 million
Leads for our clients

5.2 million
Client phone calls
Renovate your website with WebFX
With more consumers diving into home renovations for their bathrooms and kitchens, now's the time to optimize your website for not only search engines but also shoppers. With a new website or redesign from our experienced and hands-on team, you'll get a website that you and your customers love.
Discover the potential of your website by contacting us today — or chat with us by calling 888-601-5359!
Earn a 20% greater ROI with WebFX