Search engine optimization (SEO) — the practice of optimizing your web content to rank in Google search results — is one of the most effective digital marketing strategies on the market. When your content appears in Google searches, you can drive more qualified traffic that turns into conversions.
However, appearing in Google searches isn't as simple as putting content on your site and waiting on Google to rank it. You must take deliberate steps on your site to ensure your content satisfies Google's ranking algorithms.
So, how do you do that? How can you optimize SEO for commercial refrigeration companies? We'll answer that question in a list of refrigeration SEO tips below, so read on to learn more.
Then partner with WebFX — the agency with over 25 years of experience — for our SEO services. Just call 888-601-5359 or contact us online to get started!
Independent research from Clutch has named WebFX the
top SEO company

in the United States.

Clutch has personally interviewed more than 250 WebFX clients to discuss their experience partnering with us.

Read More Clutch Reviews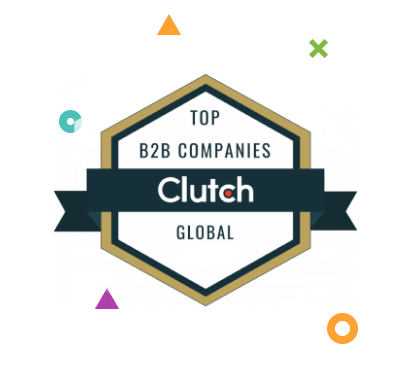 7 expert refrigeration SEO tips
Refrigeration search marketing requires some knowledge to do it successfully. There are ways to optimize your site so that Google's algorithms will rank it higher, and below we'll explore some of those methods.
Here are seven refrigeration SEO tips to try in your marketing!
1. Consider user search intent
One of the first things to know when developing content for SEO is that everything comes down to user search intent — that is, the reason users searched for the keyword that led them to your content.
For instance, if you write a blog post targeting the keyword "how refrigerators work," you need to write it to satisfy what users are looking for when they search that keyword. To find the search intent, you can look up the keyword in Google and see what sort of content is currently ranking.
If you don't optimize for search intent, no one will want to click on your content, because it isn't what they're trying to find. But when you take search intent into account, you'll see far more traffic coming to your site.
2. Write evergreen content
Another way to improve your content for SEO is to write evergreen content. That means you need to write content that will maintain its value and relevance for as long as possible.
To create evergreen content, there are several practices you should avoid. To start with, don't make any reference to the current year (unless that's the explicit focus of the piece). You should also avoid talking about current fads that won't be relevant a year or two later.
The idea is that even five or ten years down the road, your content will remain relevant and continue to drive traffic. Of course, even the best content will grow outdated eventually, at which point you can go back and update it to continue driving results.
3. Implement responsive design
Over 50% of all Internet traffic comes from mobile devices. That's why it's critical to have a mobile-friendly site — particularly since Google ranks sites based on their mobile format. If you don't have a mobile-friendly site, you won't rank very high.
The best approach to mobile-friendliness is to use responsive design, a type of web design where your site adjusts its layout to fit the screen where it appears. So, a page will look slightly different on a desktop computer than it will on a phone.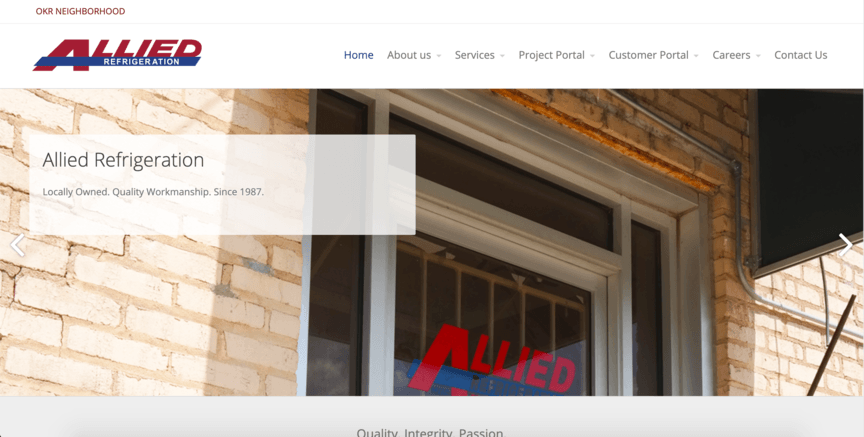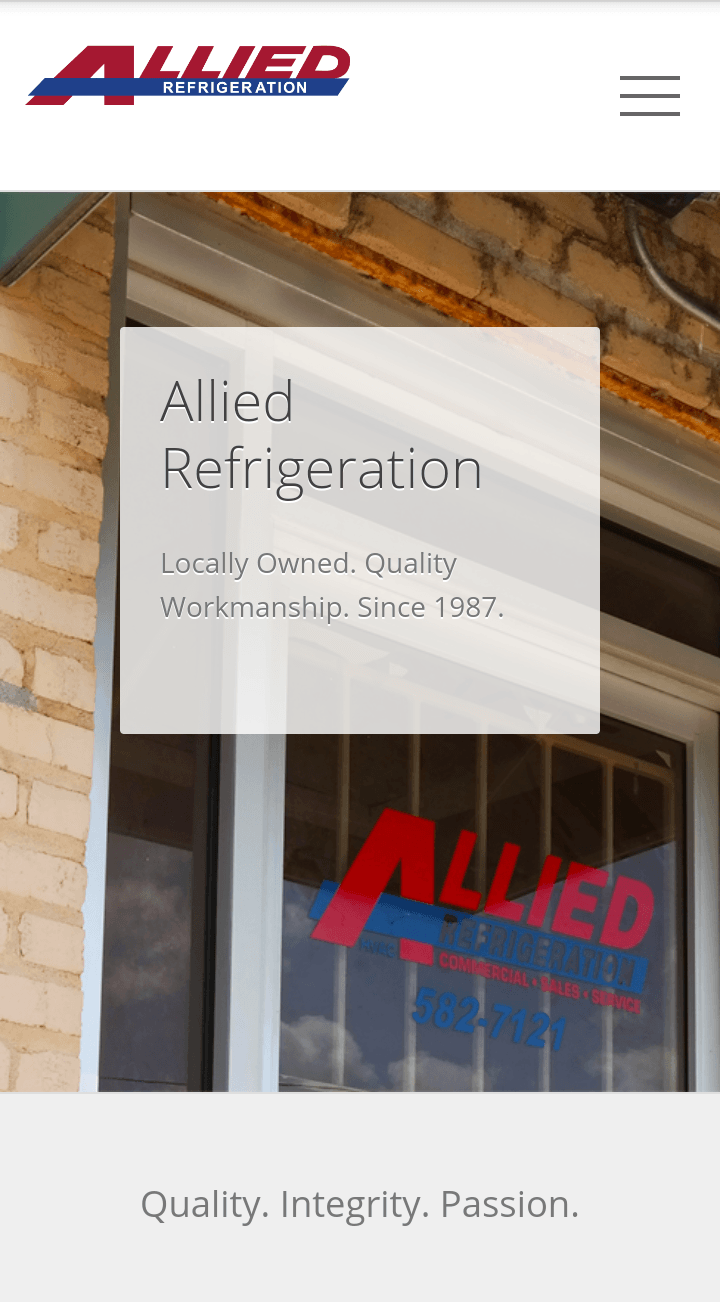 The result is that no matter what device they use, your potential customers have a functional and visually appealing website — and you'll rank higher in search results.
4. Improve page load speeds
Did you know that 83% of users say they expect websites to load in three seconds or less? Three seconds might not seem like much, but in the world of page load speeds, it's practically eons. If your site takes longer than that to load, most people will hit the "back" button.
For that reason, you'll want to get your pages loading as quickly as possible. There are several ways you can improve your page speeds, including:
Caching web pages
Minifying code
Compressing images
When you implement each of the above steps, your pages will load quicker. That, in turn, will lead to happier users and higher rankings!
5. Optimize images on your site
Another useful commercial refrigeration SEO tactic is to optimize images on your site.
The first step to optimize your images is to compress all the image files, helping your pages to load faster.
You can also use alt tags. Alt tags are short, descriptive pieces of text you can attach to images to describe what they depict. Using alt tags helps make your site more accessible to people with screen readers, since the screen readers can then tell what the images show.
Alt tags are also helpful for earning higher rankings. Just like with screen readers, they allow Google's algorithms to "read" images on your site. That means the images can contribute to your rankings, possibly even appearing in Google Images as well.
6. Set up your Google Business Profile
Not all your refrigeration search marketing has to take place on your website. You can also use Google Business Profile (GBP) to drive qualified traffic from search results. GBP is a platform where you can create a local listing for your business, with basic information like your address and contact info.
With a Google Business Profile, you can increase your chances of appearing in local searches. For a search like "refrigeration company in St. Louis," Google will often display a local SEO 3-pack near the top of search results, containing three GBP profiles that match the query.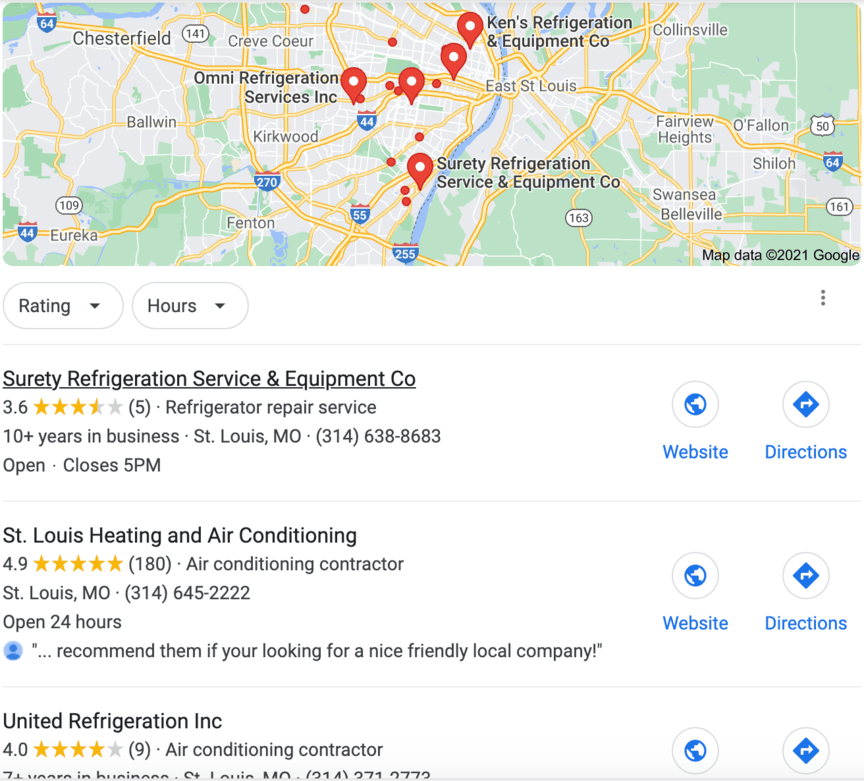 You may already have a profile that exists in your name, which you can claim by providing proof of ownership over your business. From there, you'll want to fill out as much information about your business as you can to maximize your chances of appearing in this feature.
7. Earn backlinks for your content
A final way to boost your commercial refrigeration SEO is to earn backlinks on your content. Backlinks are where reputable, third-party websites in your industry link to your content.
These links help Google see your site is reputable. If an authoritative website links to you as a source, Google assumes you must be reputable as well, and bumps you up in rankings.
To earn backlinks, look for broken or outdated links on reputable websites in the refrigeration industry. When you find some, contact the website to point out the broken link and offer a relevant piece of your content to replace it.
Good agencies have more than 50 testimonials.
Great agencies have more than 100 testimonials.
WebFX has over 1000+ glowing client testimonials.
See What Makes Us Stand out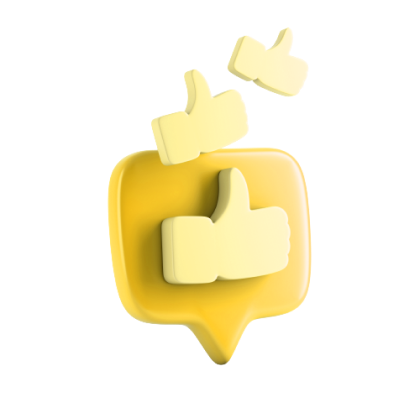 WebFX is the expert at SEO for commercial refrigeration companies
Still think you could use some help getting your refrigeration search marketing into tip-top shape? WebFX would love to give you a boost! Our team of over 500 experts knows commercial refrigeration SEO inside and out, and we can't wait to show you firsthand.
With our SEO services, you'll get help optimizing your marketing for each of the tips listed above and more. You'll also receive a dedicated account representative to keep you in the loop about everything we do for your campaigns.
To get started with us, just call us at 888-601-5359 or contact us online today!
Earn a 20% greater ROI with WebFX