Did you know that the average company receives an $8 ROI for every $1 spent on Google Ads? Pay-per-click (PPC) advertising is an excellent way for you to grow your farming business. This strategy will help you reach more leads interested in your farm and get them to convert.

On this page, we'll provide you with five benefits of investing in PPC for farms. If you have questions about how PPC can benefit your farm, contact us online or call us today at 888-601-5359 to speak with a strategist about our customizable PPC plans.
1. PPC helps you reach more leads interested in your farm
One of the most significant benefits of PPC for local farms is that this strategy helps you reach more interested leads. When you're marketing your farm, you want to reach people that have an interested in the products you offer.
You can reach more interested customers with the keywords you choose to target. When you run a PPC ad, you must choose keywords to trigger your ad in the search results. You must select the most relevant keywords that will help you appear in front of leads that are interested in your farm's products.
When you run paid ads for farms, you should focus on choosing long-tail keywords for your ad. Long-tail keywords are keywords that contain three or more words. An example of a long-tail keyword is "pumpkin picking farms near Harrisburg, PA."

These long-tail keywords are specific, so they drive leads looking for your farm. If someone searches "pumpkin picking farms near Harrisburg, PA," you know they are looking for a farm that offers pumpkin picking. If you run an ad advertising your pumpkin picking, people searching that keyword will click on your ad because it fits their exact interests.
If you targeted a more generic keyword, like "pumpkin" or "pumpkin picking," it's difficult to know what your audience wants to find in the search results. They may want recipes for pumpkin dishes, a pumpkin picking farm, or a list of fall activities to do. It's best to stick to long-tail keywords, so you don't need to question the user's search intent.

Hear What It's Like to Work With WebFX!

"We have enjoyed and benefited from our growing relationship with WebFX. The communication is strong, the results speak for themselves, and things are often fixed without us even having noticed they were off to begin with. We are grateful to have their support and guidance as we work on SEO, website traffic, campaigns, content, and more."
Agriculture
2. PPC helps you build brand awareness
PPC ads are a great way to build your farm's brand. People will see your ads in the search results and learn about what your farm has to offer. But one of the best perks of PPC for farming is the fact that you'll always be top of mind for interested customers, since you'll show up in ads.
Even if leads don't click on your ad, they're still exposed to it when they search. And the best part is, PPC ads show up above organic results, which means they're the first thing a user will see when they search for your target keyword.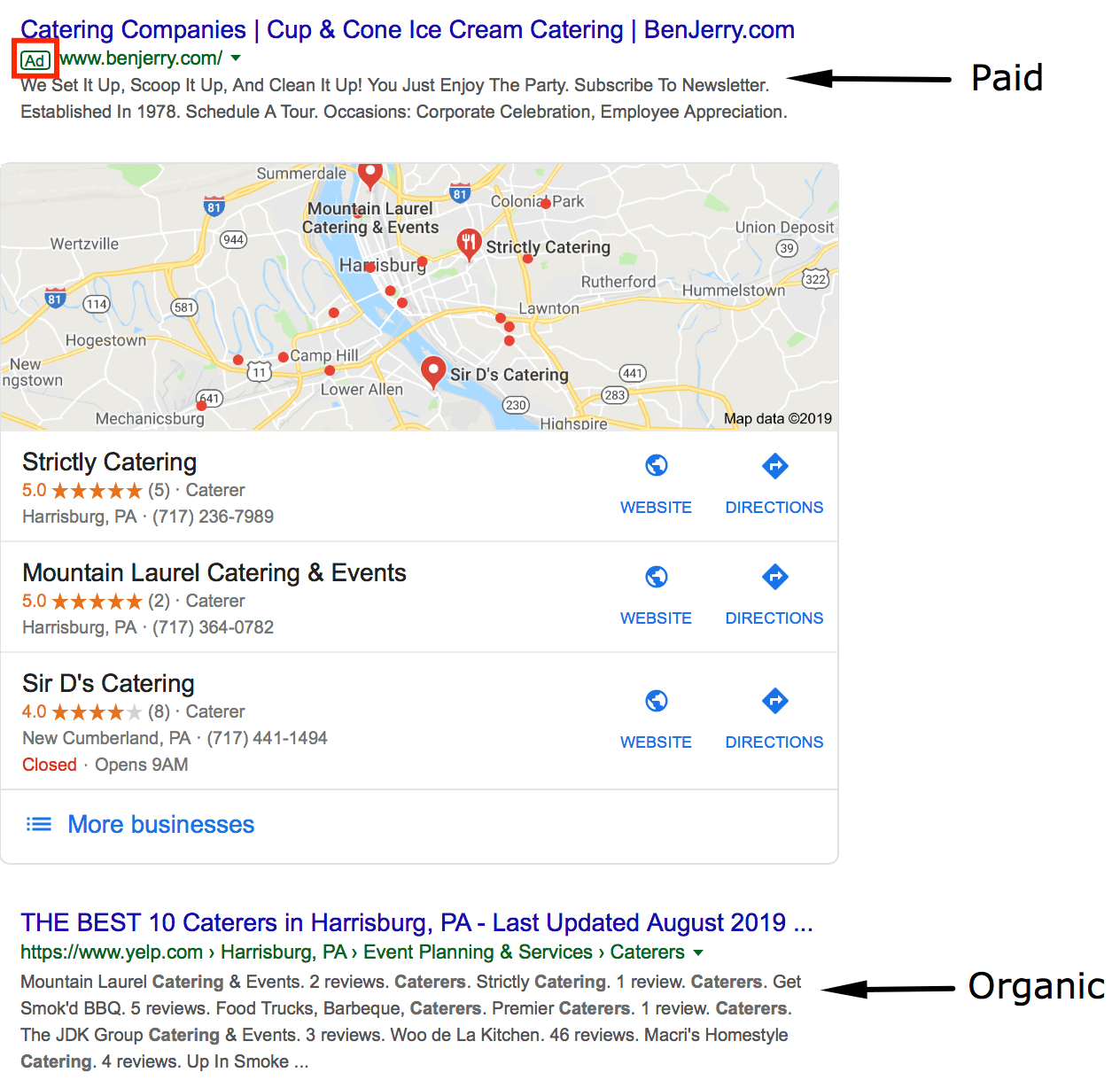 Even if they don't engage with your ad, they will still remember your farm. Leads will be more likely to choose your farm because they recognize your brand.
PPC ads are an excellent way for you to build brand exposure and get more leads to visit your farm.
3. PPC is cost-effective for your farm
When you're building a digital marketing campaign for your farm, you want to invest in methods that work with your budget. PPC is one of the most cost-effective strategies for your farm.
With PPC, you can set whatever budget works best for your business. Other methods require a specific investment amount, but PPC doesn't. There is no baseline or minimum you have to meet to run a PPC ad.
Your ability to choose your budget doesn't mean that all investment amounts will drive the same results. Someone who sets a $500 budget won't see as great of results as someone who invests $2,000, for example.
While there isn't a specific budget amount you have to set, you'll still want to balance between your budget and spending enough to have an effective campaign.
Another significant reason PPC is so cost-effective is that you only pay when people click on your ad — you don't pay for impressions. This setup means that your budget goes towards leads that are the most interested in your farm.
You can use your budget more effectively because you're only paying for people who click on your ads.
PPC for agriculture is also cost-effective because leads are more likely to convert. As we stated at the beginning of the post, PPC can earn businesses $8 for every $1 invested.
Ad clickers are 50% more likely to convert than organic visitors. When you run PPC ads for your farm, you're attracting more leads that want to visit your farm or buy your products. The money you invest in this method has a high probability of earning a good return for your business.

4. You have complete control over your campaign
Another benefit of PPC for local farms is that you can control your campaign. PPC offers you the freedom to decide how you want your campaign to look.
First, you decide how your ad looks. Google allows you to create an ideal advertisement for your audience. You can add Google Ads extensions to provide your audience with more valuable information. These extensions include:
Call extensions
Sitelink extensions
Location extensions
Callout extensions
Structured snippets
These extensions allow you to customize your ad to add information that's most important to your audience. Whether it's a phone number or additional links, you can add information to your ad to make it work for your business.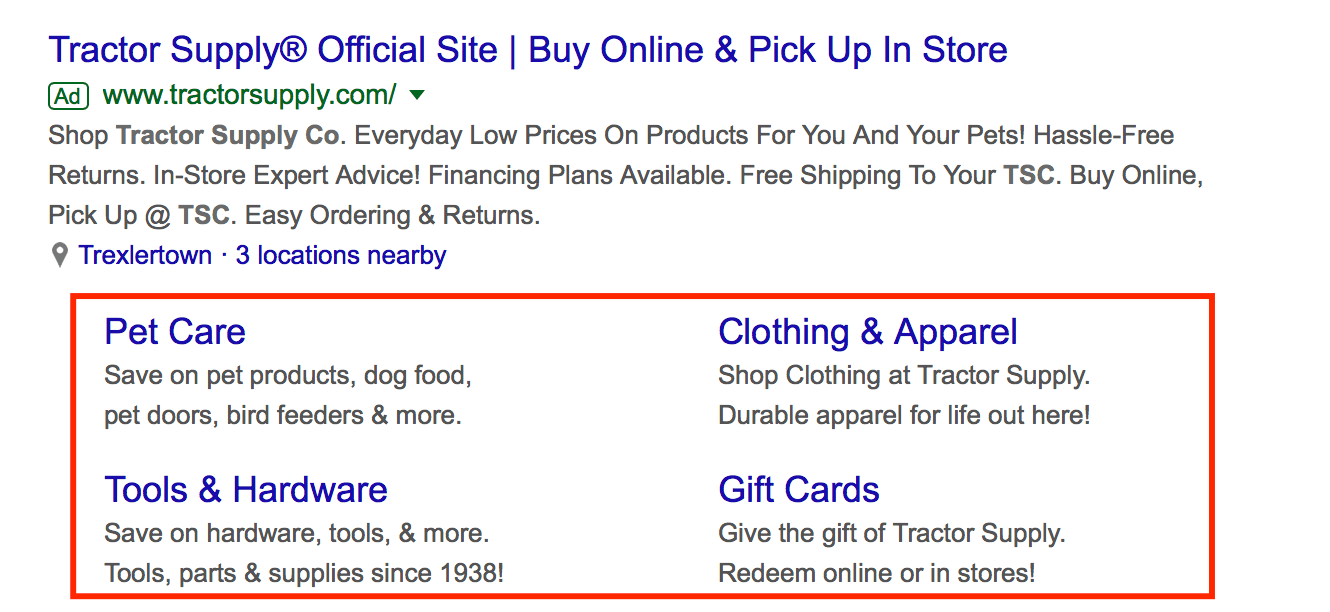 You also have control over the time of day you run your ad. Whether it's the morning or evening, you decide the best time to deliver your ad to interested customers. Your farm knows when you're most likely to reach your audience, so you save your business money by only running your ad when your audience is expected to see it.
Additionally, you choose how long to run your campaign. You can run campaigns for the duration of a season, like an apple picking or strawberry picking season. If you're having a special event on a specific day, you can run an ad in the days leading up to the event.
Lastly, you control the presentation of your landing page. When users click on your PPC ad, they see your farm's landing page. You decide how this landing page looks, the information on it, and what you want your audience to do when they visit the page.
When you have control over your PPC campaign, you can create a campaign that works better for your audience. It's a great way to help you generate more effective paid ads for your farm.
5. You can monitor your PPC campaign to ensure its driving results
When you invest money into a campaign, you want to ensure it's working. With PPC, you can monitor your campaign's metrics to ensure that it is driving results for your business.
Google Ads allows you to monitor different metrics of your campaign to see if your PPC ad drives success for your farm. These include metrics such as:
Impressions
Clickthrough rate
Conversions
These metrics allow you to see if your PPC ad resonates with your audience. You can figure out which parts of your PPC campaign work for your audience, and which aspects need improvement. It's a great way to help you create a better ad that drives more results.
Ready to start creating PPC ads for your farm?
PPC ads are an excellent way for your business to reach new leads interested in visiting your farm. When you invest in PPC for farms, you'll reap numerous benefits that help your farm grow. At WebFX, we have over 20 years of experience running PPC campaigns that drive results for our clients.

If you're looking for a company that will help your farm grow, look no further than WebFX. In the past five years, we've driven over $3 billion in sales and over 7.8 million leads for our clients. We know how to create PPC campaigns that grow our clients' businesses.
Ready to learn more about how PPC ads will help your farm grow? Contact us online or call us today at 888-601-5359 to speak with a strategist about our custom PPC campaigns.