SEO is the single most important marketing strategy to any industrial company.
That's because no matter how much you advertise your company on traditional channels like radio and newspaper, nothing can take the place of optimizing your website to ensure that it's easy to find in search engines.
SEO, or search engine optimization, is a process that helps your industrial company's website rank highly in results pages, so that it gets the most possible clicks from customers that are looking for your products and services.
If you'd like to speak with an SEO specialist about our SEO services, you can contact us at 888-601-5359.
WebFX knows manufacturing.
"Working with WebFX, everything is very organized and strategic. We're only a year into our partnership, and our expectations have definitely been met."
— C.H. Reed, Industrial Solutions and Services
See the Testimonial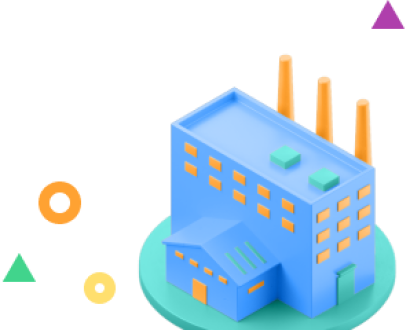 Why do industrial companies need SEO?
When someone searches for industrial services online, they aren't going to click through pages of results to find your industrial company. If your industrial company doesn't show up on the first page of results, it's unlikely that searchers will find it.
The first page of Google results receives 91.5% of total clicks – and with each following results page, the percentage of clicks shrinks. That means that if you want your audience to find your website, it's extremely important to be near the top of the first page for keywords related to your products and services.
On average, the first result on page one receives 29.6% of the clicks for each search, which decreases by more than half to 13.1% for the second result on page one.
So if you want your industrial company to get the most traffic possible, ranking well in search results is essential – and SEO is the best way to improve your placement.

Hear What It's Like to Work With WebFX!

"We had been looking for a new SEO firm responsible for industrial companies and we found the right one with WebFX. We have had nothing but great experiences so far and don't expect anything to change moving forward."
Boiler Installation
What are the most important parts of SEO for industrial companies?
There are many moving parts to an SEO campaign, and each one is important to achieving the results you want.
1. Keyword research
Keyword research is one of the first step in any SEO campaign, and will help guide your strategy.
Keyword research involves coming up with a list of keywords that are most important to your industrial company. These words and phrases are what customers search for when they're looking for your products and services.
It's important to know what keywords your target audience searches, along with their search volume and level of competition, so that you can properly target them throughout your content. You can get this information from free keyword research tools like Keywordtool.io.
When you identify keywords that have the perfect combination of high search volume and low competition, you can build your strategy to generate the best possible results.
2. Informative content
When customers visit your website, they're not always looking to immediately purchase your products. Sometimes, they're simply looking for information.
That means that in order to keep them on your site, you should provide useful, informational content that your customers can learn something from.
There are a few different kinds of content that perform well for industrial companies.
Blogs are one form of content that Google loves. They are consistent, new additions to your website, which gives Google more to index, and therefore, more content that can show up in search results for your website.
Longform content is another form that is usually more than 2,000 words, and talks about a topic at length. A longform piece of content should be the only resource that a visitor needs to get the answer to their question.
Your content could be about industry news, a new service you're offering, or why a certain part is best fit for a specific project.
3. Content targeting longtail keywords
No matter what kind of content you produce for your industrial company's website, you should try to target longtail keywords.
Longtail keywords refer to highly specific keyword phrases that offer less traffic, but are also less competitive to rank for. The people that do land on your page because of a longtail keyword are the most likely to convert.
An example of long tail keywords for an industrial company would be "large-scale manufacturing machinery in [your city]." This indicates that a searcher is looking for machinery in your area – meaning that they're much more likely to be a potential customer than someone looking for general information.
4. Navigation
SEO also involves the ways that customers can interact with your website.
First, you have to make sure that your site's navigation is simple to ensure that your customers can find what they're looking for on your site. If it takes them forever to find your pricing, they could easily bounce from your site to find another company.
If you have a lot of pages, you may want to consider drop-down navigation that allows users to click on a tab and see more options related to the title.
A navigation bar is typically located at the top of web pages. As an industrial company, your navigation bar could include tabs like "About Us," "Services We Offer," "Parts we Sell," and "Learn More." With these tabs, users will be able to find exactly what they're looking for in a hassle-free way.
5. Mobile responsiveness
Another part of SEO is ensuring that your website is responsive across all devices.
Many Internet users find what they're looking for by searching with their smartphones or tablets. To meet them where they're looking, your industrial company's website should have a website that performs just as well on other devices as it does on a desktop.
This will ensure that you don't lose any customers just because they can't properly view your website.
Do you need help with SEO for your industrial company?
If you'd like to improve your industrial company's rankings in Google search results, WebFX can help.
We know the industry, and we understand how important every sale is. Our team of SEO experts will work with you to create a strategy that's tailored to your goals, then optimize your site so that it ranks well in results pages for the keywords most valuable to your business.
Contact us online today (or give us a ring at 888-601-5359) to learn more about using our SEO services to attract more leads and revenue to your industrial business!
Earn a 20% greater ROI with WebFX