Like many other businesses in industrial industries, mining faces a unique challenge when it comes to growing customer bases. How do you advertise a company that typically operates without much publicity or public-facing opportunities?
The global mining market is expected to reach $3.36 trillion by 2026, but you'd never know it unless you're an active part of the industry. Mining is a critical part of life worldwide, but most mines and mining companies operate behind the scenes to source minerals and other materials for processing.
While retail stores, health care facilities, and vacation resorts can use tools like social media outreach and public events to drum up buzz and secure leads, mining companies have to be more intentional and strategic.
37% of marketers say that generating high-quality leads was one of their biggest challenges.
We want to decrease that percentage.
WebFX can help you generate high-quality leads with a customized marketing strategy.
Learn More About Lead Generation Services
How does digital lead generation benefit the mining industry?
Generating leads means using various strategies, resources, and research to find and attract those most likely to become contracted clients.
Here are just a few benefits of lead generation for mining companies:
Establish your company's credibility:

Digital lead generation is all about getting your company's name and

unique selling propositions (USPs)

online and in front of those most likely to want or need your services. The stronger your online presence, the more credibility your company has — especially when those leads visit your website to review your past projects and testimonials.

Build or protect a positive reputation:

Mining companies contend with the scrutiny of everyone from government officials to local media on topics spanning from environmental and community impact to regulatory adherence. A strategic lead generation campaign does more than find likely customers — it also presents your company in the best possible light.

Implement recognizable branding:

While branding isn't at the forefront of most mining company advertising, it still plays a significant role when earning leads and making a memorable impression. Lead generation strategies incorporating visual elements or your business's unique voice help you stand out. Branding also includes your company's culture, which further supports its reputation.
Four lead generation ideas for mining companies
Dig into digital marketing for mining companies with these lead generation ideas.
1. Account-based marketing
Account-based marketing (ABM) is a B2B strategy that focuses on creating hyper-specific campaigns tailored to a specific organization or company. It accounts for that entity's wants, needs, values, expectations, pain points, and hesitations. It also considers your business's direct competition and other possible interferences.
ABM is ideal for mining companies wishing to target high-revenue clients for the first time or hoping to renew a valuable contract in an increasingly competitive marketplace.
ABM marketing is also a cost-effective way to generate leads if you already have a list of potential contracts in mind — 89% of marketers say their ABM campaign had a higher return on investment (ROI) than their other strategies. Targeted advertising helps reduce financial waste that can come from larger, less specific campaigns.
Ask yourself the following questions before building an ABM lead generation plan:
What company or organization do you want to target with your campaign?

Why do you want to target them — will securing their business bring you a lot of revenue, increase your reputation, or align with your company values?

Who are the organization's key stakeholders and what do they want and need?

What possible objections could this organization have with your company or its services and how can you combat them with education, information, or compromise?

What are your USPs and which ones are most relevant to the key stakeholders?

Where is this organization most active, and which channels should you curate your ABM campaign for?

What could your competitor offer this organization that you can't and vice versa?

What is the ultimate objective of your initial ABM lead generation campaign?
Data is at the center of every part of an ABM lead generation strategy, making it challenging for non-marketers to implement seamlessly. An experienced digital marketing agency can collect and interpret the relevant data to create a fully customized and targeted campaign.
2. Content marketing
Content marketing is a strategy based on creating original content — like shareable infographics, videos, blog posts, and ebooks — and posting it on your website for your audience to discover and share. It's a great way to create easy-to-share material filled with search-friendly keywords.
Your content should be informative and related to your business or industry in some way. When done correctly, it helps establish your company as a legitimate industry leader and generate leads.
Possible content ideas for mining companies include:
Industry news and updates

Interviews with industry leaders, local representatives, or employees

Behind-the-scenes looks at what your company does in a specific region or sector

Overviews of employee skills and training

Educational material on mining as an industry

Environmental awareness pieces

Awards, recognitions, and certifications your company has earned

Press releases about your company and its work on specific projects

Economic benefits of partnering with your company on a particular type of project
3. Pay-per-click advertising
Paid ads appear across the Internet, including on social media platforms and at the top of search engine result pages. While a sponsored social media image is a pretty straightforward investment, pay-per-click (PPC) ads — ads you only pay for when a searcher clicks on them — are competitive and require a bidding strategy.
When running a PPC advertising campaign for a mining company, make sure you have the following:
A well-researched bidding strategy to outbid your competitors

A list of relevant, up-to-date keywords

A description of your target lead

Concise ad copy summarizing your company's USP or similar

A landing page on your website tailored to the specific ad
4. Search engine optimization (SEO)
Search engine optimization (SEO) encompasses everything you do to optimize your company's website for online visibility, such as:
Integrating relevant keywords into website copy.

Keeping your Google Business profile up to date.

Using various linking strategies to boost your place in the algorithm.
Earning and maintaining good online visibility is essential in your industry. When project managers for high-paying contracts start searching for the best mining company to partner with, you want to ensure your name is one of the first things they find.
Meet WebFX:
Your world-class, tech-enabled marketing agency with over 1.6 million hours of combined expertise.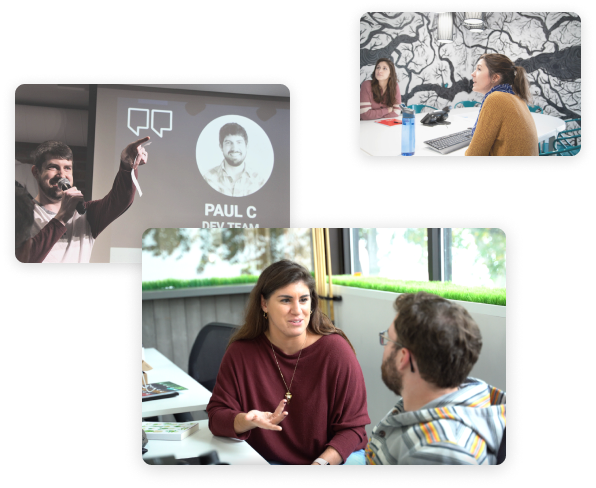 WebFX can help expand your mining company's client base
Ready to grow your business and secure higher-paying contracts? Request a free proposal today to learn more about lead generation services from WebFX. We have the know-how and top industry resources to find, nurture, and convert new leads into loyal clients.
Increase your leads, sales, and revenue with digital marketing