Your plating solutions business needs customers to function. So, how do you get people to find your company? If you have ever taken time to find people who need plating solutions and turned them into paying customers, you have likely done some lead generation.
Lead generation for plating solutions is the process of finding prospects who need plating services and encouraging them to convert. This process is crucial to every business's operation, so finding the ideal strategy is a must for your company.
This page will break down lead generation for plating solutions through the following topics:
What is lead generation for plating solutions?
Why use lead generation tactics?
Lead generation examples for plating companies
How to generate leads for plating solutions
Read on to learn more, and call 888-601-5359 to chat with a strategist about the ideal lead generation tactics!
Our digital marketing campaigns impact the metrics that improve your bottom line.
See More Results

WebFX has driven the following results for clients:

$3 billion
In client revenue

7.8 million
Leads for our clients

5.2 million
Client phone calls
What is lead generation for plating solutions?
Lead generation for plating solutions is the process of finding and nurturing potential customers for your business. A lead is a contact who has expressed interest in your company, so lead generation is about cultivating those who are most likely to find your services helpful.
A qualified lead is any prospect you have determined to be a likely candidate. There are many types of leads, but the basic ones you should look for include marketing-qualified leads (MQLs) and sales-qualified leads (SQLs).
MQLs are leads that have gone beyond just initial interest — they've taken the next step of requesting information or filling out a contact form. SQLs are leads that have gone a step further, and that your sales team has determined are nearly ready to make a purchase.
Why use lead generation tactics?
Whether you want to earn more revenue or build a solid, recurring client base, lead generation is a necessary tool for your business. Here are the main benefits of lead generation for plating solutions:
Expanding your market: As you find out where your leads are likely to come from, you can target new areas and use new approaches you might have yet to consider. You can expand into new markets as you find new targets for your services.
Building awareness: Even if your leads don't convert immediately, you can get your name out there and boost brand awareness. When your leads need plating solutions, they'll already have your contact information and services in mind.
Eliminating cold calling: You can stop cold calling (and emailing!) large groups of people who don't need your services. Instead, you can target all your energy toward those who do.
Above all, lead generation helps you find and connect with your ideal audience, preventing you from wasting time and money targeting the wrong people. You'll see a higher return on investment (ROI) and conversion rate as more leads come in.
Lead generation examples for plating companies
Now that we've covered the basics of lead generation, let's look at some examples of lead generation strategies to see what they look like in practice.
Search engine optimization (SEO)
SEO for plating solutions is the process of improving your website so it appears higher in organic search results. SEO is an accessible lead generation tactic that works for all industries, company sizes, and budgets.
So, how does it work?
When users search for keywords like "plating solution services," search engines like Google will determine the best results that match that term. The results will look something like this: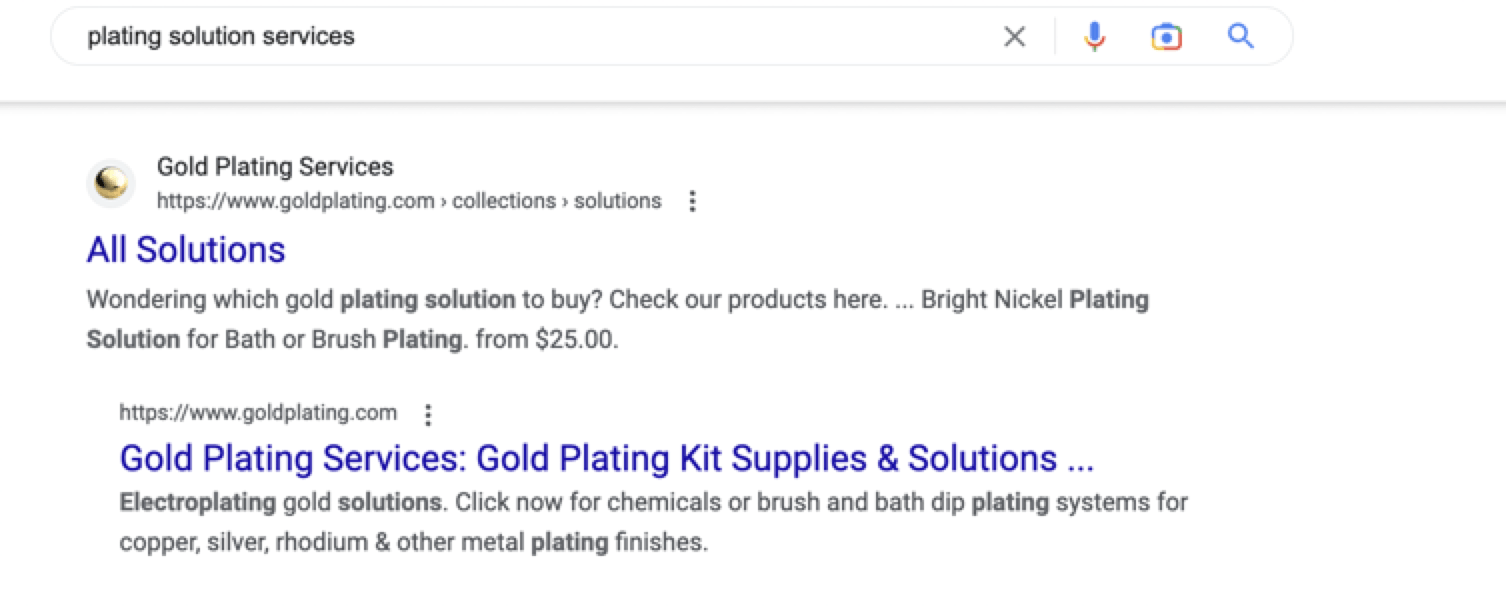 Since Google's algorithm determined that users looking for plating solutions will likely find this company the most helpful, it's ranked at the top of search results. The key to successful SEO is showing that you are the best choice, whether you offer equipment plating or jewelry services.
Pay-per-click advertising (PPC)
While SEO deals with organic traffic, PPC handles paid traffic and leads. PPC for plating solutions is a type of paid advertising where you only pay when someone clicks on your advertisement. You can use PPC ads on search engines, as well as on third-party websites.
Unlike the organic results, the paid results on Google will have a "Sponsored" tag to distinguish them: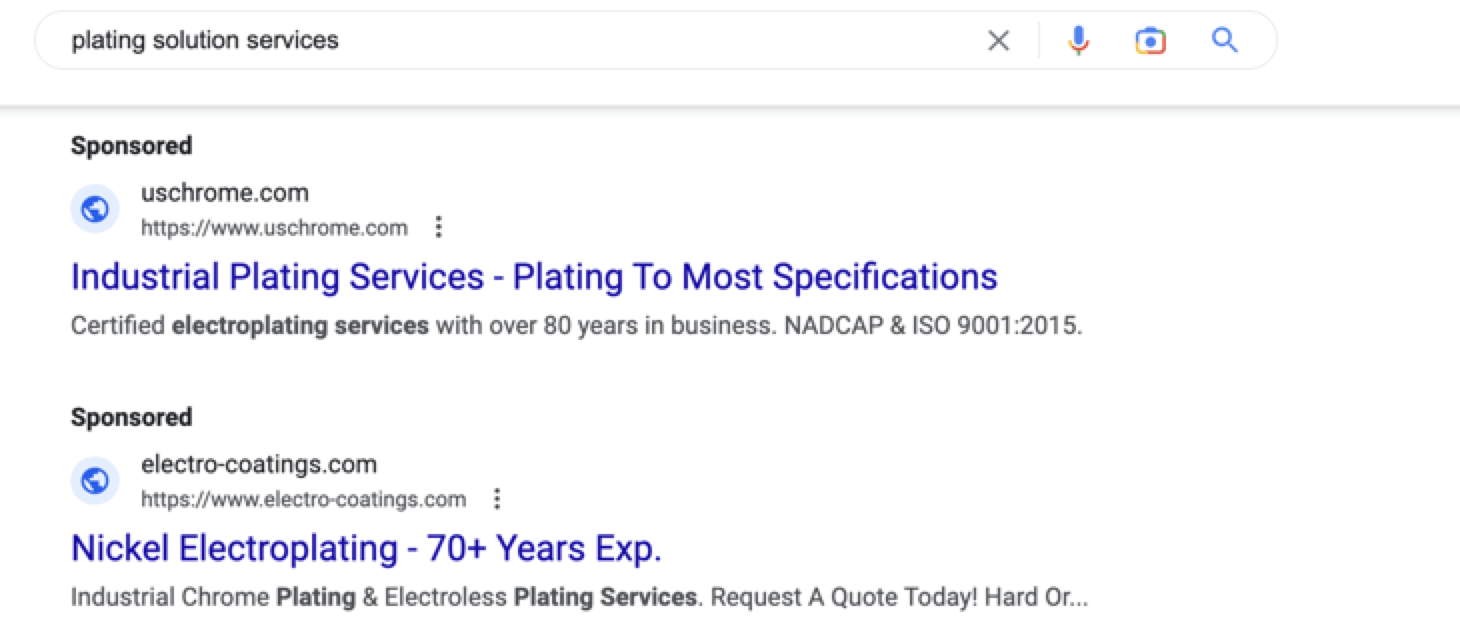 PPC ads are great for ensuring that only people searching for relevant keywords will see your campaign. You save money by only paying when someone clicks, and you have a higher chance of converting them after they visit your website.
Lead magnets
Lead magnets are offerings you exchange for a lead's contact information. With lead magnets, you create something (like a guide or manual) that interests your leads, and they must give you a contact to access the file.
There are many types of lead magnets, including:
Case studies: If you have researched different plating methods or solutions, you can offer a case study that covers your findings. If you use a specialized technique, this could be a great way to exemplify your strategy.
Ebooks: Since plating encompasses many materials and techniques, you could compose an ebook covering important industry information. You could offer the book for free or a small charge and encourage interested parties to learn more.
Guides: Like an ebook, a quick downloadable guide can encourage people to give their contact info in exchange for information. This way, you can be sure to reach out to those who would be interested in your services.
You can create materials related to the plating industry that will showcase your expertise and experience. While the user gets information they need, you can also prove that you are a knowledgeable industry leader.
37% of marketers say that generating high-quality leads was one of their biggest challenges.
We want to decrease that percentage.
WebFX can help you generate high-quality leads with a customized marketing strategy.
Learn More About Lead Generation Services
How to generate leads for plating solutions
Follow these tips for generating leads effectively for your business.
1. Find your audience
The first step to any lead generation campaign is to find your target audience. Who do your products serve? What does your ideal customer look like? These questions can help you determine what groups you need to target.
You can build buyer personas — representations of your ideal individual — to help you target your marketing and advertising materials better.
Bear in mind that for B2B marketing, your buyer personas are representations not of the companies you sell to, but of the specific points of contact you'd have at those companies, like a business owner or a manager.
Your buyer personas can account for:
Demographics
Age
Job title
Location
Once you build your ideal audience, you can start thinking about what lead generation tactics will work best for them.
2. Use different tactics for individual offerings
Depending on what your company offers, you might use different tactics to promote different offerings. The ideal audience for each service may vary.
For example, if you offer both cleaning and plating, use PPC to promote gold plating and lead magnets for cleaning information. You could create a guide for cleaning that encourages people to reach out to a pro, while your PPC ads attract people to your service pages.
3. Test your materials
The ultimate key to generating leads is measuring your results. If you want to know how your lead generation tactics are doing, you need to measure your key performance indicators (KPIs). This step will ensure that you are making progress in your lead generation efforts.
Some lead generation metrics to look for include:
Conversion rate
Bounce rate
Number of conversions
If you want help measuring your success, working with a professional digital marketing agency is the best tip of all.
Measuring the metrics that affect your bottom line.
Are you interested in custom reporting that is specific to your unique business needs? Powered by MarketingCloudFX, WebFX creates custom reports based on the metrics that matter most to your company.
Leads

Transactions

Calls

Revenue
Learn More

WebFX knows lead generation for plating solutions
Once you understand how much lead generation really matters, it's time to develop an attack plan. You can simplify that process by working with WebFX. Our lead generation services involve custom plans for every business that we work with.
We have generated 7,839,684 leads and $3,021,182,299 in revenue for companies across 154 industries. With our help, you can enjoy higher conversion rates and profit from custom strategies targeting your ideal audience.
Ready to get started? Contact us online today and see what you can expect from a WebFX lead generation strategy!
Increase your leads, sales, and revenue with digital marketing
Find Us Driving Revenue Nationwide