Are you a lawyer looking to reach more clients?
Search engine optimization (SEO) offers a great opportunity for lawyers to reach interested clients.
So how do you get started with SEO? Successful SEO plans start with the right SEO company.
On this page, we'll provide you with four tips to help you find the best SEO company for lawyers. If you want to learn more about using SEO services, call us today at 888-601-5359 (or contact us online) to speak with a strategist or keep reading.
50+ Legal Industry Statistics to Grow Your Law Firm
What is SEO?
SEO is the process of boosting your website's rankings in organic search results. Users conduct searches every day to find pertinent information. SEO helps you connect with leads that are searching online for law firms like yours.
When your audience searches online for lawyers, they use keywords to generate a list of results that best fit their query best. SEO helps you optimize your site, incorporating keywords in key places, to rank at the top of search results for those terms.
To find the right keywords for your campaign, you'll need to conduct keyword research. Keyword research will provide you with a list of potential keywords to use for your campaign. There are numerous keyword research tools you can use to help you draw up a list of viable keywords.
As you conduct keyword research, it is best to focus on long-tail keywords. These keywords contain three or more words, like "lawyers near Harrisburg, PA."
Long-tail keywords are better for your campaign because they drive more valuable leads. Users conduct searches using specific keywords that show their search intent.
When someone searches for "lawyers near Harrisburg, PA," you know exactly what the user wants to find. If someone just searched "lawyer," they could be looking for a definition, how to become a lawyer, or looking to hire a lawyer. By focusing on long-tail keywords, you'll attract leads that are looking for your law firm.
It is important that you integrate these keywords into your page. Google crawls through your site by sending bots or "spiders" through your site to understand the context of your page. By integrating your long-tail keywords, you'll help Google understand your site and rank your law firm website in the right search results.
So, where should you integrate keywords? You can integrate your keywords into title tags, headings, meta descriptions, and your site content.
Hear What It's Like to Work With WebFX!

"Our account manager and the WebFX team have the tools, tips, and tricks to provide solid analysis and actionable updates and content to our website. They are studying our industry to ensure we are all on the same page and growing our audience."
Law Firm
4 tips to help you find the best SEO company for your law firm
SEO is a great method to help lawyers reach more valuable traffic. If you don't have the resources or knowledge to run an SEO campaign, you may want to rely on an SEO company to help you. Here are a few tips to help you find the best SEO company for your law firm.
1. Check out their portfolio
When you research SEO companies, look for a portfolio. A portfolio is a good indication of the work an SEO company does for their clients. It will give you insight into their process and their experience with SEO.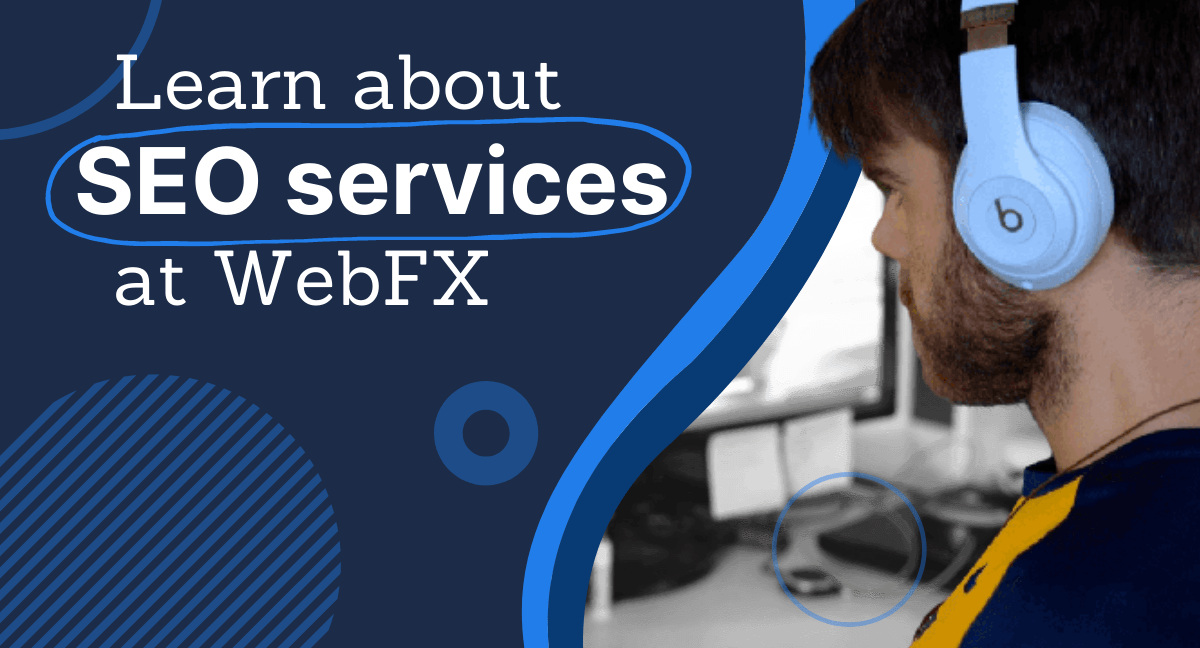 As you investigate their portfolio, see if they have experience with law firms. If they do, you can get a sense of the results they drive for law firms. It can help you decide if that SEO company is best for your law firm.
If they don't have experience with law firms, check out the rest of their portfolio. You may find that they have a diverse portfolio, which means they are willing to get to know your industry to help produce a successful SEO campaign. A portfolio tells you a lot about a company and the work they do.
2. Look at their results
Along with the portfolio, you'll want to look for results. The best SEO company for lawyers will have a history of driving results for their clients. If you want to have a successful SEO campaign, you need to hire an SEO company that will help you be successful.
Some companies will include their results within portfolios while others will have a separate results section. Check it out and see how they perform for their clients. How well do they boost organic traffic, leads, and conversions?
The results will give you an idea of the results you can expect from that company. If you like how it looks, that SEO company may be a good fit for your law firm.
3. Check out their team and company values
SEO is a process that takes time. It takes time to boost your website's ranking and increase your organic traffic, so you'll be partnering with an SEO company for some time. It is important that you fully investigate an SEO company first to make sure they fit well with your company.
First, you'll want to check out their team. These are the people that will work on your SEO campaign and drive results. It's important that you investigate the team and see what qualification they have.
You'll want to look for certifications, coursework experience, and other accolades that show a team's experience. A knowledgeable SEO company will help you drive better results for your law firm.
Next, look at their company values. Company values are a very important part of selecting an SEO company. You want to hire a company that shares similar values because it creates a better partnership.
As a law firm, you may value taking your time and doing in-depth research to find answers. It would be hard to work with an SEO company that rushes through things to produce it quickly. You would constantly be at odds with that company because you would not agree on how to produce your SEO campaign.
To see the best results with your SEO campaign, thoroughly investigate an SEO company first. This will help you figure out if they are the best SEO company for lawyers.
4. Ask questions
When you find an SEO company you think fits the bill, don't be afraid to ask them questions. A qualified SEO company will address your questions or concerns as good as possible. They'll be transparent and upfront with you about any concerns you voice.
So, what kinds of questions should you ask?
Here are a few examples of questions you can ask your SEO company:
How will you drive results for my law firm?
What is your experience with SEO?
How do you handle problems or bumps in the road?
How do you adapt to change?
If an SEO plan isn't successful, how do you go about fixing it?
These are some questions that will help you get more insight into an SEO company. It will help you see if they are flexible, honest, and willing to do their best for you. This is a great way to help you find the best SEO company for lawyers.
When you partner with WebFX, we'll help you use the web to attract more potential clients to your law firm.
WebFX is the best SEO company for lawyers
SEO is a great method to help your law firm boost its organic traffic and attract more valuable leads. If you want to see success with your campaign, you need to hire the right SEO company. At WebFX, we have over 25 years of experience creating SEO campaigns that drive results for our clients.
We're a full-service digital marketing company that specializes in customized SEO plans. With our team of 500+ experts, we'll help you create an SEO plan that works for your business. Our team will help you boost your website's traffic to earn more leads.
If you want a company that drives results, WebFX is a great option for you. To date, we've driven over $3 billion in sales and over 7.8 million leads for our clients. We focus on driving success for our clients first.
We have over 1000 client testimonials that attest to the great work we do for them. Check them out to see what it's like to partner with a top SEO company like WebFX!
Start driving results today
If you're ready to earn more valuable website traffic, contact us online or call us today at 888-601-5359 to speak with a strategist about how WebFX can help you grow your law firm with a custom SEO plan.
We look forward to hearing from you!
Earn a 20% greater ROI with WebFX