Ever since the 2000s, social media has been an integral part of our lives and culture. Many people spend hours of their time there each day, meaning that if you're trying to reach people online, social media is the ideal place to go.
That's why social media marketing is such a phenomenal strategy for your storage company. When you invest time and effort into social media for storage facilities, you'll reach a more qualified audience interested in your facilities and drive up your revenue.
But what can you do to get the best results from your storage facility social media? Keep reading for a list of helpful storage social media marketing tips. Then partner with WebFX to get help putting those tips into action for your campaigns. Just call 888-601-5359 or contact us online to get started!
Learn how we increased traffic by over 40%, and conversions by over 100% for an ecommerce client.
Read the Case Study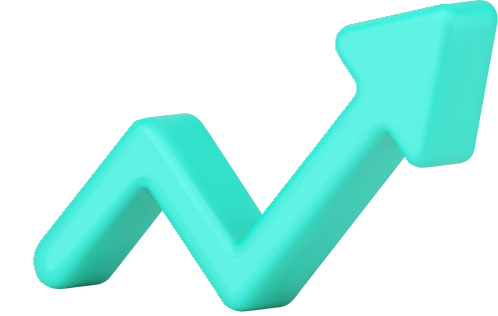 7 storage facility social media tips for your business
There are numerous ways you can improve the quality of your social media campaigns. Keep reading to learn about some of the most helpful ones!
Here are seven expert storage company social media tips to try out in your campaigns!
1. Consider your platform choice
One of the first things you should do when setting up a storage company social media campaign is decide which platforms you intend to use. There are plenty of marketing-friendly platforms to choose from, including:
You should take some time to consider which platforms will benefit you the most. Think about who your target audience is and do some research to figure out which platforms that audience tends to populate the most.
You can also choose to limit yourself to a single platform or to market yourself across several different sites at once.
2. Interact with your audience
With any platform you use, it's important to play to that platform's strengths. In the case of social media, the greatest advantage it has to offer is that it's designed for social interactions — which means you should engage directly with your audience.
Think of it like this: Rather than getting up on a stage and projecting to an audience through a microphone, you should approach social media like a dinner party, where you mingle with your guests and talk with them individually.
In that same vein, don't just post content and ignore the feedback from users. Respond to users' comments and posts about you and answer their questions. That will help them feel heard and appreciated by you, encouraging them to continue engaging with your company and become customers.
3. Share engaging multimedia content
Most of your storage social media marketing will happen through your posts, and those posts should feature content that draws users' interest and encourages them to visit your website. A great way to grab your audience's attention is to use plenty of multimedia in your posts.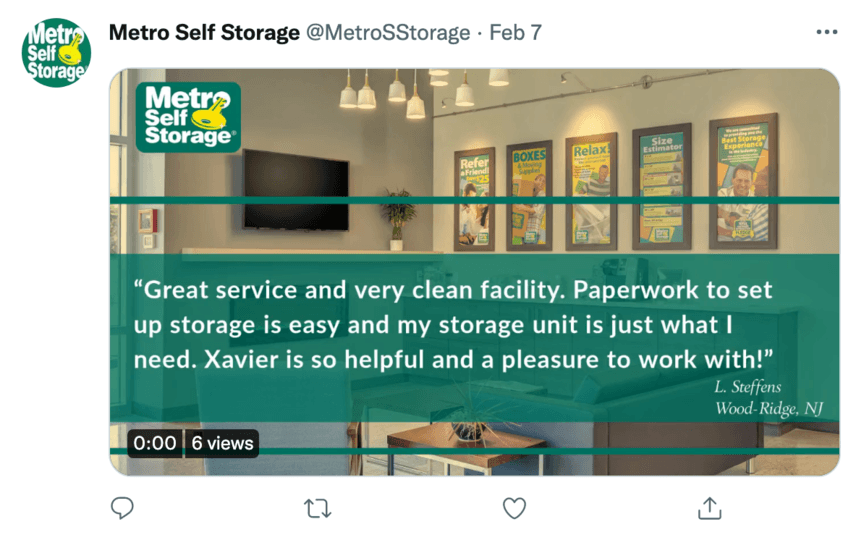 Photos, videos, and infographics are all fantastic types of content to post from your social media account. This visual content will draw users' interest more than plain text. An attractive infographic or video can catch the eye of any scroller.
Your multimedia content should aim to inform users about your business or industry, helping them to become more interested in what you offer.
4. Engage with the local community
Social media is all about connecting with your target audience. For that reason, it's a good idea to identify with the local community. After all, your storage facility will only be used by people who live within a certain radius of it, so you should aim to connect with those people.
You can do this by promoting yourself as a member of the local community, especially when it comes to engaging in local events. If there's a local sports team or town fair, for example, you could sponsor it.
By promoting your role in the community, you'll help your audience to feel a greater kinship to you, leading them to be more likely to come to you for their storage space needs.
5. Harness reviews and testimonials
If you're on social media, it's probably home to reviews of your company, both formal and informal. People are going to express their opinions of you on social media, so you should try to make the most of those opinions to convey a positive look for your brand.
Keep an eye out for any negative comments or reviews about your services. When you see one, respond to it quickly, offering to resolve the issue for the person who posted it. That way, you can turn the negative reviewer into a happy customer and keep your brand image intact.
You can also post reviews on your own page in the form of testimonials. You can email your existing customers and ask for them to provide testimonials, which you can then put on your website and share on social media.
6. Schedule your posts
Your storage social media marketing needs to be consistent if it's going to work. That means you need to post on a regular schedule to keep users engaged — you don't want to be posting weekly, but then go a month without posting.
The best way to ensure you post routinely is to create a social media calendar. You can do that on a social media management platform like Buffer or Hootsuite. With a social media calendar, you can create posts in advance and schedule them to go live at a later date.
That means you don't have to find time to create new posts every single day — you can create them when you have time and schedule them for later, so you can still post even on the days when you don't have time to craft fresh content.
7. Run paid social media ads
Most of the tips on this list relate to organic storage facility social media content. But the fact is, there's a whole other type of social media you can harness: Paid social media advertising.
With paid social media ads, you can reach users right in their feeds, all without them having to visit your page. Better still, you can target them based on demographics like:
Age

Gender

Occupation

Location

And more!
Using paid social media advertising will enable you to reach a far wider and more relevant audience, helping you bring all the right people to your website.
Time to Level Up Your Sales
Our long list of services helps you grow every aspect of your business with marketing strategies that are proven to increase bottom-line metrics like revenue and conversions.
In the past 5 years, we've managed more than 12.9 MILLION transactions across our client base.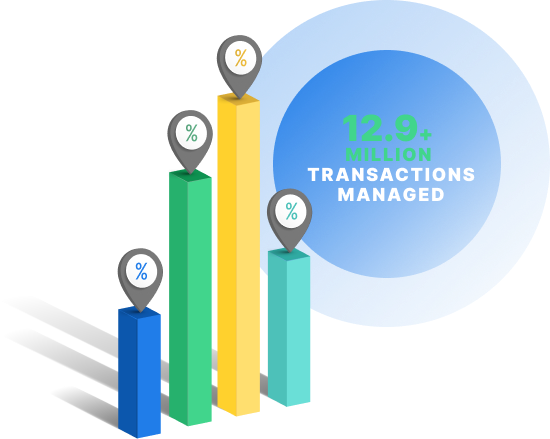 Hear What It's Like to Work With WebFX!

"WebFX did amazing work creating a new website for us on a tight schedule. They have taken the time to learn about our business and give us ideas of how to make our digital marketing better. We still have work to do with WebFX but overall very pleased."
Professional Service
WebFX knows social media for storage facilities
Ready to kick your storage company social media into motion? Let WebFX help! We have over 1020 client testimonials to attest to the quality of our service, so when you partner with us, you know you're in good hands.
With our social media marketing and social media advertising services, you'll get help optimizing your campaigns for all the tips listed above and more. You'll also receive regular reports from us to keep you in the loop about everything we do for you.
To get started with us, just call 888-601-5359 or contact us online today!
Earn a 20% greater ROI with WebFX