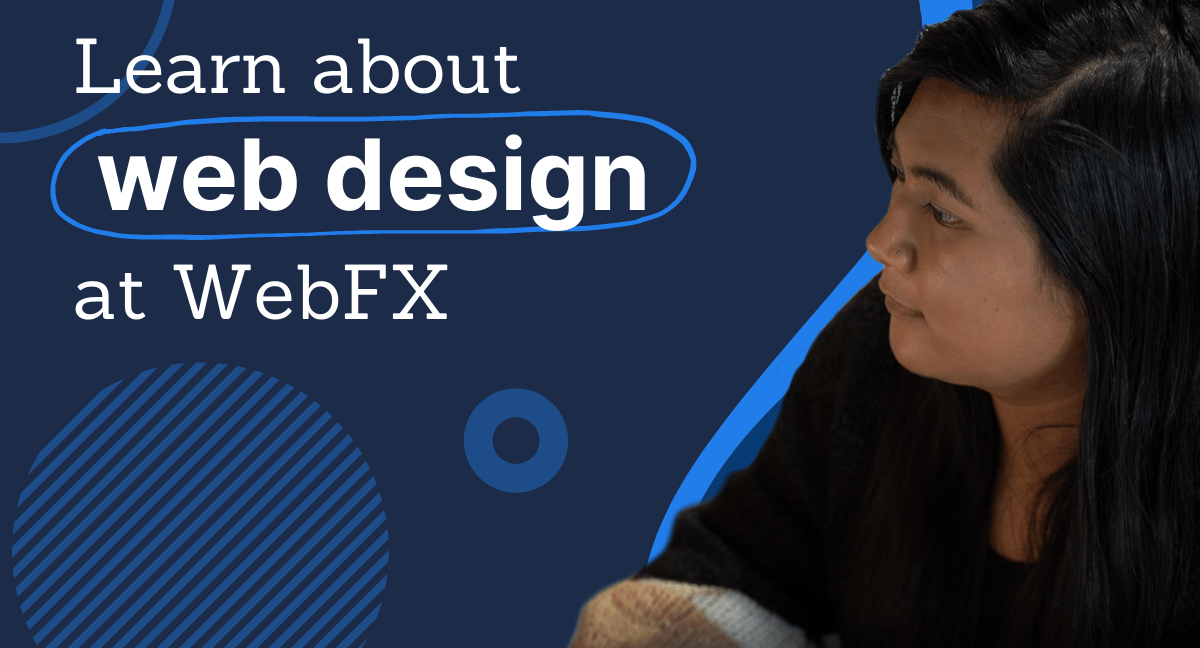 They say that first impressions are everything — and when it comes to your storage facility, 94% of first impressions relate to web design. That means the way people view your company is almost entirely dependent upon your storage company web design.
To set a positive first impression, invest in web design for storage facilities. With the help of a web development pro like WebFX, you can get your dream website without lifting a finger.
We've been driving results through web design for over 25 years, making us the experts at building websites. But what can we do for your site? What features come with our web design services?
Read on to find out. Then partner with WebFX by calling 888-601-5359 or contacting us online today!
We don't want to tell you about the work we do, we want to SHOW you.
View Our Portfolio

We've built over
1,100
Websites
in a variety of industries.
Explore storage facility web design services
Find the perfect solution your business needs with our storage facility web design services:
Learn more by browsing our portfolio or contacting us online!

Hear What It's Like to Work With WebFX!

"WebFX did amazing work creating a new website for us on a tight schedule. They have taken the time to learn about our business and give us ideas of how to make our digital marketing better. We still have work to do with WebFX but overall very pleased."
Professional Service
Improve your site with storage facility web design
When you partner with WebFX, you aren't partnering with an agency that will throw together a website haphazardly and then call it a day. On the contrary, we'll work to optimize key facets of your site to ensure maximum marketing potential.
Here are seven of the biggest ways we'll improve your website!
1. Visual design and branding
When we set up your website, we'll take the time to create each page. As part of that, we'll focus on crafting a visual layout that's aesthetically pleasing and functional.
Additionally, we'll ensure that the visual layout is one that reflects your unique brand. That means we'll consider elements like:
We'll integrate all those elements in a way that best represents your storage facility. For instance, if you have a specific color scheme that you use, we'll be sure to feature that across your site to ensure that users strongly associate the site with your business.
2. Navigation setup
Navigation is one of the most essential elements of storage facility web design. Your navigation determines your website's structure and helps users find their way around. If someone is looking for a particular page on your site, it should be easy for them to find it.
WebFX will organize your pages into relevant sections and then display those sections in a navigation bar at the top of the page.

Additionally, we can implement breadcrumb navigation, so users can see where they are on your site at any given time. Ultimately, these navigation patterns will help users find their way around, thereby making them more likely to stay on your website.
3. Responsive design
Not everyone will visit your site from a computer. Many people surf the Internet on mobile devices like phones and tablets, so your site should be equipped to handle mobile traffic. That means it needs to be mobile-friendly — especially since Google ranks sites based on mobile format.
WebFX makes mobile-friendliness one of our top priorities. When we create your website, we'll integrate responsive design. That means we'll program your site to restructure itself to fit the screen where it appears. So, it will rearrange the page elements slightly between a mobile and desktop display.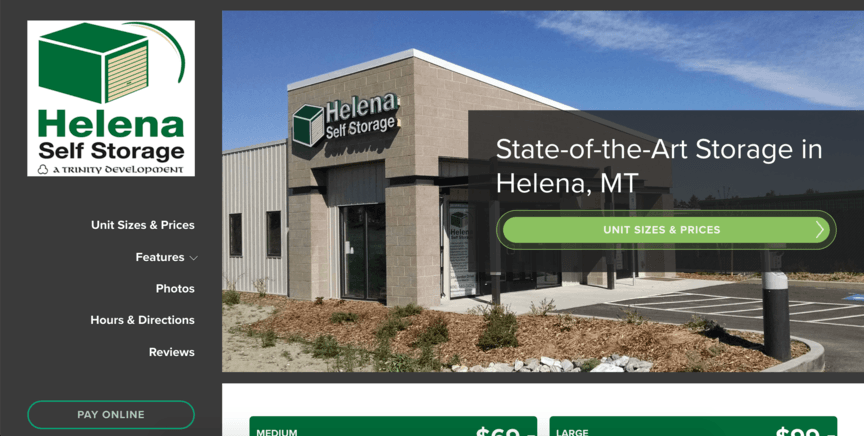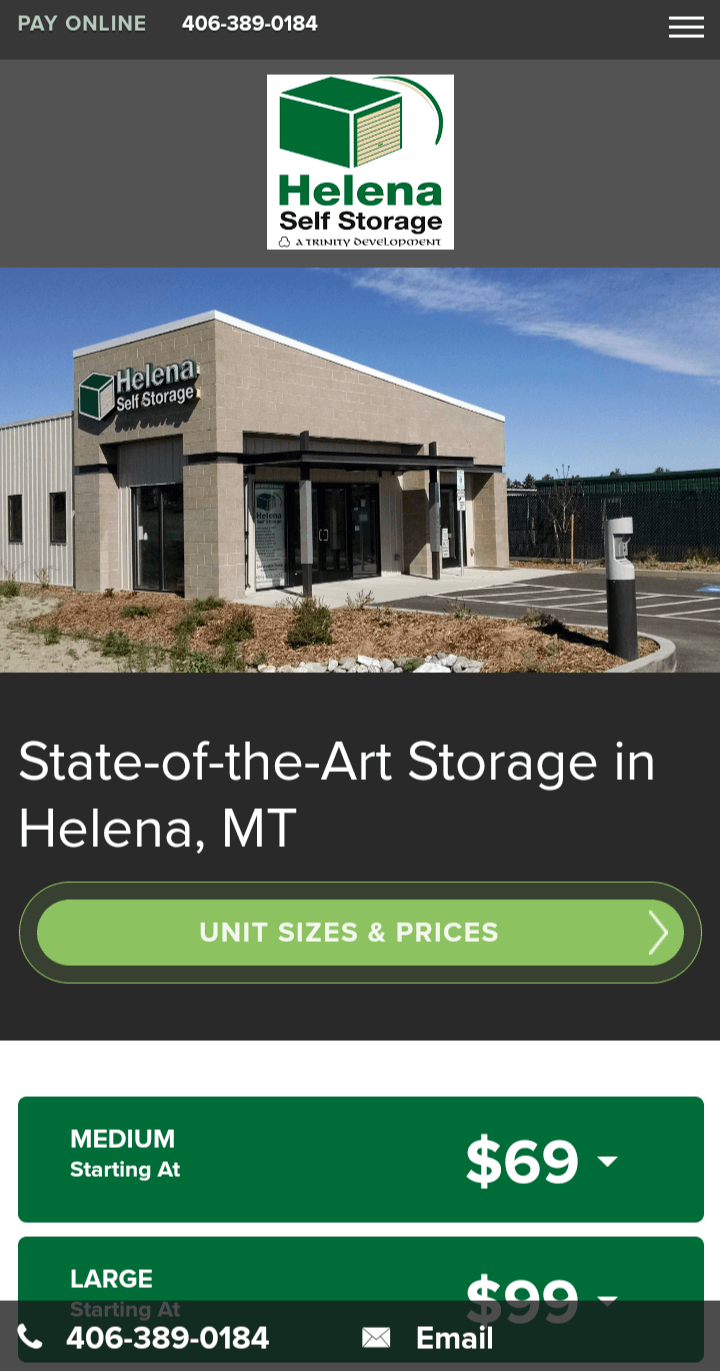 Consequently, users on any device will be met with a site that looks good and functions smoothly, ensuring that you go up in rankings and earn more traffic.
4. Page speed optimization
If there's one thing users hate to encounter when they visit a website, it's slow load speeds. In fact, 83% of users expect all the pages they visit to load in three seconds or less. If your site doesn't meet that expectation, you'll lose traffic.
WebFX will help you avoid that issue when we handle your storage company web design. We'll use a variety of tactics to help your pages load faster, including:
Through each of those methods, we'll get your pages loading faster, ensuring users stick around when they visit your site.
5. Copywriting
Even the most easily navigable, attractive, and mobile-friendly website won't be of much use without content. Web content is the key to driving traffic to your site and keeping them engaged.
People will come to read your content, and in doing so, they'll become familiar with your business.
At WebFX, our team will spend time developing content for your website. We'll focus on crafting written content that informs users about your business and your industry. Our copywriting team has expertise in this arena, so you can feel confident our team will deliver quality content.
For example, we can help you start a blog where you inform readers about how to optimize their storage space or when to opt for climate-controlled storage over non-climate-controlled storage.
6. Multimedia creation
Written content isn't the only type of content out there. Not everyone will feel like reading paragraphs of text — some people have shorter attention spans or simply prefer to learn things through a more visual medium. For that reason, WebFX will also help you create plenty of multimedia content.
That content could take different forms. For instance, infographics are a fantastic way to provide information in a compact and visually appealing way. We can also help you produce videos where you advertise your storage facility or educate users about your services.
7. Search engine optimization (SEO)
Finally, a critical part of your storage facility web design is search engine optimization (SEO). That's because it's not enough to just build your site — you also have to market it, so people know it's there. At WebFX, we specialize in SEO and can help you optimize your website rank higher for relevant searches.
Some ways we'll help your site rank in Google search results include:
With a high-ranking website, users will find you easier. That will lead to you gaining more leads and ultimately driving more revenue!
We foster and form long-term partnerships so that your business has long-term results.
Over 90% of WebFX clients continue partnering with us into year 2 of their campaign.
Hear from Our Happy Customers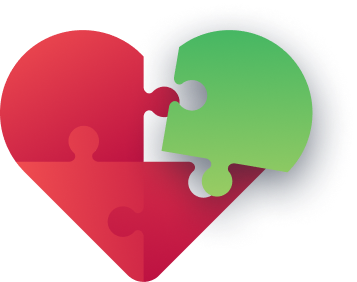 WebFX knows web design for storage facilities
Ready to get your storage facility web design off the ground? WebFX would love to help you do it! We've earned more than 1020 glowing testimonials from our clients that speak to our proficiency with storage web design.
When you partner with us for our web design services, we'll help you optimize for all the above web design elements and more. If you want to see what we're capable of, just check our web design portfolio for examples of past sites we've built.
To get started with us, just call 888-601-5359 or contact us online today!
Earn a 20% greater ROI with WebFX