To effectively run a nonprofit organization, you need to inspire people to contribute to your cause. That means that despite not being in it for the money, you must have all the marketing strength of an uber-competitive business.
With 94% of first impressions relating to web design, having the best nonprofit web design possible for your website is critical. But what if you're not sure how to put together a website — much less how to optimize it for a successful marketing campaign?
Look no further than WebFX.
We've been helping clients with web design for over 25 years, and we can do the same for you. We've built more than 1,600 client sites, and we know how to optimize your new website for search engines and for conversions.
Here are six essential elements of good web design for nonprofits and how we can implement them on your website.
We don't want to tell you about the work we do, we want to SHOW you.
View Our Portfolio

We've built over
Websites
in a variety of industries.
1. Website structure
Before you can have anything else, you must have the basic structure of your website laid out.
What's it all about?
Website structure is simply the underlying foundation of any site. This includes tasks like getting a domain set up and creating your root pages. It also involves linking those pages together with a sitemap.
Why do you need it?
Plain and simple, without a strong website structure, you won't have a place to build the rest of your website.
It's also important that you have a strong site structure to start out with, since your site won't be of much use to you (or site visitors) if it only consists of a homepage. You'll need additional pages to talk about your organization, to let people donate, display any products or services you might offer, and most importantly, to target keywords that will help you rank highly in search.
How can WebFX help?
If you don't yet have a website, WebFX will help you create one!
Before we get started on creating a solid website structure, we'll talk to you about your brand and what kind of content you'll want to include on your website.
This will help us shape your structure to allow for all the content you plan to add in the future. From the homepage down to the most unique service page, we'll develop every single page on your site.

Hear What It's Like to Work With WebFX!

"We are so grateful for the way WebFX has helped take us to the next level with SEO and content. We are excited to see the greater impact we can make as a non-profit thanks to the changes we have begun to make."
Non-profit
2. Content creation and marketing
Once you have the basic structure of your website nailed down, it's time to begin crafting some content. Content marketing can help your target audience find the content you publish on your site.
What's it all about?
Content marketing is one of the most longstanding nonprofit website design best practices. Strictly speaking, it doesn't fall under the umbrella of web design; but it's closely intertwined with it, enough so that it still deserves a place on this list.
When you opt for content marketing with a company like WebFX, you'll receive a package that includes a content strategy, content development, creation, optimization, and promotion, as well as content reporting.
Content marketing isn't just one action item, it's a combination of many! However, the overarching goal remains the same — get your content in front of users who are interested in it.
Why do you need it?
Often, content is the meat of your site. After all, who visits a website and spends ten minutes reading everything on the homepage? When people visit your site, they're usually looking for information, and content pages give them that information.
Your web design only pays off if people actually visit your site, and they usually find it through Google searches. But the only way to rank in Google searches is to have content on your website — without it, your audience likely won't find you to begin with!
How can WebFX help?
If you're thinking about how you don't have time to sit down and write page after page of informational content, don't worry.
WebFX has a team of experienced copywriters who can create those pages for you, doing all the necessary research to make your content a trustworthy resource for users.
Not only that, but we can help you market your content properly to your target audience.
3. Search engine optimization (SEO)
Content marketing is one of the best nonprofit design tactics available, but it's helpless without the aid of search engine optimization (SEO). You need both strategies working together for your marketing campaign to soar.
What's it all about?
SEO is the practice of optimizing your website to appear in Google search results for various keywords. It starts with content marketing, but for that content to rank, your site must also provide a good user experience.
Just a few examples of things that contribute to SEO are page loading speed, keyword integration, and site navigation.
Why do you need it?
Having your content rank in Google search results is essential. Users will rarely type your site URL directly into Google, so it's crucial that you appear in search results for relevant terms — it's likely the only way your audience will find you!
How can WebFX help?
When it comes to SEO, we're the experts.
Our entire company is built around knowing all the ins and outs of good SEO. As we design your site and write your content, we'll be sure to tick off all the boxes of good SEO, and we'll make sure that every site element follows user experience best practices.
4. Responsive design
Another essential element of web design for nonprofits is to have a responsive design.
What's it all about?
Responsive design refers to making a website accessible in both desktop and mobile formats. Beyond that, it ensures that all content on the site is optimized for either format, as opposed to having a desktop-optimized site that looks odd on a phone.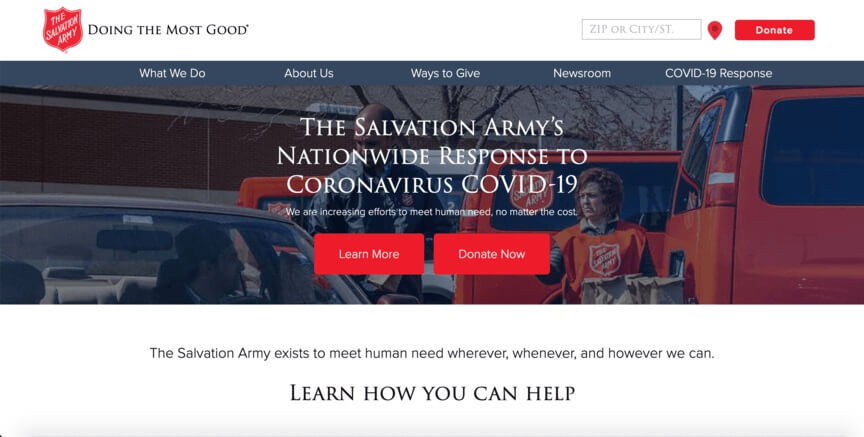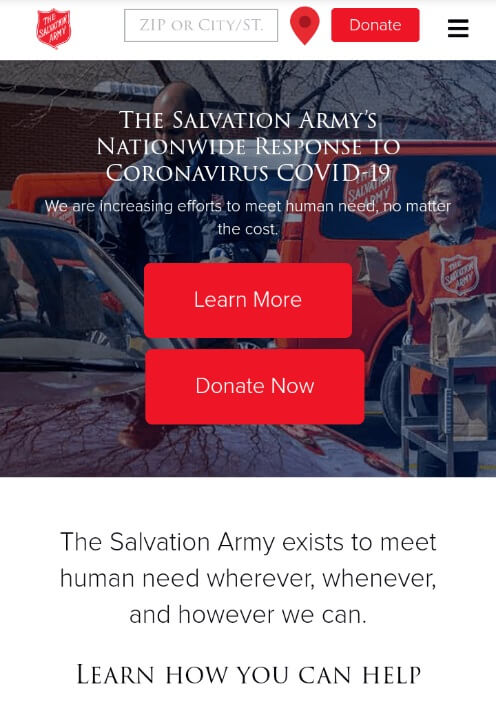 Why do you need it?
A huge portion of Internet traffic now happens on phones instead of computers — over half, in fact. You can't expect to draw in users if your site is tailored only to a minority percentage of them. It needs to provide a good user experience on either device.
Not to mention that Google ranks websites based on their mobile format, so not having good responsive design will hurt your rankings!
How can WebFX help?
WebFX's skills with web design aren't limited to a desktop computer. We'll optimize every page on your website for both computers and phones from the very start, so you don't have to worry about missing out on valuable traffic.
5. Branding
Even if you implement all the above steps perfectly, it won't matter if you don't make your website truly yours. That's where branding comes in.
What's it all about?
Branding simply refers to taking all the other nonprofit website design best practices on this list and customizing them to your business. It involves selecting brand colors, appropriate navigation, and more.
Why do you need it?
Making a website and failing to appropriately brand it is like publishing a book without your name on the cover. You don't want a generic site that could be easily confused with those of your competitors.
You want to stand out, and branding accomplishes that.
Branding allows you to incorporate your unique style, and most importantly, your logo. Your logo is the mark of your brand, and you should prioritize it when developing your business.
How can WebFX help?
As we design your site, we'll work closely with you to determine the appropriate colors, fonts, and organization to ensure that your site speaks to your unique nonprofit. Then we'll integrate that into everything we do, so that everything we create together will be uniquely yours.
6. Easy donations and purchases
Ultimately, the whole point of your website is to generate donations or purchases. As such, it's important to make sure that donating and purchasing is seamless.
What's it all about?
Whatever you do to draw in users, you do in the hopes of getting them to buy from you or donate. Ideally, you want them to do so right there on your website.
But for that to happen, you must make checkout a seamless process from start to finish.
Why do you need it?
You don't want to bring users to your site only to tell them to go somewhere else.
Users are impatient, and if you tell them they have to go somewhere else to make a donation, you might lose the donation entirely.
For this reason, you should have a "purchase" or "donate" button on the main pages of your site and ensure that the checkout process is easy.
How can WebFX help?
If you accept purchases or donations, you likely already use a money-transfer platform like Shopify or PayPal. We can integrate these platforms into your website, so users can make their contributions directly on the page.
Get web design for nonprofits from WebFX
Ready to get your website off the ground and start rallying people to your cause? WebFX can make it happen! We have over 1000 client testimonials to show that we offer the best nonprofit design services around, and we'd love to add you to the list.
To get started with us, give us a call at 888-601-5359 or contact us online today!
Earn a 20% greater ROI with WebFX