Publisher SEO: 5 Best SEO Strategies for Publishing Companies
The publishing industry has changed dramatically over the past several years. The surprisingly quick shift from physical books to digital media also came with a marketing shift from traditional outlets like print and broadcast to the Internet.
Today, if you want your publishing company to succeed, you have to have an online presence. More than that, your customers need to be able to find you. When you incorporate search engine optimization (SEO) into your overall marketing strategy, you can do both of those at the same time.
WebFX knows how to use SEO to earn your publishing company more leads and revenue online. Contact us at 888-601-5359 to learn more!
What does SEO mean for publishing companies?
SEO is the process of improving your website so that you can rank better in searches that people make on Google. It's split into two major disciplines.
On-page SEO. These are the parts of your website's ranking that are directly on your site. On-page factors include written text, links you use, metadata, title tags, and more.
Off-page SEO. These are the parts of your website's ranking that are on another website. They can include reviews, links to your homepage, and more.
The best SEO for publishers includes a plan that meshes on- and off-page elements into a single, effective campaign. While it's easier said than done, the results can be a phenomenal improvement in your company's overall standing online — not to mention more revenue for your bottom line.
Why do publishers need SEO?
SEO is particularly important for publishers because at some points in your business model, you're probably competing with huge names like Harper Collins, Random House, Penguin, or Amazon. Even though they're a gigantic force in the publishing industry, you can still find a niche that helps your business thrive.
When you find that niche, you can cater to that audience to boost your rankings while also obtaining more customers, and it might be a niche that's too small for the big companies to notice. Every industry has smaller groups looking for companies that cater to them — and SEO lets you do exactly that.
The best SEO strategies for publishing companies
When you're starting an SEO strategy, you need the basics. Using these tips, you can begin targeting a specific niche that'll help you grow your brand.
1. Determine your keywords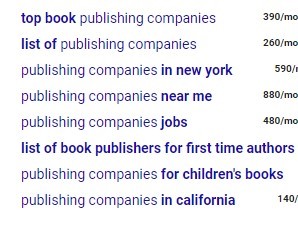 Any successful SEO campaign starts with keyword research. It's vital to know and understand the language your target audience uses to research your industry, since that lets you speak to them in the same terms. When you're not on the same page, you can be sure you're losing valuable business to your competition.
You can discover keywords that are valuable to your business with the Google Keyword Planner, which will show you how many people search for a term each month. It'll also tell you how intense the competition is for that keyword, along with an estimated cost for pay-per-click advertising (PPC).
Once you've found the keywords you want to use, you can write content based on them. This content should be explanatory, helpful, and informational to get the best results. Just write and use the keywords naturally throughout the page — without stuffing or repeating them — and you'll be able to reach your client base.
2. Create and share interesting content
Making and promoting content that resonates with your audience shows your potential customers that you're a knowledgeable and reliable authority in your industry. Consistently publishing high-quality content has a number of advantages associated with it.
Attracts and engages site visitors
Provides essential information to readers
Encourages visitors to convert into customers
When your content covers these qualities, you can be sure you have a strong product that can help your business grow.
3. Use social media
Most adults use social media. That alone is reason enough to create social network accounts for your business. You have a chance to engage, address, and converse with your customer base that'll give your company a more human feel.

The key to social media success is keeping your accounts up to date. You want your followers to see that you've posted something recently so that they know you're an active presence online. When you let your social media accounts slip, your online presence follows.
When you're looking at your options for social media, you have a number of different networks available.
Facebook
Twitter
Instagram
YouTube
LinkedIn
Pinterest
Reddit
Some social networks are better for certain kinds of content than others. For example, Twitter does well with blog posts, and Facebook followers like behind-the-scenes looks at companies. Also, LinkedIn is always hungry for more professional content that'll help people advance their careers.
It takes some time to get the hang of what social network works best for your different creations, but once you have that down, you can engage your customer base like never before.
4. Link to other pages on your site
When you're creating new pages, you probably have other pages on your site that provide important information. It's essential to link new pages to older ones (and vise versa) to make sure that users can find everything they want when they're reading through pages on your site.
Internal linking also helps search engines contextualize and index your website, which makes it easier for them to rank your company. Each link acts like a bridge to another page, and when Google sees those links, they follow them to check out your related content. All in all, internal linking is a great idea.
5. Track your progress
Whenever you start a new marketing tactic, it's important to track its success over the coming weeks. SEO takes some time to really work, but its steady rise should be visible after a month or so, and that can give you a great idea about whether you want to continue. You can use a lot of different tools to track progress, and one of the best is Google Analytics.
Attract more leads with publisher SEO services
If you don't have the time to launch a brand-new SEO campaign yourself, WebFX can help. Our team of Internet marketers knows SEO inside and out, and we constantly keep up with new trends and strategies, so we can get the best results for your company's goals. We can help you stand out against your competition and increase your revenue, so your company can thrive, even when you're up against big names like Amazon.
Do you want your business to thrive? Contact us today, and we'll start working on your SEO strategy together.