Publishing has the power to connect stories and knowledge with readers, making it one of the most important cultural industries throughout history.
The "Big Five" publishing companies — which may become the Big Four as Penguin Random House aims to acquire Simon & Schuster — have undeniable influence over the $25.7 billion industry. Still, smaller publishers and self-published authors can also find success with publishing. One of the ways to stand out among the millions of books published annually is with a robust digital marketing strategy.
Marketing your publishing company can help ensure the stories you and your authors tell reach the audiences that need them the most.
Our digital marketing campaigns impact the metrics that improve your bottom line.
See More Results

WebFX has driven the following results for clients:

$3 billion
In client revenue

7.8 million
Leads for our clients

5.2 million
Client phone calls
5 Digital marketing strategies for publishing companies
Book publishing has faced challenges due to the rise of digital media, but from 2020-2021, the industry saw exponential growth, partly attributed to people purchasing more books during the COVID-19 pandemic as a healthy way to stay busy.
Though numbers have steadied throughout 2022, people are still reading and feel passionate about books. Your publishing company can use the following digital marketing strategies to help your books and authors connect with audiences, whether they yearn for escapism, self-improvement, historical knowledge, or to learn about the issues facing society.
1. Make use of social media
People have long posted about the books they're reading on Instagram and YouTube — or "Bookstagram" and "BookTube" as they're known by people in the community — but where book content thrives now is on TikTok, or "BookTok."
New and established authors alike have benefited from the explosion of book recommendations on TikTok, including Adam Silvera. Silvera's young adult novel, "They Both Die at the End" — first published in 2017 — skyrocketed to the top of the New York Times' monthly bestseller list for young adult paperbacks in April 2020, where it remained through June 2022. Retail chains like Barnes & Noble have responded to the popularity of BookTok by creating BookTok tables with the platform's latest picks at their stores and having employees post their recommendations.
There are numerous ways to market books on social media platforms like TikTok. Consider the following ideas:
Advertising tropes:

Many readers choose their next read based on whether it has tropes they enjoy. Tropes are particularly common in the romance genre — think meet-cutes and second-chance love. If the books you're publishing contain beloved tropes, advertise them on social media to encourage readers who enjoy them to engage with the book.

Encouraging author interaction:

Many successful authors interact with their readers on their personal social media accounts. For example, New York Times bestselling romance novelist Emily Henry often asks her followers to

fan-cast the characters in her novels

. You can encourage authors to build their social media accounts or interview them on your company accounts. You can also ask them to share writing tips with those looking to improve their craft. Readers might feel more inclined to pick up a new book if they connect with its author.

Getting employee recommendations:

Who knows books better than your employees? Have them give recommendations on your social media sites or invite them to participate in challenges that show their favorite books you've published.

Enlisting influencers:

Getting help from BookTok and other social media influencers is a great way to encourage more people to engage with your company's books. Influencers can post content like "If you like this book, try this one" or reviews encouraging their audiences to grab your book. Word travels fast on social media, and influencer collaborations can help it move along even more quickly.
2. Create an email newsletter
Emails are another opportunity to connect with potential readers. You have lots of options for the type of content to share in emails, such as:
Recommendations:

When people subscribe to your email lists, you can ask them what their favorite genre is and send recommendations for relevant books. For example, if a new subscriber says their favorite genre is science fiction, you can send them monthly "wrap-ups" with science fiction recommendations, basic plot summaries, and links to purchase.

New releases:

Emails are also the perfect place to announce new releases and upcoming releases. You may consider encouraging people to sign up to receive emails by telling them they'll be the first to know about new and notable releases.

Sales and promotions:

You can also send exclusive offers and discount codes to those subscribed to your email lists. You might send a code for free shipping or early access to new releases and exclusive editions of books.
3. Develop a podcast
Many enjoy listening to podcasts while running errands, working out, going on walks, or cleaning. By listening to podcasts, readers can learn more about their favorite books and authors, get recommendations, and gain knowledge about the industry. Types of episodes you could produce include:
Author interviews

Monthly industry news updates

Deep dives into book themes
4. Enhance company and author website design
Usability is paramount for all types of business websites. Your publishing company websites and any affiliated author websites should be easy to navigate, fast, and mobile-friendly for the best user experience. Additionally, author websites should stay consistent with their personal styles and brands. Easy-to-use and well-designed websites can enhance a viewer's experience and encourage them to stay on the site longer.
5. Boost search engine optimization (SEO)
If you want your publishing company to succeed and thrive, SEO is a top priority. SEO is the process of improving your website and online presence so that it shows up near the top of relevant search results. As a publisher or independent author, you're likely to compete with names like Amazon, Penguin Random House, and HarperCollins, meaning your SEO has to be top-notch if you want to stand out.
The best SEO strategies for publishers include:
Determining your keywords:

Understanding the language your audience uses to find new books is essential for your company's success. Using keywords that likely

match your audience's search terms

will help your company rise through the search rankings to land near the top. Sprinkle your keywords naturally throughout pages — without overstuffing — to see the best results.

Creating engaging content:

Engaging content shows your audience you're knowledgeable about your industry. Aim to create and share content your audience would find helpful and interesting.

Linking to other pages on your site:

Linking old pages to new pages — and vice versa — helps audiences find what they're looking for on your site. It also helps search engines like Google understand your site better, which could help your rankings.

Tracking your progress:

SEO takes time to work but can be incredibly beneficial. As with any other marketing campaign, tracking your progress is crucial for finding ways to improve and seeing what's already working. You can use

tools like Google Analytics

to help track your SEO progress.
Time to Level Up Your Sales
Our long list of services helps you grow every aspect of your business with marketing strategies that are proven to increase bottom-line metrics like revenue and conversions.
In the past 5 years, we've managed more than 12.9 MILLION transactions across our client base.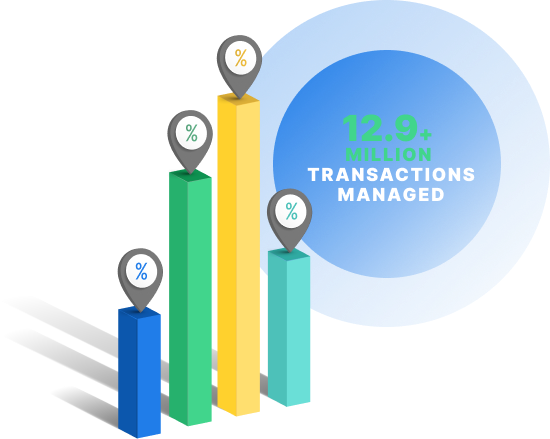 Start Internet marketing your publishing company with WebFX
Our WebFX team understands all the facets of digital marketing, from creating a social media strategy to implementing an SEO campaign. When you want to make a name for yourself among the big publishers and companies like Amazon, we can help.
For more information on how we can help your publishing company stand out with digital marketing, contact us online or call 888-601-5359!
Earn a 20% greater ROI with WebFX