The end goal of all your online marketing is to convert your audience into clients for your translation business. But not many people will convert after seeing only one ad or website page. For most people, you'll first need to turn them into leads — people with a clear interest in what you offer.
That's where lead generation comes into play. You need to generate as many leads as you can if you want to have an audience that's ready to pay for your services. But what exactly is lead generation for translators? Furthermore, what can you do to generate fresh leads?
We'll answer both of those questions below, so read on to learn more. Then subscribe to Revenue Weekly — our email newsletter — for more digital marketing tips from the agency with over 25 years of experience!
37% of marketers say that generating high-quality leads was one of their biggest challenges.
We want to decrease that percentage.
WebFX can help you generate high-quality leads with a customized marketing strategy.
Learn More About Lead Generation Services
What is lead generation for translation and interpretation services?
To start off our in-depth look into interpreter lead generation, what is a lead?
A lead is someone who has an interest in your business, but hasn't committed to becoming a client. Leads are vital to your marketing, because they make up the audience of people you can convert.
Consider this scenario: Two people encounter an ad from your company. The first person has never heard of you, but the second has already visited your site several times and considered becoming a customer.
Of those two people, which one do you think will convert? Almost certainly the second one, right?
Someone who's never heard of you probably won't become a customer after seeing one piece of marketing material from you. That only works on people who already know you — as in, leads.
That's why lead generation is so important. If you want to convert anyone, you first have to turn them into leads. Then, from there, you can push them to take the final step of becoming customers.
5 effective translator lead generation strategies
Now that you know what translator lead generation is, the question becomes, how can you generate leads? Luckily, it's not too difficult. There are several marketing strategies that can help you turn people into leads, and we'll cover each of them below.
Here are five strategies to drive lead generation for translators!
1. Start a company blog
One of the most effective translator lead generation strategies is to draw people to your website with compelling content — and there are few types of content better for that than a business blog.
When you start a blog on your site, you can use it to publish articles about translation and interpretation. You can write about anything from the services you offer to the latest trends in the industry to a list of tips for translating specific languages.
By including relevant keywords in your blog posts, you can get them ranking in Google searches where people will find them. As those people are drawn to your site to read them, many of them will end up moving on to other pages on your site or subscribing to your blog.
At a certain point, those people will grow familiar enough with you to become leads.
2. Create a Google Business Profile
Another excellent way to attract new leads is Google Business Profile. Google Business Profile is a platform where you can create a profile for your business and upload information like your name, address, and phone number for users to see.
When users perform local searches such as "translator near me," they'll see a local 3-pack at the top of search results, which will include three matching Google Business Profiles. If you have a profile fully filled out, it can rank among those local packs.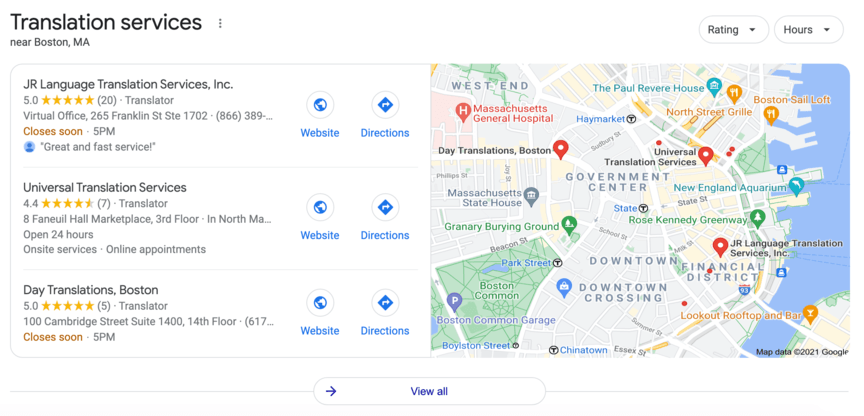 You may already have a profile in your company's name, in which case you can claim it by providing proof of ownership to Google. As users find your profile, many of them will end up visiting your site to learn more about your services and see if you're a good fit for their needs.
3. Launch a paid advertising campaign
Organic content isn't the only way to make it into Google rankings. You can also use Google Ads to launch a pay-per-click (PPC) advertising campaign, which will let you display ads at the very top of search results.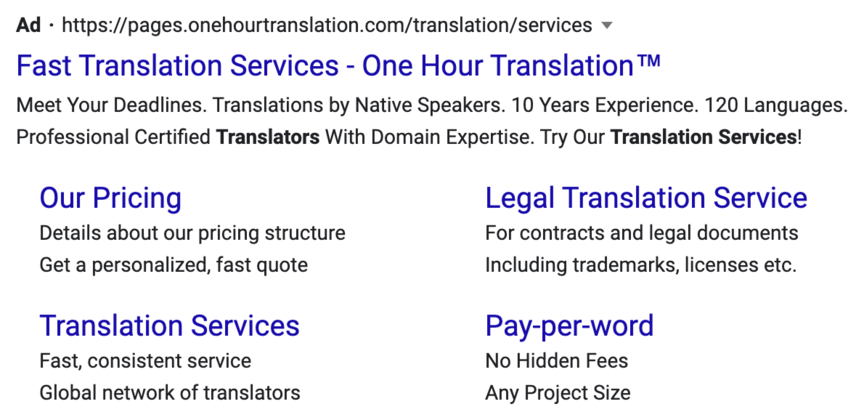 You can choose which searches to target by bidding on specific keywords. Whenever someone searches for a keyword, Google determine ad ranking by looking at:
Bid amount
Quality Score (Google's assessment of an ad's overall quality)
With an optimal bidding strategy and a high enough Quality Score, you can get your ads to appear to your target audience.
Not everyone will convert right away, but people will get familiar with your translation business and build their brand awareness. Running paid search ads functions as a great way to introduce people to your business and push people toward becoming leads.
4. Market yourself on social media
Did you know that the average user spends 28% of their Internet time on social media? That statistic makes it clear that social media sites are some of the most reliable places to find large online audiences — making them the perfect marketing spots.
To increase your online visibility, you can set up a social media account for your business. From there, you can post engaging content like infographics and videos. As you gain impressions and followers, you'll undoubtedly acquire many new leads in the process.
You can also run paid social media ads to obtain leads, which will appear right in users' social media feeds. You can target those users based on demographics like age and location, giving you the most relevant possible audience.
5. Build out an email list
A final interpreter lead generation tactic you can use is to build out an email list on your website. You can set up email forms across your site, where users can submit their email addresses in return for getting a newsletter or special offers.
When users submit their email addresses, it indicates a clear interest in your business, making subscribers leads for your translation company. From there, you can start sending out emails to everyone on your list to push them toward converting.
When you send out your emails, you can even segment them based on interest. So, for users who seem interested in one topic, you can send them emails about that topic, while sending a separate group a separate type of email.
Our digital marketing campaigns impact the metrics that improve your bottom line.
See More Results

WebFX has driven the following results for clients:

$3 billion
In client revenue

7.8 million
Leads for our clients

5.2 million
Client phone calls
WebFX knows lead generation for translation and interpretation services
Ready to kick your interpreter lead generation into gear? You don't have to do it on your own. With 1020 client testimonials, WebFX is the agency that businesses trust to drive top-tier results for their online marketing, and we know lead generation for translators.
Our lead generation services can help you implement all the strategies listed above and more. When you partner with us, you'll also receive a dedicated account representative to help you along every step of the way.
To get started with us, just give us a call at 888-601-5359 or contact us online today!
Earn a 20% greater ROI with WebFX