Most business-to-business (B2B) companies will benefit from pay-per-click advertising (PPC), and workforce management companies are no exemption. The global workforce management software market is forecast to grow to $12.5 billion in value by 2030, so businesses in this segment must look for ways to stay competitive and be top-of-mind among their prospects.
Enter PPC for workforce management companies. PPC can help put your business at the top of search results, drive more qualified traffic to your site, and grow your revenue. Read further if you want to know more about these topics:
Traffic attracted through PPC advertising yields 50% more conversions than organic advertising.
Are you leveraging PPC in your marketing efforts? Let's get started.
View the Guide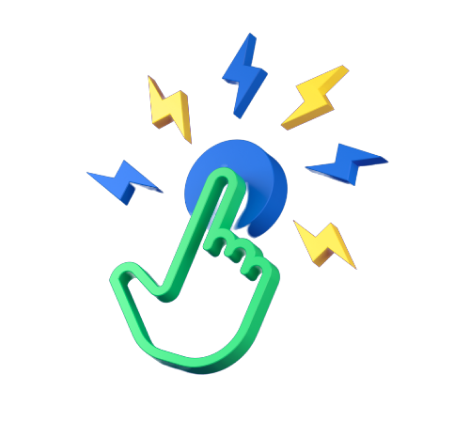 What is PPC for workforce management companies?
PPC is a digital advertising strategy that lets you place ads on prominent online locations like search engine results pages (SERPs), other websites, and social media sites. You only pay every time someone clicks on your ad.
The cost of PPC ads varies. Your bid for the ad space, your ad's quality score, and other factors affect your PPC ads' cost.
With the right strategy, PPC is an excellent way for workforce management companies to generate leads, increase sales, and drive revenue.
The benefits of PPC for staff management companies
Want to know the benefits of paid advertising for your business? Here are six benefits of PPC for workforce management companies:
PPC lets you set your ads' maximum budget: Unlike other advertisements that have specific rates, PPC gives you budget flexibility and enables you to set your ads' maximum budget. As a result, you can work within your budget and adjust accordingly, whether you're a small-to-midsized business (SMB) or a large enterprise.
PPC is cost-effective: You gain brand recognition as your PPC ads show up more frequently, but you only get charged when a user clicks on the ad and is likely to convert. That's why PPC's average return on investment (ROI) is $2 for every $1 invested.
PPC allows you to target your ideal customers: As a workforce management company, you want your paid ads to reach people interested in your services. PPC gives you options on how you want to target your prospects. You can target based on demographics, online activity, purchase or search history, or interests.
PPC has high conversion rates: Did you know that PPC traffic converts 50% better than organic site visitors? That's because people only click on ads when they're ready to convert.
PPC lets you track your campaigns' results: PPC platforms give you options to monitor and adjust your campaigns. This way, you can tweak your strategies to get better results.
6 paid advertising strategies for workforce management companies
Enticed to try PPC for your business? Here are some digital advertising tips for launching your digital advertising for workforce management companies:
Let's go through each one.
1. Identify the platforms you'll advertise on.
The first step is to identify the platforms on which you'll run your PPC campaigns. Choose platforms where your customers spend their time online.
Do they use Google to search for staff management services? Consider placing ads on SERPs.
If they read industry news and reviews on relevant websites, perhaps display ads on these websites can remind them about your service. Do they scour social media sites like LinkedIn for reviews about workforce management services? Consider paid social media ads on these social platforms, too.
2. Perform keyword research.
The next step is to choose the relevant keywords for your ads. You want your search ads to appear when searchers use terms related to your workforce management services so prospects interested in your company will see and click them.
Identify these keywords by conducting keyword research with tools like KeywordsFX. Start with a shortlist of terms specific to your services and business.
For example, let's say you offer workforce staff management services for manufacturing companies. Type in words like workforce staff management for the manufacturing industry. KeywordsFX will provide relevant keyword suggestions for your ads.
Long-tail keywords can help drive the best results for your ads. They contain three or more words and have a lower search volume, but they bring users who are interested in your business and will likely convert.
Pro tip: Use negative keywords. They are terms that users search along with your keywords that indicate they're not the right fit for your business.
For example, let's say you provide services suitable for large enterprises and don't want your ads to appear in searches that include SMBs. Add SMBs or small-to-midsized businesses to your negative keywords so that you won't appear in unqualified searches.
3. Determine your budget.
Another critical step in your PPC campaign is deciding how much to bid on ad space.
PPC ads work via an online auction. With this system, you tell search engines your budget for an entire campaign and how much you'd like to spend for every click on your ad. Remember that your competitors are likely bidding for the exact keywords as you.
When deciding your bid budget, consider the average cost per click (CPC) for the keywords you're bidding on and your potential ROI. Bid amount, ad quality, targeting, and competition affect your ad's CPC. WebFX offers PPC services that help you manage ad bids strategically, so you can maximize your return on ad spend.
4. Craft compelling and relevant ad copy.
Entice qualified searchers to click on your ad with compelling and relevant ad copy. After all, it's what they see first in search results.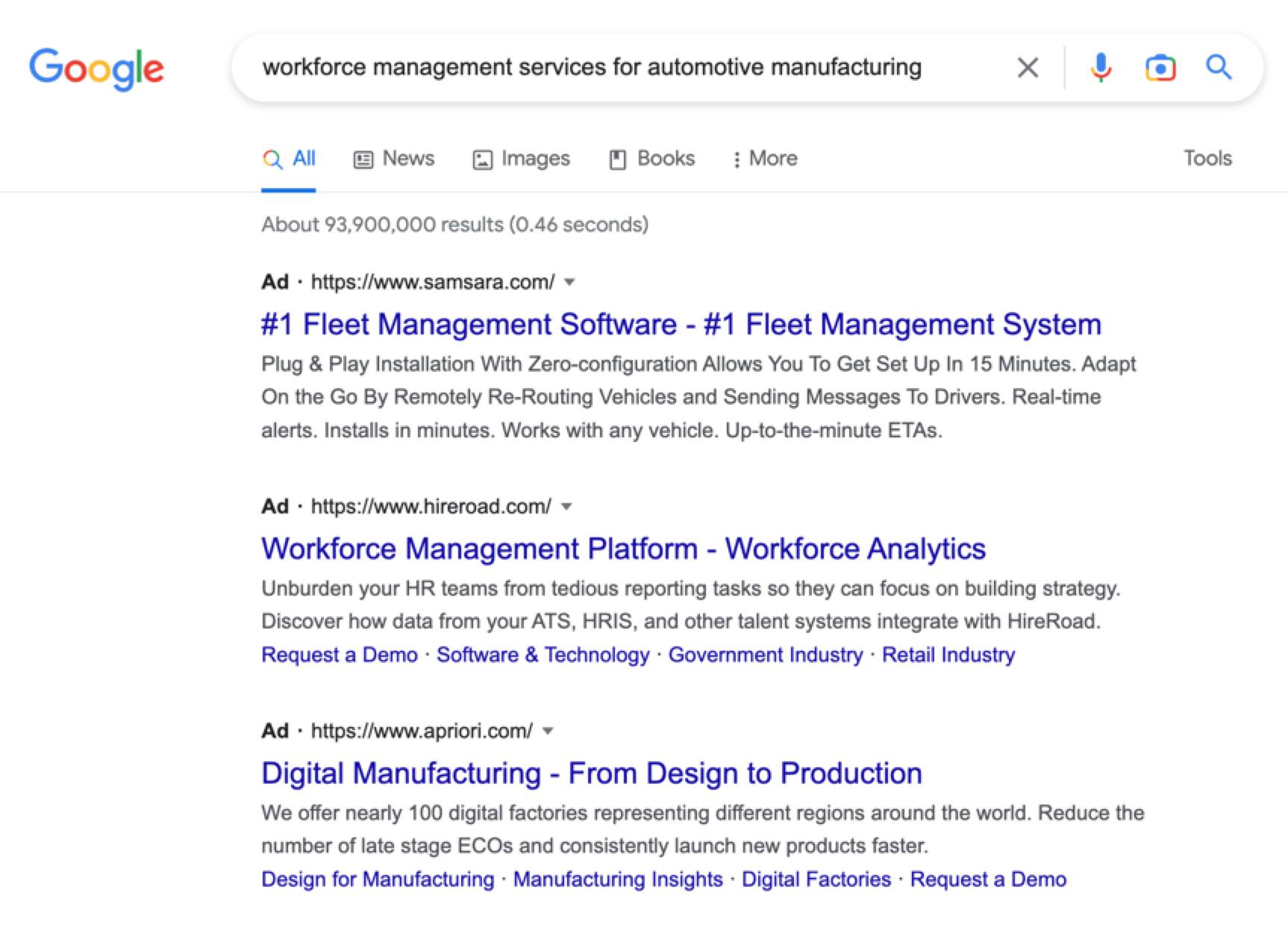 Let's say you're running a PPC campaign for your workforce management services. Make sure your copy is relevant to the keywords that the user searched. It should pique their interest and provide enough information to let them know you can address their needs.
Want to spice up your search ad copy? Consider using ad extensions, which let you provide more information about the workforce management services you provide.
Ad extensions increase your ads' chances of getting clicked. If a searcher is looking for a workforce management company nearby and your ad extension indicates their preferred location, your ad will likely interest them.
5. Create a custom landing page to keep visitors focused.
Once you've gotten the attention of searchers and made them click your ad, keep them engaged by setting up a custom landing page.
A crucial piece of your PPC campaign, a custom landing page must provide users with helpful information about your ad. Your landing page must make them stay focused and perform the desired action, like signing up for your newsletter or requesting an initial discussion.
Imagine if users clicked on an ad about workforce management services and expected to discover the service inclusions, but landed on a contact page without details. They'll have to navigate the website to find the services page. It's not exactly a seamless customer journey, right?
6. Monitor and analyze your campaigns.
PPC for workforce management copies isn't a one-and-done strategy. Track and analyze your campaigns' performance regularly so that you can improve on them.
Use tools like Google Analytics, which gives you insights into your ads' impressions, click-through rate (CTR), and conversions. These metrics will give you an idea if your ads are delivering results and helping you achieve your PPC goals, or if you need to optimize your ads.
Traffic attracted through PPC advertising yields 50% more conversions than organic advertising.
Are you leveraging PPC in your marketing efforts? Let's get started.
View the Guide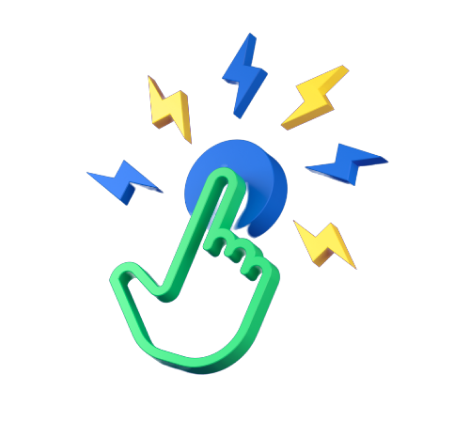 Inspired to start your paid advertising efforts?
Investing in digital advertising for workforce management companies is an excellent way to promote your business among your intended customers. If you're looking at tapping a marketing agency for your PPC campaigns, consider teaming up with WebFX.
With over 7.8 million leads generated for our clients, WebFX is a full-service digital marketing agency with 25+ years of experience. We create results-driven PPC strategies for our customers, focused on delivering ROI.
Contact us online or call us at 888-601-5359 to speak with a strategist about our PPC services!
Earn a 20% greater ROI with WebFX
Increase your leads, sales, and revenue with digital marketing