Are you looking for fresh ways to reach new customers and get them to engage with your business? You can attract new audiences and interact with them through social media for workforce management companies.
With 75% of business-to-business (B2B) buyers using social media when making a purchase, it makes sense for you to have a presence there, since that's where your prospects are. Here are eight social media tips for staff management companies:
Keep reading to learn more about each of those tips in turn, or click on any you'd like to know more about. Got other burning questions about social media marketing? Contact us online or call us at 888-601-5359 to speak with a strategist about social media for staff management companies!
Growing your social presence with WebFX is a walk in the park.
"WebFX allows growing your social media platforms to be stress-free! They are knowledgeable and adapt to your company needs!"
Learn More About Our Social Media Services

1. Identify your target audience
Before selecting the platforms where you'll establish your workforce management company's presence, identify your target audience. This enables you to strategize your organic social media content and paid social media ads.
Look at your existing customer base and your contacts from each customer. Identify the following:
Industry
Company size
Location
Contact's job title
Once you've determined these details, create your buyer personas. Buyer personas are fictional individuals who represent your actual customers, constructed based on traits that are common to those customers. They help you target prospects and promote your products and services to them.
You can create multiple buyer personas. For example, you can have one persona representing manufacturing company customers and another for food processing companies.
Each unique buyer persona provides insights you can use to craft your marketing messages to the right audience. For one of your personas, the most essential feature of a workforce management software is automated shift scheduling. For another persona, however, analytics might be the priority.
2. Determine the social media platforms that you'll use
When you're just starting, select one or two social media platforms on which your customers spend their time and where you'll focus your efforts. Do your clients spend a lot of time on LinkedIn where they find talent or look for services that they may need? Consider establishing a presence there.
You may also consider these other social media platforms for your workforce management company:
Create guidelines for each platform's tone and style. For example, you can post about your services and share your blog posts on LinkedIn if your audience on the platform is keen on learning more about your business and services.
On Instagram, however, your audience may be interested to see different content. For example, your audience may want bite-sized tips about workforce management and workplace culture. Showcasing your team's dynamics and values is also another content type you can explore to build trust with your audience and let them see the people behind the business.
3. Post helpful content for your audience
Would you be encouraged to scroll through and interact with a social media page that forces you to buy from the business? Chances are, you'll bounce off their page.
A better idea to draw people to your page is to post helpful content for your target audience. Do you want them to appreciate the benefits of subscribing to workforce management services? Share statistics showing cost savings and increased employee satisfaction your customers have enjoyed.
For users who aren't ready to sign up just yet, provide tips to help them get started with managing their workforce. Share your how-to blog posts, or repurpose them into infographics or short-form videos that your social media audience can easily digest.
Helpful content will attract people because it helps them address their problems. When you start talking about your workforce management offerings and how they can help their organization, your audience may consider purchasing because you're a trustworthy brand that has helped them in the past.
Determine the frequency of your posts and the topics that you'll cover. Plot them on your social media content calendar so that you can post helpful content for your workforce management company's different buyer personas.
4. Share your customers' testimonials
Talking about how great your staff management company might not convince your prospects to sign up for your services. However, if your customers talk about how great it is to work with you, your audience might just listen. That's because 92% of people trust recommendations from other people over brands.
Leverage this statistic by posting your customers' testimonials on your social media pages. Show your prospects how your existing customers like your workforce management company and services. Doing so helps build trust and confidence among your audience.
Perhaps one of your unique selling propositions is having excellent customer support. Showcase that through a testimonial from one of your happy customers.
5. Engage with your audience
Social media is a great way to interact with your customers and prospects. Not only can it give you an idea of what content resonates well with your audience through the number of shares and likes, but it can also elicit comments and feedback from your audience.
Take advantage of how social media connects you with your audience. Interact with them by responding to comments and answering their questions. Encourage conversations with your audience. Engaging with your audience has the following benefits:
It makes your prospects feel heard.
This positive feeling shows the public you care about your customers and want to address their workforce-related pain points. As a result, it fosters trust among your customers.
It encourages engagement from your community.
When your audience sees your business interacting with your followers, they feel safe sharing their thoughts. They can share their experiences, whether good or bad, so you know what makes them happy and which areas you need to improve on.
They may even provide suggestions that can help you enhance your workforce management services!
6. Consider running social media ads
If you want to acquire new leads and reach an audience that fits your buyer persona, consider running social media ads. Paid social media campaigns help you target people who haven't found your business yet but may be interested in your workforce management company's offerings.
You can target your audience based on demographics or industries. Let's say your workforce management company caters to the needs of nuclear energy and oil companies. Indicate these industries when you're setting up your campaign.
Different social media platforms enable you to set your ads' objectives. You can run lead generation ads to collect prospects' data who want to know more about your business. You can also increase brand awareness, post engagement or video views, and drive people to your website.
7. Have a clear call to action (CTA) in your organic posts and paid ads to drive action
Would you like your audience to read the full blog post on your website once they've seen your infographic on social media? Or would you like your prospects to call you after seeing your ad?
Make your call to action (CTA) clear in your social media post or paid social ad. This way, you're guiding your audience to take your desired action that will help them.
For example, let's say your organic social media post is an infographic about the benefits of workforce management software. You can provide a link to the full blog post or video within the post, so your audience can read or watch the valuable content.
8. Review the performance of your page and posts
Like other digital marketing strategies, social media for staff management companies lets you measure your campaigns' performance so that you can make improvements. Is your page reaching new audiences? Are your posts resonating well with your intended customers?
Use the analytics in the social media platform to find out how your page and your posts have performed. There are also social media monitoring tools you can use.
Is your audience engaging more and more with your content month over month? Which topics are getting the most interactions? These topics are probably of the highest concern to your customers.
74% of people use social media when making a purchasing decision.
Make their decision easy with a stellar social media presence. See how your brand can level up by requesting a no-obligation proposal today.
One of our experts will be in touch within 24 hours!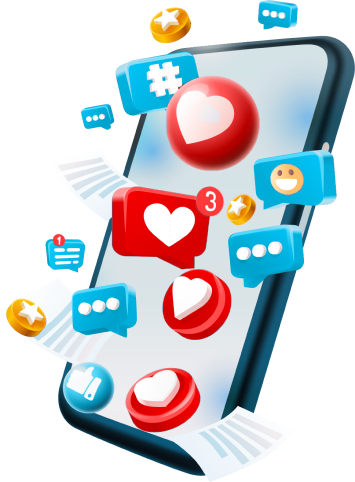 Engage with your audience with social media for workforce management companies
Social media for workforce management companies is an excellent way to interact with your prospects and reach new people who may be interested in your business. If you want to get started with social media for your staff management company, consider teaming up with WebFX.
WebFX is a full-service digital marketing agency with 25+ years of experience. Having generated over $3 billion in revenue for our clients, we create results-driven social media strategies, focusing on delivering ROI.
Contact us online or call us at 888-601-5359 to speak with a strategist about our social media services!
Earn a 20% greater ROI with WebFX
Increase your leads, sales, and revenue with digital marketing