"Video killed the radio star," proclaimed The Buggles in 1979 — but more than 40 years later, that doesn't seem to be true. Today, radio is as vibrant and popular as ever.
In fact, the technological innovations of the last few decades have provided radio stations with a valuable marketing opportunity. The Internet, in particular, is a highly effective way to reach potential listeners — and it starts with creating a website.
If you're looking to take your radio station's marketing campaign online, you need a website of your own. But web design for radio stations isn't as simple as throwing together a few pages and waiting for traffic to come in.
So, how can you optimize your radio web development strategy? Below, we'll look at seven different answers to that question.
Read on to learn more, and then sign up for Revenue Weekly for more digital marketing tips from the agency with over 25 years of experience!
We'll help you create a website that stands out.
"WebFX has been instrumental in helping us develop a new website, allowing us to be a leader in our industry."
Learn More About Our Web Design Services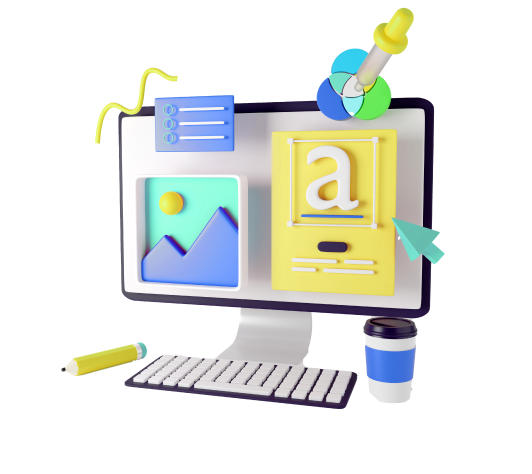 7 ways to improve web design for radio stations
Ready to learn how you can get the best results out of your radio station website?
Here are seven tips for improving web design for radio stations:
1. Set up clear navigation
One of the first and most critical things to get right on your website is to make it easily navigable. In other words, visitors should be able to find their way around it without any trouble. If they have trouble navigating it, they probably won't stick around.
One of the easiest ways to do this is to have a navigation bar at the top of every page on the website, with different tabs to denote the site's different sections. Name the tabs in a way that makes it clear where they lead.

You can also use breadcrumb navigation on your website to show users where they are on the site at any given time.
2. Craft compelling web content
To get users to come to your radio station website, you need something to draw them to it. One of the best ways to achieve that is to fill your website with informational or entertaining web content that might come up in people's Google searches.
As a radio station, you have one type of content already readily available to you, in the form of your broadcasts. All you have to do is post clips from your radio shows to give users something to find — and your current listeners will likely appreciate it, too.
On top of that, though, you can try other forms of content, like writing a blog. Blog content gives you the opportunity to insert keywords into your writing (for search engine optimization) to help it rank in Google, where new users can find it.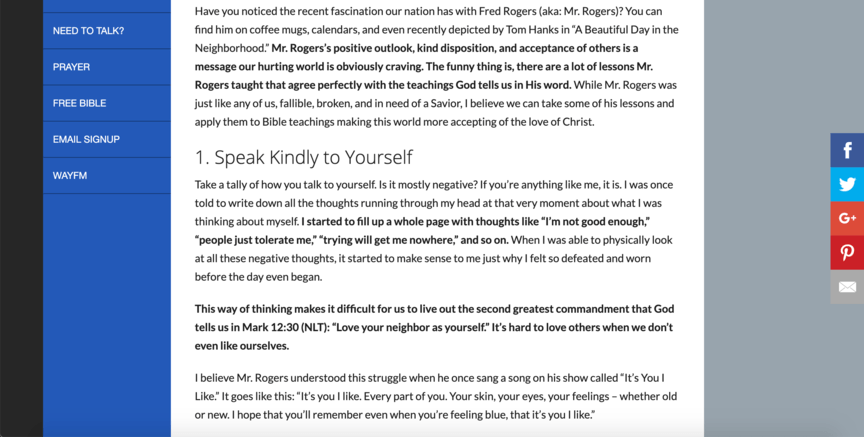 3. Make use of white space
You don't want your radio web design to overwhelm visitors when they come to your site. If you fill every available inch of your pages with content, though, that's exactly what will happen. To make things easier for your viewers, be sure to use plenty of white space.
As the name suggests, white space is empty space surrounding text or images on your website. Having a lot of white space makes it easy for your eyes to tell where they should go, and it gives the page room to breathe.
4. Establish your brand
Another essential element for your radio web development strategy is your branding. Branding involves setting your radio station apart from the competition by using specific items and visual patterns representing your unique brand.
Branding can encompass a variety of things, including the following:
The language style you use
The shapes and patterns you base your visual design on
The color scheme you use to represent your station
In any case, it's vital that you establish a clear and consistent brand across your website to help you stand out from your competitors. Otherwise, users will quickly forget about your station, no matter how good the rest of your marketing is.
5. Produce eye-catching video content
Video may have "killed the radio star" in 1979, but today, it's one of the most effective tactics to incorporate into web design for radio stations. When someone visits your website and a video starts playing, it will be hard for them to look away.
As a radio station, you have an incredibly unique opportunity to use the video format. Your station spends hours each day broadcasting audio on your channel, but video gives you the chance to let people see what it looks like when you're broadcasting.
Your audience will feel a greater sense of connection to your station when they're able to watch the DJs in action and see the people whose voices they're hearing. And, of course, they'll also be more likely to stay on your site.
6. Implement responsive design
When Google ranks your web content, it does so by looking at how that content appears on a mobile device. If your website is perfectly designed for a computer but looks strange on a phone, it has almost no shot at ranking highly.
For that reason, you need to make sure your radio station website practices responsive design — that is, you need to make sure you've optimized it for both desktop and mobile formats. Don't make this an afterthought. Design every page with both formats in mind.
Even outside the issue of Google rankings, you don't want people to have a negative experience when they visit your site on their phones. A positive user experience is critical to getting people to stay on your website.
7. Optimize page speed
Did you know that 83% of users expect your website to load in three seconds or less? Three seconds might not seem like much, but in the world of page load speeds, it's a long time.
If your web pages take more than three seconds to load, most people will hit the "back" button, opting not to stick around for the marketing content you've crafted for them.
For any of your other radio web design practices to mean anything, your pages have to load quickly — ideally, within one or two seconds. So, how do you make that happen? There are a few different ways you can increase your page load speed, including the following:
Cache web pages
Minify code
Compress images
Limit redirects
Hear What It's Like to Work With WebFX!

"WebFX for us has been much more like a partnership than a client-customer relationship. They really feel like they part of our team. We feel very fortunate to have found them."
Travel And Recreation Company
Get the most from your radio web development strategy with WebFX
Need help optimizing your radio web design? WebFX is the web design agency for you. We have over 1020 client testimonials, a testament to the fact that we drive results for our clients and their businesses.
With our web design services, you'll get help implementing all the tips listed above. You'll also receive a dedicated account representative who will work closely with you throughout the entire process to keep you informed and involved.
To get started with us, just call us at 888-601-5359 or contact us online today!
Earn a 20% greater ROI with WebFX