The minute a user visits your website, they will judge your shooting range. Your website's design has a tremendous impact on how people perceive your business. If you want it to be a positive one, you need to invest in web design for shooting ranges.
On this page, we'll provide you with five tips for web design for gun ranges. If you need help designing your shooting range's website, contact us online or call us today at 888-601-5359 to speak with a strategist.
We'll help you create a website that stands out.
"WebFX has been instrumental in helping us develop a new website, allowing us to be a leader in our industry."
Learn More About Our Web Design Services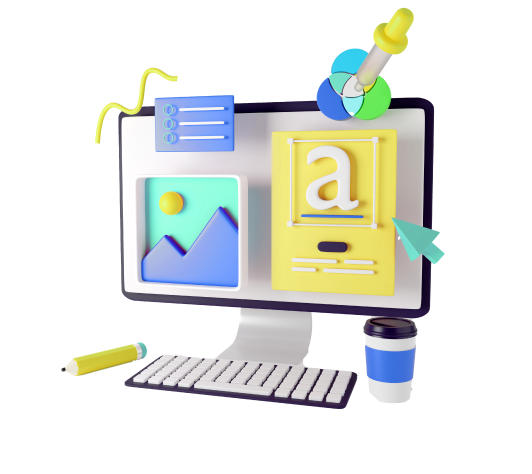 1. Create a website design that reflects your shooting range
Your website is the heart of your online marketing efforts. You want to showcase your brand to your audience to help them get to know your business better. When you design your website, ensure that the design reflects your shooting range.
It's essential to build a strong brand image for your audience because it helps you earn conversions later. They'll get familiar with your business and get to know your shooting range. When it comes time to choose a gun range, they'll choose yours over the competition because they are familiar with your brand.
With web design for gun ranges, choose colors that reflect your business. Many people associate colors with certain companies. McDonald's red and yellow color scheme, for example, is a predominant trademark of their business.
If you already have a color scheme in place, you can use it in your web design style. Generally, you'll want to stick to having three to four colors in your palette: one primary color, one to two accent colors, and a font color.
Once you establish your color scheme, use it across your site consistently. Every new page on your site should have the same color scheme as other pages. This ensures that your brand image is the same across your website.
You'll also want to establish a brand style for your business. Your brand style sends a message to your audience about your business. The look and feel gives your audience a better idea about your business when they enter your site.
If you own a high-tech gun range, for instance, you may focus on creating a black-and-white, sophisticated design to convey the luxury of your shooting range. On the other hand, a rustic and simplistic style can express that your shooting range has a casual, backwoods feel to it.
Your website's design says a lot about your business, so it's vital that you put the time and effort into creating an A-plus design for your shooting range. A professional gun range website design will help you attract even more people to your range and get them to visit your business.

Hear What It's Like to Work With WebFX!

"WebFX is a great partner in our companies success. They take the time to understand our business and put campaigns in place to meet those business needs. They also bring fresh new ideas to the table on a regular basis. Excellent company to work with."
Outdoor Recreation
2. Integrate responsive design
Responsive design is a critical component to your website's success. People are going to visit your website from a variety of devices, from smartphones to desktops. You must ensure that everyone has a positive experience on your site, no matter what device they use.
A responsive design ensures that your website adapts to whatever device someone uses. It allows users to see your site the best way possible from their device.
Imagine trying to access the desktop version of your site on a mobile phone.
It would require constant zooming in and out to look at photos, click on links, and read information. That's not a positive user experience for someone who wants to browse your site quickly and efficiently.
With responsive design, your audience will always see the best version of your site. Not to mention, having a responsive website is also a huge part of search engine optimization (SEO), which helps interested users to find your website.
They will be able to navigate your site and read the information on it with zero hassle. Responsive design keeps your audience engaged on your website longer, which leads to more valuable leads for your business.
If you aren't sure where to start with responsive design, our team of award-winning web designers can help. With over 200 experts on our team, you can count on us to help you create and integrate a responsive website design you will love.
3. Include engagement elements to help people connect with your gun range
You're going to have many people that visit your website and like what they see. When you have leads looking to learn more about your shooting range, it's crucial that you implement design elements that help these leads connect with your business.
The first element you'll want to include in your shooting range website design is social media buttons. Social media platforms are an excellent way for your audience to connect with your business and have constant communication.
When you design your website, integrate icons for the social media platforms you use.
You can place these near the bottom of your site. If someone scrolls through your page and enjoys the information, they can easily click on these buttons and connect with your shooting range on social media.
The second element you'll want to include is an email sign-up bar. Some leads may want to get exclusive offers, sales, or information from your shooting range. An email sign-up bar can help you capture these leads for your business.
You'll want to design a simple email sign-up bar. Your audience doesn't want to spend too much time filling out your form. You can always follow up and ask for more information later.
When you create your email sign up bar, place it in the header or footer of your website.
This location ensures that your audience will always know where to find the bar, regardless of what page they visit. You can also use pop-up boxes with an email sign-up form to capture leads as they scroll through your content.
To help you earn more relevant leads, integrate email sign-up bars into your design for gun ranges. It will help you create an effective site that captures valuable leads.
4. Make your call to action (CTA) buttons stand out on the page
Call to action (CTA) buttons are an integral design element. You're going to have leads that visit your shooting range's website and like what they see. They want to know how to take the next step, but they might not know how without guidance.
CTA buttons help you guide your audience to the next step. You tell them how to proceed next, depending on the page they're visiting.
When you integrate CTA buttons on your site, you want to design them to stand out on the page. People should be able to find your CTA buttons without looking for them. That way, they know how to proceed next.
Your color choice is one of the most critical parts of your CTA. You want it to stand out from the rest of the page so that your audience doesn't miss it. Generally, you'll want to use your second accent color to make your button noticeable.
Let's say your color scheme is black, grey, white, and orange.
An orange CTA button would stand out significantly against a black background with grey accents and white text. Your audience's eye would get naturally drawn to the button because it's a pop of color against a simple palette.
If you want to drive success with your gun range website design, use CTAs that pop on your page. You'll get more leads to engage with your content and remain interested in your business.
5. Make navigation simple and easy to use
An essential part of web design for shooting ranges is creating simple and easy-to-use navigation. Your audience is visiting your site to get information. If they can't find that information, you risk losing these potential leads to your competitors.
To keep users engaged on your page, design a navigation that is hassle-free for your audience. Don't make your audience struggle to find information on your page.
Use broad headings in your navigation. Broad headings encompass numerous subjects beneath them, which keeps your page organized.
Let's say that someone checks out your website to see what types of guns they can rent when visiting your shooting range. This particular user wants to shoot a specific firearm, so they want to find out if you have it.
They get to the homepage of your site and see a category titled "Shooting Ranges."
In this category, you have several subcategories, such as basic information about the shooting ranges and cost for renting a firing lane. In this same category, there is a subcategory for "rental guns."
The user clicks on this link and gets taken to a page with alphabetized information about all the guns you can rent. This person finds this information fast because the navigation was simplistic and organized.
By designing simple and easy-to-use navigation, you'll keep more visitors engaged on your page. This kind of approach to your shooting range's website design will help you earn more valuable customers for your shooting range.
WebFX is a web design expert for shooting ranges
If you want to reach online shoppers looking at a local gun range, you must invest in your website's design. At WebFX, we have over 25 years of experience creating websites that drive results.
When you partner with us, you'll get a customized website that is unique to your business. We know how to create sites that our clients love. Our 1,020+ client testimonials highlight the award-winning work we do for them.
Not to mention, we've designed and launched over 1,128 websites and won over 50 web design awards.
If you're ready to start building a custom website for your business, contact us online or call us today at 888-601-5359 to speak with a strategist. Does your business need a website quickly? Check out our program, RainmakerFX, that will help you build a website in 30 days.
We look forward to helping you build a custom website that drives more leads for your shooting range!