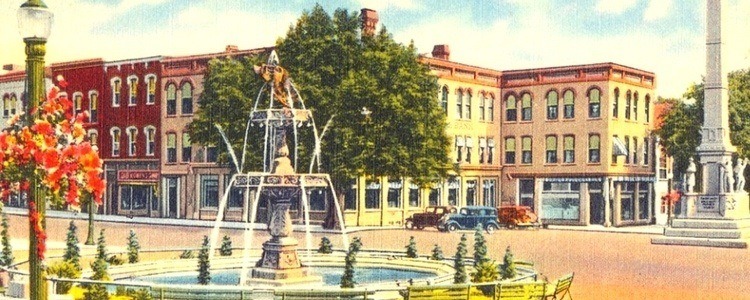 Internet Marketing in Bloomsburg
Bloomsburg, Pennsylvania is one of the most recognizable university towns in the state.
On top of that, it's also a historically significant region that dates back centuries. And over the years, hundreds — maybe thousands — of businesses have come and gone.
That includes businesses in industries like iron, education, and more.
It also includes your business. And no matter what industry you're in, you have the potential to grow beyond the town limits of Bloomsburg (the only incorporated town in Pennsylvania).
All you need are the right Internet marketing strategies. If you'd like to speak with a specialist, you can reach us at 888-601-5359.
Defining "Internet marketing"
Internet marketing is an umbrella term for different promotional strategies that all take place online.
You've probably heard of a few of these strategies before. Search engine optimization (SEO), pay-per-click advertising (PPC), and web design are some of the most common.
Generally, all of these strategies are designed to promote your business on search engines, social media, and other channels throughout the world. All you need to start is a website. Your website acts like the digital storefront to your brand. You could sell candy by the box or construction contracts — but you need a website in order to do it.
Other Internet marketing strategies include email marketing, content marketing, social media marketing, and more.
If you're new to Internet marketing, it may sound complicated. But it works, and it's absolutely essential for reaching today's Internet-driven consumers.
We can prove it, too. Just take a look at one of our clients near Bloomsburg, Pennsylvania.
Some of our client Successes
Our Internet marketing clients near Bloomsburg, PA
We work with HeartCraft Furniture, a business in the Bloomsburg area, and we've helped them achieve their marketing (and financial) goals.
HeartCraft Furniture Traditions
HeartCraft Furniture Traditions creates furniture for all parts of the house. Their products are high-quality, but they needed a way to show to their potential customers and set themselves apart from the rest of the furniture retailers selling products online.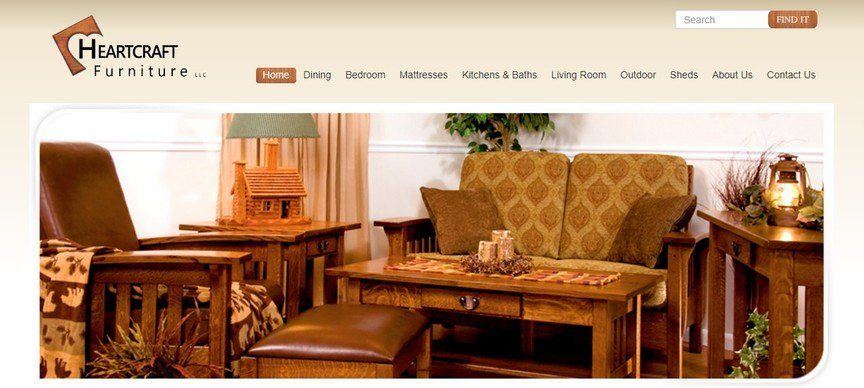 HeartCraft wanted to reach more customers, but they didn't want to compromise on price. So to reach more customers who wanted high-quality furniture, HeartCraft went to the Internet.
Today, they have a robust website with lots of products and images, along with a streamlined checkout process that makes it easy for customers to buy. They also have their site split into sensible sections that make navigation easy for new users. And, naturally, they highlight products throughout the site to sell more products per customer purchase.
Overall, it's a smart strategy — and that's reflected in HeartCraft's growing bottom line.
The advantages don't stop there, either. With the right SEO and PPC promotion, HeartCraft can compete with major brands on Google. So even though they're a small-town company, they still reach clients just as well as big-time corporations.
The Internet is a level playing field, and HeartCraft has taken advantage of that to the fullest.
If you're not convinced, just take a look at their website. But just so you know, you may wind up buying a new bedroom set!
WebFX is an Internet marketing agency that helps Bloomsburg companies
WebFX knows Internet marketing, and we also work with tons of Pennsylvania companies. After all, we're headquartered in Harrisburg.
That may be a bit of a drive from Bloomsburg, but it's still close enough to get to know us well. We love speaking to new clients, especially other PA business owners.
We also have a team of marketing experts that's been recognized as one of the best in the business. And, on top of all that, we've been marketing online since 1997, making us one of the oldest Internet marketing agencies in the industry.
We've worked wonders for our clients in the past — now, we'll do the same for you.
Contact us today to create an Internet marketing plan that'll help your Bloomsburg company grow!
Call 888.449.3239 or contact us online today to see how WebFX can improve your online performance.