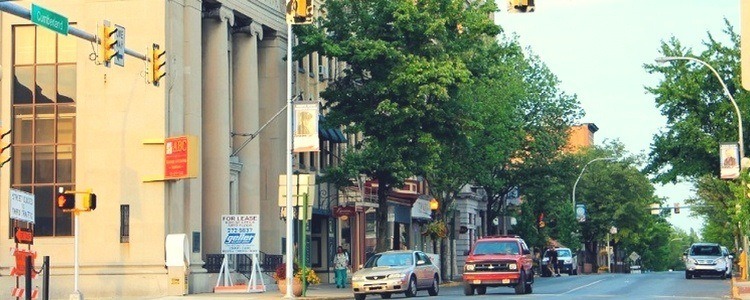 Internet Marketing Services for Lebanon, PA
Lebanon has a lot to be proud of. Known at various points in time as the second least-stressful city in the US, Lebanon has impressively low unemployment, crime, and divorce rates. It's clear that citizens in the Lebanon area are all skilled workers with incredible work ethics.
If you're from Lebanon, PA and are looking for Internet marketing services, you deserve an agency with the integrity and work ethic to match your own. Keep reading to learn how we can help, and give us a call at 888-601-5359.
What is Internet marketing?
Internet marketing is a general term that encompasses an extensive list of online marketing channels. As a full-service agency, WebFX is equipped to help you research, strategize, and execute a plan for absolutely any type of online marketing you're interested in.
If you're not quite sure where to start with Internet marketing, there are a few general service types that most businesses utilize:
This is where it all starts. You can't really engage in Internet marketing without a website, and this is one area where you don't want to cut corners. Your website is the public face of your company in the digital world. Investing in professional design work and comprehensive functionality ensures that your customers will like what they see from the start, and sets your company apart from the competition.
SEO is the basis of most Internet marketing campaigns. It's the practice of structuring elements on your website and optimizing them in certain ways, along with connecting your website to various others across the web.
Together, these efforts help your business appear higher up in search engine rankings. This can be done at both an overarching and local level.
A proper foundation of SEO work is practically a requirement for any businesses hoping to compete online.
Some of our client Successes

PPC is an advertising model that's especially attractive to businesses who want to stay within a specific budget. You design advertisements which are then displayed alongside search engine results and/or on social media websites.
The best part of PPC is that you only pay when a user actually clicks your ads. It doesn't matter how many people look at them, you won't pay until someone clicks. It's perfectly suited to smaller budgets, and allows for fantastic ROI when properly structured.
By this point, almost all marketers are aware of the power of Facebook, Twitter, Pinterest, LinkedIn, and other social media sites, even if they're not personally active on any of these networks. As time goes on, it's more necessary than ever for businesses to maintain active social media profiles. In fact, it is often a customer's first stop when looking for new businesses to patronize.
Social media also allows you to interact with customers on a very personal level, which is a great way of building a loyal customer base.
Why WebFX is the right fit for you
Because we're located in Harrisburg, we have an extensive understanding of PA businesses and how they function. Even more than that, we sincerely care about the success of your business and the well-being of your community.
We back up our claims with proven results, too. We have many successful clients right in the Lebanon area: the Lebanon Valley Cancer Center, Fortna Auctioneers, Philadelphia Mixing Solutions, and Kountry Kraft, Inc. to name just a few.
We also know the area quite well, from the Coleman Memorial Park to the Reading Train Station, and everything in between. While this background information may seem unrelated to an Internet marketing work relationship, you'd be surprised at how often deep knowledge of an area makes or breaks a campaign.
Increase your revenue today
We'd love to partner with your business and help you reach the success we've achieved with so many other clients. We're a performance-driven agency, and can help you get more leads, increase website traffic, build a social media community, and anything else you may want to accomplish.
Contact WebFX today for more information or a free quote!
Looking for Internet marketing services in the Lebanon, PA area? Call 888-601-5359 or contact us online today to see how WebFX can improve your online performance.