The Best Lead Generation Software
Lead generation software is one of the most high-demand commodities in Internet marketing.
Lead generation software lets you track your leads, watch the journey they took to become leads, and use all of that data to refine your future lead generation campaigns.
But there are lots of lead generation software options out there. How do you know which one will work for your business?
You can contact us online or call 888-601-5359 today to speak with one of our experts!
On this page, we'll take a look at the five major jobs that lead generation software should perform. When you utilize one that fulfills all of these jobs, you're in good shape to continually drive new leads straight to your website.
37% of marketers say that generating high-quality leads was one of their biggest challenges.
We want to decrease that percentage.
WebFX can help you generate high-quality leads with a customized marketing strategy.
Learn More About Lead Generation Services
Job #1: Company tracking
The first job that lead generation software should do is company tracking.
Company tracking is the process of gathering and processing data that tells you about a visitor's business. This is especially helpful for B2B companies that thrive on insider knowledge.
When you have company tracking, you can see the name, industry, and location of a company that's interested in doing business with you.
That may not sound like a lot of information, but it's invaluable if you want to prepare a pitch for them.
You can approach them with a customized pitch that'll appeal to them directly and show them that you did your homework.
Personalization — which we'll talk more about later — is key in today's highly-competitive online industries.
If you want to turn visitors into leads (and leads into customers), you need company tracking in your lead generation software.
HOW MUCH DOES LEAD MANAGEMENT SOFTWARE COST?
Job #2: Call tracking
Call tracking is another job of lead generation software that "listens" to your incoming phone calls, records them, and provides you with transcripts.
You can use these transcripts as reference points for what a customer wants, and they're especially useful for personalizing pitches, just like company tracking.
Call tracking is essential to lead generation because even with today's tech-savvy businesses, some leads will still prefer to call you instead of emailing you.
Those phone calls need to be recorded so you can accurately track the number of leads you acquire and how you acquired them.
If you don't track them, you won't have accurate numbers to use in future lead generation campaigns.
Most importantly, you can see where your leads originate. After several weeks of tracking leads, you'll start to see patterns of different industries that want your services, which can help guide your marketing strategies in the future.
That kind of insight is invaluable to your business as you work to grow your company.
Job #3: Lead tracking
While this may sound redundant, lead tracking is a critical part of lead generation software.
Lead tracking processes and stores all the data people give you in form fields on your site. That includes names, phone numbers, email addresses, company names, locations, and any other information you request.
While a lot of that information can be gathered through company and call tracking, lead tracking is a much more natural way to appeal to your leads and personalize your pitches.
Lead tracking is also the only part of lead generation software that helps you nurture leads, instead of earning them.
Essentially, when you know more information about your leads, you can work with them more easily. That helps you establish trust, and that trust helps them convert into paying customers.
Lead tracking lets you close deals. If you don't have it, you risk losing lots of customers to your competitors.
Job #4: Website content personalization
Website content personalization is a cutting-edge lead generation strategy that requires high-functioning websites and lots of skill on the part of your company.
Website content personalization looks at a user's browser history and cookies and tailors the content on your site to speak to that user specifically.
So if you run an ecommerce company that sells shoes, you can modify your homepage to show dress shoes, running shoes, sandals, or other footwear based on the browsing characteristics of a visitor.

That lets you show customers exactly what they want, right when they want it. Your visitors don't have to spend time looking for what they want when it's right in front of them as soon as they arrive on your site.
And once they see it, they can become a new lead — or a new customer — right off the bat.
Job #5: Lifecycle email automation
Lifecycle email automation is another lead nurturing process that helps you keep in contact with leads and turn them into customers.
Basically, lifecycle email automation lets you send pre-written emails to people who have given you their contact information. These emails then walk your customers through certain steps in order to get them to convert to paying customers.
In a sense, this is marketing to your leads, which may sound a little strange. But it's incredibly useful when you want to keep in contact with lots of new leads.
In that respect, lifecycle email automation is a necessity for any lead-generating business.
You can create as many messages as you want in a series to help nudge leads in the right direction to becoming customers.
Whether they have to fill out more information on your site or call you directly to fully become a customer, you simply need to tell them what to do next.
Your leads can then decide if they want to follow through or turn down your services.
Obviously, you want leads to follow through. But not every lead will become a customer.
Lifecycle email automation makes your leads choose one way or the other. That way, you either get a new customer or you don't waste your time on dead ends.
With that kind of decisive reliability, it's a wonder every business doesn't use lifecycle email automation.
Meet MarketingCloudFX:
One platform tracking countless metrics and driving stellar results.
Learn More About Our Proprietary Software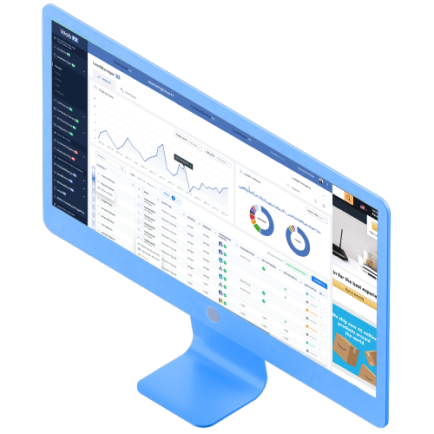 WebFX knows lead generation
At WebFX, we know lead generation so well that we created our own software client that performs all five of these jobs and more. MarketingCloudFX lets you track all the data you need to make informed decisions about your lead generation strategy while nurturing your current leads into clients.
MarketingCloudFX gives you the digital support you need to take your business to the next level of technology. You can even track non-Internet lead generation strategies, including phone calls!
Do you want the best lead generation software to grow your business? Contact us today to start using MarketingCloudFX now!