The B2B Local SEO Agency That Drives Conversions
Local search engine optimization (SEO) is one of the most reliable digital marketing tactics your business-to-business (B2B) company can use. But you may not want to handle it on your own. That's why you should partner with a B2B local SEO agency like WebFX!
Get Transparent Plans & Pricing From Our Local SEO Agency
Silver Plan
$2,500 / month
150 keyphrases optimized

30 pages optimized

6 content, outreach, UX, or CRO assets per quarter

8 custom dashboards

Phone call, lead, and revenue tracking dashboard
200 keyphrases optimized

40 pages optimized

12 content, outreach, UX, or CRO assets per quarter

8 custom dashboards

Phone call, lead, and revenue tracking dashboard
Diamond Plan
$8,000 / month
300 keyphrases optimized

60 pages optimized

24 content, outreach, UX, or CRO assets per quarter

10 custom dashboards

Phone call, lead, and revenue tracking dashboard
WebFX: The best local B2B SEO company for your business
Unless you run a massive global enterprise, your business is limited to a particular geographical region, like a specific city or state. That means your potential clients reside in a specific location. So, what's the best way to reach those people?
SEO is one of the most effective marketing strategies to help you to get your web content ranking in search results where people can find it. When you want to attract prospects from your local area, the best kind of SEO for you to use is local SEO.
Handling local SEO on your own can be a handful. That's why you should partner with a B2B local SEO company like WebFX for our local SEO services. Keep reading to learn more, and then call 888-601-5359 or contact us online to get started with us today!
Independent research from Clutch has named WebFX the
top SEO company in the United States.
Clutch has personally interviewed more than 250 WebFX clients to discuss their experience partnering with us.
Read More Clutch Reviews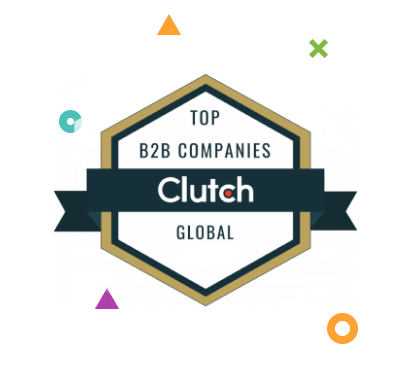 Why hire a B2B local SEO agency?
Wondering what the advantages are of partnering with a local B2B SEO agency?
Here are three of the biggest benefits that come with hiring a professional agency for B2B local SEO:
1. A B2B local SEO company has more experience
The first reason to partner with a local B2B SEO agency is that an agency has years of marketing experience.
The benefit of all that experience is that it leads to better marketing campaigns for your business. After years of optimizing campaigns, an agency knows what strategies and tactics work best.
That means that by partnering with them, you'll gain access to that expertise and apply it to your marketing efforts.
2. A B2B local SEO company has better time management
In addition to being more experienced, a professional agency will significantly aid your company's time management. Your B2B local SEO agency will handle all your marketing for you.
Normally, you'd have to handle your marketing alongside all the other aspects of your business, juggling them unsteadily within what limited time you have. But with an agency handling your marketing, you're freed up to spend more time on those other business aspects.
Simultaneously, your agency partner will have more time to devote to your marketing campaigns, leading to higher-quality results.
3. A B2B local SEO company provides better resources
When it comes to digital marketing, it's helpful to have tools at your disposal. Those tools perform various functions, from developing content to tracking leads and conversions. B2B local SEO agencies provide some of the best tools on the market.
For one thing, you don't want to waste marketing dollars buying every single tool on the Internet. An agency, on the other hand, will likely have its own access to all the tools you need, meaning the benefits of those tools are simply part of the service package and you can centralize them all in one place.
Why choose WebFX as your local B2B SEO agency?
Now that we've covered the benefits of working with a local B2B SEO company, let's talk about why WebFX is the ideal partner for your business. Here are three reasons we're the best choice for your B2B company:
1. WebFX has decades of experience
WebFX brings decades of experience to the table. We've been driving marketing results since 1996, giving us over 25 years of experience in the field.
We've already covered the benefits of having an experienced agency at your back, and you'd be hard-pressed to find an agency with as much experience as WebFX. Over the years, we've learned what it takes to drive top-tier results for our clients' campaigns, and we can do the same for you.
2. WebFX is a full-service agency
Another standout feature of WebFX is that we're a full-service agency. That means we offer a wide variety of digital marketing services aside from SEO. So, what does your business stand to gain from that?
The fact is, SEO isn't the only strategy you want to use to promote your B2B. The best marketing results come from a combination of several strategies. But it would be a pain for you to go to multiple different agencies to cover all those strategies.
The much easier option is to choose a full-service agency, enabling you to optimize all your marketing strategies through a single company. That's what you'll get when you partner with WebFX. Our service options include:
So when you're ready to expand your marketing, we can help you branch out into new strategies to help you earn more clients.
3. WebFX drives superior results
At WebFX, we have an extensive history of driving superior marketing results for our clients. In the past five years alone, we've generated over 7.8 million leads and $3 billion in revenue for our clients.
That's a big part of why our clients have left us with over 1,020 testimonials over the years that speak to the quality of our services. When you partner with us, you'll gain access to those same services, helping you skyrocket your leads and revenue!
Learn how we increased traffic by over 40%, and conversions by over 100% for an ecommerce client.
Read the Case Study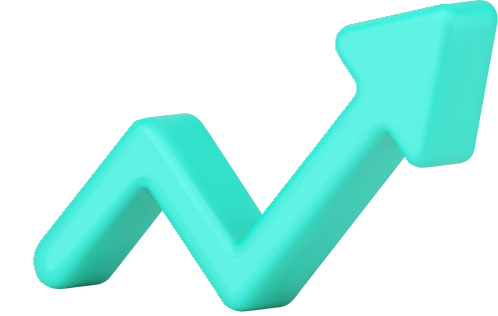 Local B2B SEO services from WebFX
We've established how vital local SEO is, but what is included in that? What will you get from us when you choose us as your B2B local SEO company?
Here are three key service features we'll provide as part of our local SEO plans:
1. Google Business Profile setup
Most of SEO focuses on getting your website to rank in search results, but that's not the only way to appear there. One of the most important local SEO service features we offer is a Google Business Profile setup and optimization.
A Google Business Profile includes basic information about your company, including your name, address, and phone number. Users find these profiles in one of two ways:
They look up your business or click on your location in Google Maps

They perform a local search and discover a

local 3-pack

featuring your business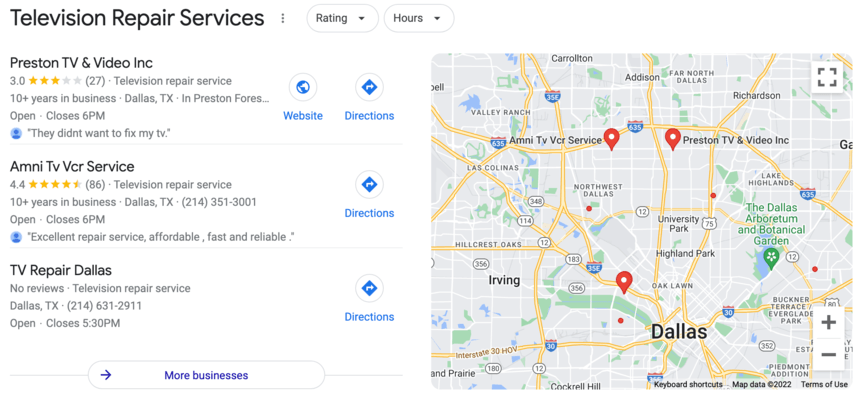 WebFX will help you create and optimize your profile to help you appear in those local 3-packs. Appearing in the local 3-pack will introduce people to your company and help turn them into leads.
2. Content optimization and keyword integration
Another of the most significant ways we'll boost your local SEO efforts is by optimizing the written content on your website. If you want your content to rank in search results, it's vital to take steps to help it rank better.
Some of the ways we'll boost your content include:
We'll help you content appear in more relevant local searches so you can reach people in your community.
3. Review management
Our team at WebFX will help you earn and manage positive reviews from your existing clients. Reviews are one of the most fantastic ways to draw in new leads, as those potential leads will highly value the opinion of your current clients.
We'll help you use your marketing campaigns to encourage clients to leave reviews and submit testimonials online. You can display your testimonials on your website for people to read when they discover your business through Google.
Our team will also help you manage your reviews on different platforms like Google and Facebook. Anytime a negative review appears, we'll alert you and help you resolve the client's issue.
Ready to Grow? Get your FREE Quote Today!
"We measure our success by how much we WOW our clients."

Bill Craig
WebFX President
Explore our Local SEO Company's Plans & Pricing
Features
Silver
Gold
Platinum
Diamond
Enterprise
Number of keyphrases optimized (Keyphrases with less than 1M results)
Up to 150
Up to 200
Up to 250
Up to 300
Custom
Pages Optimized
Up to 30
Up to 40
Up to 50
Up to 60
Custom
Technical Website Analysis & Opportunity Report
Custom
Keyword research & selection
Custom
Keyword mapping to target pages
Custom
Title Tags & Meta descriptions
Custom
Robots.txt optimization
Custom
XML sitemap creation & submission
Custom
Quarterly Earned Media Content Assets – Content, Linkbuilding, Consulting, or CRO Assets
6 Content, Outreach, UX, or CRO Assets
12 Content, Outreach, UX, or CRO Assets
15 Content, Outreach, UX, or CRO Assets
24 Content, Outreach, UX, or CRO Assets
Custom
Google Business Profile optimization (if needed)
Custom
Information architecture audit
Custom
Canonicalization analysis
Custom
Initial external link analysis and disavow
Custom
Link redirect audit
Custom
Internal linking restructuring & optimization
Custom
Duplicate content analysis
Custom
Header Tags Optimized (Ex. H1s)
Custom
Setup of website sitemap
Custom
Image optimization
Custom
Custom 404 error page setup and optimization
Custom
Schema Implementation (JSON-LD)
Custom
Google Analytics setup w/ conversion tracking
Custom
Google Analytics traffic analysis
Custom
Google Data Studio Reporting Dashboard Setup
8 dashboards
8 dashboards
10 dashboards
10 dashboards
Custom
Initial visitor profile report
Custom
Ongoing quarterly keyword ranking reporting
Custom
Ongoing monthly traffic, goal & CPL reporting
Custom
Ongoing user experience reporting (bounce rate, device category, etc.)
Custom
Ongoing quarterly competitor conquest reports
Custom
Keyword rank checker access with weekly updates (if requested)
Custom
Ability to check location data accuracy across 40+ local directories
Custom
A/B Testing of SERP title & description to improve clickthrough
Custom
Notification of new reviews (major review platforms)
Custom
CalltrackerFX access
Learn more
Leverages

Leverages

Leverages

Leverages

Custom
Analyze your leads to project the # of leads competitors receive on a monthly basis
Custom
Predict your and your competitors' market share on a monthly basis
Custom
Competitor intelligence login to view competitor data
Custom
LeadManagerFX access
Learn more
Leverages

Leverages

Leverages

Leverages

Custom
CompanyTrackerFX access
Learn more
Leverages

Leverages

Leverages

Leverages

Custom
ContentAnalyticsFX access
Learn more
Leverages

Leverages

Leverages

Leverages

Custom
Dedicated Internet Marketer
Custom
Online Project Management Platform
Custom
450+ SMEs behind campaign driving results
Custom
Website conversion analysis implementation
Custom
Custom
Custom
Custom
Custom
Initial campaign investment:(Two month duration)
$7,750
$12,750
$15,750
$18,750
Get Quote
Progressive monthly optimization:(6 month commitment – Subsequent 4 months)
$2,500
$5,000
$6,500
$8,000
Get Quote
GET STARTED
GET STARTED
GET STARTED
GET STARTED
GET STARTED
WebFX can propel your local SEO efforts to new heights
Ready to start driving results through local SEO? WebFX would love to help! Our team of more than 500 marketing experts knows what it takes to drive local traffic to your website, and we can't wait to work with you.
With our local SEO services, you'll get help with each of the service features listed above and more. We'll help you drive new leads and then turn those leads into loyal clients. We'll also keep you informed of everything we do during each step of the process.
To get started with us, just call 888-601-5359 or contact us online today!