Pennsylvania's Top SEO Company: WebFX
Search engine optimization in today's fast paced Internet world is an essential marketing strategy. The benefits are extremely worthwhile, posing a viable option for long term revenue. Its outstanding ROI makes it a popular option in the world of web marketing as businesses all over the world fight for the top position in every search engine results page.
Why SEO? Pennsylvania companies, and companies worldwide, are taking advantage of the increased revenue a professionally optimized website can provide. Because of SEO, Pennsylvania companies enjoy an increase of qualified traffic to their site, resulting in more conversions.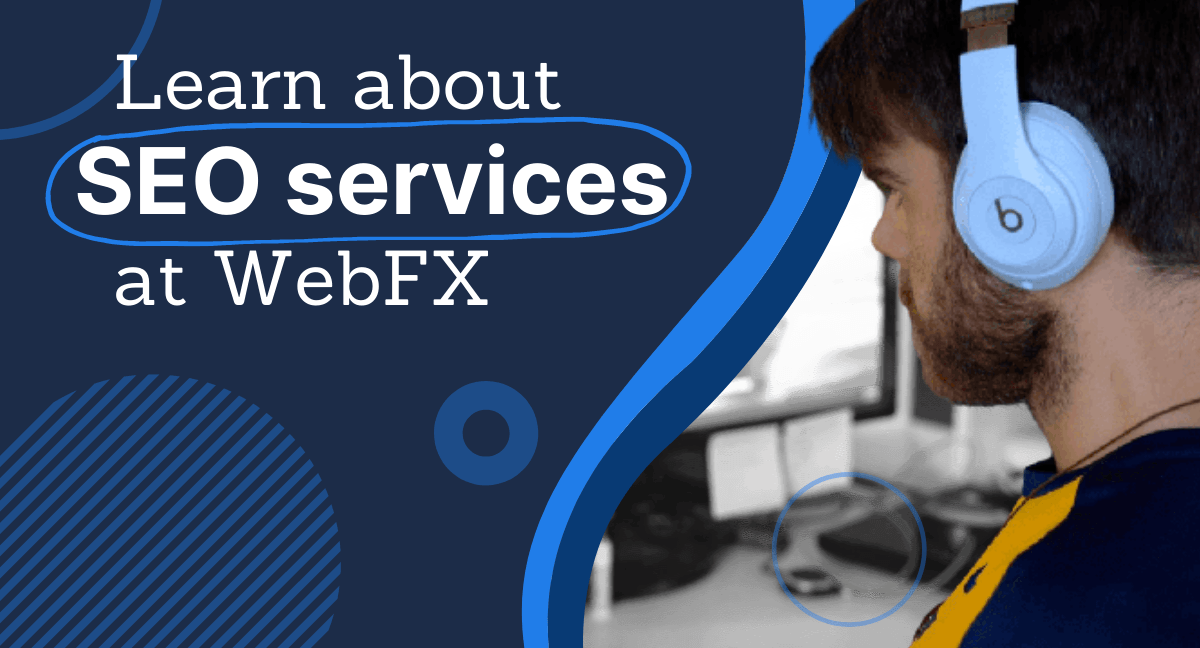 When starting a web marketing campaign that includes SEO, companies across the globe start by looking for a web marketing provider that can perform SEO services. It sounds simple, but there are many web marketing firms offering SEO. As the demand for SEO online marketing increased, so did the number of web marketing firms, including many Pennsylvania SEO companies.
Selecting the right SEO firm, or national web marketing company, is crucial to your success. You need an SEO firm with the track record of excellence, resources, team, and services required to get your site ranked well. PA SEO is especially important since there are so many businesses in major cities and small towns that compete for the same audience day after day.
Pennsylvania's Leading SEO Company is WebFX
Finding that company described above isn't easy. Many companies aren't up to speed on the latest SEO changes and simply can't deliver on promises made to clients who know they need SEO services. The fact that you are on this website right now is already a good sign. WebFX has the experience and resources needed to get your site ranking highly in search results. Clients all over Pennsylvania and nationwide have come to rely on WebFX for their web marketing and SEO services.
Clients all over the state of Pennsylvania have acknowledged the services of our company and the experience of our team. A combined 150 years of experience in web marketing gives our team the advantage over many other SEO companies in Pennsylvania and the US. Additionally, the WebFX team has been ranked globally in the top 20 SEO agencies by TopSEOs.com, the industry's independent authority on search vendors. We've been around for a while, so we know our stuff. Long before the term "SEO" was used, WebFX was optimizing websites for search.
Our New Harrisburg Office
We've renovated a new office right here in the heart of Pennsylvania, making the team even more excited to get to work on your business's SEO! Our convenient location places us in a convenient location for every other Pennsylvania company, ensuring you can meet with us in person to discuss SEO in Pennsylvania. When it comes to PA SEO, your results will show online — but we still like to meet with clients face to face! Come visit us at our new Harrisburg location right on Front Street overlooking the Susquehanna River. The team loves visitors, and we'll be more than happy to show you around.
Our proven results
If our awards don't speak loud enough, take a glance at our results. On average, WebFX has increased revenue by 20% for our clients with web marketing techniques. See how we've increased performance for many other companies, and take a look at our portfolio. We have some very interesting case studies, too.
The proof is in the pudding, and the results we've achieved prove that signing up with us will give you a highly successful SEO campaign.
Looking for an all-in-one SEO audit tool? You've found it.
SEO Checker provides data on key metrics to give you:
Complete SEO score

Content Grade

Site Speed Analysis

and more.
Proprietary SEO Services and Solutions
Over the years, we've gathered a team of top-notch web marketing professionals that provide proprietary SEO services and solutions for companies all over Pennsylvania. With in house tools, WebFX has developed solutions and processes that have shown to produce quality results for each one of our clients.
CrawlerFX – With this SEO tool, companies can evaluate their own SEO efforts by performing a complete site analysis in a fraction of the time required by traditional methods. Many of our SEO clients in Pennsylvania have found this to be a useful first step in determining exactly what needs to be done to their website for continued revenue and growth. With the use of CrawlerFX, the web marketing results are delivered faster and still at competitive price levels.
CallTrackFX – Call tracking is a unique tool that allows you to automatically track calls generated from a website. This is then accessible via standard Google Analytics metrics, allowing you to measure the entire picture.
LeadManagerFX – You have new leads every single day, but it is hard to manage them. With LeadManagerFX, you can easily compile leads generated from your website and measure them from metrics in Google Analytics. This allows you to drill down exactly what your customers want for further optimization.
We're a Full Service Web Marketing Firm
If you can't tell already, we aren't your regular SEO firm. WebFX offers a full line of web marketing services to all our clients. From aggressive social media marketing to competitive PPC management campaigns, we'll not only create an effective online presence for you, we'll continue supporting our efforts to ensure you dominate. That's why hundreds of Pennsylvania clients and companies across the country have come to rely on us.