West Virginia Web Design Essentials
Regardless of your business type, a website is one of the most important parts of your company. The West Virginia web design business is constantly growing as more and more companies launch new sites or redesign outdated ones. It is essential for businesses in the WV web design target market to have top-notch sites in order to maintain a competitive edge. Establishing your business online gives you credibility and offers the opportunity to strengthen your brand.
If you'd like to speak with a specialist before reading on, you can reach us at 888-601-5359.
If you'd like to talk about your custom web design needs, contact us online or call us at:
888-601-5359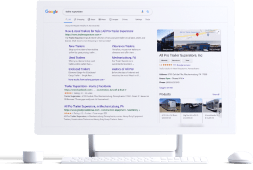 West Virginia web design trends
Like the rest of the country and world, West Virginia web design needs to stay current on trends, if not establish new ones. Many of the trends that WV web design reflects include Web 2.0, use of animated graphics, and over-sized photos as backgrounds. But it can go deeper than that.
New trends in design and layout emerge every day, especially in the rapid-paced world of the Internet. That means that the West Virginia web design trends that exist today might be out-of-date by tomorrow. Keeping up with the changes in such a fast-moving industry is essential to popularizing and spreading the word about your brand.
Trends being overlooked in West Virginia web design
However, some trends are being overlooked in West Virginia web design. Few sites are taking advantage of web videos, which give you the ability to communicate your message on multiple levels using visual imagery, verbiage, music, and text. They increase sales, reduce customer service expenses, and increase call-to-action ratios.
Another element to incorporate into West Virginia web designs is the artistic-based look. While the use of pencil sketches, handwritten notes, water effects, collage art or splatter ink isn't suitable for all types of businesses, those in the creative industries could set their WV web design apart from the rest by using a more organic look. WebFX can create an award-winning West Virginia web design which captures an artistic-based look and a search engine optimization strategy which drives traffic and Internet business to your West Virginia business.
One trend that could work for many West Virginia web designs is the vintage appeal. From classic to funky, retro appearances offer creative ways to establish your site's online presence. Even businesses in the less creative industries can use a strong vintage look to create a WV web design that instills a sense of history and solid reputation.
Unique navigation is also lacking in most West Virginia web designs. A popular and interesting way to add another navigation type is a tag cloud. Tag clouds, also known as word clouds, are a visual representation of the most popular keywords users are using to search the site, or the site's overall content. The more popular a keyword, the larger it is visually. The words are in alphabetical order, enabling the visitor to quickly find a topic by name or popularity. WV web design could benefit by tag clouds because they offer a visual alternative to the standard navigation.
While West Virginia web design primarily focuses on the grid layout, it typically doesn't push the boundaries of the grid. For instance, using several skinny columns paired with one large column is a unique way to present the standard grid layout. For those West Virginia web designs that need to have a classic and business-like look, grids are a perfect way to achieve it. However, using novel grid layouts is the perfect way to set your West Virginia web design apart from the rest of the grid designs.
White space is vastly overlooked in most West Virginia web designs. Using extensive white space separates text-heavy sites and presents the information in a more appealing way to visitors. White space also establishes a modern, clean look. Many WV web designs, like the rest of the world, crowd too many graphics and too much text on their site, resulting in an overwhelming feeling for the visitor.
How to create the best West Virginia web design for your business
The first, and most often overlooked, step in establishing an online presence for your business is outlining your objectives. Do you want a West Virginia web design that is classic or edgy? Do you need to establish trust with your customer or is your more valuable asset your unique services and products. Understanding how your business should be reflected in your WV web design is crucial to a successful site.
To help in this process, cruising the internet and compiling a list of sites that have a look similar to your goal look is essential. When researching, keep note of how the site makes you feel, how the site presents the business, what kind of impression you get of the business, and which design elements you like or dislike.
The next step is finding the right professionals to create the perfect look for your business. While there are many West Virginia web design companies, you shouldn't limit your search to your local area. Doing business with companies not in your local area has been simplified with the advancements in technology.
Expanding the boundaries of your West Virginia web design
Your finished site shouldn't look like a West Virginia web design. It should establish your business as a serious competitor in the world market. It should be unique and memorable, setting your site apart from the typical WV web designs.
Call 888-601-5359 or contact us online today for a free evaluation