What Is Walmart Marketplace?
With the growth of online shopping, it's important for your business to take advantage of top online marketplaces that allow you to sell more products.
While Amazon is the most well-known online marketplace, other options — like Walmart Marketplace — help your business reach valuable leads and boost online sales.
On this page, we'll answer the question, "What is Walmart Marketplace," and provide you with four best practices for achieving success on this platform. If you need help selling on Walmart Marketplace, call us today at 888-601-5359 to speak with a strategist.
Let's get started!
Partner with a team of ecommerce masters!
WebFX campaigns have delivered more than 12,936,451 ecommerce transactions in the last 5 years
Read the Case Studies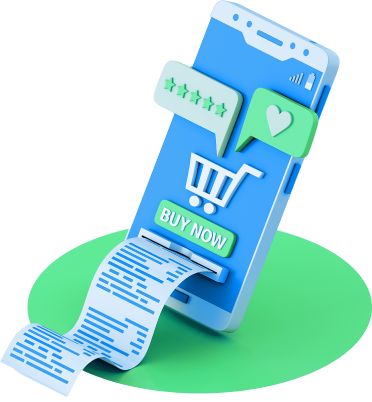 What is Walmart Marketplace?
Walmart Marketplace allows third-party sellers to list their items on Walmart's website. If you've sold products on Amazon or eBay, you'll experience a similar process on Walmart Marketplace. People conduct searches on the site and browse product listings from sellers.
Walmart Marketplace offers you a great opportunity to get your products in front of a massive audience. Walmart's ecommerce sales jumped 33 percent in May 2018 from 10 percent in the prior 2017 holiday season. With more people shopping at Walmart online, you have a valuable opportunity to reach new leads.
It's important to keep in mind, though, that your products will appear in search results with other Walmart products. You'll need to remember this when listing products because you'll be competing with them (and their pricing).
How much does it cost to sell on Walmart Marketplace?
The cost to sell on Walmart varies depending upon the product you offer. Walmart charges a small referral fee for each product you sell, ranging between 6 and 15 percent.
You will pay this fee each time you sell a product — but it's the only money Walmart takes from your profit.
What happens when I make a sale?
When you sell your products, the biggest question relates to payment. You want to know how to get your profits into your bank account. With Walmart, you agree to payment terms and scheduling.
Typically, Walmart pays sellers on a weekly basis — the total amount of your sales minus the referral fee.
The pay period ends on Monday at midnight (PST), and Walmart usually sends payments by noon on Wednesday.
However, payment isn't processed until you ship the products. So if you make a sale on a Sunday, but don't ship the product out until Tuesday, that sale won't be included in your payment for that week because it wasn't shipped before the payment cut-off date.
How to become a Walmart Marketplace seller
If you're ready to become a Walmart Marketplace seller, follow these steps to start selling your products.
1. Apply to be a seller
The first step is to apply to be a seller. You can find the application on the Walmart Marketplace website. You'll want to fill out the entire application and save each section as you go.
Before submitting your application, check that all the information is accurate and error-free. Once you finish filling out the application, you can click the "apply now" button to submit your application to Walmart.
You will receive notification of your approval. If you get approved, you can start setting up your profile.
Important note: Walmart's barrier to entry is very steep — and sellers must maintain order defect rates less than 1 percent. A profitable business is more likely to get approved than one that is not. If you fit this criterion, you'll stand a greater chance of approval.
2. Complete registration
Once approved, you'll receive a unique link in your email. This link will take you to Walmart's marketplace and allow you to create a Partner Profile. From there, you'll go through five steps:
Account Creation
Partner Registration
Taxes
Set up Bank Account
Shipping Info
In order to set up the financial aspect of your account, Walmart requires this info as part of the account creation process.
3. Complete Partner Profile
To launch your account and start selling, you must complete your Partner Profile.
One of the most important requirements is verifying your bank account. After you input your bank account information when you register, Walmart will deposit a penny into your account to make sure it's a legitimate account. This will appear on your statement as "WM Marketplace Penny Test."
If you see the deposit in your bank account, you can mark that section as complete. If not, you may need to return to your registration and review your bank account information.
4. Post your products
Once your account is live, you can start posting your products for sale. You'll want to create complete listings for each product that include photos, videos, and product descriptions.
You must also set categories and subcategories for each of your products. Walmart will provide you with the different categories where you can place your products. These categories help people find your products when they conduct searches.
5. Preview product page appearance
You want to make a good impression on your audience, so it's crucial that you preview your product pages and make sure they look good. You'll want to preview pages to ensure that the information is accurate and error-free.
It's important that your page is presentable and informative for your audience. This will help you earn conversions for your business.
6. Launch account
Once your information is verified and all your products are listed, you can launch your account. Your account won't be published immediately, as Walmart must review all profiles. If everything looks good, however, your account will go live in 24 hours.
3 best practices for selling on Walmart Marketplace
When you sell your products on Walmart Marketplace, keep these three best practices in mind.
1. Know your audience
When you use any digital marketing strategy, it's crucial that you know your audience. If you want to see success with selling on Walmart, you must create product listings that appeal to your audience.
People shop differently online vs. in stores. With online shopping, they can't physically see the products in front of them. However, when you know your audience well, you know what type of information to include in your product listings that will help them visualize using your products and encourage more conversions.
You must keep your audience in mind when you're marketing your products, and think about how you can add value to your Walmart Marketplace listings.
2. Monitor your pricing
When you sell your products on Walmart Marketplace, you must set your prices. Walmart expects that you have reasonable prices on your products. This company has a reputation as an affordable place to shop, so Walmart expects that your prices will align with theirs.
This presents a challenge for some sellers on the platform. If you have similar products to what Walmart sells, you must keep your products priced closely to theirs. Keep in mind that you are competing against Walmart for sales.
If you sell more unique products on Walmart Marketplace, they still expect you to offer reasonable prices. Walmart has been known to remove third-party products from their site for not maintaining their pricing standards.
It's also important to remember that Walmart is competing against big online retailers like Amazon — and they want to offer a pricing model that encourages more people to purchase on their site. You must consider this when you're setting your product pricing on Walmart Marketplace.
3. Ship products quickly
With the growth of the Internet, there is a growing need for immediacy. People expect their products to be processed, packaged, and shipped quickly. If you want to thrive on Walmart Marketplace, you must ship products quickly.
There are two main reasons why you'll want to ship quickly. First, you don't get paid until your items ship. As we stated previously, Amazon doesn't pay you at the point of sale, but rather, when items are shipped to customers.
Walmart monitors your shipping rate and takes it into account when determining if you can continue selling on their platform. If you want your account to remain in good standing and be able to continue selling on Walmart Marketplace, you must ship quickly.
It's best to ship products within a day or two. This is a good time frame to keep your account in good standing and keep your audience happy with how quickly you process their orders and ship products.
Our digital marketing campaigns impact the metrics that improve your bottom line.
See More Results

WebFX has driven the following results for clients:

$3 billion
In client revenue

7.8 million
Leads for our clients

5.2 million
Client phone calls
WebFX will help you sell more products on Walmart Marketplace
If you're looking for new ways to sell your products, Walmart Marketplace is a great option. At WebFX, we have years of experience helping our clients sell their products on various online marketplaces.
We're a full-service digital marketing company that is knowledgeable in Walmart Marketplace. Our team of 500+ experts will bring their expertise to your campaign. We'll help you get your products listed on Walmart.
If you're looking for a company with experience, look no further than WebFX. In the past five years, we've managed over 12.9 million ecommerce transactions for our clients. Our team focuses on helping drive results that grow your business.
Don't believe us? Just ask our clients! Check out our 1020 client testimonials that attest to the great work we do!
Get started today
If you're ready to start selling your products on Walmart Marketplace, contact us online or call us today at 888-601-5359 to speak with a strategist.
We look forward to helping your business reach new heights!
Earn a 20% greater ROI with WebFX