When you start to shape your digital marketing plan, it's important that you have the right resources to run your campaign. HubSpot's cloud-based software helps you run inbound marketing campaigns that drive results.
On this page, we'll talk about what HubSpot is, what HubSpot does, and four tools you can use from this service. Keep reading to learn more about what sets Hubspot apart from its competitors, or call us today at 888-601-5359 to learn how our digital marketing company can help you run a successful inbound marketing campaign.
We foster and form long-term partnerships so that your business has long-term results.
Over 90% of WebFX clients continue partnering with us into year 2 of their campaign.
Hear from Our Happy Customers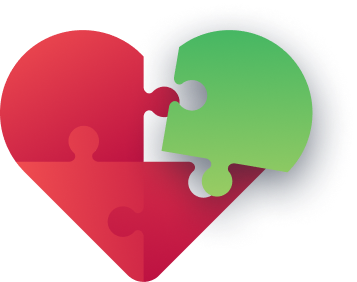 What is HubSpot?
HubSpot is an inbound marketing, sales, and service software that features five service hubs:
CRM Hub: Use HubSpot's free customer relationship management (CRM) software to get insight into your sales pipeline and provide your sales team with time-saving features like email tracking, live chat, and scheduling.
Marketing Hub: Get HubSpot's Marketing Hub, which costs $0 to $3200 per month, to launch email marketing initiatives, create lead generation forms, monitor inbound marketing campaign performance, and more.
Sales Hub: Adopt HubSpot's Sales Hub, which costs $0 to $1200 per month, to streamline lead management, expedite meeting scheduling, improve deal pipelines, create personalized quotes, and more.
Service Hub: Join HubSpot's Service Hub, which costs $0 to $1200 per month, to improve ticket creation, management, and organization, as well as unite communication channels, automate tasks, and send customer surveys.
CMS Hub: Use HubSpot's content management system (CMS) service, which costs $300 per month, to create landing pages, post blog posts, personalize calls to action (CTAs), launch conversational chatbots, and more.
As an all-in-one marketing software, HubSpot provides your company with a helpful solution to inbound marketing. Even though HubSpot provides your business with a massive number of tools, it does require the investment of your team to adopt and integrate HubSpot into their day-to-day.
What is inbound marketing?
Before we dive into the details of HubSpot, it's important that we talk about inbound marketing. HubSpot is an inbound marketing tool, but what does that mean?
Inbound marketing is the process of attracting customers through relevant and helpful content. You bring customers to your page or your content and get them interested in your business. The goal is to add value to the buying process.
So, how does this differ from traditional marketing? Traditional methods like TV, magazine, and radio ads interrupt the consumers attention. They disrupt what the customer is doing, whether it's watching a TV show or reading an article.
With traditional marketing, you reach out to your audience. You go to them in hopes of getting them to notice your business. With inbound marketing, your audience finds you. They conduct searches or click on your social media profile to check out your business.
The biggest difference is that your audience chooses to find your business. You don't put your business in front of them and get them to notice you. Through searching, your audience finds your business and chooses to check out what you have to offer.
With inbound marketing, you typically attract leads through content. This includes blogs, ebooks, videos, and other content. This content appears in searches and on social media. When leads find this content, they read it and decide if they want to learn more about your business.
Now that you know more about inbound marketing, let's dive into the details of HubSpot.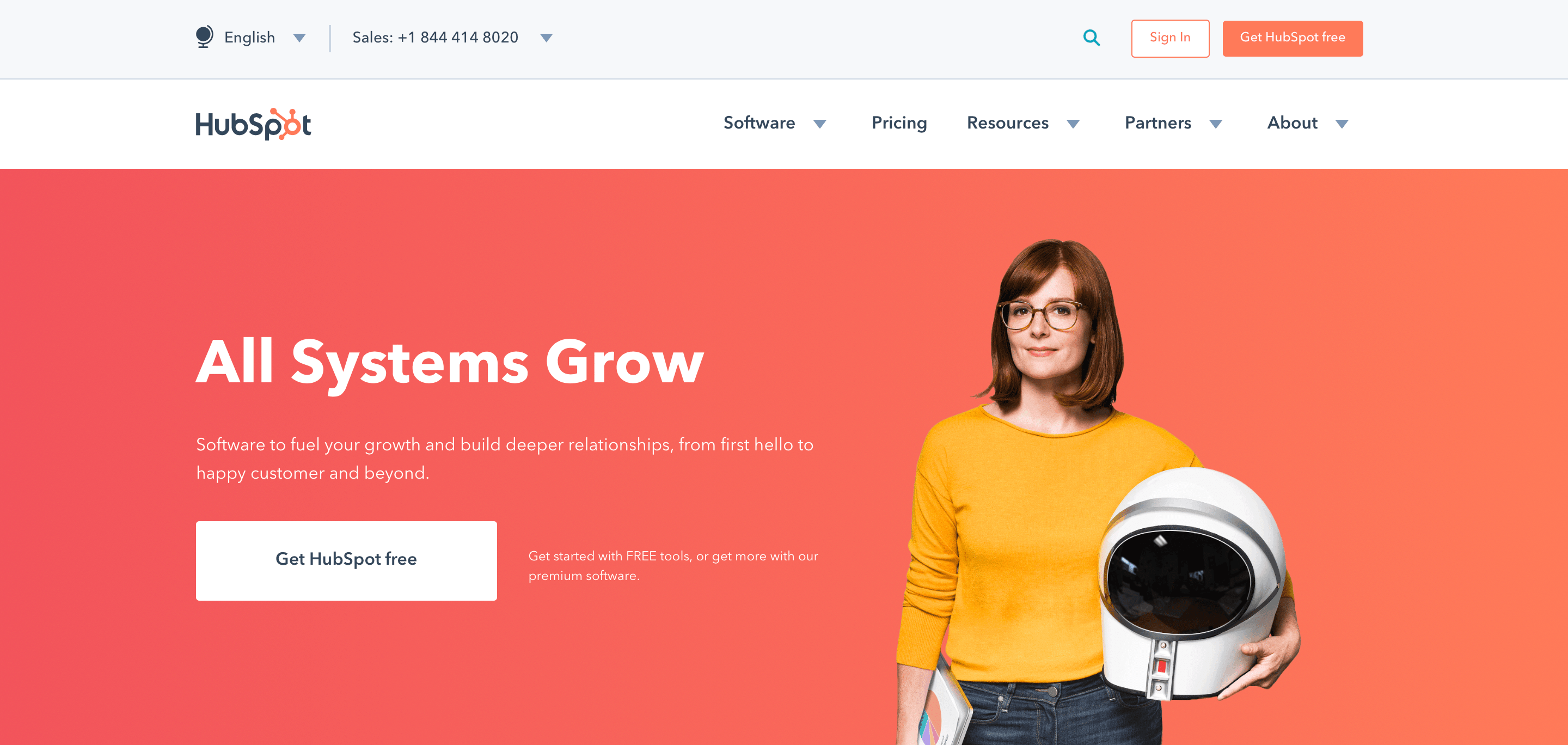 What does HubSpot do?
HubSpot aims to provide businesses of all sizes, from startups to midsized to enterprises, with a full-stack marketing, sales, and service software. While you can use all these tools, like the Marketing Hub and Service Hub separately, they provide the most value when used together.
In addition to providing software, HubSpot also maintains a vast resource library.
With this library, users can learn tips and tricks for using HubSpot software, as well as get insight into inbound marketing via guides, courses, research, and more. This library helps your company make the most of HubSpot.
How does HubSpot work?
As stated previously, HubSpot is an inbound marketing tool. This tool helps companies create campaigns that earn them valuable traffic and conversions. It's considered an "all-in-one" marketing solution.
HubSpot helps you create valuable content for search engines and social media. Your content is optimized to perform better on these platforms. There are numerous other services HubSpot provides, which we'll dive into later.
This tool is a customer relationship management (CRM) and sales focused tool. It is designed to help you earn conversions for your business. Best of all, all the tools you need are centered in one place.
How much is HubSpot?
HubSpot is free to start, whether you're looking to use the CRM, Service, Marketing, or Sales Hub. Paid plans are available, which are useful because they scale to your company's growing needs. These plans can cost anywhere from $50 to $3200 per month.
4 ways HubSpot can help your business
Asking yourself, "do I need HubSpot?" HubSpot has the potential to help businesses grow and drive revenue. Here are features you can use to help your business grow.
1. Web design
Your website is the heart of your digital marketing plan. A well-designed website will take your business a long way. With HubSpot, you have the power to build your website.
HubSpot allows you to host, build, design, and modify your website all on their system. You don't need a website designer or IT support to make your website. HubSpot offers a simple drag and drop builder to help you create your website.
This drag and drop feature makes it easy for you to build a website that is personalized for your audience. You can design a website that is appealing and grabs your audience's attention.
Your website is optimized for mobile, too. This means that your audience will always have a good experience on your site, regardless of the device they use.
If you find mistakes on your site, it's easy to fix. HubSpot makes it easy to edit pages and save them. This ensures that you have more control over your website.
In addition, HubSpot will help you optimize your page to perform well on search engines. They'll give you tips and tricks to improve your page, so you can reach more valuable leads.
2. Keyword research
Keywords are a crucial part of search engine optimization (SEO). SEO is the process of boosting your website's ranking in the search results. HubSpot offers numerous services to help you improve your SEO campaign, including keyword research.
Keyword research helps you find the right keywords for your campaign. When users conduct searches, they use keywords to generate a list of results that fit their query best. It's crucial that you choose the right keywords for your campaign, so you can attract more valuable traffic.
HubSpot helps you choose the best keywords for your campaign. This tool will help you find valuable keywords and keep them organized. When you implement keywords into your campaign, HubSpot will keep track of their performance to see if they drive results for your business.
If you and your competitors are ranking for the same keyword, HubSpot allows you to compare your ranking to your competitors. It's a great way to see how you stack up against the competition. It will also help you improve your keyword strategy to outrank your competitors.
In addition, HubSpot will offer keyword suggestions for your business. This helps ensure that you are using as many valuable keywords as possible. HubSpot will also provide valuable insight into on-page SEO changes you can make to improve your page's performance.
3. Blogging
Blogging is one of the best ways to obtain valuable leads. It involves creating content with valuable information for your audience. You attract leads to your business by giving them content that interests them.
HubSpot is a great tool for blogging. You can create and publish blog content through this tool. It also allows you to preview your content first to ensure it looks good on the page.
This tool makes it easy to gain more valuable leads. HubSpot helps you optimize for the right keywords so you attract interested leads.
In addition, HubSpot will capture data from your blog's performance. You can measure the impact of your content and see if it is effective for your audience. It gives you great insight into your campaign and helps you see if your blog content works for your audience.
4. Landing pages
Pay-per-click (PPC) ads are a valuable way to obtain credible leads. PPC ads are paid advertisements that appear at the top of the search results, above the organic listings. When you create PPC ads, they are often accompanied by a landing page.
Landing pages are specific pages that entice your audience to act. It focuses on one product or service from your business. With HubSpot, you can create better landing pages that earn conversions.
HubSpot helps you choose the right call to action (CTA) for your campaign. The right CTA is crucial because it entices your audience to act. The CTA needs to be clear and tell your audience exactly what will happen if they click the button.
This tool also helps you customize your landing pages. You can build them to make them more personalized for your audience. It will help you create a better experience for your audience.
To help you create the best landing page for your campaign, HubSpot helps you conduct A/B testing. This ensures that you'll create the best landing page for your audience that appeals to them. The drag and drop feature makes it easy to change and test your landing pages.
Once your landing page is launched, you can track your traffic and conversions. It's a convenient way to monitor your page's performance and make changes when necessary.
Is HubSpot right for your business?
It depends.
While you can start using HubSpot for free, that doesn't matter if your team doesn't adopt it. You need to make sure that your company not only wants to use HubSpot but also wants to use inbound marketing.
In some cases, your business might want to use inbound marketing but doesn't have the time or resources to dedicate to it. If that's the case, consider working with a full-service digital marketing agency, which can help you leverage the full benefits of inbound marketing and software for it.
HubSpot vs. Full-service digital marketing company: Which is better?
When it comes to your digital marketing plan, you want to choose the service that works best for your business. You may wonder if it is better to use HubSpot or hire a digital marketing company.
HubSpot allows you to run your entire digital marketing campaign in one place. It makes it convenient and easy for your business to stay on top of your campaign.
With that being said, it does take time to learn how to use the software. Since it offers so many services, you'll need to take time to learn how to use HubSpot. It means more time and effort your team needs to put into learning how to use the software before you can unleash its full potential.
If you don't have the time to learn a new software, a digital marketing company is a great option. You can worry about running your business while a digital marketing company runs your campaign. They have the knowledge and experience to run a successful campaign for your business.
Get professional help with inbound marketing
HubSpot is a great software to use if you want to manage your digital marketing plan in-house. It gives you all the tools you need to run successful campaigns. If you're too busy running your business to use HubSpot's software, WebFX can help.
We're a full-service digital marketing company that offers numerous services, such as SEO and email marketing, to help you obtain more valuable leads. We have a team of 500+ experts that will bring their knowledge and expertise to your digital marketing campaign. With more than 25 years of experience, we know how create digital marketing plans that work.
If you want a digital marketing company that drives results, look no further than WebFX. To date, we've driven over $3 billion in sales and over 7.8 million leads for our clients. We focus on driving success for our clients first.
Plus, we offer one of the best HubSpot alternatives with our award-winning technology, MarketingCloudFX and Nutshell. Together, you'll have a complete end-to-end revenue acceleration solution to help you drive more revenue.
Our clients love the work we do for them. In fact, we have over 1020 client testimonials from a variety of industries. Check them out to see what it's like to partner with a top digital marketing company like WebFX!
Get started with Hubspot today
If you're ready to start driving results with your digital marketing plan, contact us online or call us today at 888-601-5359 to speak with a strategist.
We look forward to helping your business grow!
Earn a 20% greater ROI with WebFX