Need an Executive Dashboard? This Marketing Dashboard Has It All
With so much data floating around, 2.5 quintillion bytes every day to be exact, it seems almost impossible to capture it all. But when it comes to your marketing campaign, it's important to collect as much data as you can to power a successful campaign. After all, it's data that drives your campaigns, improves your strategies, and creates real results for your online marketing strategy.
That's where executive dashboards come in. Not only can they help you collect all the data you need to make important marketing decisions, but they can help you analyze and improve your marketing campaigns.
An improved marketing campaign creates a chain reaction that leads to more website traffic, more online sales, and more revenue year over year. If you like the idea of increasing key metrics of your marketing strategy, opting for an executive marketing dashboard is a great place to start.
On this page, we'll talk about what an executive dashboard is, one of the best executive dashboards on the market, and well as what kinds of metrics and features it provides.
If you're ready to get started, keep reading! If you'd like to speak with a marketing specialist at WebFX, give us a call at 888-601-5359!
Measuring the metrics that affect your bottom line.
Are you interested in custom reporting that is specific to your unique business needs? Powered by MarketingCloudFX, WebFX creates custom reports based on the metrics that matter most to your company.
Leads

Transactions

Calls

Revenue
Learn More

What is an executive dashboard?
If you've ever wanted to harness as much data as possible all in one place, an executive dashboard is for you. Not only does it pull tons of data from a variety of touchpoints, but it also organizes it in a way that's easy to understand.

From this organized data, you'll be better equipped to make the right decision concerning the metrics provided.
Check out some other benefits of executive dashboards:
They provide data in real-time
If you're looking for real-time data, an executive dashboard is the place to look. Typically, it pulls in data from different sources in real-time so that you can always make the right decision at any moment.
It also means that you never have to wonder whether or not your data is up to date.
They allow you to see the big picture
No matter what kind of data you're pulling, an executive sales dashboard can help you get a full picture. In terms of marketing, this can be priceless since you'll likely base your marketing decisions on more than one metric.
Having a single location for all of your data allows you to compare and contrast different metrics, learn how they affect each other, and make your most educated marketing decisions from that information.
They organize countless metrics
There is only so much you can do with a spreadsheet, and if you're running a marketing campaign, chances are you can't keep track of all the tabs you need to hold all of the information you're interested in monitoring.
When you use an executive dashboard, you can rest assured that the program makes sense of billions of data points and conveniently displays them for your use. You won't have to worry about organization, keeping numbers in the right place, or running out of Excel columns.
With an executive dashboard, everything is right where you need it.
They create beneficial reports
Information is great on your screen, but what if you want a printed report of your bottom line?
Most executive dashboards can provide you with weekly, monthly, or even quarterly reports based on data from those periods so that you can compare your success across time.
The executive dashboard for marketing that does it all
If you're wondering what executive dashboard we were referencing in the title, it's time for the big reveal. If you want all of your marketing data in one place, there is essentially no other option aside from MarketingCloudFX.

MarketingCloudFX is a proprietary tool created by WebFX — and it's custom-tailored to bring you the most important marketing data to help you drive better marketing results.
It allows you to track your most important marketing metrics like phone calls, leads, and so much more.
Let's dive into the all-inclusive executive marketing dashboard — MarketingCloudFX.
Best executive dashboard features and examples
Whether you're interested in using MarketingCloudFX for your marketing dashboard or another management dashboard, you should look for the same features in each.
Here are some features of the MarketingCloudFX proprietary executive dashboard:
LeadManagerFX: A dashboard for tracking leads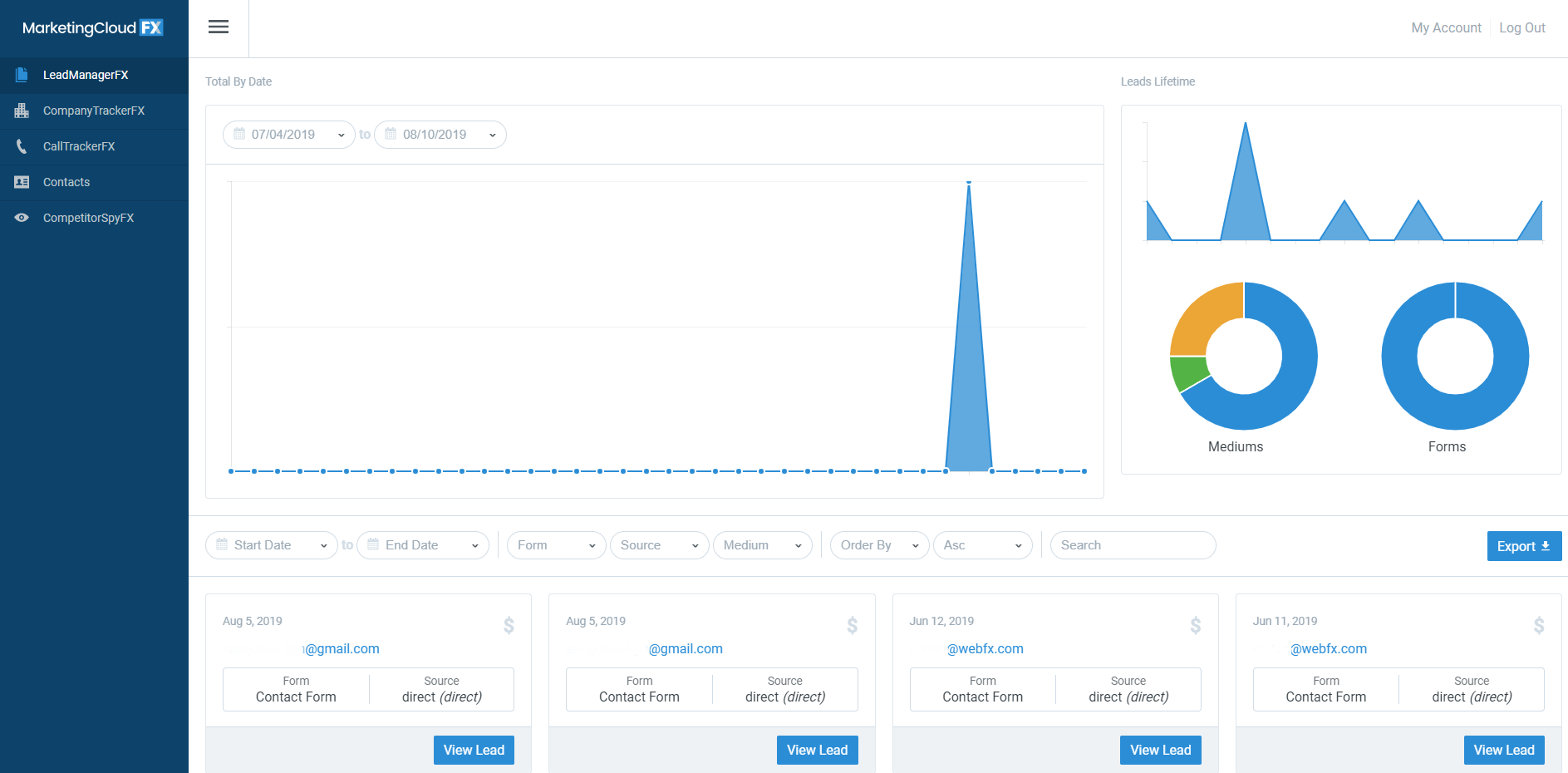 If you've ever wanted more data on your leads, MarketingCloudFX has you covered with a dashboard we've named LeadManagerFX.
With this specific area of MCFX, you'll be able to copious amounts of information about your leads. You'll be able to see crucial information like how leads arrive on your website in addition to what pages they visit.
Not only that, but LeadManagerFX shows you exactly what campaigns are driving phone calls, site traffic, and more. It's never been easier to manage your leads — especially when you get daily reports that outline new ones.
How about real-time info about what they're doing on your website? Are you interested in their contact information? And what they're looking for on your website? If you said yes to any or all three of those questions, you're in luck, because LeadManagerFX provides it all.
CallTrackerFX: A dashboard to track your calls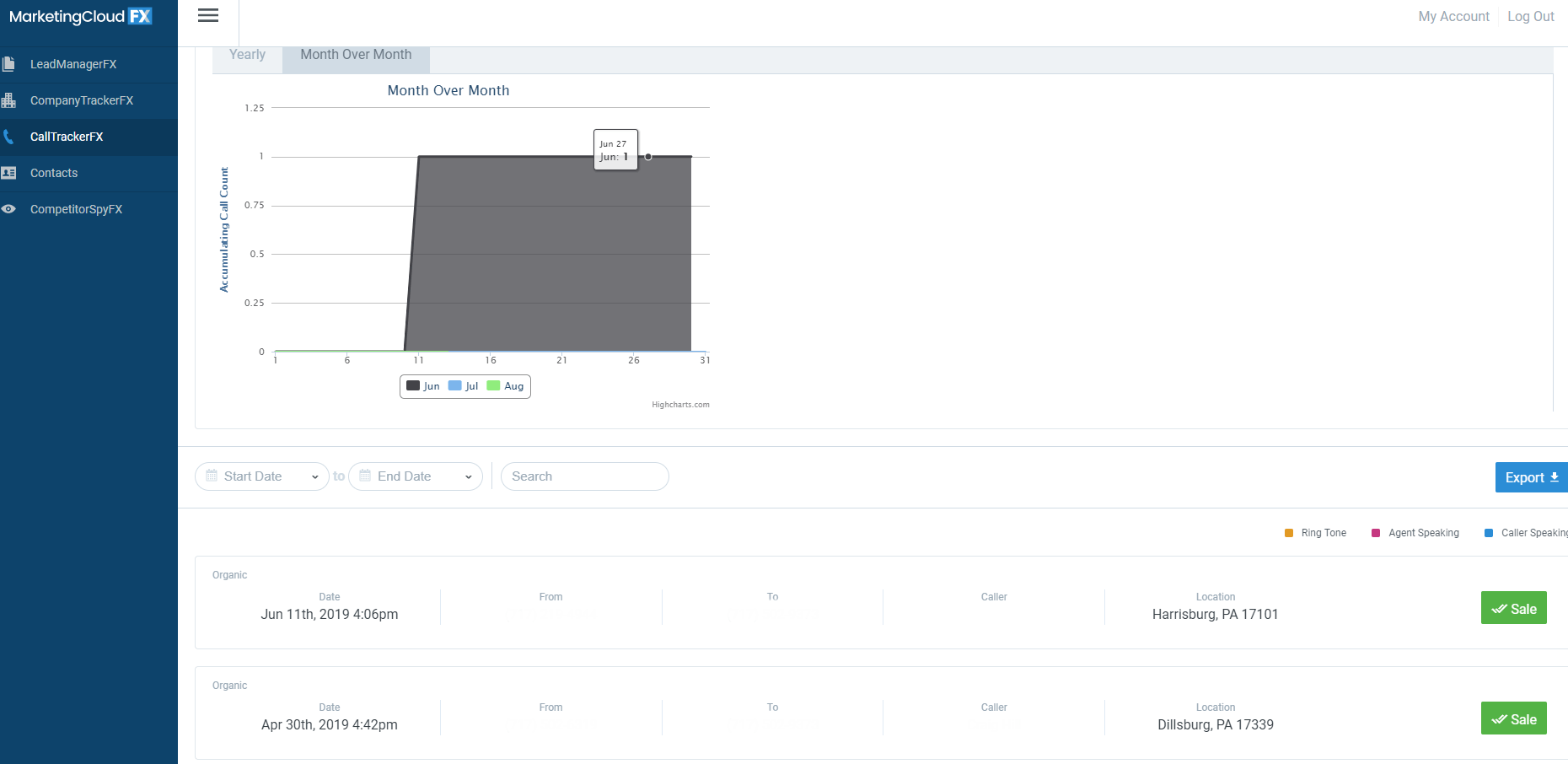 If you think phone calls are a lost marketing strategy, we'd like to prove you wrong. When you use MCFX's proprietary software known as CallTrackerFX, you'll be able to track phone call sources, listen to transcripts of phone calls and so much more.
You'll be able to see real-time data about phone calls to your business, as well as accurately track your online ROI by giving each of your marketing campaigns their own phone number.
Talk about high-tech and extremely beneficial?
CompanyTrackerFX: A dashboard to monitor who is looking at your site

If you're looking for an executive dashboard that makes lead qualification easy, you're looking for CompanyTrackerFX.
With this dashboard, you'll be able to see exactly what companies visit your website in addition to how they spend their time. Are they looking at your products and services, or are they more interested in your blog?
The info you can glean from CompanyTrackerFX helps you better understand your site visitors, and therefore, better quality online leads.
ContentAnalyticsFX: A dashboard that's all about content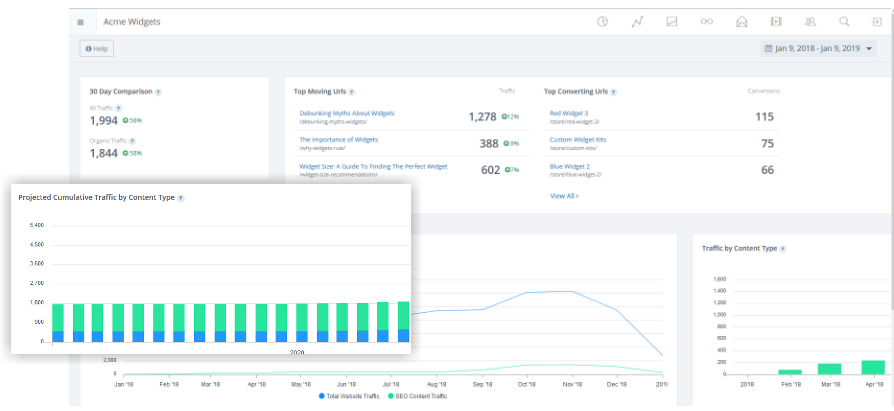 They say content is king, so you should rightfully have an executive dashboard that is dedicated solely to content. Enter ContentAnalyticsFX.
This proprietary dashboard uses machine learning to provide rapid analysis of key data points related to your content. This tool provides visitor and conversion data as well as content value and engagement — which is invaluable when it comes to crafting content for the future of your campaign.
You'll be able to determine what content topics will deliver the best possible ROI so that you don't waste a penny of your content budget. The best part, ContentAnalyticsFX can even help you gauge the SEO impact of page edits that you make to existing content. It's like having an SEO crystal ball right in front of you!
With better content comes better search engine rankings, and with better rankings comes increased website traffic. The more traffic you get to your website, the more likely you are to see an increase in revenue.
We'll let you decide the value of ContentAnalyticsFX — but if you ask us, it's invaluable to your marketing campaign.
PredictionGeniusFX: A dashboard that's all about making the right decisions
If you've ever wanted a personal marketing assistant to help you make the best possible decisions based on real data, PredictionGeniusFX comes close. This executive dashboard helps you make data-driven decisions about your campaign by providing data from Google's deep learning platform, and data collected by WebFX.
This dashboard can help you understand how a new or updated piece of content will perform on your site, which saves you incredible amounts of time.
It's a process to create new content, and it can sometimes be a waste of time when you're not sure how that content will perform in SERPs. For example, if you spend a week creating a new piece of content that you think will rank highly in SERPs, but it ends up not ranking at all, you've wasted a whole week.
With PredictionGeniusFX, you don't have to worry about wasting your precious time since it can help you understand how content will rank. This executive dashboard gives clients a huge marketplace advantage since your competitors create and optimize content, not knowing the outcome.
CompetitorSpyFX: A dashboard that helps you gain unmatched insight on competitors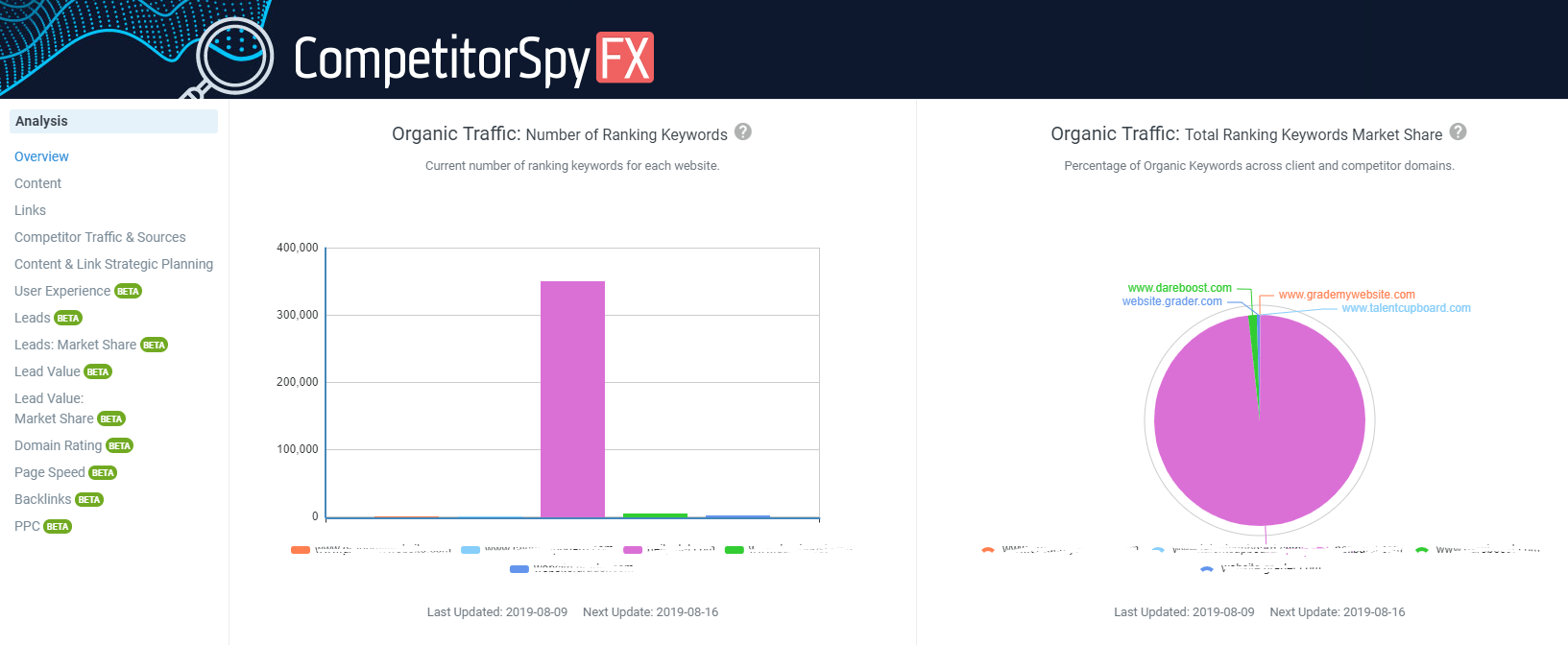 To rise above your competitors, you have to consider everything you know about them, and without the correct data, you probably don't know too much.
With an executive dashboard like CompetitorSpyFX, you'll be able to gain unmatched insight into your competitors like where they get their traffic or what their market share is for a search term that you want to target.
With information like that, you can craft your marketing campaign based on the moves of your competitors — something that marketers once only dreamed about.
Digital marketing KPIs are just one thing you'll be able to see in CompetitorSpyFX — we'll let you be surprised by the rest.
ReviewBoostFX: A dashboard to make the most of positive reviews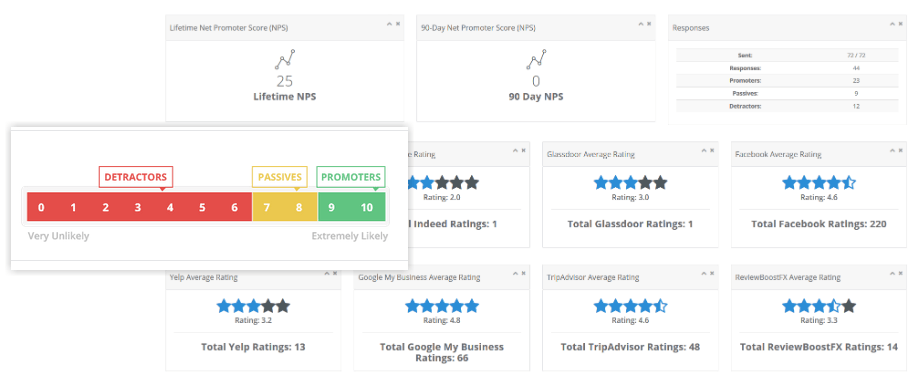 Positive reviews are a great asset to your company, but how many potential clients actually see them? If you want to leverage the benefits of positive reviews, the ReviewBoostFX marketing dashboard can help.
This executive dashboard can help you increase the number of high-impact testimonials that you collect for your site — ensuring that potential clients know the real results you've driven for customers just like them.
ReviewBoostFX is the best dashboard around for managing online reviews and helping you make the most of their impact.
CPLdashboardFX: A dashboard for lead gen cost transparency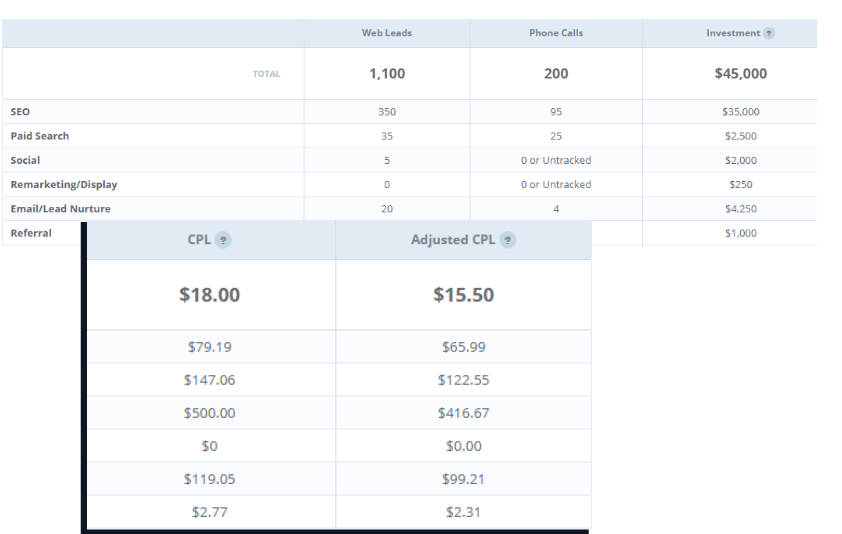 Your marketing budget is important, and if you don't monitor every penny, you could find yourself overspending. Not only that, but you may not be making the most of every dollar.
If overspending on your marketing budget is something that keeps you up at night, CPLdashboardFX is here to save the day.
This executive marketing dashboard helps reveal the cost per lead (CPL) that you pay with your current marketing strategy. Not just your marketing strategy as a whole, but the dashboard can provide CPL information for specific marketing strategies like your pay-per-click campaign (PPC) or your search engine optimization (SEO) strategy.
If you're looking to track key metrics like store visits, CPLdashboardFX can help you, too.
PersonalizeFX: A dashboard dedicated to personalization
Personalization is key for your audience. For them to feel important and cared for, creating a website experience that is unique to them is crucial. That's where PersonalizeFX comes in.
This executive dashboard allows you to create a website experience based on the industry saturation and location of your potential clients.
Not only that, but you can even tailor your website to cater to a site visitor's previous actions taken on your site.
PersonalizeFX makes it easier than ever to reach and interact with your target audience in hopes of creating a lasting relationship that results in repeat conversions.
To view a complete list of MarketingCloudFX features and start harnessing the power of data-driven marketing, check out our service page.
How much do executive dashboards cost?
If you're interested in a data-driven personal assistant for your business, opting for an executive dashboard from an experienced, reputable agency is a must. You'll be able to accelerate your bottom line when you gain access to information that was previously uncharted.
You're ready to take your business to the next level by adopting a marketing dashboard like MarketingCloudFX, but how much does an executive dashboard cost?
Every dashboard is different, but here's how the pricing breaks down for MarketingCloudFX.
First and foremost, it's included in your campaign if you're an existing customer of WebFX. We value our clients so much that we want them to have access to our amazing software at an affordable price.
Keep in mind that you can't put a price on data since it can provide you with information that can increase your conversions and revenue.
WebFX is home to MarketingCloudFX — a top executive dashboard
If you're looking for a true executive dashboard that offers every metric in the books, MarketingCloudFX will exceed your expectations.
Our proprietary executive marketing dashboard was made for marketers by marketers who know the key metrics that mean the most to run a successful business.

We're committed to providing our clients and MarketingCloudFX users with the best possible information to help them craft a marketing campaign that will be fruitful for years to come.
Want to become a WebFX client to get MarketingCloudFX at a discount? We offer just the marketing solutions that you need!
Here are some of the digital marketing services that we offer:
Since we're a full-service digital marketing agency, we offer a wide range of marketing services under one roof. We have over 500 marketing specialists who are ready to work with you and your unique business to help you drive real results that make a real difference for your bottom line.
If you want more proof that we're one of the best in the business, check out our 1020+ client testimonials!
If you're ready to get started with your custom executive marketing dashboards, WebFX is here for you. We can't wait to hear all the things you love about MarketingCloudFX and the invaluable data it provides for you and your business.
Contact us online today, or give us a call at 888-601-5359 to speak with someone directly about the amazing benefits of MarketingCloudFX!
Earn a 20% greater ROI with WebFX