6 Segment.io Alternatives for Better Data Management
Your data is one of the most valuable assets for your business. When you properly manage your data, you'll generate more valuable leads for your company and be able to nurture those leads into loyal customers.
While many companies use Segment.io as their data management tool, there are a variety of Segment.io alternatives that can help your business manage its data even better.
On this page, we'll provide you with the six best data tools that will help you manage your data successfully. Keep reading to learn more about these tools or call us today at 888-601-5359 to speak with a strategist about finding the best data management tool for your business.
Our digital marketing campaigns impact the metrics that improve your bottom line.
See More Results

WebFX has driven the following results for clients:

$3 billion
In client revenue

7.8 million
Leads for our clients

5.2 million
Client phone calls
1. Datadog

Datadog, a modern monitoring and analytics platform, is an excellent alternative to Segment.io.
Collect data and take advantage of integration options
When you use Datadog, you can collect your metrics, servers, apps, and your team in one place. It also allows dozens of integrations, including Java, Slack, Amazon Web Services, Windows Azure, and more.
Understand user behavior
Datadog is a great place to search, filter, and analyze data, which allows you to understand the user experience better. Datadog lets you understand your audience's journey through your website and improve their experience based on their behaviors on your site.
See real data visualizations
You'll have access to visualizations of your data to help you determine where you can optimize your strategies. Datadog also lets you explore your data in context, so you can better understand your audience's behavior.
Take advantage of automation tools
When you invest in Datadog, you'll have access to automation tools to make your campaigns easier. Datadog also offers source control and bug tracking to help ensure your campaigns and applications run correctly.
If you're looking for data tool alternatives to Segment.io, Datadog is a great option. This tool will help you see critical issues with your data, so you can improve your campaigns and help your business evolve.
2. Hull

Hull is another worthy Segment.io alternative for your business. This tool will help you run better, more effective marketing campaigns for your business.
Get a unified view of leads
Hull's platform gives you a unified view of each lead, as well as each contact and account. This seamless integration allows your sales and marketing team to have the same information so each can drive the most effective results for your business.
Fill in new data and clean out the old
If you're looking to automate your data collection, Hull is ready to help. This platform enables you to fill in your current data and clean out any old or irrelevant data. It ensures that you only get trusted data that's relevant to your business's strategies.
Build customized segments
Hull also allows you to personalize your customer interactions by building customized segments from different applications. This data will help you create personalized communications that engage leads and get them to interact with your business.
When you understand your data better, you can drive better sales and align your marketing campaigns to resonate with your audience. If you're looking for alternatives to Segment.io that allow you to manage all customer data integration, Hull is a great solution.
3. MarketingCloudFX
MarketingCloudFX is fantastic marketing software option to help you manage your data and use it effectively to market your business. This tool is an all-in-one marketing automation platform that enables you to obtain, track, and utilize data to create better campaigns for your business.
Have access to valuable tools
MarketingCloudFX offers numerous tools to help you manage your data. You'll have access to dozens of features, including:
Detailed visitor information
Personalized content
Automated email marketing
Advanced targeting settings
Analysis and reporting
Customer relationship management (CRM) integration
Call tracking
And more
These tools will help you operate more efficiently and put your data to work.
Streamline lead management
With MarketingCloudFX, you'll learn about one of the most critical factors in your marketing campaign — your audience.
MarketingCloudFX offers two programs, LeadManagerFX and LeadNurtureFX, that help you manage your leads and learn about your audience. With LeadManagerFX, you create a searchable database of your current and past leads that you can use to help you develop better campaigns.
Within this database, you can score your leads based on how many times they visit a page, how long they spent on your site, and more. This process helps you determine which leads are most valuable for your business.
Additionally, you'll have access to a variety of data, including which companies visit your website and how they interact with your site. You'll even have access to their name and contact information, which you can use to get in touch with these prospective leads.
Learn what businesses check you out and spy on your competitors
If you're a business-to-business (B2B) company looking for a way to track companies that visit your site, CompanyTrackerFX can help. This feature enables you to track your visitors and compare the IP address to a large database of known company IPs.
After looking through the database, you can tailor your B2B sales process and make your campaigns more relatable to your clients. You can see which pages generate the most engagement and use that as an opportunity to capture leads for your business.
This tool also lets you spy on competitors.
You can see when competitors search your site and decipher why those companies would visit specific pages on your website. It helps you create a strategy to combat their intent.
Put your data to work
There are numerous other features you can expect to see from MarketingCloudFX. From review management to lead nurturing, MarketingCloudFX has everything you need to grow your business.
You can put your data to work by using your database to help you nurture leads, create personalized content, and build a positive image of your brand.
By investing in this tool, you'll put your data to good use and use it to drive results for your business. MarketingCloudFX is an excellent Segment.io alternative for helping you use and manage your data.
4. Mixpanel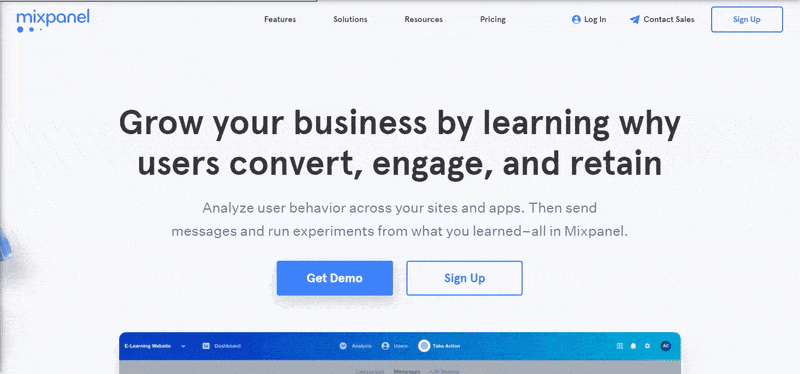 Mixpanel is another Segment.io alternative that helps you manage your data better. With Mixpanel, you can analyze user behavior on your site and within your apps. This feature allows you to measure and improve your customer experience.
Collect more accurate data
When you use Mixpanel, you can collect more accurate data for your business.
You'll establish what's important to your business, like interaction on a particular page or downloading a specific guide. Based on those parameters, you'll get accurate customer and product data in real-time that helps you understand your audience better.
Based on what you learn, you can send messages and run experiments to improve your marketing campaign.
Identify trends
Mixpanel is valuable for helping you identify trends for your business by establishing key metrics and seeing how they trend over time.
This tool also allows you to see how users interact with your site's pages.
Mixpanel helps you spot trends among your audience in terms of how they interact with your site. It enables you to understand their behavior better and use that knowledge to create better campaigns.
When you can analyze meaningful behaviors, you can identify patterns with user engagement, user retention, and conversion. All this data helps you create smarter campaigns for your company.
If you're looking for a new data tool, Mixpanel is a great option.
5. BigPicture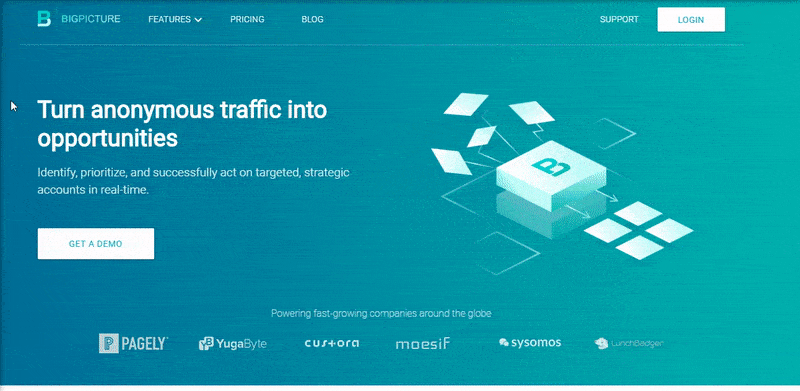 BigPicture is another great Segment.io alternative for creating more effective campaigns with your data. This tool enables you to turn anonymous traffic into valuable leads for your business.
Match anonymous traffic with real companies
With BigPicture, you can identify visitors, prioritize them based on behavior, and act on targeted accounts — all in real-time. BigPicture helps you match your anonymous traffic to company profiles.
This feature helps your team act faster on hot accounts. You'll know who is most interested in your business and have the right information to get them to convert.
Integrate your data
BigPicture is friendly with data integrations, too. You can integrate data from your website, CRM, and sales tools. The integration-friendly interface helps you compile all your data in one place so your sales reps can contact the right people.
When you invest in BigPicture, you can use the data to customize your existing sales strategy and improve marketing tools. It helps you use your data more wisely to build stronger campaigns.
If you're looking for data tool alternatives, BigPicture is an excellent option for using real-time data to help you improve your campaign's strategy.
6. Profisee
Profisee is another Segment.io alternative for your business that helps you manage your data. This data management software allows you to better understand your audience by taking all the numbers and creating visual models for your company.
Create visual presentations for your data
These visual data presentations allow you to see the relationships and hierarchies that drive your business. It allows you to quickly track your site and digest it in a way that is easy to understand.
Gain more valuable data
Profisee will make it easy for your business to build a solid foundation of data. It offers fast track data management, which focuses on configuration rather than coding. This process means that you will improve your data quality and gain more valuable data in the process.
It's an excellent tool for improving your team's workflow. You'll be able to integrate all your data in one place to ensure everyone has access to the same information. It's one of the best Segment.io alternatives if you're looking for a way to manage your data better.
Get a free demo of the best Segment.io alternative today
Your data drives the decisions you make for your business. It helps you discover which leads are viable and how they interact with your business. If you want to be more productive with your data management, partner with WebFX.
We have a team of 500+ experts that will bring their knowledge and expertise to your campaign. With our software, MarketingCloudFX, we'll help you understand your data better and effectively use it with your campaigns.
Ready to learn more about MarketingCloudFX? Contact us online or call us today at 888-601-5359 to speak with a strategist about receiving a free demo of our data management software and learning how it can work for your business.
Earn a 20% greater ROI with WebFX