Should You Create PPC Ads for Your Competitors' Names?
Pay-per-click advertising (PPC) is a tricky marketing medium. On the one hand, it helps you target new keywords and has the potential to bring in a huge ROI. On the other hand, it opens up the doors to a brand new way of competing — hijacking your competitors' brand names.
Taking out a PPC ad for a competitor's name isn't a common practice, but it's sometimes seen in aggressive PPC strategies of companies fighting for industry dominance. And, like with most ideas behind PPC, it's used more in some industries than others.

So in the event that you're considering a hyper-aggressive PPC campaign against your competition — or if you're just curious about PPC ads — consider this brief list of pros and cons before you finalize your ideas.
You can also call 888-601-5359 or contact us online today to speak with one of our experts directly!
Our digital marketing campaigns impact the metrics that improve your bottom line.
See More Results

WebFX has driven the following results for clients:

$3 billion
In client revenue

7.8 million
Leads for our clients

5.2 million
Client phone calls
Pro #1: It's affordable
Most industries are made up of a huge variety of companies. That means there are tons of different brands in one marketplace. Because of that, you won't have to pay much to take out an ad based on a competitor's name. In fact, you can target their name exclusively to show up above their non-PPC listings, meaning customers see your ad before their website.
On top of that, you can also target the names of certain products that your competitors sell to expand your reach without paying much. After all, you only pay when your PPC ad gets a click, which means you'll pay pennies to siphon qualified leads to your website.
Con #1: It's hostile
Targeting the names of your competitors may be cheap, but it's also highly aggressive. Because of that, most PPC managers view name-targeting as hostile.
If you're new to the industry or seeking to establish a good reputation, you won't succeed by targeting other companies. It'll have the exact opposite effect, and you'll almost instantly acquire a poor reputation in your field. Depending on how communicative and involved your industry is, that can have disastrous consequences — especially when you go to conferences and conventions alongside your competitors.
Even if you change your tactics later, your competitors will remember that you targeted them at one time. And if you continue, every competitor is going to wonder if they're next on your list.
Pro #2: It spreads brand awareness
Sometimes, people looking up your competitors on Google don't know that your company offers the same products or services. In that respect, you can spread brand awareness really well by taking out ads on your competitors' names. That means there's a good chance you'll catch their attention, and they may even click to your site.
Brand awareness is one of the intangible benefits of PPC. You can't track how many people have heard your name, and it's impossible to tell why someone is looking up your competitor. Targeting a competitor's name is a safe bet, in that respect, since it just shows people that you exist. And who knows — someone looking up that term might become a customer a week, month, or year after they search.
Con #2: It incites retaliation
When you target competitors' names, your competitor has a few options. They can do nothing, they can contact you, or they can retaliate.
And because you struck first, they'll probably retaliate.
Retaliation can come in a number of different forms, but you can be sure that a company's retaliation will be either as aggressive or more aggressive than your initial action. That means they'll probably funnel more money to their PPC campaigns, take out more ads for more keywords, and generally try to disrupt your business as much as possible.
This can become a huge problem for small businesses that got a little too excited about PPC. If you target a large competitor, and they retaliate, they have more resources to dedicate to shutting you down.
They'll do it, too—especially if you've made their sales drop.
Pro #3: It can help your Quality Score
Quality Score is the measure of how reputable and helpful you are to Google's users. When you have a high Quality Score, it means people like what they see when they click on your ads, and your ads will actually begin to cost less.
Taking an ad on a competitor's name increases the number of people who will see your ad (also called "impressions"). That means there's also a chance that someone will click it and go to your site. And if you have a strong ad campaign, you can divert a lot of traffic from your competitors' organic rankings and send qualified leads to your site.
Since click-through rate (CTR) is a factor for Quality Score, the more clicks you get, the more your Quality Score will rise. And when that happens, it's even easier to target your competition.
Con #3: It can hurt your Quality Score
On the flip side, a low Quality Score means people don't like your ad or where it links, and you'll have to spend more just to maintain your PPC campaign. After all, you're targeting a brand name as a keyword, and that means people probably want to see results for that brand. When they see your name instead, why would they want to click your ad?
Even if someone does click your ad, they may not like what they see and leave right away (also called a "bounce"). With a combination of a poor CTR and a high bounce rate, your Quality Score will decrease rapidly.
When that happens, your competitors don't need to retaliate — you're damaging yourself enough on your own.
BONUS READ: Top PPC Tips For Hardscaping Businesses To Improve Campaign Performance
WebFX is a partner businesses trust.
Hear from HydroWorx, who saw a 236% increase in organic sessions with WebFX services.
Watch the Video Testimonial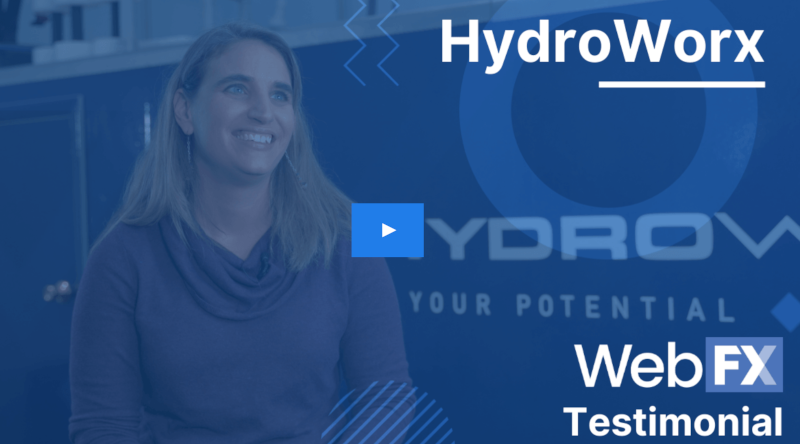 WebFX knows PPC strategies
At WebFX, we know PPC inside and out. We've tried everything there is to try in PPC, and we keep up with the latest strategies to make sure we're constantly on top of the industry.
That means we know the best PPC strategies to help all of our clients succeed — including you. Our team of PPC specialists is passionate about their career, and they'll do everything they can to make sure you enjoy an ROI that meets — and even exceeds — your expectations.
Do you want your company to succeed online? Contact us today to create a PPC plan specifically for your business!