Why Do You Need PPC Landing Pages?
Pay-per-click advertising (PPC) is a great way to promote brand awareness, attract new visitors to your website, and even convert people into paying customers. You can earn a lot of revenue for a minimal investment too, which makes it one of the best ways to market on a tight budget.
But when you make a PPC campaign, you need more than just an ad — you need the ad to take someone somewhere. When someone clicks on your ad, they don't want to go to your homepage. Instead, you need to send them to a landing page.
A landing page is a specialized part of your website that is completely dedicated to answering a question or providing information on a topic. The page can be anywhere from a few hundred words to a couple of thousands, and it should go so in-depth on a topic that it tells the reader everything they need to know. And, at the very end, it should have a call to action, so you can bring new customers to your business.
If you want to drive more traffic to your site and increase sales, contact us online or call 888-601-5359 today to speak with one of our experts!
Landing pages are essential to any campaign for a number of important reasons. Three of the biggest reasons are listed below:
1. They show your knowledge
Landing pages are incredibly useful because they give you the chance to show search engine users that you know your industry. This is your opportunity to talk up your experience, share an anecdote, highlight customer testimonials, list pricing for your services, and so much more. If it pertains to your demographic, it's fair game for a landing page, especially when you're seeking new customers.
The biggest benefit to this is that it proves to readers that you know your stuff. You're a reliable source of information on ideas, concepts, current trends, and other important parts of your industry. And when someone feels like they can trust your expertise, you make it easy for them to become customers.
To share your knowledge, find the keywords or questions that people are asking in Google by using a service like Google Ads. This will tell you which search terms get a lot of traffic, allowing you to capitalize on those searches by writing entire pages about them. Then, you link to the page with an ad, someone clicks on it, they read it, and they feel more comfortable becoming a customer — or at least contacting you for more information.
2. They make you an authority
With every landing page that you create, you're proving to your potential customers that you're an authority in your industry. Authoritative information, backed-up opinions, and comments on hot-button issues in your industry let you make smart, informed points that will resonate with your customer base.
Making yourself an authority is going a step beyond simply showing your knowledge. Information backed up by reliable sources shows people that you've researched your position and spent time working out the details of your ideas.
This is particularly useful when you start offering your reader's advice. A lot of people use search engines to find information that helps them, and that includes finding practical advice from authoritative sources (like your website). Writing actionable tips on what to do in your industry, coupled with strong examples of each point, turns your business into an accessible resource that anyone can use for their questions relating to your field of expertise.
Whether you're in manufacturing, networking, public relations, or anything else, landing pages are key components of showing your customer base that you know your business better than the competition.
3. They prove you're legitimate
When it comes to the Internet, users are wary of any sites they've never heard of. That means you have to actively prove that you're a legitimate source that's on the straight-and-narrow. You need to have experience, awards, case studies, or other ways to show a site visitor that your business believes in providing them — the customer — with a valuable experience or product.
Without landing pages, you're using an ad that links to a page that's unrelated to a user's query. That's the same kind of situation as if someone asked you a question about their car, you told them you knew the answer, but you never actually answered. The person asking would be frustrated, just like the person who used a search engine.
Just like how you don't want to spend time with someone who can't answer your questions, search engine users don't want to spend time with a company that chooses not to answer their questions. And, if you continue down that avenue, your quality score in Google Ads will decrease, which means you'll have to pay more money just to maintain your spot in ad search results.
To prevent all of that from happening, you just need to create a landing page.
WebFX is a partner businesses trust.
Hear from HydroWorx, who saw a 236% increase in organic sessions with WebFX services.
Watch the Video Testimonial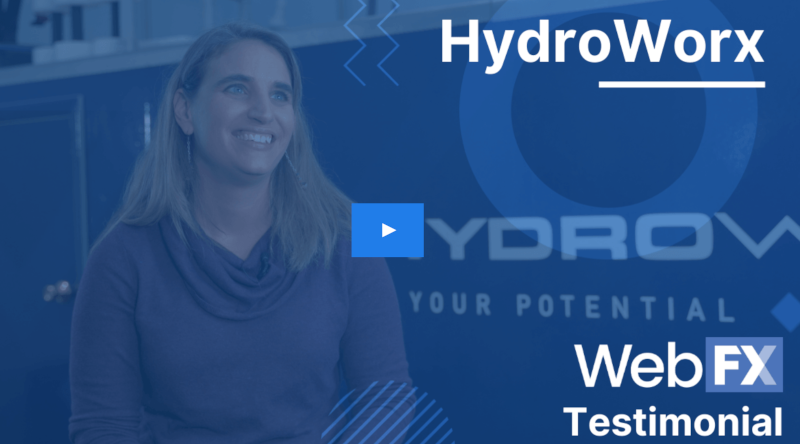 WebFX uses PPC every day
Our team of talented PPC managers is constantly getting high-quality results and outstanding ROIs for our clients — and they'll do the same for you! When you partner with WebFX, we'll use every resource at our disposal to make sure we meet your needs day after day so you can grow your business. And if you have any doubts, we have an extensive portfolio and a collection of customer testimonials that you can look up at any time!
Are you ready to get a better ROI from your PPC campaign? Contact us today to start growing your business!