Your Enterprise SEO Agency
What makes an enterprise search engine optimization (SEO) agency amazing? Simple. They care about you, they care about your business, and they work to make your professional goals a reality. However, just because an agency provides SEO services doesn't make it an enterprise SEO agency. The best of the best deliver a custom strategy that drives real results — and that's exactly what you can expect with WebFX.
Get unmatched results with the best enterprise SEO company
Enterprise-level SEO is hard. It's competitive, and it demands a top enterprise SEO company.
At WebFX, we're one of the most trusted providers of SEO for large businesses.
As your partner, our enterprise SEO agency will provide you with a custom strategy, dedicated account manager and SEO team, and advanced artificial intelligence-powered software that monitors, analyzes, and tracks your strategy's performance and return on investment (ROI).
With a client retention rate of 91%, plus a track record for results (we've helped our clients' businesses earn over $3 billion in revenue in the past five years), we're the choice for companies looking to invest in enterprise SEO.
Keep reading to learn more about our enterprise services, from what they include to how much they cost. Or, connect with our enterprise SEO firm to see how we can help your team take your business to the next level.
Call us at 888-601-5359 or contact us online to get started!
What do our enterprise SEO agency's services include?
At our enterprise SEO agency, we provide you with a turnkey solution to corporate SEO.
With our services, your company will receive the following:
Dedicated account manager and SEO team
Complete SEO audit
Custom enterprise SEO strategy
AI content analysis
Keyword research and optimization
Page speed analysis
Professional website copywriting, if desired
Outreach or link building via an established network
Conversion rate optimization (CRO) analysis and recommendations
Regular reporting
And more!
If you want to learn more, just keep reading, or give us a ring at 888-601-5359 to speak with a strategist about custom SEO pricing.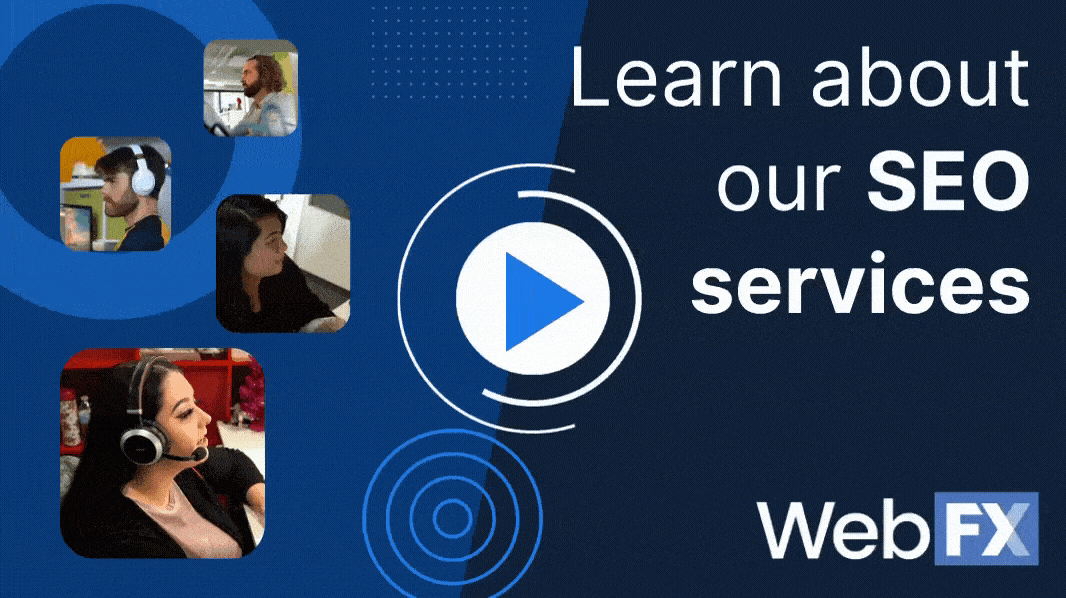 Get an inside look at our enterprise SEO firm's approach
WebFX is an enterprise SEO agency that provides amazing results to our clients.
Get an inside look at what our enterprise SEO services include and how they can work together to create the perfect enterprise SEO strategy for your unique company.
Keyword optimization
When you work with a top enterprise SEO agency like WebFX, we'll start by taking care of the small details that can make or break your campaign.
We'll start with keyword optimization to ensure that your site pages are targeting your most valuable keywords — the ones that your highly-qualified customers search for. We offer basic, aggressive, and market leader plans, which allow you to target 300, 450, or 600 keywords.
Dedicated account team
When you work with a company that provides SEO services to smaller businesses, a one-person team might implement your campaign, but when you work with our enterprise SEO agency, you'll have a whole team working on your strategy.
No matter what tier of products you opt for, with WebFX, you'll have at least five strategy members working on your account to ensure that it drives the best results possible for your company.
Website audit
It's extremely important for an enterprise SEO firm to perform an SEO audit of your existing site. This will allow them to gain crucial insight into the strategies you already utilize, what can be improved, and what you're doing well.
From there, your SEO company will be able to plan out the perfect campaign based on your website needs and goals.
Website copywriting
In enterprise SEO, the phrase "content is king" is a phrase to live by. Without content, you won't be able to rank in search engines, so your website has very little purpose without content.
Content is extremely essential, but it's only effective when it targets the right keywords, provides useful information, and follows SEO best practices.
When you work with our enterprise SEO agency, you'll have access to a talented team of writers that can create high-quality content for your website.
Link building
Link building is an significant part of SEO, and without it, you'll have a hard time calling your campaign successful.
There are two kinds of links — internal links and backlinks.
Backlinks are when another website references your website and links to one of your site pages. These are great for credibility, and if a high-authority website links to yours, it gives your site some brownie points with Google.
Internal links are links that you utilize throughout your site pages that link to other pages on your site. These links help Google find and index your site pages faster, which means they can rank faster in search.
Our enterprise SEO firm will help you create an efficient internal linking structure on your own site and encourage other sites to link to your pages as well.
Conversion rate optimization
One of the characteristics that makes our enterprise SEO agency different is that we dive into analytics and data to find the best possible strategy for your company.
At WebFX, we offer conversion rate optimization, or CRO, as a part of our enterprise SEO strategies since it's extremely useful in determining how to increase sales on your website.
User experience
As an enterprise SEO company, we look at the whole picture. Your website isn't as effective as possible if it doesn't provide a great user experience.
User experience (UX), refers to how good or bad a site visit was in the eyes of your customer. Some components that create a great UX are navigation, internal links, page speed, and multimedia elements.
A great UX makes users want to stay on your website and can affect things like time on page and bounce rate.

Website analytics and reporting
If you want to have a successful enterprise SEO strategy, web analytics are key.
The best enterprise SEO agencies offer website analytics as a part of your strategy, since it's essentially what all campaign decisions are based on.
With analytics, our SEO company can track just about anything. Check out what is trackable through Google Analytics:
How many views any one page on your website has: How many times a user landed, entered, or navigated to each page.
Average time users spend on your site pages: The measure of time users spend on any one page.
Bounce rate: The percentage of users that bounce after viewing just one page.
Page value according to custom goals that you set: How much a specific page is worth in monetary value.
Site speed metrics: How fast your site pages load.
Overall website traffic: How much traffic your site gets as a whole.
How your website traffic changes over a custom period of time: You can set a custom time period to see the fluctuations in site traffic over a month, two months, or any other custom measure of time.
How visitors found your website and how they entered each page: This includes direct traffic, which is when a user types the URL directly into the search bar, organic search, which is when a user utilizes a search engine, referral, which is when a user clicked on a link that referred them to your page from another website, email, paid search, social media, and more.
Audience information: You can track the location of your site visitors as well as their primary language.
Devices used to view your pages: Determine what devices users visit your site with, whether it be a smartphone, tablet, or desktop.
All of this information provides priceless data when it comes to optimization tactics for your website. Analytics allow our SEO company to determine which of your pages are performing well, which could use some help, and even point them in the right direction when it comes to fixing or improving site issues.
After using analytics to determine how your site is performing, we'll provide you with a report of our findings.
This lets you know how your site is doing, in addition to giving you the opportunity to ask questions about your campaign.
Social media strategy
Remember how early on, we mentioned that an enterprise SEO company offers a wide variety of marketing strategies?
At WebFX, we offer a social media strategy as a part of our enterprise SEO strategy, since we believe that it's important for helping you increase brand awareness, connect with your audience, and boost your SEO.
We'll help you determine what social media platforms are right for your business, create unique content to post, and keep you updated with how your campaign is performing over time.
How does our enterprise SEO company measure your success?
Results matter to your business, and you need an enterprise SEO company that understands that.
At WebFX, we measure our success by your success. That's why our dedicated account managers and 500+ SEO specialists focus on the results that matter most to your company, from qualified leads to in-store visits.
A few examples of some metrics our team monitors and tracks include:
Phone calls
Revenue
Leads
Sales
Sign-ups
When you partner with our enterprise SEO agency, expect your dedicated account manager to ask about your goals — or what you want from corporate-level SEO. They can then recommend monthly and quarterly goals, as well as set up the appropriate tracking.
Ready to Grow? Get your FREE Quote Today!
We measure our success by how much we WOW our clients.
Why choose WebFX as your enterprise SEO agency?
Making WebFX your enterprise SEO agency offers several perks for your team, including:
Access to some of the most experienced SEOs: We feature a talented team of SEOs who are constantly expanding their knowledge and improving their skills. Your strategy benefits directly from their experience, allowing your business to move up in search results and increase your revenue.
Get the power of machine learning and AI: When you choose our enterprise SEO firm, you get access to MarketingCloudFX, a marketing software suite that features the machine learning and artificial intelligence power of IBM Watson. With MarketingCloudFX, you can track your ROI, competitors, leads, content performance, and more.
Receive timely responses and helpful answers: We value your time, which is why our team provides timely responses to your questions. Whether you're sending some resources or asking a question, you can trust your account manager to keep you up-to-date and confident about your strategy.
Obtain routine and transparent reports: As your enterprise SEO company, we also provide your team with regular reports that summarize your campaign, goal progress, and more. These reports are 100% transparent. You can also monitor your campaign in MarketingCloudFX.
These advantages are some of the reasons why we maintain such an impressive client retention rate and client recommendation score. Our recommendation score is higher than the industry average by 488%. Meanwhile, our client retention rate is 91%.
With WebFX, you receive more than an enterprise SEO agency — you get a lasting partnership.
3 tips for finding the best enterprise SEO company
With so many enterprise SEO agencies out there, how do you choose the right one for your business? We could say "when you know, you'll know," but let's dive a little deeper.
Check out our three tips for choosing the best enterprise SEO company for your business.

1. Know your goals up front
It'll be extremely difficult to decide on an SEO company if you're not sure of your goals.
Start by jotting down the goals you have for your business. Is it more website traffic, more conversions, or both? Do you want to improve your social media presence? Do you want to create your social media presence?
Answering all of these questions ahead of time will aid you in your search, so you can determine up front if an agency offers exactly what you're looking for.
2. Do your research and take notes
Don't make any decisions or sign on any dotted lines hastily. Choosing a partner for your enterprise SEO strategy is no small decision, and if you choose the right one, it could change your business for the better.
That's why it's so important to do your research, call a lot of agencies, and take notes as you learn more about each agency.
You should gain insight on things like their price range, their location, how many employees they have, and how long they've been in business.
The best agencies will answer all of your questions and be honest about whether or not they think you'd be a good client for them.
3. Look at their online reviews
Reviews are a great way to get the inside scoop on an enterprise SEO agency, and it's pretty straightforward. If an agency has tons of reviews saying that the results they drive are astronomical, and they have very few negative reviews, they're probably an agency worth learning more about.
On the other hand, if they have mostly negative reviews, you should probably consider looking elsewhere.
Keep in mind that a few negative reviews shouldn't make you write off an agency, but if there are more negative ones than positive ones — there are probably real issues with the agency.
FAQs about enterprise SEO agencies
Do you have some questions about enterprise SEO agencies? Browse our FAQs!
What is enterprise SEO?
If you find yourself Googling "enterprise SEO definition," you're not alone. You might find yourself wondering if enterprise SEO is one specific strategy, a strategy that's only meant for enterprise companies, or a combination of the two.
By definition, enterprise SEO is typically most useful to bigger enterprise companies that need an extra kick when it comes to their SEO strategy. These companies usually have websites with 1000 or more pages, 1000 or more products, etc.
How is enterprise SEO different from SEO?
Read on to learn the key difference between an SEO strategy and an enterprise SEO strategy.
SEO strategy
SEO is a marketing strategy that is made up of tons of sub-strategies that work together to help your website pages rank higher in search engines. This is extremely important for your business since 75 percent of users never make it past the first page of search results.
If your website doesn't rank on the first page, it's unlikely that you'll get any valuable website traffic, which means it'll be hard to increase conversions as well.
SEO as a whole is a recommended marketing strategy for business owners, and if you're a smaller business or even medium-sized, an SEO strategy should be enough to help you gain traction in search results.
Enterprise SEO strategy
Now let's get into the nitty-gritty of what differentiates SEO from enterprise SEO.
Let's say you run a corporation or enterprise business. You have hundreds of clients already, your main focus is to keep your clients happy, and your client base growing at a steady pace.
To reach this goal, you're going to need a strategy that surpasses a typical SEO strategy, you'll need to implement an enterprise SEO strategy.
The goal of enterprise SEO is the same as general SEO — to increase brand awareness, to get your website pages ranking highly in search engines, and to increase the number of conversions on your website.
The difference? Enterprise SEO is geared towards improving these things with an expanded version of everything that typical SEO strategies include.

So, for example, a big part of SEO is creating content. With traditional SEO, creating content that targets keywords is extremely beneficial to ranking highly in search. But with an enterprise SEO strategy, the goal is to create more targeted copy on a larger scale and with even more benefits, like shareability and repurposing.
Where typical SEO agencies might only focus on SEO as a strategy, enterprise SEO agencies focus on data and search trends that connect SEO and pay-per-click (PPC), how SEO and web design overlap, and how content can be better created to ramp up SEO efforts.
An enterprise SEO agency specializes in everything — and has its own department for every strategy. This makes enterprise SEO agencies much more specialized than a general SEO company.
How much does enterprise SEO cost?
Prices for enterprise SEO services range from around $12,000 to $22,000 per month.
Depending on your business, goals, and enterprise SEO firm, your organization may invest a different amount. When researching SEO prices for big companies, keep in mind that cost often correlates with quality.
If a service price seems too good to be true, it probably is what the industry calls cheap SEO.
WebFX is a leading enterprise SEO agency
Located in the heart of Harrisburg, Pennsylvania, WebFX is a top enterprise SEO agency with over 500 in-house marketing specialists to guide every enterprise SEO campaign.
Our employees are masters in their craft, and they work tirelessly to create the perfect campaign for every unique business that we have the pleasure of calling a client.
Speaking of clients, we have over 1,020+ gleaming customer testimonials that speak to the quality of our work, and tons of awards and recognitions.
Did you know that we're a Google Premier Partner?
If you're interested in working with an enterprise SEO agency that cares about your business and your goals as much as we care about our own business, WebFX is here for you.
We serve clients all around the world — and we don't just specialize in enterprise SEO.
Check out the long list of services that we offer! (This isn't even all of them!)
And so much more!
Get started with your custom enterprise SEO strategy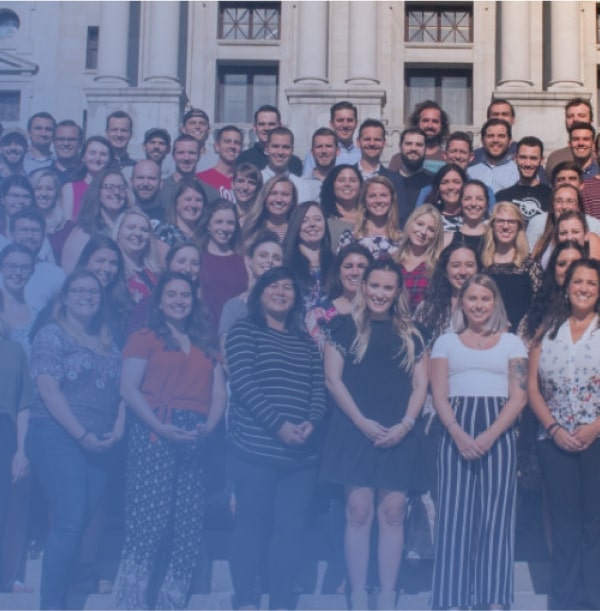 If you're ready to work with an enterprise SEO agency that drives real results for your business, WebFX is here for you.
Feel free to contact us online or give us a call at 888-601-5359 to speak with an SEO specialist!
We can't wait to hear from you!