6 Foolproof Tips to Help You Find the Best Professional SEO Firm
If you're looking to increase traffic to your website, multiply your brand awareness, and grow your company's conversions,
search engine optimization
, or SEO, is the digital marketing strategy for you.
SEO is the process of improving your website in ways that allow more people to find you online, visit your site, and enjoy their experience.
It's hard to get adequate traffic to your website if you aren't targeting keywords in the correct way or thinking about the intricacies of your website design. So, without SEO, you're probably missing out on a lot of leads.
In order to put together an SEO campaign that works for your business, hiring a professional SEO firm is one of the best options.
When you hire a professional SEO firm, you'll get the expertise necessary to implement an effective SEO campaign that works for your company. An SEO firm will work with your company to get to know you, your goals, and your competition, which ensures that they create the perfect marketing campaign for you.
On this page, we'll discuss everything you need to know about SEO, the benefits of hiring a professional SEO firm, and how to pick the best one for your unique business.
If you'd like to speak with an SEO specialist before reading on, you can reach us at 888-601-5359.
P.S., Once you've found your shortlist of SEO firms you might want to work with, you may want to send them a request-for-proposal (RFP) to determine whether they're a good fit. Claim your free SEO RFP template here!
Independent research from Clutch has named WebFX the
top SEO company

in the United States.

Clutch has personally interviewed more than 250 WebFX clients to discuss their experience partnering with us.

Read More Clutch Reviews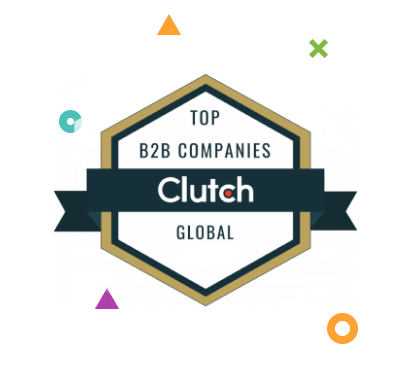 Why hiring a professional SEO firm is important
If you're ready to reap all the benefits of SEO, it's time to be on the lookout for the perfect SEO firm to help your business succeed.
You may be wondering why you have to hire an SEO firm in the first place. Can't you do SEO on your own?
In short, yes — but there are a lot of reasons why you shouldn't.
For example, if you're the owner of a business, it's unlikely that you'll have the time and resources to put into an SEO campaign.
With so many moving parts necessary to make an SEO campaign work effectively, you need to put 100% of your energy toward your campaign. If you run your own business, that's simply impossible.
It's also unlikely that you're an expert at SEO. Otherwise, you wouldn't be running your own business — you'd be working for an SEO company!
For that reason, you most likely won't get the best results with a self-created campaign as opposed to hiring a professional.
If you want success, and you want to get the ball rolling quickly, hiring an SEO professional is the best way to go.
Here's why it's important to hire an SEO firm instead of relying on a DIY SEO strategy:
You can take a load off — well, focus on your own business
Though running your own business is no easy task, you'll be able to kick up your feet when it comes to your SEO strategy.
Running a business is a full time job. You have employees to manage, bills to pay, and phone calls to make. That hardly leaves time to focus on an SEO campaign.
Hiring a professional SEO firm can help reduce the stress of handling a campaign on your own, and ensure that it's done correctly. Not to mention that professionals are trained in SEO, and know how to make the most of every dollar that you spend on your strategy.
They'll handle everything, including mapping out your campaign, researching your industry, and implementing key SEO components on your website.
You won't have to lift a finger, which allows you to keep running your business like a pro.
You can expect results
When you work with a firm, you can usually expect results. They carry the title "professionals" for a reason, and it's because they know everything there is to know about creating a successful campaign.
Though the results of SEO can take a few months to emerge, you will feel confident that every bit of work put in is bringing you closer to success.
They have access to tools and analytics
One of the most important aspects of SEO is understanding your competition, how they're performing online, and how you can create a strategy that allows you to gain an edge.
However, you won't be able to truly understand your competition and how they're performing online without the proper tools.
Professional SEO firms have access to the tools and analytics you need to not only understand your competition, but to understand the progress and success of your campaign.
In understanding how your campaign is working with tools like Google Analytics, your professional SEO firm will be able to tweak parts of your campaign to make it as successful as possible.
How to choose the right professional SEO firm for you
With thousands of SEO firms across the country and around the world, it can be difficult to narrow down your search. However, there are a few things to consider when choosing the best professional SEO firm for your business.
1. Consider your budget
Your budget is one of the first and most important things to take into account when you choose a firm. If you don't keep your budget in mind, you could find your business in financial trouble.
First, do your research to determine a realistic price for an SEO campaign. Shop around and take note what the average price is for the SEO services that you're interested in. Doing this will help you get an idea of the maximum budget you'll need to get what you want out of your campaign.
From there, consider how much you're willing to spend on an SEO campaign. Given the information you have about the cost of an average SEO campaign, you can decide if you want to spend the minimum amount for a modest campaign or maximize your budget for extreme results.
No matter what figure you land on, set a maximum price and don't exceed it. You will prevent yourself from overspending when you set a limit for the most that you're willing to pay for a campaign.
By setting a maximum spending amount, you can cross out-of-budget services off of your list. This will make it even easier to select an SEO firm.
2. Consider their expertise
Your budget isn't the only thing you should research before choosing and SEO firm.
You should also research each firm and pay attention to things like how long they've been in the business and their level of expertise.
For example, an SEO firm that is a certified Google Premiere Partner has more expertise than a firm that has been in business for a year and isn't recognized by Google.
When you're putting a large chunk of your marketing budget toward SEO, you want it to be worth it. One way to guarantee that is to choose a firm that has been in business for more than five years and has been recognized by Google or other reputable platforms.
3. Consider their track record
To help you determine the right SEO firm, look at company reviews. Checking out client reviews will give you a good idea of how well they treat their clients and what you can expect from your relationship with the firm when you hire them.
Start by reading their Google reviews, but don't be deterred by a bad review or two. Everyone has a different experience, and just because a firm has a few bad reviews doesn't mean you should send them to the bottom of your list.
However, you want to ensure that the good reviews easily outweigh the bad ones and that they speak to how great the firm is. The best professional SEO firms will have 4.5 to 5 stars on review sites like Google, Yelp, and Clutch.
4. Consider their testimonials
You can easily tell the quality of an SEO firm through their testimonials. Testimonials are real statements of previous clients speaking about how the firm was to work with and the results that the firm provided them.
You'll get to see what real clients think about the firm's work, which should help you determine how you think they would fit with your company.
A great professional SEO firm will have hundreds of client testimonials. So, if you're looking at a firm that has none, you may want to reconsider your options.
5. Consider their communication
Before signing on the dotted line with an SEO firm, talk on the phone with a few different firms to determine how they communicate and handle your questions and concerns.
They should provide extensive answers to all of your SEO questions and always ask if you need more clarification on anything.
And speaking of asking, they should also have their fair share of questions for you. Their job is to not only provide effective SEO services, but to partner with companies that they know will be a good fit with their services.
They should ask your business, industry, competition, and what you hope to accomplish with an SEO campaign.
Ensure that you're making the right choice by examining how the marketing firm communicates with its clients. If they ease your worries and ask the right questions, that's an excellent sign of a great firm.
6. Consider the location
Though it's not necessary to meet in person with your SEO partner, some business owners prefer it — and there's nothing wrong with that!
If you enjoy meeting face-to-face with those who have a hand in your company, including your SEO provider, you should consider where the firm is located.
For example, if you want to have regular meetings on a monthly basis to talk about your campaign, how it's performing, and any changes that are taking place, you should consider travel time involved.
If this is important to you, you should narrow down your shortlist to options that are located within a realistic traveling distance. Make sure you have the option to talk over the phone but also have the option to meet in person, if necessary.
Time to Level Up Your Sales
Our long list of services helps you grow every aspect of your business with marketing strategies that are proven to increase bottom-line metrics like revenue and conversions.
In the past 5 years, we've managed more than 12.9 MILLION transactions across our client base.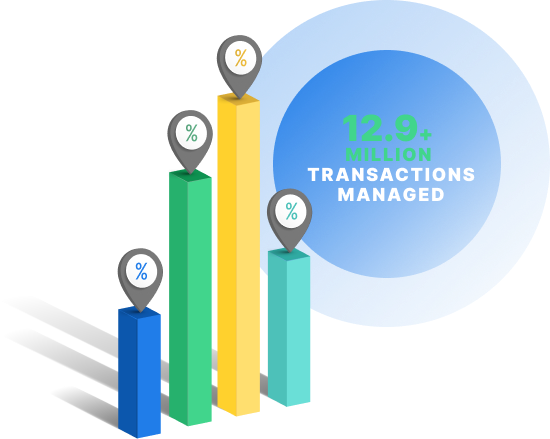 SEO basics: the strategies of a professional SEO firm
SEO is one of the best, most effective web marketing strategies out there. In short, it can benefit your company and your website in the following ways:
More website traffic
Increased brand awareness
Increased conversions
Higher rankings on search engine results pages
If you're interested in all of these benefits, organic SEO is a great choice of strategy for your business.
Though SEO is a digital marketing strategy in itself, it's actually an umbrella term for a lot of other micro-strategies that help it to be as effective as possible.
Let's talk about the micro-strategies included under the term "SEO." These are what your professional SEO firm will use to take your website to the top of search results.
Keyword targeting
An extremely important building block of SEO is keyword targeting. Keyword targeting means writing content that is based on terms that the audience is the most interested in.
For example, if you own a bakery, you'll likely target keywords like "wedding cake," "funfetti cupcakes," or "homemade fruit cobbler."
When you target important keywords in your content, you will let Google will know what your content is about. Google will then be able to rank it in search engine results pages when someone types your keyword as a query.
There's a lot more to keyword targeting than meets the eye, though.
You'll first have to do keyword research.
Just like anything else, in order to target the correct keywords you'll have to research them to understand what your audience searches for, and how to best phrase them.
You can use tools like KeywordsFX to help you. This tool suggests keywords that may have a higher traffic volume, less competition, or a lower cost-per-click that are similar to the keywords you provide.
Using keyword research tools will help you choose the most beneficial keywords to target with your campaign.
When you search for keywords, be sure that you're using long-tail keywords rather than short-tail keywords. Long-tail keywords are far more detailed than a general keyword, and they're more specific of a phrase than a single term.
For example, a general keyword would be something like "wedding cake," but a long-tail keyword version would be something like "six-tiered vanilla wedding cake." Notice how much more detail the long-tail keyword has.
That detail can help you rank higher in results pages because the search volume for long-tail keywords is far less than the search volume for general keywords. But that's not a bad thing — usually those who search for long-tail keywords know exactly what they want and are ready to convert, so targeting them is extremely beneficial.
Link building
Link building is another important element of SEO. It refers to the process of building links to your website from other high quality websites, which is important for ranking purposes.
Google's goal is to provide the best information to users based on the query they provide. If they're searching for "Funfetti cupcakes," it's Google's job to provide results that will give users the most beneficial and informative content about Funfetti cupcakes.
One way that you can build value to your pages is to get other high-authority pages to link to yours. This sends great signals to Google and tells them that your content is high-quality — so much so that they're willing to link to it on their own website.
The more links you have, the better the ranking signals are.
Meta descriptions
Meta descriptions are the small piece of info that you see under a link in results pages.
Optimizing meta description information tells readers (and Google) what your page is about. It also helps them determine whether or not it will provide the information they're looking for about a specific topic.
It's important to keep it short and sweet, however, because meta tags have a limit of 160 characters, including spaces.
For that reason, provide the most important information in a condensed fashion. You should also aim to use the target keyword for the page at least once in the meta tag.
Great content
Content truly is king. Without it, Google has nothing to rank. If you don't create and post valuable content on your website, you won't be able to earn top-ranking positions in Google. As a result, you won't get the increased traffic that you desire.
Creating great content is an art, but when done correctly, it can truly be a traffic magnet.
Each page on your website should target something different — you can even go as far as writing a page for each keyword that you're trying to target. This ensures that you provide your readers with information about all the products and services you provide, and creates that many more opportunities for your website to rank highly.
Since everyone has a different way of phrasing things, you should also be sure to target different variations of your keyword on the page.
For instance, some people may call running shoes "sneakers," while others may call them "tennis shoes." In this case, you should be sure to target each variation with your keywords. "Yellow Nike sneakers," and "yellow Nike tennis shoes" both mean the same thing, but can reach a wider audience when you target both on the page.
In terms of how long your content should be, you should try to post content that is around 2000 words if you're looking to rank highly. In fact, studies have shown that after doing research on more than 20,000 keywords, the average length of the top 10 results are around 2000. Not only that, but the first spot is closer to 2500 words. This is often called long-form content.
That being said, longer content is better than shorter content. Why? Because the longer your content, the more information you share, and the more you prove to Google that you're an expert in your field.
User experience
User experience is another area of SEO that is extremely important in ranking highly.
Ease of navigation
Use of multimedia that encourages page engagement
Page load time
Color scheme and organization
These are just a few things that professional SEOs consider when creating the perfect campaign.
Ease of navigation
When users can quickly find what they need on your website with an easy-to-use navigation bar, it means that they'll likely stay on your website longer. When users find what they need, they'll likely stick around to read that content, watch that video, or engage with your survey.
Ease of navigation is important because an extended time-on-page sends good signals to Google about your content and your website in general.
Multimedia
Reading through a wall of text can be boring, and can actually make readers bounce from your website. When you include multimedia like images, graphics, and videos, users will be engaged throughout your content, and it will make it more exciting for them to read.
Page load time
If your page load time is over three seconds, you can expect users to bounce from your website.
Color scheme and organization
A loud color scheme and unorganized web design can also scare users away from your website.
If the color scheme is obnoxious, it can create a feeling of anxiety. An overwhelming color scheme will deter visitors and prompt them to visit another website that allows them to concentrate on what they're looking for.
There's nothing wrong with a splash of color, but no website should have a yellow background. Consider toning down your color scheme to keep visitors on your pages.
Are you looking for a professional SEO firm?
If the benefits of SEO are benefits that you want for your business, SEO is the perfect digital strategy for you. Not only will you increase traffic to your website, but you will increase conversions as well.
When you work with WebFX, we'll provide you with an experience that is professional from start to finish. We'll get to know your company and your industry, and we'll research your competition to give you a competitive edge.
We also provide copywriting services to ensure that you have beneficial and informative content that will rank. We'll even include your industry's most important keywords in your content so that you rank at the top of search engine results pages for the terms that mean the most.
Our team of over 500 marketing professionals have driven over $3 billion in sales for our clients, and we show no signs of stopping.
To prove our high-quality services, we also have over 1,020 client testimonials.
If you're interested in working with a professional SEO firm, WebFX is here for you.
Contact us online today, or give us a call at 888-601-5359.