How to Rank Better for "Almost-There" Keywords
Almost-there keywords are keywords that your website ranks for, but not on the first page of search results. These keywords frequently relate to content you've already covered on your site, and are often long tail queries.
You might not be aware that you're ranking at all for some of these keywords. However, spending the time to identify and optimize for these terms and phrases is well worth it.
Working with almost-there keywords is a great way to increase your search engine visibility, gain unique insights into the behavior of your customers, and source ideas for future content.
If you'd like to speak with a specialist, you can reach us at 888-601-5359.
WebFX can help you rank for keywords that are "almost there" with our many online marketing strategies.
CONTACT US TODAY FOR A FREE QUOTE!
Identifying almost-there keywords
Before you can improve your ranking for these keywords, you have to find out what they are.
Because Google moved to universal secure search, nearly 100% of organic traffic is now reported as keyword: "(not provided)" within Google Analytics. This means you can no longer see the search path users took to land on your website.
Luckily, with Google position check tools, there is a simple way of determining what keywords your website is ranking for, "almost-there" and otherwise.
Google Search Console (Webmaster Tools)
Google Search Console is an extremely powerful tool that gives you a close look at your website's search analytics within the past 90 days (among other things).
Log in, click on the website property you want to optimize, and navigate to "Search Traffic > Search Analytics." You'll be able to look at the search queries you're ranking for, as well as the impressions, CTR, and current website position for each term.
When looking for almost-there keywords, you want to focus primarily on the "position" metric. In general, a position of 1-10 indicates the first page of results, 11-20 the second, and so on.
Your almost-there keywords will typically be valuable queries that you're currently ranking for on the second or third page of search results. Keep an eye out for keywords similar to ones you're already ranking well for, too, as these are great opportunities.
Improving your rank
Now that you have a list of almost-there keywords, it's time to optimize for them using SEO best practices. Here are four tried-and-true methods of ranking better for almost-there keywords:
1. Create new content
This is an example of how useful almost-there keywords can be for shaping the direction of future content. For example, you might find an almost-there keyword that you're accidentally ranking for because it frequently pops up naturally in your other content. Again, these are usually long tail queries.
If you already have a page that's based on one of these keywords, updating it with fresh content may be all you need to do to give it a boost in the rankings.
If you don't already have a page, creating a brand new one filled with content written around that keyword is a great way of boosting your SERP position from "almost-there" to the front page.
2. Pivot existing content
Let's pretend you're currently on page two for the query "cars for rent in Poughkeepsie NY." After looking into your Webmaster Tools search analytics, you realize that the search term "Poughkeepsie cars for rent" actually has a much higher search volume with comparable competition, but you're only at the top of page three for it.
You can take this information and, using your existing content, re-optimize your "cars for rent in Poughkeepsie NY" page for the keyword "Poughkeepsie cars for rent" instead.
3. Make sure your SEO fundamentals are nailed down
Maybe you have a page with a position of seven or eight, near the bottom of the first page of results. Vet the page with an SEO checklist, making sure your on-page elements are structured in accordance with SEO best practices.
This can be anything from tweaking your Title tag to adding an H1 tag. You could even add more content to the page if there's room for expansion.
While these SEO building blocks alone may not boost a page to the top of the search results, they can really help to give you an edge over the competition if you're already in contention for a first page ranking.
4. Incorporate almost-there keywords into your ongoing SEO strategy
Including almost-there keyword optimization in your SEO strategy going forward is an absolute must if you want to stay on top of easy opportunities for growth. Once more, keep in mind that many of these keywords will end up being longer tail search queries with less industry competition.
Optimizing for them can sometimes improve your visibility faster than traditional keyword ranking strategies are able to.
Set up a timeline for almost-there keyword research, monthly or otherwise. The more data you have, the surer you can be that you're targeting optimally. Brand-new opportunities will appear, as will content pivoting possibilities.
No matter what, performing almost-there keyword research on an ongoing basis guarantees you're not missing out on any opportunities to get your company's name in front of potential customers.
Time to Level Up Your Sales
Our long list of services helps you grow every aspect of your business with marketing strategies that are proven to increase bottom-line metrics like revenue and conversions.
In the past 5 years, we've managed more than 12.9 MILLION transactions across our client base.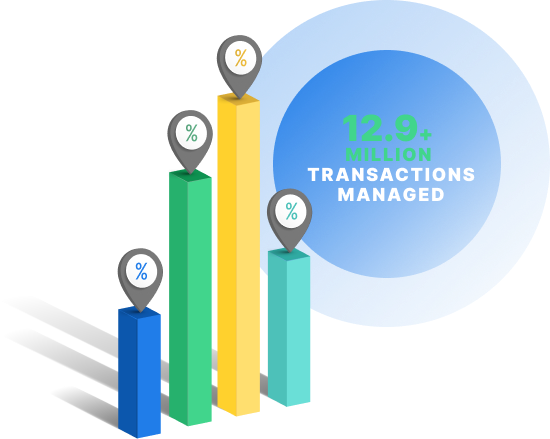 Research your almost-there keyword opportunities today
The sooner you identify under-optimized opportunities and gaps in your keyword targeting, the sooner you'll be able to improve your site's rankings and visibility. Keeping up with this research is vital to your SEO efforts and the subsequent growth of your website.
If you're not sure where to start, we'd love to help. At WebFX, we know how to take almost-there keywords and turn them into traffic-driving machines for your company. Our expert Internet marketers love seeing clients succeed and have launched and managed many successful SEO campaigns. Contact us today for a free quote, or for more information!
How Is Your Website's SEO?
Use our free tool to get your score calculated in under 60 seconds.