The Eternal Impact of Website SEO Services
If you have an online presence for your business, it's ideal that you pair it with strong website SEO services. When done right, SEO can drive a staggering 14.6% conversion rate, which is pretty amazing for any one online marketing strategy.

When you opt to work with an SEO agency that provides effective, lead-driving website SEO services, your website will have a much better chance of ranking at the top of search engine results pages (SERPs), which is the sweet spot for increased website traffic.
On this page, we'll talk about how SEO works, along with what you can expect when you opt for website SEO services. We guarantee you'll be all in after you learn about the impact that professional SEO services will have on your business!
If you'd like to learn more about SEO and the best SEO services for your business, keep reading! If you'd rather talk to a real person, feel free to give us a call at 888-601-5359!
We foster and form long-term partnerships so that your business has long-term results.
Over 90% of WebFX clients continue partnering with us into year 2 of their campaign.
Hear from Our Happy Customers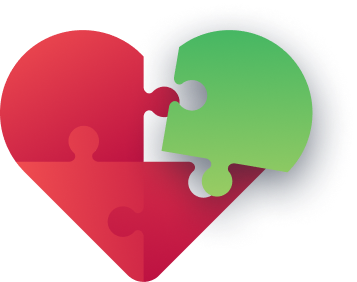 What impact do website SEO services have on your website?
If you're on the fence about whether or not your business needs professional SEO services, we can help you decide. In short, professional SEO services can have an eternal impact on your website.
The biggest benefit of website SEO services? SEO will help you show up higher in SERPs, which in turn, helps you receive more site traffic.
Below, you'll see the search results for the keyword "flower shops near me." These three websites listed at the top will get more traffic than those at the bottom of the page. In fact, the first position page gets about 33% of all search traffic.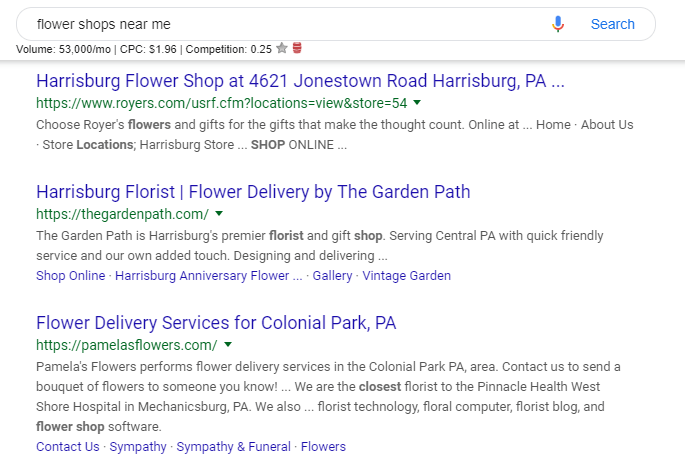 More site traffic might not sound glamorous, but when you think about the big picture of your business, you need consistent website traffic to earn leads and revenue. The more people that visit your website, the more they'll learn about your business, become interested in your brand and purchase your products.
In reality, more site traffic has an eternal impact on the success of your business.
If you have a new business, SEO will build your brand by improving your rankings in search engines.
If you have a years-old business that's just not performing, SEO can help you rank in search to bring your business back to life.
If you have a business that you're happy with, SEO can help bring even more revenue into your business year-over-year.

Whatever situation you're in, SEO can provide a variety of benefits to your company and even change the face of your brand by making it a household name.
Keep in mind that just because you use SEO doesn't mean your business will become a household name, but website SEO services certainly can do so if you craft a campaign that does everything right. It's also worth mentioning that SEO takes time, and you'll never see results overnight, or even over weeks.
An effective SEO campaign takes months to blossom and drive results.
Do you need help crafting an SEO campaign that does everything right? WebFX can help. Did we mention we're the best SEO agency in the world?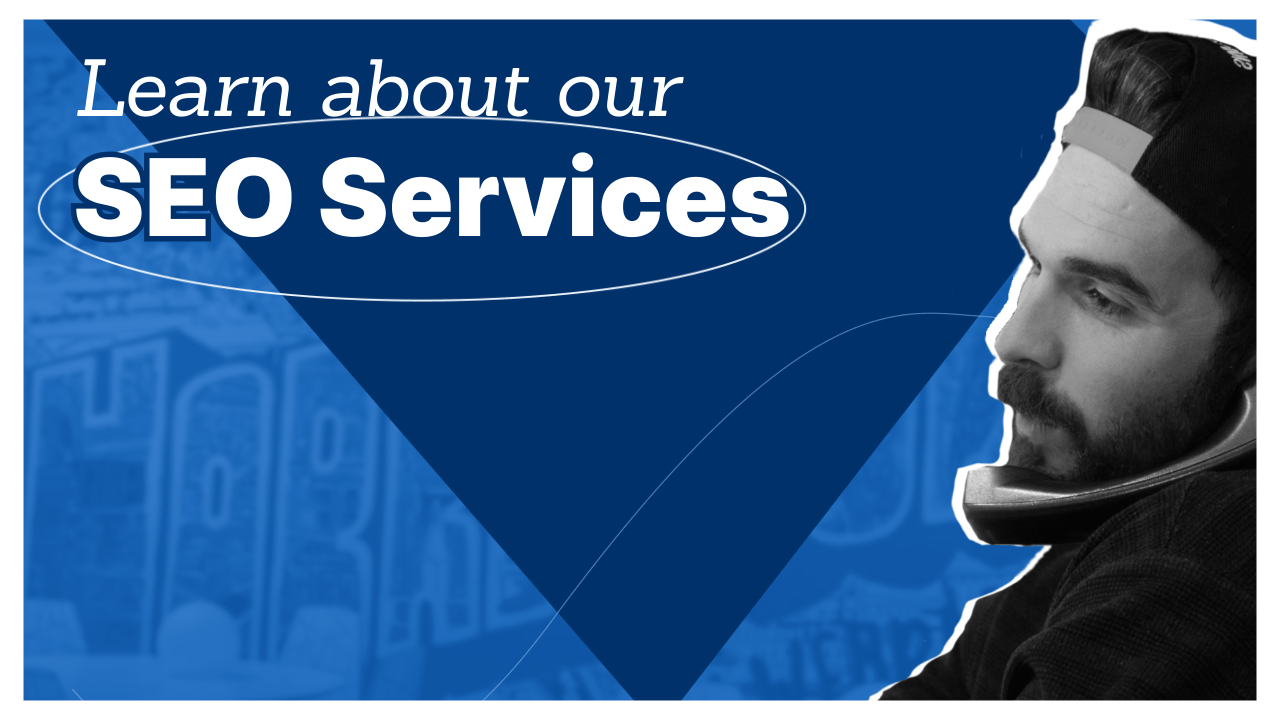 Website SEO services list
When it comes to SEO, there are a ton of micro-strategies that aid in its overall success.
Here are a few website SEO services that combine to create an SEO campaign that drives real results for your company.
1. Keyword research and implementation
At the top of our website SEO services list is one of the most important — keyword research and implementation.
Keywords are the structure of your entire SEO campaign, and if you don't use the right ones, your campaign likely won't yield results.
Here's why. Keywords are essentially trigger words to Google. They're words and phrases that your audience uses to find what they're looking for, and Google's job is to return results based on those words and phrases.
If you write website content that doesn't include those keywords, Google won't even consider ranking your content, since it doesn't have anything to do with a searcher's query.
That said, keyword research is a crucial website SEO service since it helps you understand exactly what your target audience is searching for, and in turn, what topics to focus on when writing your content.
After you've researched what keywords your audience is interested in, you should begin writing content that speaks to those topics and even implement those keywords on older pages where they fit.
2. Meta tag and title tag implementation
Your meta and title tags are extremely important to your site pages and are a crucial website SEO service.
Here is what a title tag looks like:

Here's what a meta tag looks like:

The title tag is the blue text link that users see when they search for a term in Google. This tells users what the page is about, and if it's not enticing, they'll likely scroll right past it.
Not only do title tags help users decide whether to click your page, but they help Google rank your page as well. Your title tag should use your target keyword along with engaging language to encourage users to click
Your meta tag or meta description is what describes the page. This small blurb should also include your keyword, since it helps Google determine the relevance of your page.
Meta and title tag implementation is an essential website SEO service because it helps Google determine what your page is about and where to rank it in search, and it helps users decide whether your page fulfills their search.
3. Content creation and implementation
One of the most important website SEO services, a steady flow of content creation ensures that Google has something to rank. That said, you can imagine that great SEO results can't happen without fantastic content creation and implementation.
Content is the crux of every SEO campaign, and without it, you'll have a hard time getting users to visit your empty website.
When creating content, it's most important to implement your target keywords so that Google knows and understands what the page is about — and can rank it as such.
There are many kinds of content that you can create for your website, including long-form, which is content that is more than 2000 words, blog posts, video content, and so much more.
4. Internal linking
Internal linking is another crucial website SEO service for a few reasons.
First and foremost, it helps connect all of your site pages, which is great for creating a positive user experience. When a user is on a page that provides links to other pages on your site, it allows them to jump to those pages and learn more about a related topic.
This is great for usability because it presents users with a constant flow of new pages that interest them. Not only that, but it keeps them on your site longer, which is a great sign to Google — and great for increasing brand awareness and conversions.
Secondly, internal linking makes it easier for Google to crawl your website and find new pages.
Think of your website like a spider web. If you have pages that aren't linked to other pages, they're essentially orphans on your site — making it hard for Google to know that they exist.
When you link internally to your site pages, it provides a "crawling roadmap" to Google. This is a win-win because the more pages Google crawls, the more opportunities you have to rank for your target keywords.
5. Page speed
Page speed is an essential website SEO service for both user experience and for Google rankings.
When users land on your site, they want your pages to load quickly, and if they don't, there's potential for them to bounce from your page.
In terms of Google, they rank pages highly that provide a great user experience for site visitors. So, if your page loads slowly, this can be a negative signal to Google, and perhaps dictate your ranking.
WebFX offers page speed optimization services to help your site pages load lightning-fast!
6. Effective, simple navigation
When it comes to your site's navigation, simple is best. Optimizing your navigation bar is another crucial website SEO service that helps improve the user experience of your site.
When you present users with a ton of options on your nav bar with various drop-down menus, you run the risk of overwhelming them to the point that they bounce from your site.
They want to find what they need quickly and easily, and the only way to ensure that they can is to provide a clean, organized navigation bar.
7. Clean code
If you want Google to be able to read and rank your site effectively, you have to ensure that you have a clean code. What do we mean by "clean code?"
You should be sure that you don't have any extra elements in your code that don't need to be there, and you should write it in a way that's simple and easy for Google to read.

WebFX provides website SEO services that improve your business
We have the track record to prove that we're the best SEO agency in the world, and we're proud of it.
The real results that we've driven over the years prove that we're dedicated to client success, and we'll stop at nothing to accomplish their goals.
Our custom campaigns are crafted to fit businesses in any industry, from department stores to in-home care providers. We know that every business is different, which is why we don't believe in cookie-cutter website SEO services.
WebFX offers every service mentioned on this page, and then some. See for yourself on our SEO services page!
To date, we have more than 1020 client testimonials from satisfied customers that have loved working with WebFX. We know you will too!
If you're ready to learn more about what website SEO services can do for your business, feel free to fill out a free quote form or give us a call directly at 888-601-5359.
We can't wait to hear from you!
How Is Your Website's SEO?
Use our free tool to get your score calculated in under 60 seconds.