Social Media Marketing in Central Pennsylvania
Central Pennsylvania is full of small and growing businesses looking to acquire more customers and grow. That means that if you want to stand out online, you'll need to get creative.
But in today's fast-paced world, how can you find the time to research your options when you're already tied up with other marketing strategies?
Fortunately, there's a simple, cost-effective way for you to get more customers — social media marketing.
When you use social media marketing for your Central Pennsylvania business, you can reach out to your customer base, build relationships with them, and encourage them to become paying customers all from the comfort of your office chair.
These strategies let you use Facebook, Twitter, LinkedIn, and other social networks to grow your business.
1. Promote content on your site
The best part about any social network is that it gives you a consistent audience to which you can market your business.
At any time, any of your 400 followers on Twitter or 500 fans on Facebook could quickly become a customer — you just have to show them what they want to see.
That's why it's so important to promote content from your site on social media.
ORGANIC OR PAID SOCIAL MEDIA MARKETING? SEE WHAT
THE EXPERTS SAY
That content can be a blog post, article, video, or graphic — it's up to you. But whatever you share should be engaging and somehow reflect that your business is an authority in your industry.
With that in mind, it's also significant to know that some content performs better on one social network than another.
On Facebook, images and videos get a lot of attention. So if you're holding a contest, sponsoring an event, or just showing something funny that happened in the office, you can get a lot of success on Facebook.
Twitter is almost universal since you can only type 280 characters at a time. Use Twitter to get people to your website, so they can read full pages of content or check out a graphic you created.
LinkedIn is the professional social network, so it's important that you only share content on it that's professional. Blog posts or articles about your industry are a great way to get followers on LinkedIn while showing them that you're an authority.
Instagram is a very visual network. Use Instagram to show off curated images that really showcase your brand, or even give it a human side with fun, behind-the-scenes looks at what's happening in the office.
But social media isn't just about sharing content with your followers — it's also about talking to them.
2. Directly talk to your followers
The one thing every social network has in common is that you can easily talk to your followers.
The conversations you have will vary, and with a large enough following, you'll likely get both complaints and compliments from your past customers. Sometimes, you'll also get questions from potential customers who want more information before visiting your business.
Regardless, it's important that you handle these conversations in a way that's consistent with your company's image.
So if you're a B2B offering some kind of professional service, you want to appeal to your primary demographic by acting and speaking professionally.
If you're a B2C with a more relaxed image, you can afford to speak a little more informally.
When you're on social media, almost any kind of conversation you have with your customer will be positive (unless they're complaining). And if they do complain, you can help someone to the best of your ability or recommend that they call you directly, so you can deal with the issue in private.
3. Start a contest
Social media contests are great ways to get more followers and build brand awareness.
Contests don't have to involve a lot, and they don't have to cost a lot either. The important part of any contest is that you're giving away something valuable for free — even if it's a T-shirt!
When you're setting up a contest, take the time to lay out rules that every competitor will have to obey. It may seem tedious, but a strong set of rules will prevent people from exploiting your opportunity and gaining an unfair advantage.
And when you're offering something for free to a group of people, it's key that you keep everything fair and balanced.
For example, if you're asking for photos of happy customers with your products, you could say that you'll only accept one submission per person. That way, you won't have to deal with repeat submissions or cheaters trying to take advantage of your generosity.
Once you start the contest, make sure everyone knows your rules and promote it as much as you can. The more people talk about it, the more followers you can get on social media, and the more people you can turn into customers later.
As the contest ends, you can announce a winner and post an image of what they've won. That way, everyone gets to enjoy the victory.
Plus, once one ends, you can tell everyone to hold tight and wait for the next contest. That'll make sure you keep your followers after the contest ends.
74% of people use social media when making a purchasing decision.
Make their decision easy with a stellar social media presence. See how your brand can level up by requesting a no-obligation proposal today.
One of our experts will be in touch within 24 hours!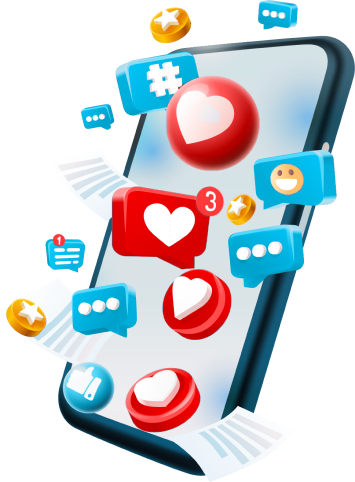 WebFX is a social media marketing company in Central PA
If you're too tied up with traditional marketing at your company, WebFX is here to help! We have a full team of social media marketers who know all the best ways to get new customers from Facebook, Twitter, LinkedIn, and more. With their expertise, we've helped clients grow their companies exclusively through the Internet — and now we'll do the same for you!
Contact us today to discuss a social media marketing plan for your needs!