Does Facebook Have SEO Value?
If you're careful to optimize all of the copy on your company's Facebook page, use specific keywords in all of your posts, and keep SEO best practices in mind when doing anything to your profile, you may be disappointed with the results. In essence, you're doing everything right… but you have a sneaking suspicion that Google and other search engines just don't care. What gives? Does Facebook have SEO value, or are you just spinning your wheels?
Before you decide to completely forget about the social media giant with 1.4 billion daily active users, take a breather. Your efforts are certainly important, and Facebook is terrific for building brand awareness and relationships with your customers.
That being said, the social platform does not directly impact SEO.
Call 888-601-5359 to speak with a strategist about SEO and social media marketing services from WebFX, or keep reading to learn why both of these channels matter for reaching new customers online.
Why Facebook doesn't affect SEO
Facebook and Google have a relationship, but it's different from the one Google has with your website. Google's algorithm doesn't take much of Facebook's information into account when crawling the social media platform. In other words, Google most likely does index some of your posts, but the overall SEO weight they have appears to be minimal.
This means that the following metrics have no influence on your SEO or rankings:
Likes
You, your internet marketing firm, and your mom love it when a post on your business page gets gobs of likes, but Google just doesn't seem to care. The problem is likely that Google can't tell where those likes came from. Did you get a "like" from an Internet powerhouse, or was it from the teenage kid down the street? Since Google isn't able to tell, it just ignores the "like" and moves on.
Shares
Everyone wants to see that their Facebook posts you share, but again, shares do not increase the credibility of your page or post in Google's eyes. Perhaps the issue is that, once again, the shares could be just between friends and have little relevancy.
Followers
A large following on Facebook (or any other social platform) is a great thing to have. It shows that your customers like your business, can be a helpful tool for sharing news and updates. However, it doesn't mean much to search engines. As much of an ego-boost as it might be, there's no indication that your recent boost from 500 to 700 followers will have an impact on your SEO.
If you've put a lot of time and energy into optimizing your Facebook page, this probably all sounds like bad news. However, there are several silver linings:
Your commitment to SEO is still important.
Your Facebook page can still help your online presence.
Your Facebook page can increase your social proof and be an outlet for customer service.
Google's algorithms are changing all the time.
How SEO and Facebook are related
Even though Google isn't regularly indexing your posts, your Facebook page and SEO are somewhat related. It's simply in an indirect fashion.
For instance, if your number of site visitors increases due to SEO, and you have a link to your Facebook page in your header (or somewhere else on your site), many of them will likely visit your page. They will then (hopefully!) become followers and share your information with their friends.
Over time, the SEO you used to attract visitors to your site can help you continue to attract followers and shares on Facebook as users find your page through your site. This can help you continue to build a following by fostering relationships with people in your industry, as well as prospects and customers.
How Facebook may increase your rankings
As we said above, SEO can drive people from your website to your Facebook page. The opposite happens, too!
For example, let's say a Facebook user happens to see one of your posts in their News Feed because one of their friends — who follows you — shared it. They like what they see, and decide to follow you. After seeing more of your posts over the following weeks, they want to learn more about your business.
That's when they go to your site. Once there, they start engaging with you on your blog, and maybe even linking to your site from their own. You get the link juice, and Google moves you a little higher because of it!
Of course, that's an entirely hypothetical scenario. Not every Facebook user will have a blog or website to link to you from, but all of them have an Internet connection with which to browse your site. And if they decide to make a purchase or become a customer, that's just as great.
We foster and form long-term partnerships so that your business has long-term results.
Over 90% of WebFX clients continue partnering with us into year 2 of their campaign.
Hear from Our Happy Customers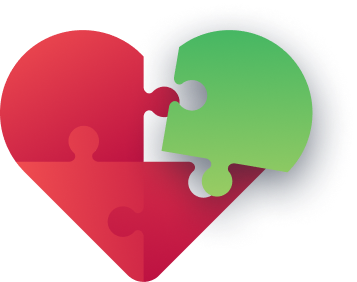 Facebook is its own version of a search engine
Social networks like Facebook, YouTube, and Pinterest have become search engines for users. While searching on Facebook for topics, services or products, it's possible that your content and page will show up in results.
It's important to keep this possibility in mind when creating posts and content for your audience.
Keep your page information, like location, services, and your business categories up to date to stay relevant in Facebook search results.
We can't predict what Google will do next
If there's one thing we can all be sure of in the world of Internet marketing, it's that change is inevitable—especially when it comes to search engine algorithms. Google regularly updates the way they rank sites, often without warning.
Consequently, anything can happen. Google is well aware that social media is a big part of the Internet, and that it's not going away. It's entirely possible that social signals will someday play a role, and even if they don't, having a strong social presence is never a bad thing.
Our conclusion? Worry about engaging your followers!
Instead of focusing on optimizing your Facebook page using traditional SEO tactics, spend the time engaging your social media audience. Deliver them the information they want to read, and make sure to engage with them on a personalized level whenever you can. Your SEO shouldn't be abandoned, but it needn't drive your Facebook campaigns.
If you need help creating an engaging social strategy, improving your site's SEO, or anything else related to your online presence, feel free to contact us! Our talented team is more than happy to assist you with all aspects of your Internet marketing.