How to Use YouTube for Marketing: Producing a Video
Keep reading to learn how to produce a video for your company's YouTube channel!
Table of Contents:
How to Use YouTube for Marketing
Producing a video
Today, creating a video doesn't take nearly as much time, preparation, or equipment as it did 10 years ago. In fact, a phone can be all you need, as long as the person holding it has steady hands.
There are three main steps to producing a video for YouTube:
Decide what kind of video you want to make
Film the video
Edit and upload the video
We'll take a look at each of these concepts more in-depth below.
1. Decide what kind of video you want to make
You can use a lot of different formats for videos you upload to YouTube. There are nine main video types, and all of them help you work toward different goals.
Product or service demonstrations
Goal: Sales
Product videos are some of the most common videos that companies use to market on YouTube.
These videos typically show products in action so potential customers can understand how to use them before they buy. This method is especially helpful for ecommerce or retail companies since it can let them show off their most popular products.
But product videos are also good choices for B2B companies that get customers through lead nurturing.
Product videos for those businesses can entail action shots of your team working hard, especially if you offer services like plumbing or construction.
B2Bs can use videos like that to show the beginning of a project, the work that goes into it, and the end result. That helps customers make a purchasing decision based on the best qualities of your team.
So if you want to move sales or leads, start your channel with some strong demonstration videos.
For example, take this video from YouTube user TubbyChef, who demonstrates the usefulness of an obscure commercial kitchen appliance called a "buffalo chopper."
This video is great because it demonstrates how a piece of equipment works, especially since that equipment isn't widely used. It's for a niche audience, and it'd be a great way for a restaurant supplier to move some of its less popular products.
Customer testimonials
Goal: Trust
Customer testimonial videos are some of the best content you can produce for your YouTube channel.
All you have to do is go to a customer or client, ask to interview them for a minute or two, and film their responses to your questions.
While that may not sound like much, testimonial videos don't necessarily need to be viral to be effective. Potential customers research their options before they buy, and it only takes one new customer to make a testimonial worthwhile.
Educational
Goal: Information and trust
Educational videos are similar to product demonstrations in that they want to convey information. But for educational videos, you're not trying to make sales.
Educational videos are designed to convey information and establish trust with your potential customers. This is any video where you (or someone on your team) takes the time to explain a concept or jargon associated with your services.
At WebFX, our head of business development conducted an instructional webinar about generating leads through online marketing. We filmed it and uploaded it to YouTube so anyone could use that information.
It doesn't push sales and it doesn't directly impact our bottom line, but it's there for anyone who wants to learn.
Giveaways
Goal: Participation and brand awareness
Giveaways are great videos because they're engaging by their nature.
Giveaway videos often require user participation via social media or contact forms. Videos are the perfect ways to build hype for those giveaways and contests by showing people exactly what they can win.
You can also take the opportunity to explain every detail about the giveaway so everyone can enter for eligibility.
The YouTube channel Techno Buffalo uses gadget giveaways to entice new subscribers to their channel. They also take the opportunity to use all caps in their title and description to create excitement, which you don't have to do.
In fact, it's more important that the video you post matches the tone of your company. But we'll talk more about that later.
Vlogs
Goal: Consistency and transparency
Vlogs are video journal entries that let you directly talk to your potential customers about any topics on your mind.
The topics are ultimately up to you, but the more relevant you can make your vlogs to your customers' needs, the more success you'll probably see.
Vlogs also allow you to establish consistency in your YouTube channel, which shows that you're an active presence online. It also provides a fresh stream of new content that lets viewers know what to expect from you.
Vlogs are a common format for some of the most popular YouTube channels on the Internet, like Grace Helbig of DailyGrace (warning: language).
While your channel doesn't have to dedicate itself entirely to a vlog format, you can still use vlogs to informally discuss ideas and considerations in your industry.
Events
Goal: Brand awareness and fun
If you hold or sponsor events, you can create videos about them to get the word out.
Event videos are a great way to tell your audience that they can expect something fun and exciting from your business soon. They're also perfect to recap the highlights of an event that you already held.
A great example of event coverage is agencyEA's video about the 2012 global financial services conference.
They show everything that happened during one of their conferences so potential conference participants could see exactly what happens at the event.
As you can see, these kinds of videos typically require high-level editing, voiceovers, and time to do correctly. The most engaging event videos include music, speech, and visual cuts that highlight everything about the video's subject.
Whether you want to encourage conference attendees or have people show up for next year's open house, event videos are perfect for your company.
Presentations
Goal: Trust
Presentation videos are one of the best ways to establish trust with your potential customers.
These videos are often simple recordings of you or one of your team members giving a presentation. They offer lots of in-depth information, and they can help show someone how you fulfill your obligations to your customers.
At WebFX, we recorded a site audit of one of our clients so potential clients could see how we approach their online presence.
The video is about half an hour and only includes one camera angle, but the information inside is worthwhile.
You can spruce up your videos with editing, multiple camera angles, close-ups of the speaker, and music. But we'll cover that more later.
Behind the scenes
Goal: Transparency
Everyone loves to see how a company operates behind the scenes. It offers potential customers the chance to see how your company functions day-to-day, which tells them a lot about how they'll be treated as customers.
Behind the scenes videos can also serve a simple purpose of showing your company to people who wouldn't normally see it.
For example, WebFX uses behind the scenes videos to showcase our previous office and our current headquarters.
These videos can also function as recruiting tools, if you're hiring.
For example, WebFX uses behind the scenes videos to offer potential employees a glimpse into the daily work of the positions for which we're hiring, including members of our Internet marketing and earned media teams.
Trendy videos
Goal: Virality and brand awareness
Finally, you have the option to make trendy videos.
Trendy videos follow recent popular or viral ideas that are currently getting lots of coverage and views in media.
One great example of this is the ALS ice bucket challenge. WebFX jumped on that opportunity to create a trendy video, and it helped promote our brand through a fun, positive video.
Other examples of trendy videos include the Harlem Shake from 2013. They're basically any series of videos that follows a similar format in order to tell a story or — in the case of the Harlem Shake — a joke.
2. Film the video
Now that you've picked your video format, it's time to actually film it.
Before filming
You can film a decent video with a smartphone for purposes like product demonstration or behind-the-scenes interviews.
But if you want to create videos with high production values, you should look into getting a digital video camera that's compatible with your computers and operating system.
It's also important that you assign a dedicated cameraperson who can record everything that's needed to create the final video. Along with that, it's also important that they film more than they think they need to help with the editing process (which we'll talk about next).
You should also assign a date for shooting at least a few weeks in advance so everyone can get all of the supplies they need to successfully create the video. If someone needs to create a script, re-work a location to film, or get props, the extra time will help them make sure you create a quality video.
During filming
As you're filming the video, record more content than you actually plan to use. Don't be afraid to do multiple takes either — sometimes a person has to warm up before they can correctly demonstrate a product or speak clearly.
Plus, those extra takes give your editors options about what they want to include in the final video. It's possible that the people in the video will say or do something that fits really well with another take, and a good editor will be able to splice those takes together into a cohesive product.
You should also watch successful takes immediately after they're taken, provided your camera allows you to do it.
That will show you any flaws in the filming process or extra interferences that you hadn't planned to eliminate. For example, you may think the lighting in a room is perfect for filming, but the video itself may look dark or excessively bright.
At the heart of this process, it's essential that you get footage that satisfies your desire for quality. If you settle for a take that's below your standards, your final video won't be as strong as you want.
3. Edit and upload the video
Now that your video is complete, it's time to edit it together.
Depending on how you want your videos to appear, you may not want to edit anything at all. If you feel that everything in a video's take is essential for a viewer to see, then don't change it!
But if you want to add production elements and make the film more engaging, you should take the time to edit your video.
You can edit your video with a number of free tools, including YouTube's own editor.
First, go to your YouTube dashboard. Then, click the Upload button in the upper-right corner.

Then, you arrive at a drag-and-drop interface that lets you upload videos or import them from Google Photos.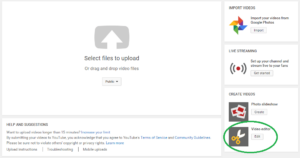 Once you're on that screen, you can drag your video file to the uploader or choose the file directly.
That'll take you to a preview screen of your video. For the purposes of this guide, we'll use a video of two cats playing fetch.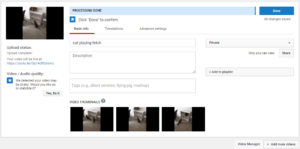 YouTube will then process the video, and if all goes well, you'll eventually see that it's "Done."
Afterward, you can add a title, a description, and tags to your video so people can find it. YouTube may even send you warnings about the audio or video quality that includes stabilization.
You can pick these options if you want, just remember that they will alter your uploaded video permanently.
On the right of this dashboard, you'll also have the chance to set your video as public, private, or unlisted.
Public videos are open to everyone, private videos can only be seen by people you choose, and unlisted videos don't show up in search results. The best choice for your business is "public."
Finally, you can add your video to a playlist.
But this dashboard includes two other tabs that you can use.
The Translations tab lets you translate your title and description so people from other countries can look it up. This isn't essential unless you do a lot of international business.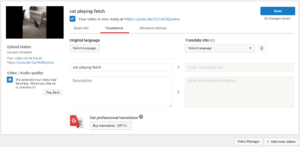 Then, you have Advanced Settings. These settings let you enable age restrictions, select the video's category, disable comments, and even declare that your video is a paid endorsement.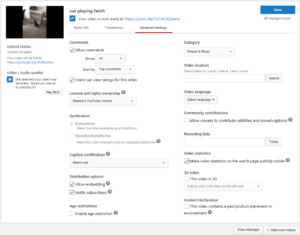 Once you're happy with your settings, you can click the blue Done button and your video is ready to go! YouTube will give you a link to your video that you can share across the Internet.
If you click the Video Manager button below your menu, you'll go back to your Videos dashboard, where you can view your uploaded product and edit it further.

It's important to note that if you choose to make a substantial edit to your video (like image stabilization), it'll take time for the edit to complete. You could wind up waiting a while for YouTube to complete the edits, depending on the length and resolution of your video. And while that edit processes, you won't be able to change anything else about your video.
Once your edits are complete, you can go back to your YouTube Studio dashboard and click on the Video Editor tab to perfect your product.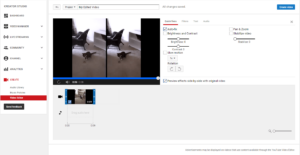 This editor allows you to auto-correct lighting, contrast, brightness, and even play speed. You can also zoom, pan, stabilize, and rotate a video.
YouTube also offers an extensive Audio Library where you can download music and sound effects to add to your video.
You can also add filters and text to your video, and you can edit the audio settings to make sure they're just right.
Then, when you're done, you can click the Create Video button in the upper right of the editor. That'll process your video again with your edits.
Again, this will take time depending on the length and quality of your video.
With all of this done, you've successfully uploaded and fine-tuned your first YouTube video!