Looking for Website Design Companies Near Hagerstown, MD?
Internet marketing and website design is about more than just being able to say your business has a website, or that you're online. It's about harnessing the incredible marketing power of the Internet to drive up your company's profits by converting more website visitors into sales.
Just as professionally, strategically designed websites can boost your sales, poorly designed sites can cost you. WebFX's Hagerstown web design team has what it takes to ignite your online success in a way that no other web design company ever could.
We don't want to tell you about the work we do, we want to SHOW you.
View Our Portfolio

We've built over
Websites
in a variety of industries.
The importance of excellent web design
Whether you run a brick-and-mortar establishment or operate entirely online, the Internet provides the opportunity to blow your company's profitability through the roof. It affords your business a market on the global level… you can reach customers in ways that would be impossible without the web.
With WebFX, your Hagerstown web design strategy will incorporate a professional, innovative design that compels your visitors to take action, thereby increasing conversions and, ultimately, profits.
Your resulting site will also be easy to use and a breeze to navigate, making it so that your users enjoy their experience on your website. It will also be mobile-friendly and responsive, displaying properly on all devices, so that mobile or tablet customers don't feel lost or left out in the cold.
Work with the best: work with WebFX's Hagerstown web design team
When you choose WebFX Hagerstown web design team, you're working with the best. We've amassed a team of award-winning designers, the brightest minds in Internet marketing, and developers that eat, live and breathe coding.
We have some of the brightest minds in the industry. We've won several Horizon Web Design awards for our work on websites, and have even amassed awards for local SEO services. Hagerstown, MD businesses can certainly benefit from more exposure to local customers, which is what SEO can do for you.
Want to find out how an award-winning SEO company and our industry-leading Internet marketing services can benefit your presence in the search engines and drive more sales? Contact us and ask!
WebFX is a partner businesses trust.
Hear from HydroWorx, who saw a 236% increase in organic sessions with WebFX services.
Watch the Video Testimonial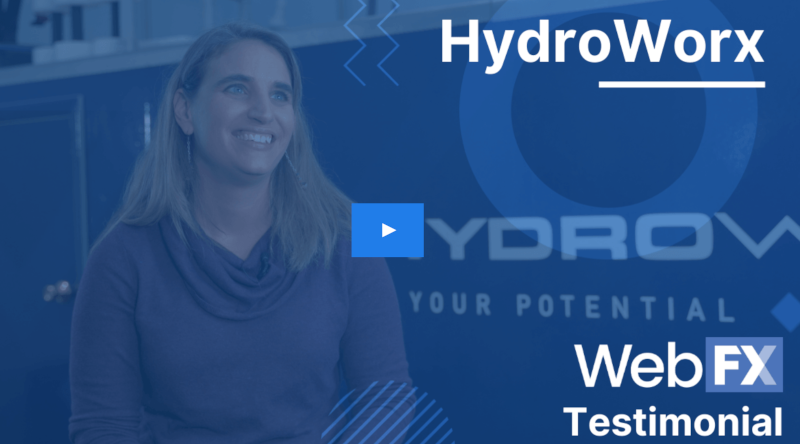 Our full line of Internet marketing services drive online success
When you work with other web design teams, you may get a professional, slick website. But that's where it ends. There's no support, no search engine optimization, and certainly no ongoing maintenance.
When you work with WebFX's expert web design team, you get a compelling web design with a solid coding foundation that offers forward-compatibility. Your site will continue to look slick and function perfectly, even after Internet browsers continue to evolve. And you'll attract Hagerstown area customers with beautiful website design and impressive mobile-friendly functionality.
What good is a website that no one knows about? Not much good at all. That's why we offer a full line of innovative online marketing strategies. Your site will get seen by the most important people: those most likely to turn into paying customers.
Turn to WebFX for web design and SEO services near Hagerstown
Located just north of Hagerstown, in nearby Pennsylvania, WebFX's experienced team of more than 60 Internet marketing experts can take your website to the next level. Whether you need a new site, a full website redesign, or our award-winning SEO services to improve your ranking, we can take your presence from "blah" to "yeah!" in just a few months.
Still not convinced WebFX Hagerstown web design team is your best choice? Take a look at our massive portfolio of professional web designs and numerous case studies where we've turned our clients' businesses around with our winning online marketing strategies.
On average, our clients enjoy a 20% increase in revenue thanks to our marketing services. They also see increases in traffic thanks to our proven search engine optimization tactics, more leads filling out contact forms, take more phone calls, and see more online buzz on social media. Overall, their online presences are more effective, and their business goes up year after year.
So what are you waiting for? Ignite your online success with professional web design, innovative marketing strategies, and top-class SEO. Thanks to our award-winning team, you'll have an online presence like no other, one that other web design companies near Hagerstown simply won't be able to offer you. Contact us today to learn more!