4 Tips for Creating Wix Landing Pages That Drive Results
When you run pay-per-click (PPC) advertising campaigns or social media ads you need to create landing pages to accompany your campaigns. If you've never created a landing page, it may seem like a daunting task to figure out how to make a successful one. With Wix, you can easily create and launch impactful landing pages.
On this page, we'll discuss four tips for creating successful Wix landing pages.
Prefer a video summary? We have that below!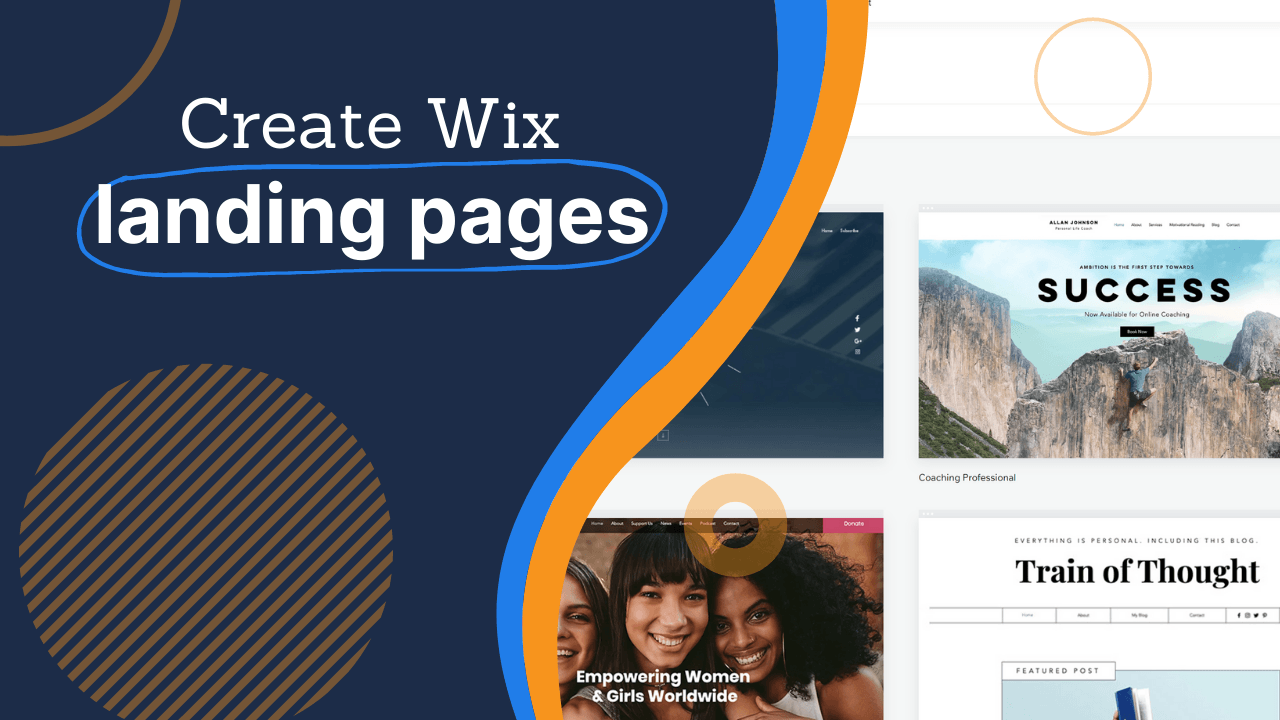 If you need help creating landing pages that drive conversions, call us today at 888-601-5359 to speak with a strategist.
We don't want to tell you about the work we do, we want to SHOW you.
View Our Portfolio

We've built over
Websites
in a variety of industries.
What is a landing page?
So, what is a landing page? A landing page is a page that focuses on specific information related to your ad. You use landing pages for PPC advertising, as well as social media ads, email marketing campaigns, and more.
While you can use pages from your site as landing pages, you can drive even better results with custom landing pages. Using sites like Wix, you can create hyper-targeted pages that focus on specific products or services you are advertising.
Landing pages focus on achieving one goal. You want your audience to take a certain action, and your landing page revolves around completing that action. For example, you might want people to sign up for your email newsletter, so you could create a landing page designed to encourage people to sign up to receive your emails.

What is Wix?
If you've never heard of Wix, you may be wondering what it is. Wix is an online website builder that enables you to build different types of pages. It's great for individuals, bloggers, entrepreneurs, small businesses, and medium-sized businesses.
Wix enables you to create different types of sites, from portfolios to ecommerce stores. It makes it easy to customize and make your site (or page) your own.
It is free to sign up with Wix and start using it. The basic account allows you to create a site or landing pages for your business. For serious, business-minded people, you'll want to opt for a premium account.
Wix offers numerous pricing pages for their customers. The following three packages are suitable for business focused people.
Unlimited: $14/month
Ecommerce: $17/month
VIP: $25/month
The unlimited package is geared more towards entrepreneurs and freelancers. For the ecommerce package, it's a good investment for a small business. Anything larger than a small business will want the VIP package.
These premium plans include numerous features. You'll get free hosting, domain connections, 500+MB of storage, the ability to monitor through Google Analytics, and no set up fee.
Wix landing pages
While many people use Wix to host their blog or ecommerce store, you can also use it to create landing pages. Wix makes it easy to create landing pages that drive results. It's a quick and efficient way to produce a landing page for your campaign.
Wix offers numerous templates to help you get started with your landing page. They are fully customizable, so you don't need to stick to the original design. It's a great starting point to help you figure out how you want to lay out your landing page.
When you look for Wix landing page templates, you can search by category. This helps you find specific landing pages that are tailored to your industry.
Once you choose a landing page, you have the freedom to alter it to fit your campaign. Change the font, background photo, color, and layout of the landing page. It will help you create a landing page that fits your business's campaign.
With Wix landing pages, it is easy to create a custom landing page for your digital marketing campaigns.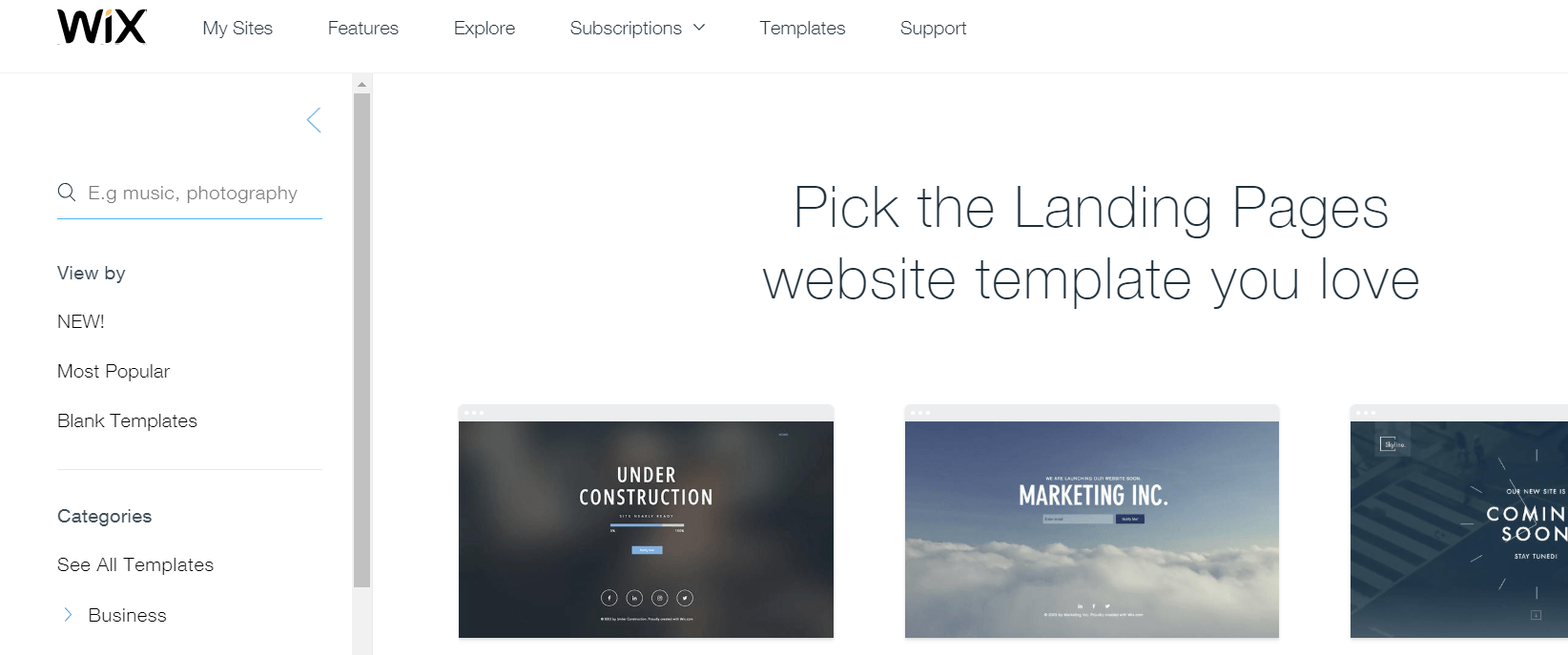 4 tips for creating effective Wix landing pages
When you create Wix landing pages, there are a few things you'll want to keep in mind.
1. Keep them simple
Your landing pages focus on one product or service. It is important that you keep them simple and focused. Clean Wix landing pages will produce better results for your campaigns.
If your landing pages are cluttered, you will miss out on conversions. Your audience will lose interest and leave your pages. To drive the best results for your campaigns, you need to stay focused.
As you build your landing pages, focus on the product or service. Every element on the page should focus on the main topic of the page. This ensures that your audience is always focused on the product or service.
When you add information to the landing page, make it easy to read. Break down big paragraphs into smaller paragraphs. Take advantage of bullet points to help simplify the text, too.
If you keep your Wix landing pages simple, you'll drive better results for your campaigns.
2. Create consistent designs
Your landing page design affects your advertising campaign's success. It should reflect your business and reinforce your brand. A consistent design will help you create a cleaner landing page.
First, you need to choose your fonts. It is best to stick to two or three fonts to avoid your page looking disorganized. If you have too many fonts, it won't look appealing. It may even become hard to look at for your audience.
If you only focus on two or three fonts, you'll keep your page organized. You'll want to set these fonts for specific parts of text, like heading, subheadings, and body text. It ensures that you are consistent across this Wix landing page and any landing pages in the future.
Once you select your font style, you need to select your colors. The first thing your audience will notice is the color of your landing page. If you want to see success with your Wix landing page, choose colors that reflect your business.
When your colors reflect your business, your audience will think about your business. It helps build your brand and keeps them thinking about you. It builds your brand with new visitors and reinforces your brand with leads.
A consistent design will help your campaign perform better. You'll build up your brand and create an organized page that appeals to your audience.

3. Write a clear call to action (CTA)
Your call to action (CTA) is the most important element on your landing page. It determines whether your audience leaves your page or acts. If you want to have a successful landing page, create an impactful CTA.
The goal of your landing page is to get your audience to act. A CTA is crucial for your landing page because it tells your audience how to proceed next. If they like what they see in your ad, they know that they should click on the CTA button to take the next step.
If you've used CTAs in the past, you've probably used a few generic CTAs. These include "Click here" or "Submit." While these may be affective in other areas, they won't be affective for your Wix landing page. If you want to see success with your CTA, create a specific one.
Instead of saying "Download Now," say "Download Your Marketing Expert Guide!" Your CTA tells your audience exactly what will happen if they click the button. Simply saying "Download Now" doesn't tell them what they are downloading, but "Download Your Marketing Expert Guide" lets them know what they will get.
Your CTA will make or break your landing page. If you want to see success with your Wix landing page, you need to create a strong and specific CTA.
4. Include visual elements
Your audience doesn't want to see a landing page full of text. If your landing page is full of text, they won't take the time to read it. It will cause you to miss out on leads for your business.
Visual elements help break up the text on your landing page. It is good practice to include images or videos to keep your landing page interesting and engaging.
If you want to have a successful Wix landing page, you need to find balance. Your landing page shouldn't be covered with too many images or too much text. There needs to be a balance between your visual elements and your text.
The visual element should relate directly to the product or service on your landing page. Use product photos to help promote your products on your landing page. It will help you drive better results because leads will see the product before them.
By adding visual elements to your Wix landing page, you'll keep your page engaging and interesting for your audience. You'll provide relief by breaking up the text on your page and draw your audience's eye in with your visual elements. It will help you create a more engaging Wix landing page.
WebFX will help you create stunning landing pages
There are many great landing page services like Wix that help you create your custom landing page. It's a great tool to use if you know how to create effective landing pages. If you aren't sure how to create an effective landing page on your own, WebFX can help.
We're a full-service digital marketing company that specializes in creating customized landing pages. When you partner with us, you'll work with a team of 500+ experts that will bring their knowledge and expertise to your landing pages. We have more than 25 years of experience creating landing pages that drive results.
If you want a company that drives results, you've come to the right place. To date, we've driven over 7.8 million leads and over $3 billion in sales for our clients. Our team focuses on delivering the best campaign for your business.
Don't believe us? Just ask our clients! We have over 1020 client testimonials that attest to the great work we do for them.
Build more effective landing pages today
If you're ready to start building a better landing page that drives results, request a free quote online or call us today at 888-601-5359 to speak with a strategist.
We look forward to helping your business grow!