Does Your Site Need HTTPS?
Security is a major concern for many of today's consumers. In light of the major credit card hacks that have happened over the past few years, it's now more important than ever to show your customers that their information is safe with your company.
This is especially true online, where customers are expected to submit credit card numbers, passwords, and other sensitive information in order to make purchases. If your customers don't know for sure that their information is safe with you, they simply won't make the transactions.
One of the best ways to protect customer data — and show your visitors that they don't need to worry about their information being stolen — is using HTTPS on your site.
Call 888-601-5359 to speak with a strategist about your site's security, or keep reading to learn more about what HTTPS is and whether you need it.
Our digital marketing campaigns impact the metrics that improve your bottom line.
See More Results

WebFX has driven the following results for clients:

$3 billion
In client revenue

7.8 million
Leads for our clients

5.2 million
Client phone calls
What is HTTPS?
Most website data is transferred using Hyper Text Transfer Protocol, or HTTP. This is why the URL of your site most likely looks like, "http://www.yourcompany.com."
HTTPS is the secure version of HTTP, meaning that if your site uses it, your URL will be "https://www.yourcompany.com." This doesn't look like much of a difference, but the "s" shows the difference between a secure connection and an unsecure one.
As a site visitor, this means that any information you submit to a site with HTTPS is encrypted – and as a site owner, it means that your customers will trust your site's ability to protect their data.
In addition to boosting customer trust, HTTPS can also potentially boost your rankings in search engines. Google announced in 2014 that secure connections were a ranking factor, meaning that if the only major difference between your site and a competitor's is HTTPS, the secure site will rank higher.
How can your site enable HTTPS?
In order to get an "https" in front of your site's domain name, you need to encrypt all communication between your site and your visitors. There are two main protocols to do this: SSL (secure sockets layer) and TLS (transport layer security).
SSL and TLS are often used interchangeably because TLS is the predecessor of SSL. Both terms refer to the process of protecting customer information, and their security is verified with an SSL certificate.
In order to enable HTTPS, you'll first need to make sure that your site has its own IP address. If you chose a small hosting plan when you first created it, it may be shared with multiple sites.
Once you have your own IP address, you can buy an SSL certificate for your site. There are several different certificate authorities online that sell them, and most offer the same services.
Simply purchasing a certificate doesn't enable it on your site, though – you'll still need to activate it and install it on your server. If you don't have experience working with SSL certificates, you may need to contact your hosting provider or a developer to handle this process.
At this point, you'll be able to navigate your site by typing "https://www.yourcompany.com" into your browser – but most of your visitors will still be accessing the regular, non-secure version.
On the majority of your pages, this is okay. But in order for your customers' information to be secure, you should set up redirects to the HTTPS version for all pages that accept information, like login and checkout pages.
Once these redirects are in place, all of your visitors will see that your site is secure whenever they're on pages requesting usernames, passwords, email addresses, credit card numbers, and other sensitive information.
Time to Level Up Your Sales
Our long list of services helps you grow every aspect of your business with marketing strategies that are proven to increase bottom-line metrics like revenue and conversions.
In the past 5 years, we've managed more than 12.9 MILLION transactions across our client base.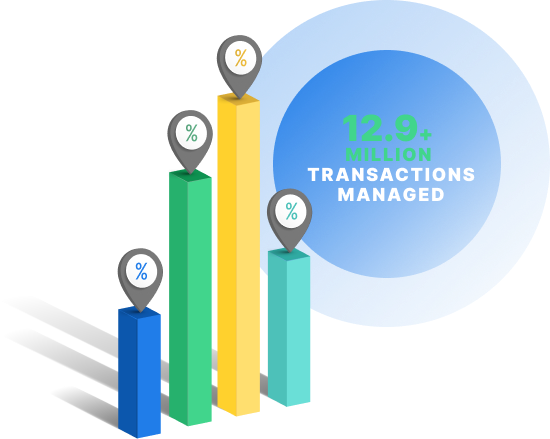 Does your site need HTTPS?
Enabling HTTPS requires a bit of time and a small investment, but it's worthwhile for sites that need it. But not every company needs HTTPS for their website.
If you don't accept any information from your visitors (like usernames, passwords, or credit card information), you don't to worry about encrypting sensitive information. In this case, HTTPS is not necessary.
If you run an ecommerce store, on the other hand, you need HTTPS to prevent your customers' information from being accessed and potentially stolen by hackers.
Want to improve your site's security?
Protecting your customers and site visitors from having their information stolen is a serious responsibility. That's why HTTPS is essential for any company that accepts sensitive data online.
If you need to improve your site's security, whether with HTTPS or any other encryption protocol, WebFX can help. Our dedicated team of developers has years of experience building secure sites for our clients, and they'll do the same for you. Contact us today to speak with a strategist about the right security system for your company's site!