How to Choose a Domain: Choose a Domain Name that You (& Users) Love
If you're wondering how to choose a domain, you're not alone. After all — choosing a domain name that fits your company and your brand is equally as important as your website's design.
Your domain, if done correctly, can positively affect your search engine optimization (SEO), clue users in on your site contents, and so much more.
Before you choose just any domain, watch the video below and read on to see what we have to say! We'll talk about how to choose a domain name that perfectly fits your brand, why your domain name is important, and more.
If you'd like to get marketing tips like the ones we're about to share directly in your inbox, don't forget to sign up for Revenue Weekly!
How to choose a domain name for your brand

Choosing a domain name is important and it's likely going to be with your business for a long time. That said, it's important to choose a domain name that you love.
Below are some tips for how to choose a domain that is memorable, reflective of your brand, and SEO-friendly.
1. Don't use obscure spellings
Let's say you're an express car wash. You pride yourself on getting your customers in and out in under ten minutes, so you want to use the keyword "express" in your domain.
When you start the process of registering your domain, you find that every combination of "express" and "carwash" has already been taken, so you're tempted to switch the spelling of "express" to "Xpress."
Sure, this might be an easy fix for your domain troubles, but in the long run, you'll find out that it's not so user-friendly.
If your customers know that you're called "Express Carwash," they'll expect a domain that matches. Even if that exact domain is taken, there are plenty of other ways to create a domain name that spells everything correctly as to not confuse searchers.
In addition, with the rise of voice search, obscure spellings can wreak havoc on your voice search optimization.
For example, if someone on the radio reads an ad for your business, "Carwash Xpress," users might not know the spelling is obscure, and be unable to find your business.
Using numbers poses the same issue, but we'll get to that later!
2. Keep it short and sweet
You want to choose a domain name that's short and sweet since it'll be both easy to remember and easy to spell.
Think of the last time you saw an extremely long domain name. You probably questioned the validity of the site and took some time to locate each word in the domain to understand it better.
You want users to immediately recognize your domain and the words that are in it.
Not to mention, the average domain name length is 13 characters.
3. Use .com
Over 42% of domains use .com as an extension, and for good reason. Using .com as a domain extension not only makes it look professional, but it looks a lot less spammy than other extensions like ".cn" or ".tk."
You should aim to use an extension that users are familiar with so that they can feel comfortable navigating to your domain.
4. No hyphens, no numbers
Hyphens and numbers complicate your domain and keeps it from being memorable.
Imagine if your business was called "Too Cool for School," and you sold school clothes for kids. You want to make something memorable, so you decide that your domain name should be "2cool4school.com."
This domain looks fun, and in theory, is clever and witty, but imagine someone trying to share your website with someone else.
They might say something like "The company is called 'Too Cool for School,' but the website is with numbers."
The other person could easily become confused, and you might have just interrupted a word-of-mouth sale.
Avoid anything that gets in the way of your domain name being short, sweet, and to the point. So, avoid hyphens and numbers!
5. Use keywords
Keywords are important to include in your domain for a few reasons.
They tell users what's on your site
They resonate with interested users
They add SEO benefits (not ranking, but relevance)
When including keywords in your domain, it's as easy as considering your products and services and finding keywords that lump them together.
You'll likely only fit one keyword in your domain, and that's okay! But they are beneficial to include.
Keep in mind that if you use your business name, you might not have room for keywords, and that's okay! If you can squeeze a keyword in your domain, it's great for SEO purposes, but it's not absolutely necessary. Especially if you want to rank for your brand name.
6. Make sure it's available on social sites, too
If you want to take your branding to the next level, be sure that the domain you want to use is also available on social sites.
For example, you'll want the tail end of your Facebook domain to match your website.
Check out Urban Outfitters, for example. Their Facebook domain name ends in "/urbanoutfitters/" which matches their website's domain name.


Having the same domain name will ensure that you have brand consistency across your social media platforms and that they pair seamlessly with your website URL.
Time to Level Up Your Sales
Our long list of services helps you grow every aspect of your business with marketing strategies that are proven to increase bottom-line metrics like revenue and conversions.
In the past 5 years, we've managed more than 12.9 MILLION transactions across our client base.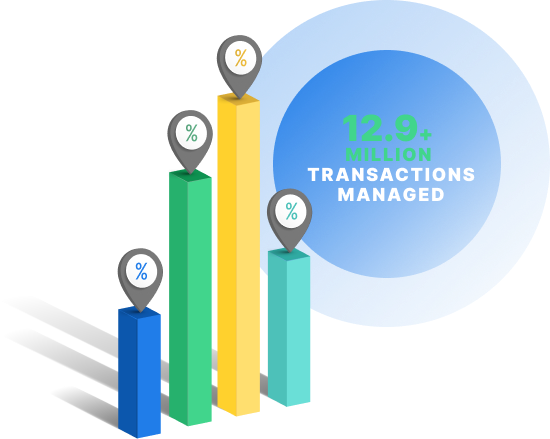 7. Think about the future of your brand
Don't create a domain name that will only be valuable to your brand for a year or so. Think about the future of your brand and your overall goals.
For example, if you currently sell women's clothing, but your long-term goal is to become a boutique that sells women's clothing and clothing for babies, you want to keep that in mind when selecting your domain name.
8. Inject your personality
You want your domain name to be something that users have never seen before. You want it to stand out to them on a page with a list of other domain names.
One of the best ways to ensure that your domain name stands out is to inject your personality. Think about your brand and what it represents and try to add a little piece of that to your domain name.
9. Make it memorable
Finally, make your domain something that users will remember. Is it your witty punchline that you created in 18 characters? Did you add the name of one of your most unique products?
Anything that gets users to remember you is on the table.
How to choose a domain name specifically for a blog
Choosing a domain name for your blog can be tiresome. You want to come up with something witty but easy to understand, and you also want to include your keyword and your brand name. But how can you do it all?

If you're wondering how to choose a domain name for a blog, we've got some tips for you:
Determine what your blog is about: Is your blog a personal one that's all about yourself? Or is it more about the products you create? If your blog is a personal one, consider using your name in the domain. If it's more about your products, consider using your brand name.
Determine the tone of your blog: Do you want to brand yourself as being witty? Smart? Introspective? Vegan? No matter how you want to portray yourself, you should add a pinch of that into your domain.
Don't forget about keywords: If you're a lifestyle blog, consider adding the word "lifestyle" to the beginning of your domain. If you're a cooking blog, consider adding the term "cooking." These keywords will go a long way in helping Google find you relevant to user queries.
How to choose a domain name for SEO
Search engine optimization, or SEO, is an umbrella term for a group of techniques that help you rank highly in search results. Without SEO, it's a no-brainer that your competition will beat you in search — meaning they'll also take ownership of your potential customers.
SEO strategies include everything from keyword optimization to making sure your website is mobile friendly — and many other techniques in between.
It's important to keep in mind that even if you optimize your domain name with keywords, it's not going to boost your rankings for that keyword. However, it does serve as a relevancy signal to Google — giving them more insight into whether your site is relevant to a user's search.

Below are the two most important steps to follow when considering how to choose a domain name for SEO:
Use your keywords: Google looks at your domain to determine relevancy, so you should include your top keyword in your domain. For example, if you own a hiking shop, you should use the word "hiking" in your domain — and closer to the front than the back.
Use your brand name: You're not going to get to the top of search results with your domain name alone. However, once you make it to the first page of search results with content that your audience loves, you'll want your domain name to stand out. That's why it's important to use your brand name in your URL if possible. This won't directly impact your ranking, but if you're already on page one of search results, it'll give users another way to spot and click on your website.
Why your domain name is important
To explain just how important your domain name is, we're going to present a scenario. We'll discuss why it's important after!
You just ordered a product that you love from a site that you recently found in Google search results. You were on the hunt for a new corner table when you came across a website called "cornertable.com."
A click of your mouse took you to a beautiful site that had a wide variety of corner tables — after all, it's their specialty!
You remembered the URL because it was short, self-explanatory, and gave you confidence that this website had exactly what you needed.
So, what can we dissect from this scenario? A few points about why your domain name is important!
This domain name is easy to remember
Since the domain "cornertable.com" is just 11 short characters, it's super easy to remember. That means that when a user wants to tell someone else about the amazing product they just bought, they won't have to rack their brain too much.
This ability to recall may not sound important, but word-of-mouth marketing is very much still alive and beneficial to your company. If you want to reap the bonus of past customers sharing your direct domain with other interested users, you should make your domain name short and easy to remember.
This domain name gives users a peek into what the company offers
"Cornertable.com" is the perfect domain for a company that sells — you guessed it — corner tables!
It gives users a direct look at what the website will offer and will do a great job at engaging users who are looking for that exact product.
"Corner table" is no doubt a keyword that the company was interested in targeting, so you should always consider using one of the most valuable keywords in your domain. Not only will it help Google see that your website is relevant to specific queries, but it'll also give users a direct look into your website before they even click the link.
This domain name uses important keywords
Like we just mentioned, this domain name includes a very important keyword, "corner table."
Of course, the website's content must be targeted, optimized, and relevant to users, but the domain is a bonus in helping Google determine if this site is relevant to a user's search about corner tables.
So, why is your domain so important?
In this scenario, we were able to see that your domain is important for a few main reasons:
If they're easy to remember, they double as a way to utilize word-of-mouth marketing to reach new customers.
If they include a keyword, they can give users a peek into what the company offers.
If they include a keyword at the front of the domain, they can show Google that they're a relevant choice for a specific search.
WebFX knows how to choose a domain and beyond
If you're looking for an agency that can not only help you choose a domain but can also help you build a website that wows, WebFX is here for you.
We're a full-service digital marketing agency, which means we can help you brainstorm the perfect domain name for your website, build that website, and market it to the world.
We're truly your one-stop-shop for creating an unforgettable online presence for your business.
Just check out some of the real results that we've driven for clients over the past five years, and our 500+ client testimonials.
If you're ready to get started, feel free to contact us online for a free quote, or give us a ring at 888-256-9448!