The 9 Best Website Security Solutions for Your Company
Website security protects your website from malicious hackers and bots. That's why every site needs a website security solution. The best website security solutions include Google Cloud CDN, Bluehost, and more. Keep reading for the full list of the best website security services!
9 best website security solutions
Below are nine of the most helpful web security services you can find:
Read on to find out what each provider brings to the table!
1. Google Cloud CDN
Price: Custom pricing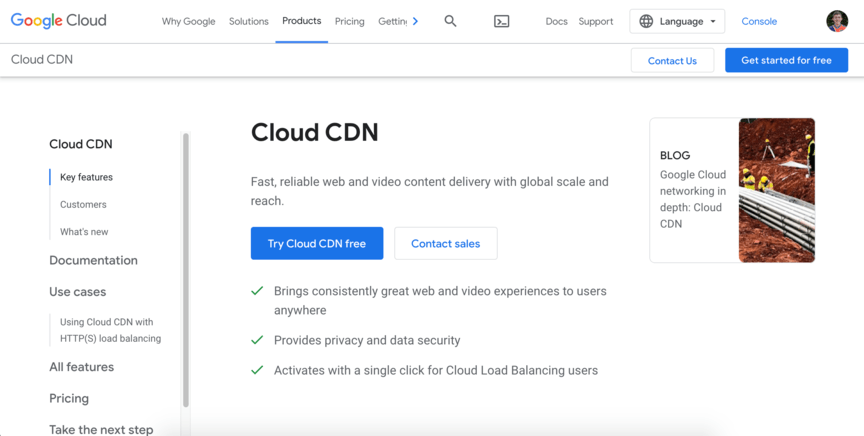 Google Cloud CDN is perfect for fighting off DDoS attacks. DDoS stands for distributed denial-of-service, and it refers to an attack where hackers overwhelm your website with traffic, forcing it to crash. The crash happens because your server can't handle all that traffic at once.
A global content delivery network (CDN), however, helps you to alleviate that issue. Rather than forcing all your traffic to go through one server, Google Cloud CDN will let you access a network of servers spread across the globe.
Together, those servers can handle more traffic. In addition to helping you fight off DDoS attacks, Cloud CDN will boost your page speeds, improving your overall web design and position in search rankings!
Main benefit: Protection from DDoS attacks
2. Bluehost
Price: $4.95+ per month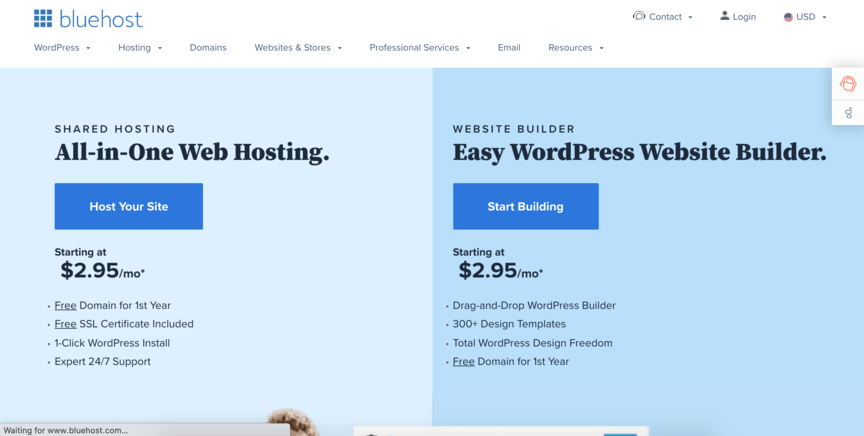 Even before you start looking into website security, you'll need to have a web host to set up your website. You need to store your website on physical servers somewhere, and your web host is the entity whose servers you use. There are many web hosts out there, but Bluehost is one of the best.
View Best Hosts for WordPress Sites
In addition to hosting your website, Bluehost can help you secure it against outside threats. It makes it extraordinarily easy for you to set up HTTPS on your site and install a Secure Sockets Layer (SSL) certificate. The web hosting costs money, but the SSL certificate is free.
Main benefit: Easy access to a free SSL certificate with your web hosting
3. Duo
Price: Free, or $3+ per user per month for an upgraded version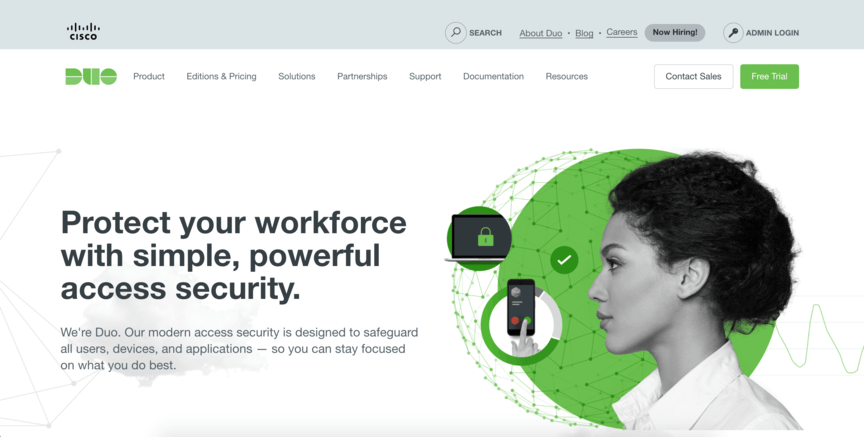 Duo is a website security service that provides you with secure two-factor authentication (2FA). 2FA is a process that requires you to verify your identity via two separate means before you can successfully log into the backend of your site (like logging into WordPress). For example, you might have to answer an automated phone call on top of inputting your password.
The reason 2FA is so useful is that it prevents hackers from entering into the backend of your site via brute-force attacks. Brute-force attacks occur when hackers try one password after another until they guess correctly, and it works more often than you might think.
But with Duo securing your site, hackers won't just have to guess your correct password — they'll still have another barrier to get through, making it twice as difficult.
You can also use Duo to authenticate users who log into their individual accounts on your website, if applicable!
Main benefit: Two-factor authentication to prevent brute-force hacking
4. Cloudflare
Price: $20+ per month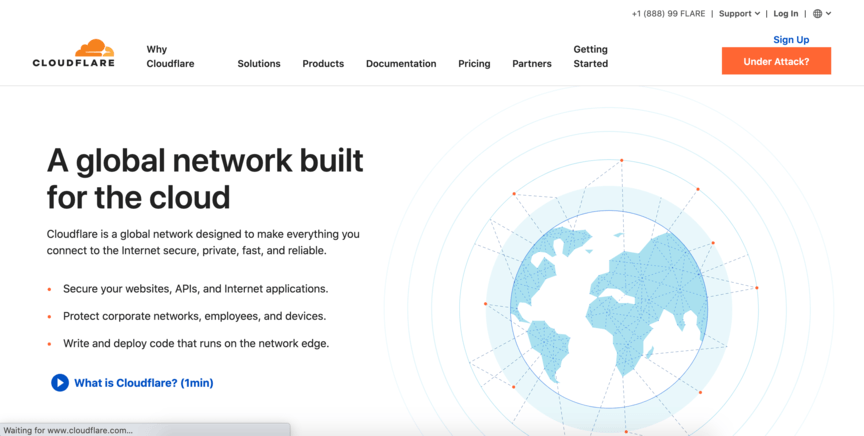 Cloudflare is a web application firewall (WAF), meaning it analyzes all the traffic that comes into your site and ensures that it's not malicious. It's like the TSA or the security barrier you must go through when you enter a crowded stadium.
Because of how thorough it is, Cloudflare can prevent multiple types of attacks. It can detect any incoming malware and stop it from getting through. It can also spot traffic intended to launch a DDoS attack and stop it in its tracks, keeping your site from crashing.
Be aware that while Cloudflare does have a free version, it's for personal use only — not for businesses. The cost for your website will be $20 per month or more, depending on which plan you choose.
Main benefit: Security barrier around your site to block malware and DDoS attacks
5. Beagle Security
Price: $49+ per month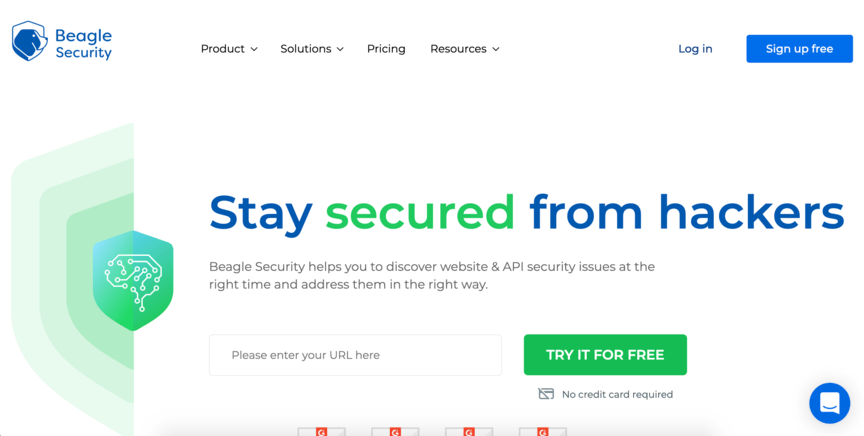 Beagle Security is among the most useful website security solutions you can have, but it works differently from the other tools on this list.
Beagle is a web application penetration testing tool. That means that rather than directly fighting off threats, it constantly analyzes your website for vulnerabilities. Think of it like this: While your other tools are busy fighting malware, Beagle will catch any weak spots where that malware might slip through your defenses.
Beagle will then alert you to any problems it finds, allowing you to patch them up and better protect your website.
Main benefit: Penetration testing to find weak spots in your defenses
6. Dropmysite
Price: $20+ per month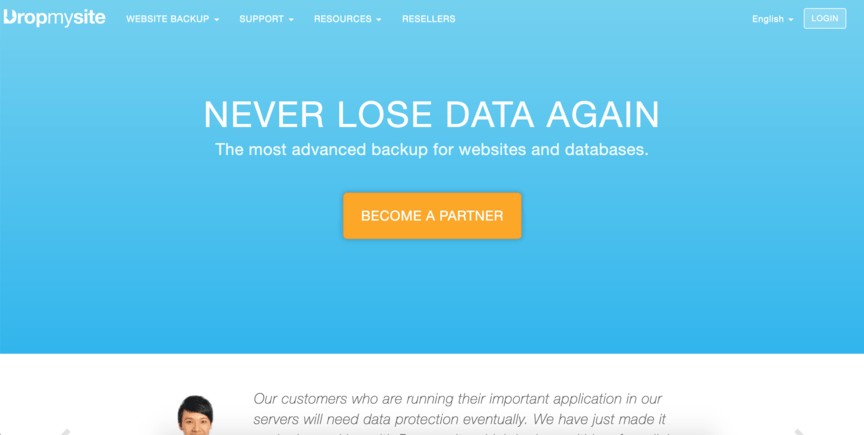 The unfortunate truth about website security is that sometimes, threats can still slip through and do some damage. When that happens, you don't want to be in a position to lose all your website data. That's why it's essential to back up your website, and Dropmysite can help you do that.
Dropmysite uses a fully automated process to regularly back up your website, storing it on a secure cloud database. Should you ever lose your site, it takes just one click to restore everything from Dropmysite. That means you don't have to live in a state of constant stress at the thought of losing everything your website contains.
Bear in mind that Dropmysite has uses beyond just site security — it's also helpful in the event that you accidentally delete your own site or end up with some corrupted files.
Main benefit: Full website backup and easy restoration
7. LogicMonitor
Price: Custom pricing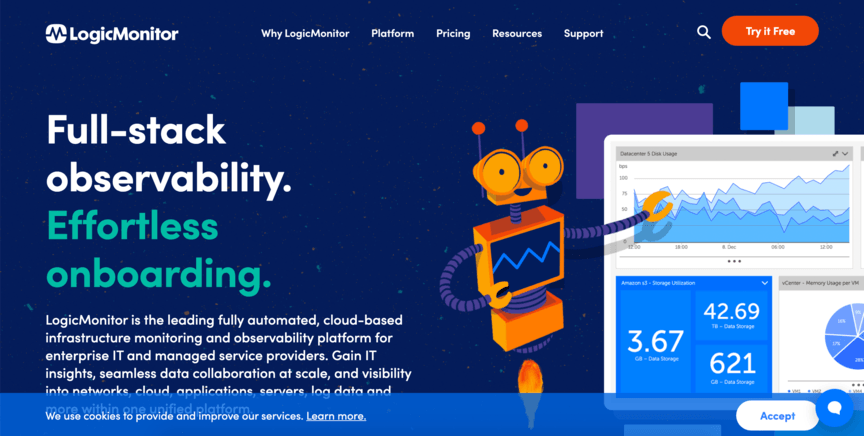 LogicMonitor is a website monitoring service (WMS), which means it serves a function similar to Beagle Security. It exists to monitor your site for various issues that you can patch up to make it more secure.
The main difference between LogicMonitor and Beagle Security is that LogicMonitor is more in-depth. Whereas Beagle is a simple tool you can set up and leave running in the background, LogicMonitor usually requires more investment both financially and time-wise.
That said, LogicMonitor can provide many charts and reports on the results it finds. It can also help with more than just security, letting you know when pages are down or running too slowly.
Main benefit: Website monitoring to identify problems and threats on your site
8. Menlo Security
Price: Custom pricing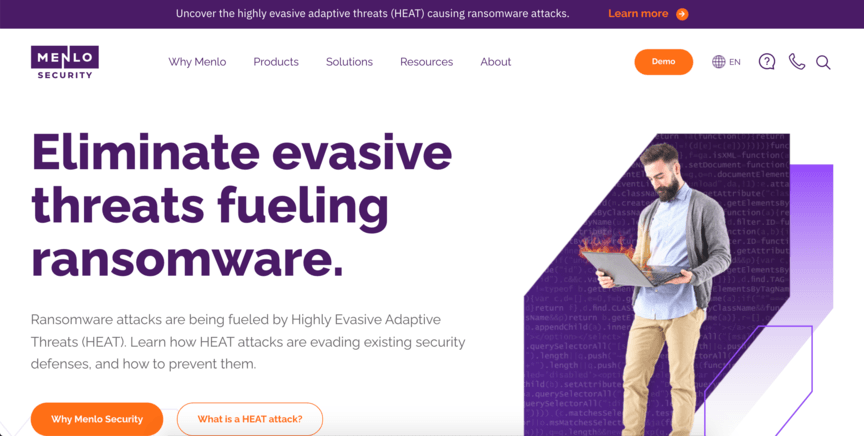 Menlo Security is a solution devoted to protecting your site via isolation. With Menlo's Security Isolation Platform, you can build a wall around your website.
Whenever users visit your website, they'll do so via a remote web browser in the cloud. Menlo will ensure that nothing malicious passes through the barrier that surrounds that remote browser, keeping users safe while they're on your website.
Menlo can help you keep out all kinds of malicious spam. Pop-ups, phishing pages, and even emails are kept at bay by the Menlo proxy.
Main benefit: Web security through remote browser isolation
9. WebFX
Price: Custom pricing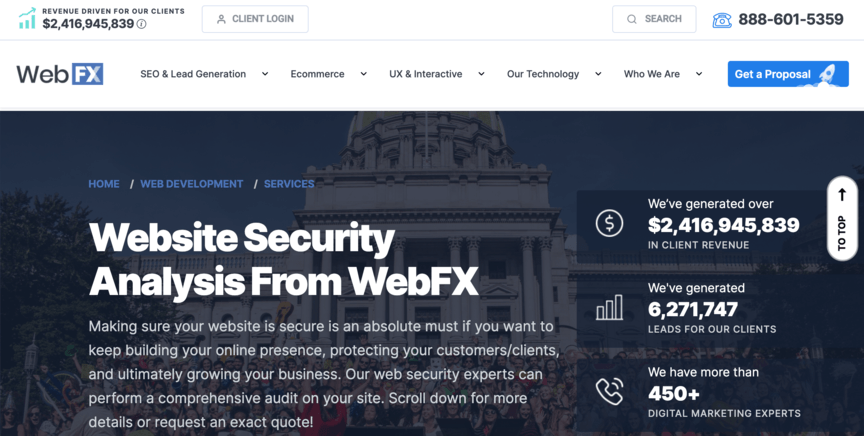 None of the other solutions on this list will be of much benefit to you if you don't know how to apply them to your site. That's why it's a great idea to start with a web security audit, which you can receive from WebFX.
Our team will perform a thorough investigation of your website to find where you can reoptimize or improve to better fend off hackers or bots. Additionally, if your site has already been hacked, we'll help you resolve the existing issues on your website.
When you partner with us, you can expect transparent pricing and a team that will stay in touch with you about everything we do. We won't leave you sitting on hold every time you call, but will talk with you one-on-one about your site.
Main benefit: In-depth audit to identify weak spots in your defenses
We don't want to tell you about the work we do, we want to SHOW you.
View Our Portfolio

We've built over
Websites
in a variety of industries.
WebFX is the best website security provider for your business
If you're looking for a website security provider to audit your site, WebFX is the place to go. We've earned over 1020 glowing testimonials from our clients that speak to the quality of our services.
With our website security services, you'll get help reoptimizing your site for greater protection against outside threats. As a result, users will be more willing to visit your site, and you can rest easy as your sales increase. You can then use our other digital marketing services to promote yourself online.
To get started with us, just call 888-601-5359 or contact us online today!
Bonus: Short video about SSL certificates