When & What to Post to Every Major Social Network
What exactly should you post to each of your social networks to get the most engagement? Learn more below!
When you work in social media marketing, it's a challenge to constantly get results from every single post.
Social media marketing is designed to funnel new leads or customers to your website. But how do you know what works?
Determining the content to post — and the times you should post it — takes a lot of trial, error, and risk.
If you don't test different posting methods, you could waste hundreds of hours creating intricate or in-depth posts just to have them overlooked since they were posted at the wrong times.
Fortunately, there's already data available that solves these problems for you.
Not happy with your social media engagement?
We've got just the blog post for you.
Read the Blog Post & Watch the Video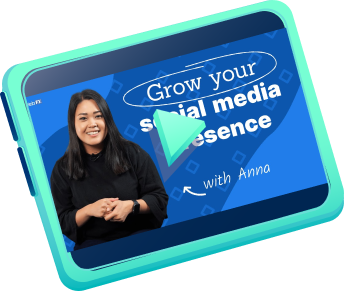 Facebook
Facebook is the world's most popular social network with more than 2.7 billion users. That means roughly one out of every seven people in the world has a Facebook account.
With such a colossal user base, Facebook has something for everyone — no matter what it is. The sun never sets on Facebook users, and there's always someone awake to use it.
But that may not be true for your customer demographic. If you're a local company that serves a small town, then the sun does set on your target market.
That's why it's important to know when companies generally have the most success on Facebook — 1:00 p.m. for shares and 3 p.m. for clicks to their websites.
On top of that, you always want to maximize the number of shares and likes you get on every post. That means you have to provide excellent content on social media that'll keep users engaged and clicking to your page.
The only issue is figuring out what kind of content achieves that goal.
For the most part, images, links, compelling text, and comment participation give you a well-rounded social media portfolio.
Images give users engaging, interesting content that'll catch their attention. Links send those same users to your website. Compelling text adds information that an image can't convey, and comment participation shows that you're an active Facebook presence.
You can track your success easily, too. Facebook Analytics is a free tool you can get for any business page to monitor your Facebook presence.
In addition, Google Analytics is a great way to monitor your website in general. You can use the Acquisition tab and Channels selection to see how many of your users come to your site from Facebook.
Instagram
Instagram is the premier photo-sharing app in the world. It's also owned by Facebook, and it was recently monetized to let advertisers get in touch with their picture-happy customers.
More recently, Instagram introduced a video function that allows users to film something and add a visual filter (like sepia) before uploading it. The videos adhere to the same ratio as Instagram's images, and they're stored in user profiles just like photos.
Most Instagram users are active on Mondays, which may sound surprising until you see that the best time of day to post is between 3:00 and 4:00 p.m.
Instagram famously has a younger demographic than most social networks — including Facebook. So it makes sense that their traffic spikes just about the time school ends for tech-savvy teens.
However, this young user base doesn't mean you can't find your primary sales demographic.
You can still track down users on Instagram that will naturally gravitate to your company's content. It may only be a handful of people at first, but you can nurture that following by posting once or twice per day.
And if you have any questions about the effectiveness of your Instagram account, you can set up Facebook Analytics or Google Analytics to see how well you funnel followers to your site for conversions.
Related: Learn When to Post on TikTok
Twitter
Twitter is the second-most popular social network in the world, by users. Hundreds of millions of people use Twitter every day to do everything from sharing interesting links to catching up with their friends.
Twitter is notorious for restricting users to 280 characters per "tweet." While that restriction doesn't extend to private direct messages, Twitter is fundamentally designed to appeal to short attention spans and flash-in-the-pan trends.
But with consistent, strategic use, you can use Twitter to build a loyal following of fans that wants to hear from you every day.
Posting to Twitter is straightforward: Write concise and descriptive text, add a link to your site, and include an eye-catching image to make your content stand out.
You have total freedom to choose when you tweet as well, but the best times to tweet depend on your industry.
If you're a B2B, you'll find more success on Twitter by tweeting between Monday and Friday since that's when most people are in "work mode" and looking to improve their businesses.
If you're a B2C, you can get more followers and engagement by tweeting between Wednesday and Sunday — times when people are most looking forward to or enjoying the weekend.
Beyond that, most people are engaged on Twitter around noon (lunch time) and 6:00 p.m. (just after work). Strangely, people feel most generous with retweets around 5:00 p.m., right as the work day ends.
As for frequency, if you want to build a following on Twitter, you should tweet somewhere between one and five times per day.
It's not essential that you tweet five times per day. The important part is that you post consistently.
But the best part about Twitter is the diverse range of analytics programs you can use to gauge your success.
Twitter Analytics is the free and included analytics platform you can use to keep up with the data on your profile.
In addition, Google Analytics is the free way to track data on your website. Simply use it to watch how many people come to your site from Twitter — just like you did with Facebook.
Pinterest
Pinterest is a social network that's practically designed for marketing. It's laid out to let consumers and brands "pin" different photos or graphics that they like.
After pinning, their followers can see what they've pinned to spread the word about it even more.
Pinterest is a streamlined network with lots of viral potential. So much potential, we've discussed its importance to marketing before.
Whether you're a B2B or B2C, you can achieve incredible success and growth on Pinterest. All you have to do is make sure you're using it correctly.
To do that, you should start by posting original content that's colorful and eye-catching. There should be a definite focus of every photo you upload and pin — images with big backgrounds don't tend to do well on Pinterest.
Beyond that, most people use Pinterest on Saturday, presumably since they don't have work. Most users also engage with Pinterest before they go to bed, around 8:00 to 11:00 p.m.
Because of how Pinterest is laid out, you don't need to worry about post quantities. In fact, you can post as much as you want, whenever you want, and it'll have a decent chance of attracting a following for your brand.
Just make sure you use hashtags and text wherever possible. That way, you can stand out in searches whenever someone wants new Pinterest information.
You can also use Pinterest stories to share exclusive content with your followers.
To track your progress, you can use Pinterest Analytics for your profile and Google Analytics for your site. Combined, you can draw data-driven, accurate conclusions on how important Pinterest has become to growing your business.
LinkedIn
LinkedIn is the professional social network of choice for everyone from graduating high school seniors to the CEOs of multinational corporations.
It's also the best social network for well-researched, data-oriented information that's relevant to your industry.
Aside from potentially taking the next step in their careers, most LinkedIn users are looking for information on their industry from leading personalities. That makes LinkedIn the ideal social network for B2B marketing.
LinkedIn provides its users with an interface and posting system that's similar to Facebook. It also lets users create their own blog, which is an excellent opportunity for certain figures in your business to grow their personal profiles.
LinkedIn blogs are excellent opportunities for marketing managers and business owners to write about their business (or business in general). Blogs can be laser-focused on certain aspects of a career, like how to get into an industry.
Regardless of how you use your LinkedIn blog, you're creating a backlist of credible, informed writing pieces that you can use to show your authority in your industry.
Those blog posts are even discoverable by Google, meaning you can create an entirely new blog to accompany your business's blog for even greater visibility and results in search engines.
But the key to succeeding on LinkedIn is using data.
If you want to introduce new ideas and concepts to people in your field — or even potential customers — you'll need first-hand data and / or second-hand research to support your points.
That kind of high-level research is required in order to get results on LinkedIn, which makes it the best kind of content to post.
You can also post links to interesting articles or ask questions to engage your customer base. Either way, you're utilizing LinkedIn for growth and forward momentum.
Because LinkedIn is so focused on careers, the best days to post on it are Tuesday, Wednesday, and Thursday. These are the days furthest from the weekend, when people are most likely in "work mode," as opposed to "leisure mode."
LinkedIn activity peaks in the early morning of all those days. On Tuesdays, it's between 10:00 and 11:00 a.m. In general, you can get attention through LinkedIn by posting between 7:00 and 8:00 a.m. or 5:00 and 6:00 p.m. on Tuesdays, Wednesdays, and Thursdays.
And it makes sense, too — those are the times people are just about to start work or on their way out the door.
Because people check LinkedIn so regularly during the week, it's smart to post about 20 times every month. Preferably, those will be blog posts. But you can also use status updates and simple questions.
Finally, you can track your success on LinkedIn by using their in-house analytics suite and Google Analytics. With both of them on your side, you can easily get the information you need to succeed on the world's largest professional network.
Tumblr
At WebFX, we know the value of using Tumblr for marketing. It may not be the most popular social network in the world, but it's still one where brands can achieve incredible results.
However, Tumblr is a little tricky — you can't just send out regular posts about information on your site, like you can with Facebook or Twitter.
Instead, you need to immerse yourself in the Tumblr "subculture" to get an idea about how to speak to and attract Tumblr users to your business.
Tumblr users enjoy short videos, .gifs of their favorite content, and a special set of unspoken guidelines that determine what's good, high-quality content.
As a result, practically every brand that uses Tumblr has to create unique content just for Tumblr.
That's because no other social network has the same sense of community, and no other social network is so united about progressive social issues.
This is partly because Tumblr's user base is fantastically young, compared to other social networks, which means there are bound to be at least a few more idealistic dreamers in the bunch.
It's no surprise, then, that Tumblr's most active days of the week are Monday through Friday. It's also no surprise that the most active time of the day is 4:00 p.m. — right after schools let out for the day.
That may make some brands uncomfortable. Nobody necessarily wants to advertise directly to customers that young.
But at the same time, Tumblr still has a huge following of adults, primarily in the golden consumer range of 18-34.
To attract them, consider posting two or more times per week and adding notes (Tumblr's versions of comments) on other posts you find interesting.
Be an active presence. Engage the Tumblr community as a whole. Even if you're not successful right away, you're establishing a firm foundation for your brand in one of the world's most tight-knit social networks.
You can track your success on Tumblr by using Tumblr's in-house analytics (but only if you pay for them) and Google Analytics.
Google Analytics is probably the simpler solution since it's free and doesn't have a bar to entry.
Tumblr analytics may be more accurate, but the threshold for advertising is $25,000 — far more than most companies are willing to invest in a single marketing channel.
But financial investments aside, Tumblr is perhaps the best social network in the world, in terms of brand preference.
Tumblr users are legendarily crazy about brands that make the effort to get on their level, and the rewards can be excellent.
Even local companies can earn a respectable following and see an increase in revenue whether they appeal to Tumblr users as a whole or only users in their city.
Like every other social network, you just have to know how to use it to your advantage.
Reddit
In previous guides, we've talked about the potential benefits of marketing on Reddit.
Reddit is an incredibly active community of individuals who come together around common passions. These passions are divided into "subreddits," which are sections of Reddit that people can discuss a topic exclusively.
Subreddits can essentially be anything, there's a subreddit called r/marketing, another one called r/advertising, and others called r/seo, r/ppc, and r/content_marketing.
Basically, if it exists, there's a subreddit for it.
That means you can find your industry subreddit with a little searching, and once you find it, you can start posting valuable links in it to draw traffic from Reddit.
However, Reddit is a difficult marketing medium. Most social networks are either welcoming or indifferent to marketers. But Reddit users (or "Redditors") can be downright hostile.
If you intend to market on Reddit, you have to take a link from your site, give it a catchy title, and post it in the appropriate subreddit.
And if that link somehow fails to deliver according to Redditors' expectations — even if they find a problem that's irrelevant to the link's topic — you'll hear about it.
That's why it's best to save Reddit for your highest-quality content.
It's also the reason why it's smart to start participating in Reddit as a community member, instead of just treating it like a marketing medium. That gives your account more credibility, and it can (ironically) help you achieve success with future marketing initiatives.
You also need to check out the best times to post on your specific subreddit.
Reddit itself has lots of traffic statistics and information about the site as a whole. But it doesn't have much in terms of individual subreddit information.
That's why you have to go the extra mile and look up your subreddit peak hours yourself.
You can post about once per week on Reddit to maintain a portfolio of participation and overall good will from your fellow community members.
And once you start getting traffic from Reddit, Google Analytics is the best way to track it.
So if you think you're ready to test the waters of one of the most difficult marketing media in the world, give Reddit a shot.
The returns will be worth your effort.
YouTube
We've covered the benefits of YouTube marketing in-depth before, but it bears repeating.
YouTube is the world's largest video-sharing community in the world. It's also the second most-used search engine in the world — just behind Google.
Every minute, YouTube users upload 300 hours of video. So if you spend a minute watching a video, you're already 300 hours behind on the content that's been uploaded.
That means it's literally impossible to ever watch all of YouTube since the content creation drastically outpaces one person's ability to consume it.
But even with the countless hours of video, YouTube is still a valuable marketing tool for any business.
In fact, it's one of the best ways to prove that you're a reliable source of knowledge for your industry.
YouTube allows you to post virtually anything you want, including webinars you host, how-to videos you produce, and more.
So at any given time, you can take a camera, create a brief video, and upload it to the world's largest video-sharing community. Anything with quality production values and helpful information is valuable on YouTube.
Then, you can embed that video on your site and post the link on all of your other social media accounts — at the right time, of course.
For YouTube, the peak day for videos is Saturday, which makes sense. That's most people's day off, and there's something for everyone on YouTube.
The best time to post to YouTube in general is between 9:00 and 11:00 a.m., which sounds a little early for a video-sharing network. But, interestingly, that's when the site's traffic peaks.
To succeed on YouTube, you can create as many videos as you want. But it's good to stick to a schedule of about one every week. That allows you to create a regular update schedule while appealing to new viewers.
Last, you can use Google Analytics to track all the information about YouTube that you need. YouTube also comes with its own analytics dashboard, but the videos will do their most work when they're embedded on pages from your site.
Looking at metrics like Time on Page is a great way to tell if your YouTube videos are working well and attracting the attention you want.
Snapchat
Snapchat is one of the newest social networks where you can market your business.
Snapchat's entire network is based around taking photos and videos — kind of like Instagram.
Unlike Instagram, Snapchat's photos and videos are only around for a set amount of time. After they expire, users can no longer view them.
That's what makes Snapchat so valuable for time-sensitive news, like events or business updates. It's like a digitized television commercial that consumers can watch, enjoy, and remember.
To get the most out of your Snapchat experience, you can either build a following or pay Snapchat to advertise — or both!
Either way, you can promote your Snapchat account with Snapchat's custom QR codes that let someone add you just by taking a photo. You've probably seen a few of these QR codes before — they're especially popular among Twitter followers and Facebook personalities who want to maximize their social media presence.
Then, once you have your following, you can take photos and videos and send them to your followers or post them as a "story."
Snapchat "stories" are essentially Facebook statuses based on Snapchat's rules. A story is a photo or video that expires after 24 hours. Stories are available to everyone on your friends list, and you can see who viewed them.
But you can create and bank multiple stories at once. Some brands will do as many as three stories at a time so users can tap the brand's profile and flip through the content.
That creates an effect similar to a photo album, except the album is completely filled with marketing materials that are intended to get you more customers.
Still, you don't need to post to Snapchat more than once per week. One snap per week is enough to keep your audience engaged with your brand.
Because of Snapchat's format, there's not necessarily a day or time that's "best" to post. You'll have to track your user engagement via analytics platforms to determine when your followers will be able to see what you post.
You can track the results of your Snapchat presence using multiple third-party analytics platforms, but Snaplytics gives you the best value for your investment.
General Tips
Aside from posting to social networks on the right days and at the right time, you can achieve success on social media sites with a few other rules of thumb.
1. Scheduling consistency
As we've mentioned frequently for each social network, success often depends on posting consistency.
That means you have to set a time window — between 10 and 20 minutes — where you'll post something new.
It also means you have to choose the days that you'll update your social media profiles.
Will you update Twitter once every day? Maybe LinkedIn can only be once a week. And maybe YouTube will only be once a month since you have to concentrate resources elsewhere.
Ultimately, it's up to you — but it's critical that you stick to the schedule you set for yourself.
Regularity ensures your followers can anticipate and engage with the social media content you produce. Someone will know to check your YouTube channel on the first Monday of every month because that's when you have a new video out!
Likewise, someone will know to check out your Twitter on occasion since you update it multiple times per day.
And still, others could check your Facebook page to see if they want to offer their insight on a certain topic.
Whatever motivations your customers have, you can make them work for your business by establishing and sticking to a regular schedule.
That's not to say you can't have hiccups — even the best social media marketers miss a post every now and then.
But the majority of your work should be based on a regular schedule that keeps your brand looking fresh, modern, and smart.
With all of those advantages on your side, you can easily grow your business by using social media.
2. Brand consistency
When you use social media strategies to grow your business, you're creating a brand personality that your followers understand.
Are you funny? Offbeat? Hipster? Old school? Or are you all business?
These are just a few examples of traits you can give to your social media profiles.
Choosing these traits is difficult, especially if you've never created an online persona before. The goal is to match or complement the personality traits that are common in your customer base.
For example, Denny's maintains a Twitter account that updates multiple times per day. And even though Denny's is a diner chain, the Twitter feed doesn't talk about the diner itself that much.
Instead, it posts strange, funny, and offbeat updates that appeal to a young, early-20s audience.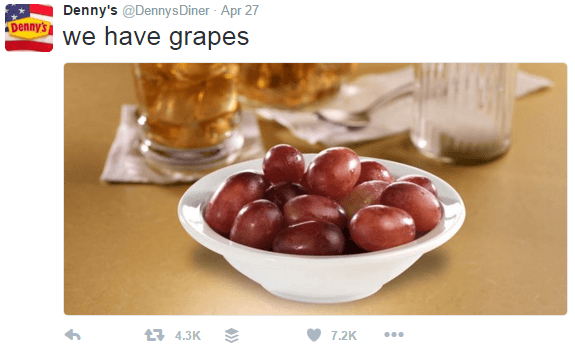 On the one hand, this tweet is kind of dumb.
On the other hand, you can't argue with results.
"We have grapes," with a photo of semi-poorly Photoshopped grapes, earned 7200 likes and 4300 retweets.
That's 4300 people who thought Denny's simple tweet was worthy of spreading to thousands of other Twitter users.
But Denny's wasn't taking a gamble — they know their audience.
They know that their low-cost, high-flavor food is most appealing to older teens and younger 20-somethings. And that's why Denny's speaks that demographic's language.
And even if you think Denny's as a brand is ridiculous, it's only because their audience loves ridiculous.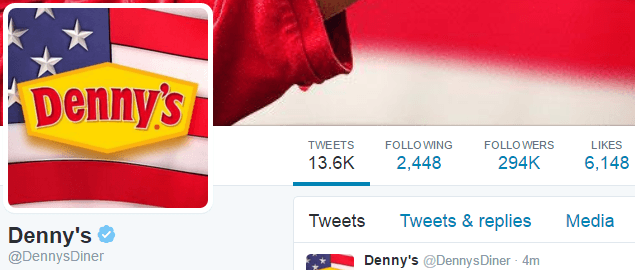 294,000 followers is a big deal, especially when all you're doing is cracking jokes about pancakes.
To get the same results as Denny's, you have to take a close look at your brand and your audience.
What's your audience's common thread? What do they value? And how do your products or services represent those values?
Once you have those answers, you can create social media accounts that pay dividends day after day.
74% of people use social media when making a purchasing decision.
Make their decision easy with a stellar social media presence. See how your brand can level up by requesting a no-obligation proposal today.
One of our experts will be in touch within 24 hours!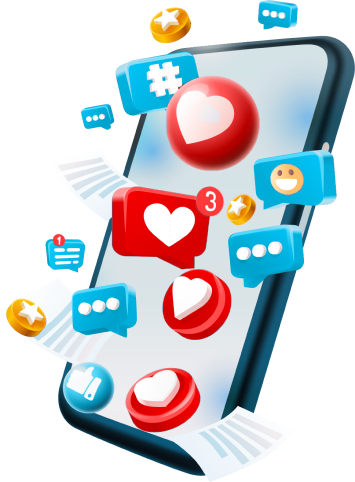 Social Media Help from WebFX
Do you want to keep your social media on track?
WebFX is a leading name in social media marketing. We have a full team of Internet marketers who know how to use social media to reach your target demographic.
Our talented team has earned incredible results for our clients in the past, and now we'll do the same for you!
Contact us today to create a social media marketing campaign that's right for your business!
Last Updated November 1, 2021