When you invest in any marketing strategy, your number one goal is to earn the highest return on investment (ROI) for your efforts. To grow your business, you must ensure your marketing efforts drive revenue.
But how can you ensure that your marketing strategies help you achieve your goals? The answer: revenue marketing.
If you're new to revenue-driven marketing, we've compiled this guide just for you. We'll cover topics like:
So keep reading to have all your burning questions answered!
And then sign up for our newsletter, Revenue Weekly, to get even more advice about how to drive revenue with digital marketing sent straight to your inbox!
What is revenue marketing?
Revenue marketing uses various online channels and techniques to create marketing strategies that directly boost customer acquisition and sales.
While some marketing campaigns focus on increasing brand awareness or visibility in search engines, revenue-driven marketing concentrates solely on increasing your revenue.
How does revenue marketing work?
So, now that we've answered the question "what is revenue marketing," let's dive into how it works.
The goal of any revenue generation strategy is to implement marketing campaigns that directly increase your revenue and help you achieve your revenue goals.
For example, if your revenue goal is to generate $50,000 more than last quarter, your revenue campaign will focus on helping you achieve that goal.
To implement a successful revenue generation strategy, you must identify the marketing channels that drive the most revenue for your company.
To do so, you'll need to analyze your campaign metrics and results to measure how effectively your campaigns drove revenue.
Once you have identified which strategies drive the most revenue for your company, you can focus on optimizing them to achieve your revenue goals.
What are the benefits of revenue marketing?
Now that you know how revenue-driven marketing works let's dive into how it can benefit your business.
Here are three significant benefits of revenue marketing:
Unites your sales and marketing teams
One key benefit of focusing your marketing efforts on driving revenue is that it unites your sales and marketing teams.
Your sales and marketing teams must be on the same page to successfully generate leads and acquire new customers and clients.
When you implement a revenue marketing strategy, your marketing team learns which channels and strategies deliver revenue. In addition, your sales team learns which prospects are sales-qualified leads (SQLs) and what information they need to close the deal.
As a result, your marketing and sales team will seamlessly work together with the same goal of earning more revenue for your company.
Uses data to increase your ROI
Perhaps one of the biggest benefits of revenue generation marketing is that it uses data to inform your strategies.
You'll analyze the results of your marketing campaigns to learn which techniques deliver revenue. As a result, you make smarter marketing decisions and optimize the proven strategies to increase your sales, earning you a higher ROI.
Focuses on your customer's needs
When you implement marketing strategies that boost revenue, you need to focus on your customers' needs and interests.
You might ask yourself questions like:
What does the customer want from this product?
What would make customers more likely to buy this product?
Does this product meet the needs of customers and solve their problems?
How can you improve the product to alleviate your customers' pain points?
By focusing on improving your products for your customers, you can implement strategies, like personalized marketing messages, to encourage more prospects to make a purchase.
Focusing on the needs and wants of your potential customers is the key to unlocking more sales and revenue for your business.
How to plan your revenue marketing strategy in 3 steps
If you're ready to craft your revenue-driving marketing strategy after reading those benefits, we've got you covered.
Here's how to plan your revenue marketing strategy in three steps:
1. Establish your revenue goals
Before crafting your strategy, you need to establish your revenue goals. Without creating goals, you won't have a clear target to reach when strategizing which campaigns you want to use.
Your entire team should clearly and easily understand your revenue goal. Additionally, it should be attainable, meaning you can realistically achieve your goal in the given time frame.
Example: We aim to generate $10,000 in four months using online marketing channels based on previous ROI data.
2. Analyze your marketing results
Now that you've set your goals, it's time to analyze the results of your current marketing campaigns. This step is crucial in developing your revenue marketing strategy.
To craft campaigns that drive revenue, you must learn which tactics already work well for your company.
You'll need to analyze your current marketing results and ROI to learn which strategies drive revenue.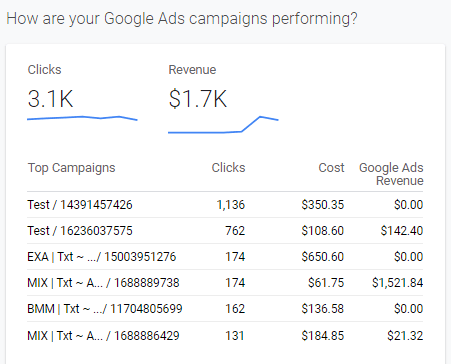 Ask yourself questions like:
Analyzing which marketing campaigns positively impact your ROI enables you to focus your resources on the techniques that already drive the best results for your business.
Top tip: Not quite sure how to track your marketing results? Our all-in-one digital marketing platform, MarketingCloudFX, can help! MarketingCloudFX helps you track and manage all of your marketing strategies in one place!

From seeing your current ROI to tracking the sources of your phone calls and leads, this award-winning tool can do it all!
3. Implement and optimize your marketing strategies
The last step in how to plan your revenue marketing strategy is to finally implement and optimize your marketing strategies.
When planning your strategy, it's essential to keep your revenue goal in mind. Which techniques will help you achieve your goal in the set time frame? If you've successfully analyzed your marketing results from the previous step, you should be able to answer this question.
Example: If your pay-per-click (PPC) ads on search engines drive a higher ROAS than your Amazon ads, you'll want to focus on optimizing your PPC ads rather than spending more resources on your Amazon ads.
By improving the campaigns that already drive results for your business, you can focus more resources on the strategies that drive revenue instead of those that don't.
Our digital marketing campaigns impact the metrics that improve your bottom line.
See More Results

WebFX has driven the following results for clients:

$3 billion
In client revenue

7.8 million
Leads for our clients

5.2 million
Client phone calls
Launch your personalized revenue marketing strategy with WebFX today
Not quite sure how to start implementing your revenue generation strategy? Want to implement a closed-loop marketing strategy that boosts your ROI? WebFX can help!
WebFX is a full-service digital marketing agency helping businesses like yours earn a higher ROI and more revenue to grow their company. In the past five years alone, we've helped clients drive over $3 billion in revenue.
Want to learn more about how our "do-it-for-me" digital marketing services can help grow your business? Chat with us today by calling 888-601-5359 or contact us online. We can't wait to hear from you!
WebFX Careers
Join our mission to provide industry-leading digital marketing services to businesses around the globe - all while building your personal knowledge and growing as an individual.