Digital Advertising Services For All Your Advertising Needs
Drive more revenue for your business with digital advertising services from WebFX. Receive a custom strategy and dedicated account manager, plus access to MarketingCloudFX — our exclusive platform that's helped our clients earn a 20% lift in performance. Learn more about growing your revenue with our online advertising services now!
Get Noticed With Digital Advertising Services
People, from business buyers to consumers, rely on the Internet to find what they need. That's why digital advertising is a trusted strategy for businesses across industries.
From Facebook to Google, you can advertise everywhere with our award-winning team. With more than 650 paid campaigns managed and proprietary software that's helped our clients earn a 20% lift in PPC performance, we're a trusted choice for digital advertising services.
A few examples of our online advertising services include:
Remarketing
Programmatic advertising
Social media advertising
Pay-per-click advertising
And more!
Learn more about our digital advertising services, below. Or, get in touch with our team now by contacting us online or calling us at 888-601-5359!
"WebFX's PPC service is light years ahead of the competition because of their intelligent, specialized and courteous account managers."
Director of Marketing
LIBERAL ARTS COLLEGE
Learn more about WebFX online advertising services
WebFX is an award-winning, full-service digital advertising company that uses its 25+ years of experience and proprietary revenue acceleration platform (hello MarketingCloudFX) to help our clients drive more revenue from the web.
Just in the past five years, our clients have leveraged our proprietary tech and award-winning team to earn $3 billion in revenue.
Our team of experts is dedicated to providing digital advertising services to help businesses like yours reach more customers and achieve success online.
Learn more about our online advertising services and how the can help your business now!
Don't worry, if you're looking for Philadelphia digital marketing, Atlanta digital marketing, or even Baltimore digital marketing, WebFX has you covered. We work with clients in hundreds of cities around the world.
Pay-per-click advertising (PPC)
Pay-per-click advertising (PPC) is a form of paid advertising that allows marketers to bid on the keywords and phrases they want to trigger their advertisements.
If you're looking to quickly boost qualified traffic to your site, PPC optimization is a great option because it can start driving results the minute your ads go live.
Search engine advertising is the most common type of PPC, but you can also purchase PPC ads on social media sites like Facebook and Twitter. In addition, you can implement remarketing strategies to reach people who have already displayed an interest in your business and provide them with the information they need to purchase.
Online media buying
Media buying plans from WebFX can help you secure prime ad placements that allow you to reach your target audience online.
Our customized media buying solutions are tailored to meet the needs of your business. And we'll help connect potential customers to your website using demographic, psychographic, and geographic targeting. You can also leverage first-party data in your digital advertising strategy to get even better results with more targeted media buying campaigns.
In addition, our team of media buying specialists will continually monitor results to secure placement on sites that convert more customers for your business.
Review online media buying plans
Influencer marketing
When you choose influencer marketing services from WebFX, you'll receive access to our network of bloggers and social influencers.
Our sponsored posts will connect you with a directory of bloggers to promote your brand and help you reach your target audience online. So if you're looking to improve your online presence and attract more customers, influencer marketing plans from WebFX can help.
No matter the digital strategy you choose, WebFX is a trusted partner. And we'll do whatever it takes to help you earn the best possible ROI for your digital advertising campaigns.
Check out influencer marketing services
Social media advertising
Maintaining an active presence on key social media sites through organic and paid strategies is a great way to establish relationships with customers and potential customers.
Social media plans from WebFX can help you build and maintain profiles on Facebook, Twitter, Pinterest, YouTube, LinkedIn, Instagram, Tumblr, and more. And our social media strategists know what it takes to create an online buzz around your business, engage users, and develop relationships that encourage them to purchase and become loyal customers.
We offer social media plans for various budgets, and our plans include different features such as page creation, custom graphics, and social media promotions.
Remarketing
Remarketing offers your business a powerful way to reconnect with past website visitors. A strategic and well-planned remarketing campaign can help your company secure additional leads, purchases, and revenue.
That's why our experienced team invests the time to research your industry, market, products, and services. This research allows us to create hyper-targeted audiences, select high-value low-competition keywords, and optimize your bids for the best results.
Learn more about remarketing services
Geofencing advertising
Whether your company operates on a local, national, or international scale, you can take advantage of geofencing advertising. With geofencing advertising, your business can target valuable locations, like competitor storefronts, industry conferences, and must-attend tradeshows.
Then, you can market your company to users that visit these locations. It's an advanced online marketing strategy and powerful digital marketing services that can help your business outmaneuver top competitors.
Explore geofencing advertising services
Search engine optimization (SEO)
Search engine optimization, or SEO, refers to a number of different strategies designed to boost your website's rankings in search results for keywords and phrases related to your business.
For example, you can include keywords in strategic places on your site like your title tags, page headings, and meta descriptions. You can also create custom content that addresses questions and topics that may interest potential customers.
These things, and more, can help your site rank higher in search results, allowing more people to find out about your business.
Content marketing
Content marketing is one of the most effective lead generation strategies online. And creating and publishing fresh, helpful content online can establish your business as an authority in your field.
The WebFX content marketing team consists of individuals from every department, and it includes SEO strategists, copywriting managers, and graphic designers. Our content plans include infographics, branded blog posts, motion graphics, ebooks, and more.
We'll work with your business to fully understand your industry, and we'll help you tell your story in a way that engages site visitors and provides them with the information they need to take the next steps with your company.
Further, all of our content plans are designed to boost your website's raking power so that more people can find your business and contact you to learn more.
Review content marketing service plans
Email marketing
Email marketing is one of the most effective and affordable digital advertising strategies, and it allows you to reach recipients right in their inboxes.
For every $1 you spend on email marketing, you have the potential to earn $44— a ROI of 4400%!
With email marketing plans from WebFX, you can interact with current and potential customers and provide them with helpful information about your business and industry. Not every email you send has to be a sales pitch. Instead, focus on how you can provide recipients with valuable information that meets their needs and helps them get acquainted with the products and services you provide.
Browse email marketing services
Conversion rate optimization (CRO)
If you want to get more from your online presence, conversion rate optimization (CRO) is essential.
CRO can help you identify gaps in your conversion funnel and optimize your site and online content to reach and convert more customers.
At WebFX, our CRO experts will analyze your website and help you implement findings that allow you to get the most out of your site traffic. Sometimes minor changes on your site can result in a drastic increase in leads and revenue. And CRO can help you analyze data and optimize your site to convert more customers.
Video marketing
Incorporating videos on your website is a great way to engage visitors and give them an inside look at your business. And they are extremely effective for increasing conversions. In fact, adding videos to your landing pages can increase conversions by 80%!
WebFX offers a number of custom video marketing plans that can provide your customers with relevant, compelling content. Our video services include professional and creative script writing, sharp HD quality video, flawless audio, and lighting to create seamless videos for your site.
We offer video marketing plans for various budgets, so you can evaluate your options and choose the plan that's right for you.
See video marketing service plans
Podcast advertising
Podcasts are a rapidly growing digital medium, and advertising on podcasts is an excellent way to reach new audiences. According to IAB report, ppodcast ad revenue in the US surpassed the $1 billion milestone in 2021.
The team at WebFX can put together a podcast advertising strategy for your business that reaches the right audiences and leads to conversions. We'll help you choose the right ad formats, the right podcasts to advertise on, and the right bidding strategies. We'll also create high-quality ads, carefully track your campaign results, and provide transparent campaign reporting.
Digital advertising services: Why use them?
Digital advertising is one of the best ways to allow customers to find you online – and with over 307 million Internet users in the U.S. alone, it can appeal to a huge audience. It's challenging to lead, develop, and manage a campaign in-house, though, which is why businesses invest in digital advertising services.
Why should your company (specifically) invest in online advertising services? A few reasons, including:

1. Cost-effective
One of the main benefits of digital advertising is that it's cost-effective.
Compared to traditional marketing, digital advertising is a more affordable option, and it allows you to get the most out of your marketing spend.
Not convinced? WebFX created a helpful graphic that breaks down the national cost of advertising by medium. And our research confirmed what we knew all along— digital advertising is the most accountable, cost-effective, and easiest way to attract more customers and earn more revenue.
If you want to reach more people for less money, digital advertising services are a great option.
2. Increases traffic to your site
Digital advertising increases traffic to your site by allowing it to rank higher in search results.
Sites that rank in the top three search results receive more than 50% of clicks – which is a pretty hefty chunk of total clicks – and clicks that you need to increase business.
If you rank below the third result, or even on the second page, you'll see a huge decrease in clicks.
With online advertising services from WebFX, your business can ensure your ad campaigns drive the maximum amount of qualified traffic possible. For your company, this traffic increase translates to more sales, phone calls, store visits, and more.
3. Increases awareness
When your site ranks higher in search results, more people will be able to find out about your business, the products, and the services you provide. A search ad campaign can place your company front-and-center when it comes to search results.
Digital strategies like social media and email marketing can also help to increase awareness of your brand, reach more customers, and ultimately earn more revenue. We'll talk more about these strategies later.
People who like the content you publish online will also be more likely to recommend your business to friends and family members who may need your products or services. This word of mouth marketing is extremely valuable since people tend to trust recommendations from people over brand advertisements.
4. Attracts more qualified leads
Since digital advertising targets people who are already searching online for your products and services, the traffic you receive will be more qualified.
In other words, digital advertising helps to connect you with people who are most likely to purchase from you.
If you operate a garage door company, for example, you don't want to waste you or your team's time with unqualified leads. Instead, you want your garage door advertising efforts to bring qualified leads — and WebFX can make that happen.
This is a great perk of digital advertising because it saves you from wasting money trying to market to people who aren't interest or don't need your products and services.
Investing in online advertising services, like from WebFX, can also help your company boost the amount of qualified leads and shoppers that come to your website even more. Your dedicated WebFX account manager, for example, can leverage advanced targeting to help your ads reach the audiences that matter.
5. Easy to track
Digital advertising is also extremely easy to track.
Using Google Analytics, you can gauge the success of your online campaigns. You can answer questions like "Which campaigns earn the most leads?" and "Which pages on my website convert the most customers."
This allows you to evaluate the success of your campaigns and tweak your approach to reach more people and earn more revenue online.
Our digital advertising services come with custom reporting, so you'll always know exactly where your money goes. And you can adjust your spend to invest the most money in the strategies that earn you the best results.
What do WebFX clients say about our digital advertising services?
WebFX provides digital advertising services to clients in a variety of industries, from ecommerce to healthcare to manufacturing.
We know we have what it takes to provide solutions that earn our clients the best possible results. But don't take our word for it.
Check out our reviews and testimonials to hear what our clients have to say. Or, explore our portfolio, which features advertising case studies!
Good agencies have more than 50 testimonials.
Great agencies have more than 100 testimonials.
WebFX has over 1000+ glowing client testimonials.
See What Makes Us Stand out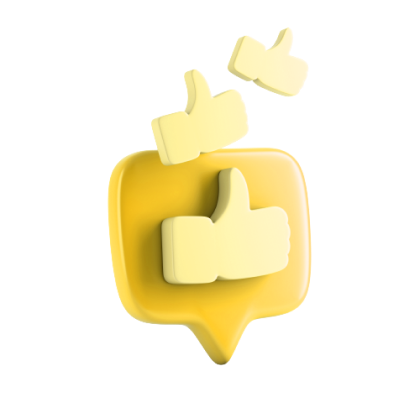 Bonus: 5 digital advertising tips
Now that you understand why digital advertising is so beneficial, let's take a look at five digital advertising tips you can implement today.
1. Set a budget and clear goals
Before you launch your digital local advertising campaigns, it's important to establish your budget and some clear goals that you want to accomplish.
What are you looking to gain from your online advertising? Do you want to increase awareness of your business? Attract more customers? Earn more revenue?
Setting clear goals will help to provide a roadmap for your digital advertising services. And you can continually revise your goals to keep moving your business forward.
In addition to setting goals, you'll also need to establish your digital advertising budget? Ultimately, this number is different for each business. But to get an idea of how much you should expect to pay for online advertising, check out this helpful post by WebFX.
Make sure that you're setting a realistic budget, and that your goals match up to what you can accomplish with the spend you have available.
2. Implement SEO on your site
Next, it's extremely important to implement search engine optimization, or SEO on your website.
SEO is the process of improving your website so that it ranks higher in search engine results, builds authority, and is beneficial to your consumers.
To start your SEO campaign, you should conduct keyword research to uncover the keywords and phrases people search online to find your business. Then, you can incorporate those terms in your title tags, meta descriptions, and content to address the topics that interest your target audience.
You should also be sure to have a clean HTML code for your site, and concentrate on building a strong backlink profile. Your code should be organized, clean, and easy for Google to read, so that it can easily rank your content.
A backlink profile refers to all of the websites that link to your website. Backlinks are important because they are a sign to Google that you are an authority in your field – especially if other high-authority websites link to yours.
It's also extremely important to optimize your site for mobile searchers since more than 60% of searches today take place on mobile devices. This means that if your site isn't optimized for mobile, you could be missing out on valuable traffic and revenue. WebFX offers responsive design services to ensure that your site looks great and performs well across a host of platforms including desktops, smartphones, and tablets.
If you need help creating a custom SEO strategy, WebFX has your back! Check out our SEO plans to learn more.
3. Incorporate consistent branding
In order to achieve success online, you also need to incorporate consistent branding across all of your digital strategies.
For example, including your company's logo and colors instantly alerts web searchers that they content they are viewing was created by your business.
Consistent branding can set you apart from competitors and increase awareness of your business online. Even if people don't purchase from you right away, great branding will help them to remember your business in the future when they need your products or services.
They may even recommend you to friends and family members who might be interested din your offerings.
4. Include clear calls to action
No matter whether you're advertising via email, social media, or content on your website, you need to include clear calls to action (CTAs) so that people know exactly what you want them to do next.
Want someone to subscribe to your blog? Download your latest marketing guide? Let them know!
Including CTAs in your digital ad campaigns can help you convert more customers and earn more revenue online. So what are you waiting for? Start incorporating custom CTAs today!
5. Evaluate and optimize your campaigns
Finally, it's important to continually monitor your digital campaigns and evaluate your results.
Using Google Analytics, you can keep track of your key performance indicators like website engagement, traffic sources, and conversion rates. You can also use Google Analytics to monitor leads and conversions from your email and social media campaigns.
When you choose WebFX as your digital advertising partner, you'll have access to MarketingCloudFX, the #1 ROI tracking platform in the industry. This proprietary software helps us deliver custom reporting so that you can easily monitor the success of your campaigns and know exactly where your money goes.
Evaluating your campaign results will allow you to tweak your strategies and adjust your marketing spend to get the most out of your digital advertising.
FAQs about digital advertising services
Looking to learn more about using digital advertising services for your business? Browse our FAQ:
What are digital advertising services?
Digital advertising services are services that advertise your business online, like through search engines and social media. Online advertising services can range from PPC to programmatic to social media. Most digital advertising services will include ad creation, ad management, and performance reporting.
How much do digital advertising services cost?
Prices for digital advertising services vary and depend on several factors, including your industry, ad network, and online ad agency. On average, digital advertising plans for businesses cost $1250 to $10,000 per month.
What are some examples of digital advertising services?
Some examples of digital advertising services include:
If you're managing your digital ad strategy with an agency, your agency should provide recommendations guided by your goals. For example, your digital ad company might recommend using geofencing ads for recruitment vs. PPC ads.
Learn more about digital advertising services from WebFX
Interested in learning more about how digital advertising service plans from WebFX can help your business reach more customers and earn more revenue online?
Browse our different online advertising services, and contact us today to speak with a strategist.
We're excited to work with you!