Digital Advertising Services For All Your Advertising Needs
Drive more revenue for your business with digital advertising services from WebFX. Receive a custom strategy and dedicated account manager, plus access to MarketingCloudFX — our exclusive platform that's helped our clients earn a 20% lift in performance. Learn more about growing your revenue with our online advertising services now!
Get Noticed With Digital Advertising Services
People, from business buyers to consumers, rely on the Internet to find what they need. That's why digital advertising is a trusted strategy for businesses across industries.
From Facebook to Google, you can advertise everywhere with our award-winning team. With more than 650 paid campaigns managed and proprietary software that's helped our clients earn a 20% lift in PPC performance, we're a trusted choice for digital advertising services.
A few examples of our online advertising services include:
Remarketing
Programmatic advertising
Social media advertising
Pay-per-click advertising
And more!
Learn more about our digital advertising services, below. Or, get in touch with our team now by contacting us online or calling us at 888-601-5359!
"WebFX's PPC service is light years ahead of the competition because of their intelligent, specialized and courteous account managers."
Director of Marketing
LIBERAL ARTS COLLEGE
What do WebFX clients say about our digital advertising services?
WebFX provides digital advertising services to clients in a variety of industries, from ecommerce to healthcare to manufacturing.
We know we have what it takes to provide solutions that earn our clients the best possible results. But don't take our word for it.
Check out our reviews and testimonials to hear what our clients have to say. Or, explore our portfolio, which features advertising case studies!
Good agencies have more than 50 testimonials.
Great agencies have more than 100 testimonials.
WebFX has over 1000+ glowing client testimonials.
See What Makes Us Stand out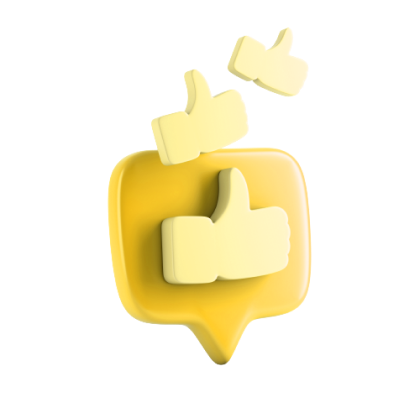 Bonus: 5 digital advertising tips
Now that you understand why digital advertising is so beneficial, let's take a look at five digital advertising tips you can implement today.
1. Set a budget and clear goals
Before you launch your digital local advertising campaigns, it's important to establish your budget and some clear goals that you want to accomplish.
What are you looking to gain from your online advertising? Do you want to increase awareness of your business? Attract more customers? Earn more revenue?
Setting clear goals will help to provide a roadmap for your digital advertising services. And you can continually revise your goals to keep moving your business forward.
In addition to setting goals, you'll also need to establish your digital advertising budget? Ultimately, this number is different for each business. But to get an idea of how much you should expect to pay for online advertising, check out this helpful post by WebFX.
Make sure that you're setting a realistic budget, and that your goals match up to what you can accomplish with the spend you have available.
2. Implement SEO on your site
Next, it's extremely important to implement search engine optimization, or SEO on your website.
SEO is the process of improving your website so that it ranks higher in search engine results, builds authority, and is beneficial to your consumers.
To start your SEO campaign, you should conduct keyword research to uncover the keywords and phrases people search online to find your business. Then, you can incorporate those terms in your title tags, meta descriptions, and content to address the topics that interest your target audience.
You should also be sure to have a clean HTML code for your site, and concentrate on building a strong backlink profile. Your code should be organized, clean, and easy for Google to read, so that it can easily rank your content.
A backlink profile refers to all of the websites that link to your website. Backlinks are important because they are a sign to Google that you are an authority in your field – especially if other high-authority websites link to yours.
It's also extremely important to optimize your site for mobile searchers since more than 60% of searches today take place on mobile devices. This means that if your site isn't optimized for mobile, you could be missing out on valuable traffic and revenue. WebFX offers responsive design services to ensure that your site looks great and performs well across a host of platforms including desktops, smartphones, and tablets.
If you need help creating a custom SEO strategy, WebFX has your back! Check out our SEO plans to learn more.
3. Incorporate consistent branding
In order to achieve success online, you also need to incorporate consistent branding across all of your digital strategies.
For example, including your company's logo and colors instantly alerts web searchers that they content they are viewing was created by your business.
Consistent branding can set you apart from competitors and increase awareness of your business online. Even if people don't purchase from you right away, great branding will help them to remember your business in the future when they need your products or services.
They may even recommend you to friends and family members who might be interested din your offerings.
4. Include clear calls to action
No matter whether you're advertising via email, social media, or content on your website, you need to include clear calls to action (CTAs) so that people know exactly what you want them to do next.
Want someone to subscribe to your blog? Download your latest marketing guide? Let them know!
Including CTAs in your digital ad campaigns can help you convert more customers and earn more revenue online. So what are you waiting for? Start incorporating custom CTAs today!
5. Evaluate and optimize your campaigns
Finally, it's important to continually monitor your digital campaigns and evaluate your results.
Using Google Analytics, you can keep track of your key performance indicators like website engagement, traffic sources, and conversion rates. You can also use Google Analytics to monitor leads and conversions from your email and social media campaigns.
When you choose WebFX as your digital advertising partner, you'll have access to MarketingCloudFX, the #1 ROI tracking platform in the industry. This proprietary software helps us deliver custom reporting so that you can easily monitor the success of your campaigns and know exactly where your money goes.
Evaluating your campaign results will allow you to tweak your strategies and adjust your marketing spend to get the most out of your digital advertising.
FAQs about digital advertising services
Looking to learn more about using digital advertising services for your business? Browse our FAQ:
What are digital advertising services?
Digital advertising services are services that advertise your business online, like through search engines and social media. Online advertising services can range from PPC to programmatic to social media. Most digital advertising services will include ad creation, ad management, and performance reporting.
How much do digital advertising services cost?
Prices for digital advertising services vary and depend on several factors, including your industry, ad network, and online ad agency. On average, digital advertising plans for businesses cost $1250 to $10,000 per month.
What are some examples of digital advertising services?
Some examples of digital advertising services include:
If you're managing your digital ad strategy with an agency, your agency should provide recommendations guided by your goals. For example, your digital ad company might recommend using geofencing ads for recruitment vs. PPC ads.
Learn more about digital advertising services from WebFX
Interested in learning more about how digital advertising service plans from WebFX can help your business reach more customers and earn more revenue online?
Browse our different online advertising services, and contact us today to speak with a strategist.
We're excited to work with you!