SEO Pricing: How Much Does SEO Cost in 2023?
SEO pricing varies and depends on factors like the SEO plan, service provider, and more. Most SEO projects in 2023 cost between $1500-$5,000 per month based on the project scope. A one-time project will range between $5,000-$30,000 and hourly rates for consultants fall between $100-$300 per hour.
Silver Plan
$2,500 / month
150 keyphrases optimized

30 pages optimized

6 content, outreach, UX, or CRO assets per quarter

8 custom dashboards

Phone call, lead, and revenue tracking dashboard
200 keyphrases optimized

40 pages optimized

12 content, outreach, UX, or CRO assets per quarter

8 custom dashboards

Phone call, lead, and revenue tracking dashboard
Diamond Plan
$8,000 / month
300 keyphrases optimized

60 pages optimized

24 content, outreach, UX, or CRO assets per quarter

10 custom dashboards

Phone call, lead, and revenue tracking dashboard
How much does the average SEO project cost?
While SEO is one of the most important types of digital marketing available to you, it is tough to estimate typical costs.
Given the wide range of campaigns, most SEO projects cost between $400 to $10,000 depending on level of service. These projects can range from working with an hourly consultant to hiring an agency for monthly SEO.

For perspective on this average, a small business with a 15-page website will typically be on the lower end of the spectrum while an ecommerce store with 50,000+ products should plan on a larger budget for SEO.
What determines SEO pricing?
Several factors determine SEO pricing, including:
Agency, contractor, or consultant's experience
Agency, contractor, or consultant's location
SEO pricing model, like monthly or hourly
Business size, like startup or enterprise
Scale of SEO strategy
Status of existing SEO strategy, like your backlink profile's strength
SEO goals
And more
You'll often find that the more experienced SEO providers, from agencies to consultants, have higher search engine optimization prices. Similarly, an SEO strategy with a bigger scale, like an enterprise-level plan, will see higher SEO costs.
| PRICING MODEL | SEO COST |
| --- | --- |
| Monthly | $1500 – $5000 / month |
| Fixed price | $1500 – $25,000 / contract |
| Project-based or one-time | $5000 – $30,000 / project |
| Hourly | $100 – $300 / hour |
Depending on the SEO services you choose, the scope of your project, and the agency you work with, you can expect to pay anywhere from $400 to more than $30,000 for SEO services.
When it comes to SEO pricing, most agencies follow one of these payment models: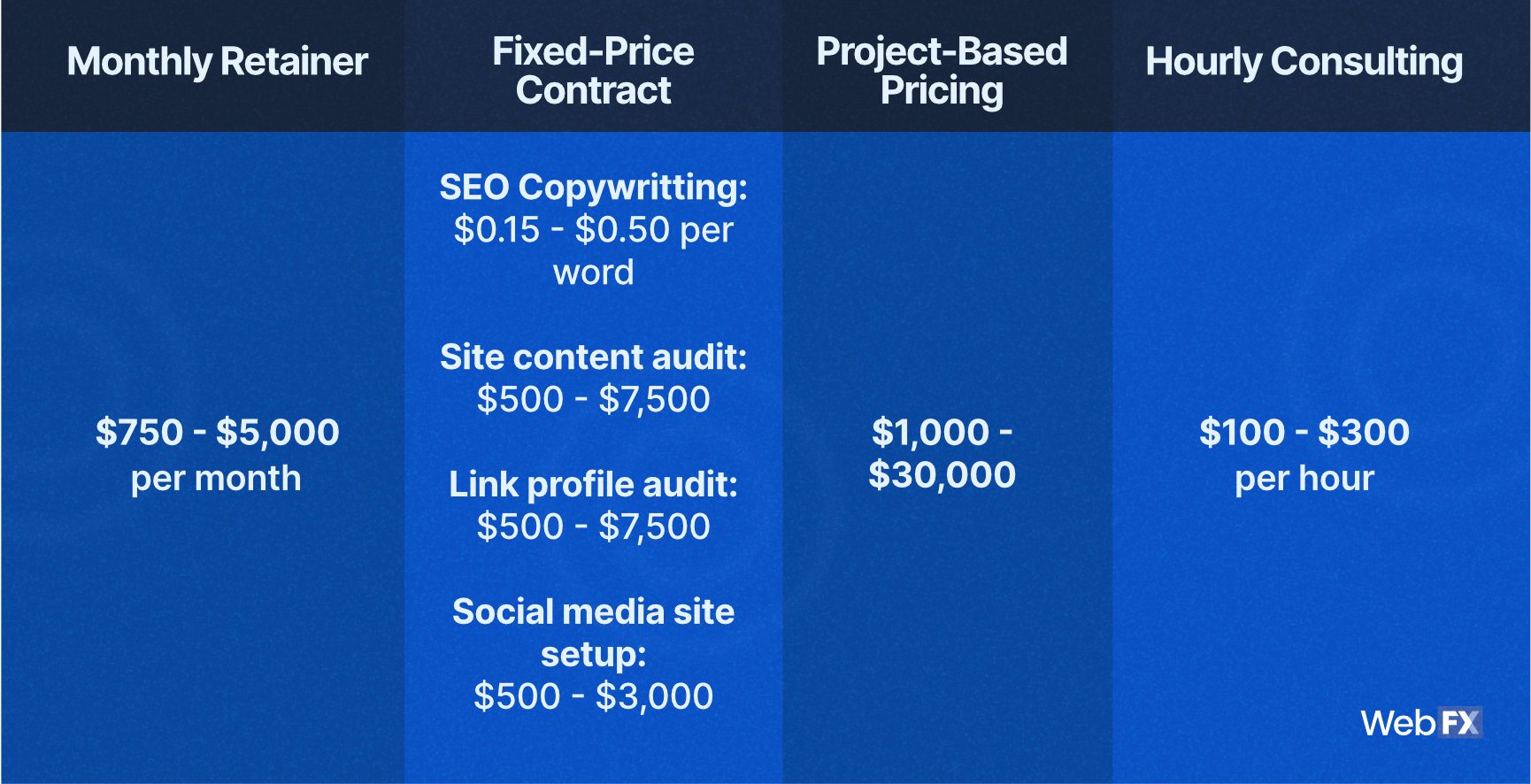 Monthly retainer
For the monthly retainer, clients will pay a monthly fee for selected SEO services. SEO costs for a monthly retainer plan range from $1500 to $5000 per month.
Fixed-price
The fixed-price contract services allow clients to sign a contract and pay a set fee for specific SEO services.
In most cases, fixed-price contract services will offer the following SEO services:
| SERVICE | AVERAGE COST |
| --- | --- |
| SEO copywriting | $0.15 to $0.50 word |
| SEO content audit | $500 to $7500 |
| Link profile audit | $500 to $7500 |
| Social media site setup | $500 to $3000 |
Project-based
Project-based pricing is similar to contract-based services, but it allows clients to pay a determined fee for custom SEO projects. Project-based SEO services can cost anywhere from $1000 to $30,000. The average cost for project-based SEO services, however, is $5000 to $30,000.
Hourly
Hourly consulting refers to a contract in which clients pay agencies an hourly fee in exchange for SEO services. Hourly SEO consulting fees range from $100 to $300 per hour.
A note about SEO pricing models
If SEO companies charge less than $750 per month for SEO services, you'll want to be careful. When it comes to SEO, you often get what you pay for with regards to results. Agencies that offer <a href="https://www.webfx.com/seo/learn/cheap-seo-services/">"cheap" SEO services</a> often lack the resources and experience to help you earn the highest possible ROI.
It's also important to remember that no matter what plan you choose, SEO takes time — you won't see results overnight. That being said, SEO is extremely valuable, and it will position your business for long-term success.
You can rest assured that you'll earn an impressive ROI for SEO services when working with <a href="https://www.webfx.com/">a top digital marketing agency like WebFX</a>.
SEO costs by business size
Curious how much SEO costs based on company size? Check out this breakdown:
| BUSINESS SIZE | SEO COST |
| --- | --- |
| Startup | $750 – $1,500 |
| Small Business | $1,500 – $3,500 |
| Mid-Sized Business | $1,500 – $5,000 |
| Enterprise | $5,000+ |
What do SEO services include?
What SEO services include depends on several factors, including the service frequency (like ongoing vs. one-time), the type of service (like local SEO vs. ecommerce SEO), and the service provider (like a consultant vs. an agency).
SEO Service
Typical Deliverables
Average Cost
Monthly SEO

SEO audit
Analytics setup
Routine reporting
Keyword research
Keyword integration
On-page optimizations
Off-page optimizations
Technical optimizations
Content creation

$1500 – $5,000 per month
SEO Consulting

SEO audit
SEO recommendations
SEO implementation (if permission given)
Routine reporting

$100 – $300 per hour
Project-Based SEO

SEO audit
Project-specific optimizations
Routine reporting

$5,000 – $30,000 per project
Your SEO questions, answered.
What do monthly SEO services include?
Typically, monthly SEO services will include:
What do SEO consulting services include?
Meanwhile, SEO consulting services will include:
What do project-based SEO services include?
In comparison, project-based SEO services will include:
How much should you spend on SEO services?
How much you spend on SEO services will depend on the size of your business and the extent of services you require.
The amount you pay for SEO services will depend on the size of your business and the extent of services you require.
While SEO costs vary from agency to agency, it's important to remember that you often get what you pay for when it comes to SEO services.
When choosing an SEO agency, don't compromise quality for "cheap" SEO services. Instead, choose a top SEO agency that offers quality SEO services.
Like many other professional services industries, ongoing consultation with an industry leader in SEO will be more expensive than with an inexperienced and unproven firm.
In the end, your goals should determine precisely how much you should spend on SEO services.
The bigger your website, the more extensive the SEO project will be. This means you should expect to pay more for SEO services.
It's also important to remember that SEO is an ongoing strategy.
Instead of investing in one-time SEO strategies, you should think about a monthly SEO plan that will keep your site fresh and allow it to continually rank at the top of search results.
Is there a standard for SEO prices in 2023?
Unfortunately, there is no industry standard for average SEO prices.

This means any firm can claim they do SEO and charge whatever prices they desire. The burden is ultimately left to the consumer to determine a fair SEO price, especially if there is an ongoing charge for monthly SEO plans.
This fact only furthers the importance of understanding what you will get for your Internet marketing dollars. That way, you can conclude whether it's worth the investment based on the return you expect. Ultimately though, your decision should be based on the overall, long-term value of the SEO services included.
The huge variety of opportunities that SEO provides makes it more important to know how to price SEO.
What to look for when researching the cost of SEO
The cost of SEO varies depending on the scope of your project.
However, there are a few things to consider when researching the cost of SEO. As an authority in pricing SEO services, WebFX is qualified to educate you in what to seek out — and what a fair SEO service rate is — when comparing vendors, firms, or agencies.
SEO service rates are different everywhere, so learning what they reflect and how they could impact your business is critical to making the best choice for your business.
Learn the SEO provider's process
The process behind a strong SEO campaign include countless methods and strategies, and SEO is constantly being refined to meet the search engines' algorithm updates. You want to ensure that the SEO company you partner with is willing to adapt to the frequent changes search engines make to their algorithm. They should also take a proactive and forward-looking approach to best SEO practices.
Look for customizable SEO packages
Moreover, because each company is unique and should be treated as such, it is important to be vigilant.

Avoid companies that offer a "one size fits all" package, and beware of companies with search engine optimization service prices that are high and set in stone. We know you have unique needs, and that's why WebFX offers three different plans, and even has custom Internet marketing packages for when your needs just don't fit within the scope of our standard SEO plans.
WebFX has been in the business of SEO for many years and has some of the best Internet marketers in the business. With our history and expert team of SEO specialists, we've created a systematic approach to SEO pricing. We're experts when it comes to search engine marketing, and we know how much effort goes into a successful SEO campaign.
That means we also know the best price for SEO depending on a customer's needs.
Focus on full-service SEO solutions
As SEO expands to include other areas, like content marketing, conversion analysis, social media optimization, and other areas of digital marketing, it's become more advantageous for businesses to invest in full-service SEO solutions.
A full-service SEO solution provides everything your business needs for its SEO strategy.
If an agency doesn't offer everything you want to cover, they could be lagging in terms of service offerings or offering monthly SEO services that are lackluster. Every company should have SEO service pricing available for you and other potential clients to detail how they work — and if they don't, it's a good sign that you should find SEO packages prices somewhere else.
FAQs about SEO pricing
Learn more about SEO and SEO pricing with these FAQs:
What is SEO?

SEO, also called search engine optimization, refers to strategies that help improve your website's visibility in organic search results. These strategies include keyword research, content creation, and more.
Learn how we increased traffic by over 40%, and conversions by over 100% for an ecommerce client.
Read the Case Study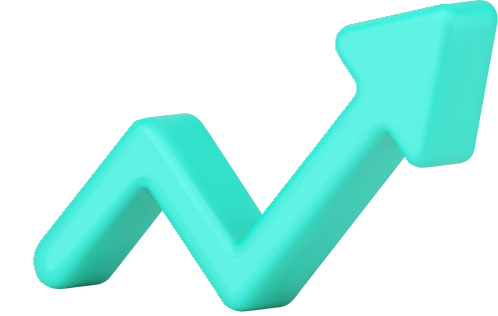 What are the most important SEO factors?
Here's a break down of some of the most important SEO factors to pay attention to if you want to increase your site's rankings in search results.
Add keywords to your URLs, page titles, meta descriptions, headings, and site content: When search bots crawl your site, they look for keywords to identify the topic of your content. This helps them display your site in relevant search results. Ultimately, when your site ranks higher in search results, more people can find and contact your business.
Optimize alt attributes: You will also want to add alt tags to your multimedia. Since search engines can't "read" multimedia elements, you need to include alt tags — text descriptions of your multimedia. This gives helps search engines better understand and index your multimedia content.
Update your content regularly: Site visitors and search engines alike love freshly updated, quality content. Keeping your site updated on a regular basis will keep visitors and search bots coming back for more. Regular site updates can also help you establish yourself as a leader in your industry.
Optimize technical site elements: You can also take some time to optimize technical elements of your site like your coding and page speed. Cleaning up your code and ensuring that your page loads at top speeds can boost your rankings in search results and encourage people to spend more time on your site This year, page speed will also become a major mobile search factor, so you need to ensure your site loads quickly across a number of devices.
Implement responsive design: In order to improve user-friendliness, you'll want to implement responsive design. With responsive design, you can ensure that your site looks great and performs well, no matter the device a visitor uses to access it. In other words, responsive design allows smartphone, desktop, and tablet users to have the same great experience on your site.
Streamline navigation: Search engines want to reward sites that provide great experiences for visitors. To make sure people can find the information they need on your site, you'll want to streamline your navigation. Instead of cluttering your navigation with links, only link to the most important pages. From there, you can link out to other pages deeper in your site.
Answer users' questions: You'll also want to make sure your site provides valuable answers to visitors' questions. You can do this by creating custom content. Be sure to conduct keyword research to discover trending topics in your industry, and publish fresh content to answer questions and improve users' experience on your site.
If you want to improve your rankings in search results for keywords related to your business, paying attention to and optimizing these SEO factors is a great place to start. However, keep in mind that SEO isn't a set-it-and-forget-it strategy. In other words, it takes some time to see results, but they're well worth the wait!
Why is SEO important?
Why do you want to rank at the top of search results? The answer is simple.
Since 75% of people don't look past the first page of first results. This means that if you want more customers to find and contact your business, you need to rank in top search results for keywords and phrases related to your business.

Research shows that the first page of organic search results has a 71% click through rate (CTR), while pages two and three have a combined CTR of only 6% — a drastic decline.
Moral of the story? The higher you rank in search results, the more people will find and visit your site. This means that you can reach more customers and earn more revenue for your business.
How much does SEO cost per month?
SEO costs $1500 to $5,000 per month. A few factors, like your SEO plan, service provider, and SEO strategy, can all impact your monthly SEO pricing. For the most accurate monthly pricing, request a custom quote.
How much does WebFX charge for SEO?
In 2023, our search optimization pricing is based on a variety of factors.
WebFX has broken down SEO pricing into a tiered chart for your convenience, but keep in mind that this SEO marketing pricing only pertains to us. There's no industry standard saying what a corporate SEO agency has to charge — but we think it's important to post our pricing SEO company pricing for everyone to see.
There are never any hidden fees with us.
We want you to know, up front, what you get with each one of our search engine optimization pricing plans. This will help you make a well-informed decision and know what to consider when comparing the value of any SEO services package.
Comparing an SEO package price with other services is an essential step in the purchasing process, and it can also help you choose the right SEO specialists for your business.
Where can I learn more about SEO pricing?
The following resources can help your business learn more about professional SEO pricing:
Ready to Grow? Get your FREE Quote Today!
"We measure our success by how much we WOW our clients."

Bill Craig
WebFX President
SEO Plans from WebFX
At WebFX, we offer standard, local, enterprise, and ecommerce SEO plans, all with various tiers to fit your needs and budget.
In addition to our SEO services, clients receive access to MarketingCloudFX — our proprietary, all-in-one software that combines lead tracking, advanced visitor targeting, call tracking, automated email marketing, and more. The best part? Our SEO plans and MarketingCloudFX features are designed to earn you the highest possible ROI for your campaigns.
To get an idea of how much you should expect to pay for our SEO services, check out the table below.
Features
Silver
Gold
Platinum
Diamond
Enterprise
Number of keyphrases optimized (Keyphrases with less than 1M results)
Up to 150
Up to 200
Up to 250
Up to 300
Custom
Pages Optimized
Up to 30
Up to 40
Up to 50
Up to 60
Custom
Technical Website Analysis & Opportunity Report
Custom
Keyword research & selection
Custom
Keyword mapping to target pages
Custom
Title Tags & Meta descriptions
Custom
Robots.txt optimization
Custom
XML sitemap creation & submission
Custom
Quarterly Earned Media Content Assets – Content, Linkbuilding, Consulting, or CRO Assets
6 Content, Outreach, UX, or CRO Assets
12 Content, Outreach, UX, or CRO Assets
15 Content, Outreach, UX, or CRO Assets
24 Content, Outreach, UX, or CRO Assets
Custom
Google Business Profile optimization (if needed)
Custom
Information architecture audit
Custom
Canonicalization analysis
Custom
Initial external link analysis and disavow
Custom
Link redirect audit
Custom
Internal linking restructuring & optimization
Custom
Duplicate content analysis
Custom
Header Tags Optimized (Ex. H1s)
Custom
Setup of website sitemap
Custom
Image optimization
Custom
Custom 404 error page setup and optimization
Custom
Schema Implementation (JSON-LD)
Custom
Google Analytics setup w/ conversion tracking
Custom
Google Analytics traffic analysis
Custom
Google Data Studio Reporting Dashboard Setup
8 dashboards
8 dashboards
10 dashboards
10 dashboards
Custom
Initial visitor profile report
Custom
Ongoing quarterly keyword ranking reporting
Custom
Ongoing monthly traffic, goal & CPL reporting
Custom
Ongoing user experience reporting (bounce rate, device category, etc.)
Custom
Ongoing quarterly competitor conquest reports
Custom
Keyword rank checker access with weekly updates (if requested)
Custom
Ability to check location data accuracy across 40+ local directories
Custom
A/B Testing of SERP title & description to improve clickthrough
Custom
Notification of new reviews (major review platforms)
Custom
CalltrackerFX access
Learn more
Leverages

Leverages

Leverages

Leverages

Custom
Analyze your leads to project the # of leads competitors receive on a monthly basis
Custom
Predict your and your competitors' market share on a monthly basis
Custom
Competitor intelligence login to view competitor data
Custom
LeadManagerFX access
Learn more
Leverages

Leverages

Leverages

Leverages

Custom
CompanyTrackerFX access
Learn more
Leverages

Leverages

Leverages

Leverages

Custom
ContentAnalyticsFX access
Learn more
Leverages

Leverages

Leverages

Leverages

Custom
Dedicated Internet Marketer
Custom
Online Project Management Platform
Custom
450+ SMEs behind campaign driving results
Custom
Website conversion analysis implementation
Custom
Custom
Custom
Custom
Custom
Initial campaign investment:(Two month duration)
$7,750
$12,750
$15,750
$18,750
Get Quote
Progressive monthly optimization:(6 month commitment – Subsequent 4 months)
$2,500
$5,000
$6,500
$8,000
Get Quote
GET STARTED
GET STARTED
GET STARTED
GET STARTED
GET STARTED
Why work with WebFX?
Why choose WebFX as your SEO agency? Here are a few of the advantages of working with our team.
Get a partner that's driven results for decades
First of all, we focus on driving meaningful results for the companies we work with. Over the last five years, we've generated over 7.8 million leads and $3 billion in revenue for our clients.
Receive a custom SEO strategy that adapts to change
When you work with us, we'll get to know you, your business, and your goals. We'll then create a custom strategy tailored to your business's unique needs.
Work with an SEO agency that has a 91% client retention rate
If you're wondering if WebFX is the right SEO company for you, you don't just have to take our word for it. You can explore our reviews on Clutch, our 1000+ testimonials, and our case studies.
Access industry-leading tech for measuring ROI
In addition to world-class digital marketing services, our clients get access to our industry-leading technology. MarketingCloudFX, our proprietary revenue acceleration platform, helps us use data to power up your campaigns, reporting, conversions, and more.
Save time with full-service, do-it-for-me plans
WebFX is a full-service digital marketing company, so we offer everything you need for a full digital marketing strategy. In addition to SEO, we offer web design, content marketing, pay-per-click (PPC) advertising management, and much more.
Unlock a dedicated team of SEO experts
With WebFX as your SEO agency, you'll work with a dedicated account manager, but you'll also get access to our team of more than 500 digital marketing experts. Our team includes subject matter experts in everything from technical SEO to web design to conversion rate optimization who will help make sure your campaigns are providing optimal results.
SEO campaigns that drive real results
Interested in learning more about how SEO can help grow your business?
WebFX is an award-winning SEO company with more than two decades of experience. We know what it takes to create SEO campaigns that drive results, and we work with clients in a number of industries.
Call 888-601-5359 or contact an expert to learn more about award-winning SEO services from WebFX.
We look forward to working with you!