Digital Marketing That Drives Revenue®
Data-driven revenue marketing
Choose WebFX as your digital marketing agency and propel your business to new heights with our award-winning digital marketing services and proprietary technology platform.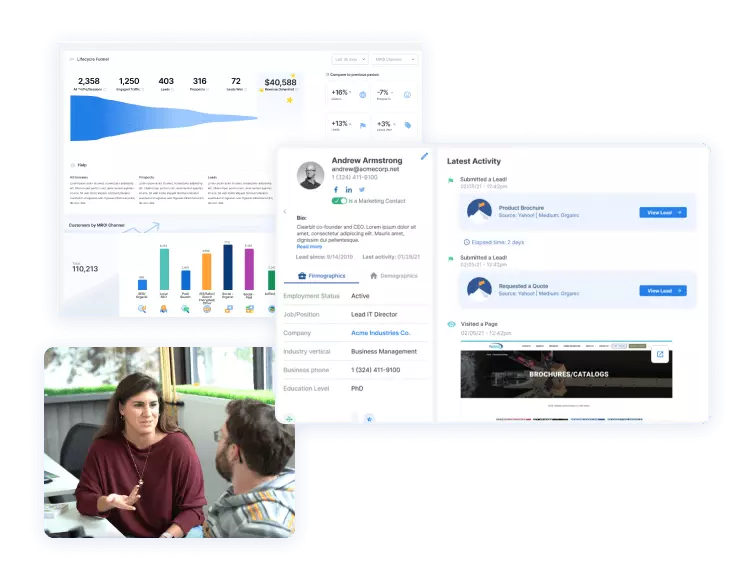 7,839,684
leads generated
500+
subject-matter
experts
5,239,028
calls generated
1,020+ REAL RESULTS:
👍 43% improvement in cost per lead | Industrial Supplier
🙌 "WebFX has been a game-changer for our web strategy." | U.S. Healthcare Company
📊 "They provide the reporting I need and the results I want." | Owner of Home Services Company
📈 51% increase in SQLs from MarketingCloudFX data pipelines | Transportation Manufacturer
🚗 184% increase in organic traffic | Financial Services Provider
📞 58% increase in qualified phone calls | Global Consulting Firm
🍃 "WebFX has been a breath of fresh air." | COO of Ecommerce Company
🙌 "We have had nothing but great experiences." | Marketing Manager
🔼 29% increase in MQLs from MarketingCloudFX ad technology | Financial Services Firm
💲 47% increase in year-over-year revenue | Industrial Supplier
🤝 "WebFX has been on our side for over a year, delivering each target we set in a competitive industry." | President of Ecommerce Store
📈 34% increase in PPC conversion rate | Higher Education
👍 55% improvement in cost per lead | Health Services Company
📩 2x increase in coupon conversion rate from email blasts | Professional Services Supplier
📝 11% increase in leads from blog content | Hospitality Company
Your search ends here.
Learn why businesses trust WebFX to power growth.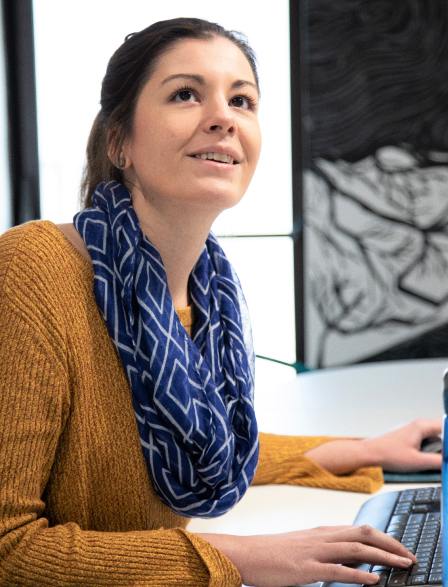 Our team has deep expertise across all areas of digital. Need a deep dive on how to set up event tracking for a complex lead process? Want to optimize your sales pipeline using automations? We've got you covered. With a dedicated account manager, our clients have one go-to contact who interfaces with 500+ subject-matter experts to drive campaign results.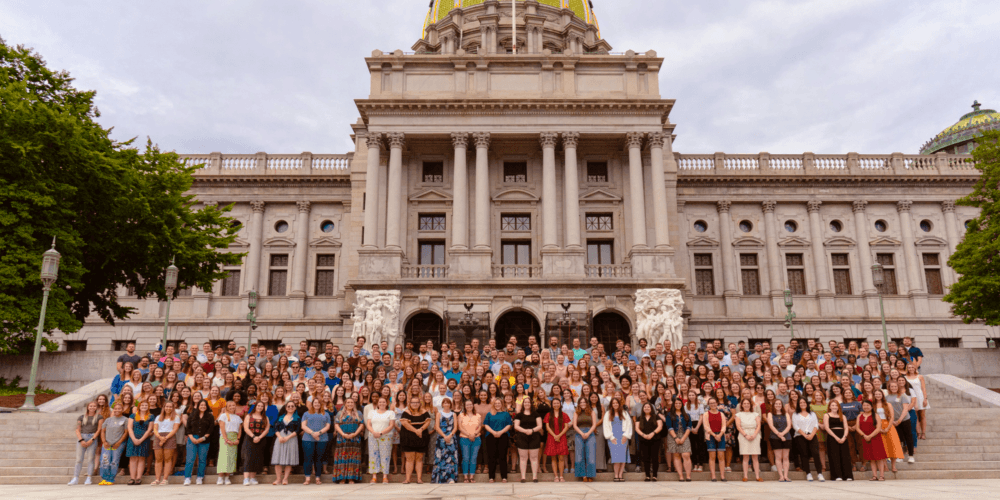 Our focus since inception has been simple: Drive meaningful results for our customers. That's why we obsess over measurement and the north star of revenue generation. We take pride in playing a key role in your business's growth.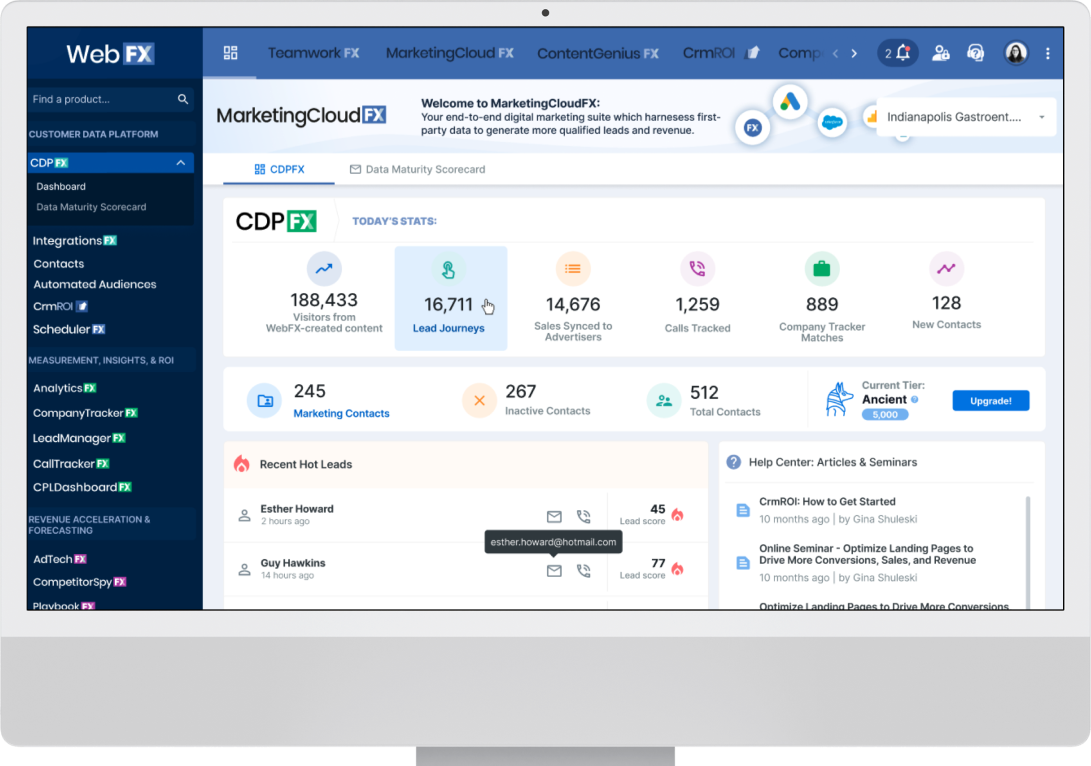 Technology is part of the WebFX DNA, and getting the best ROI from your marketing campaigns requires technical expertise. We built MarketingCloudFX to provide industry-leading revenue marketing software for our clients and team. We partner with Google Cloud and IBM Watson to maximize data insights for your campaigns. We even built Nutshell, our own CRM.
Challenge accepted.
WebFX solves your digital bottlenecks.
My website isn't getting enough traffic
Without consistent site traffic, you're missing out on valuable visitors, leads, and revenue. Thankfully, custom SEO solutions can get you back on track by boosting your presence in search engine results, so more people can find and visit your site.
Boost your presence in search results

Capture targeted site traffic 

Turn site visitors into leads and customers 
My CPL from digital ad campaigns is too high
Tired of wasting dollars on ad campaigns? Our paid ad experts can help streamline your bidding strategy and refine ad targeting, so you get the maximum impact from your ads.
Refine ad targeting

Engage your audience where they browse online

Maximize paid ad budget
My website isn't generating enough leads
Struggling to get qualified leads in your pipeline? Turn up the dial on your lead generation with digital marketing plans, tailored to your goals and budget. 
Fill up your lead pipeline

Reach your most valuable audience

Maximize conversion opportunities
My marketing and sales data is disconnected
Don't let leads slip through the cracks. Unify your sales and marketing efforts with Nutshell and MarketingCloudFX, to provide end-to-end reporting and analysis of your data.
Unify sales and marketing data

Prioritize leads with data-backed insights 

Turn opportunities into closed deals
We're unable to hit our SQL and revenue goals
Not happy with lead and revenue numbers? Attract and close more SQLs and watch sales soar with personalized revenue marketing.
Power up qualified leads 

Keep your sales team busy

Drive more revenue from online marketing
Managing digital campaigns takes too much time
We get it — managing and optimizing digital campaigns takes a lot of work. Our comprehensive, do-it-for-me services save you time and money, so you can focus on what you do best — running your business.
Save time and money

Automate campaigns for smarter marketing

Harness the power of 500+ industry-certified professionals
By the numbers
Our best-in-class digital marketing agency impresses customers with impactful results and wows them with stellar customer service.
World-Class Technology Powering Our Campaigns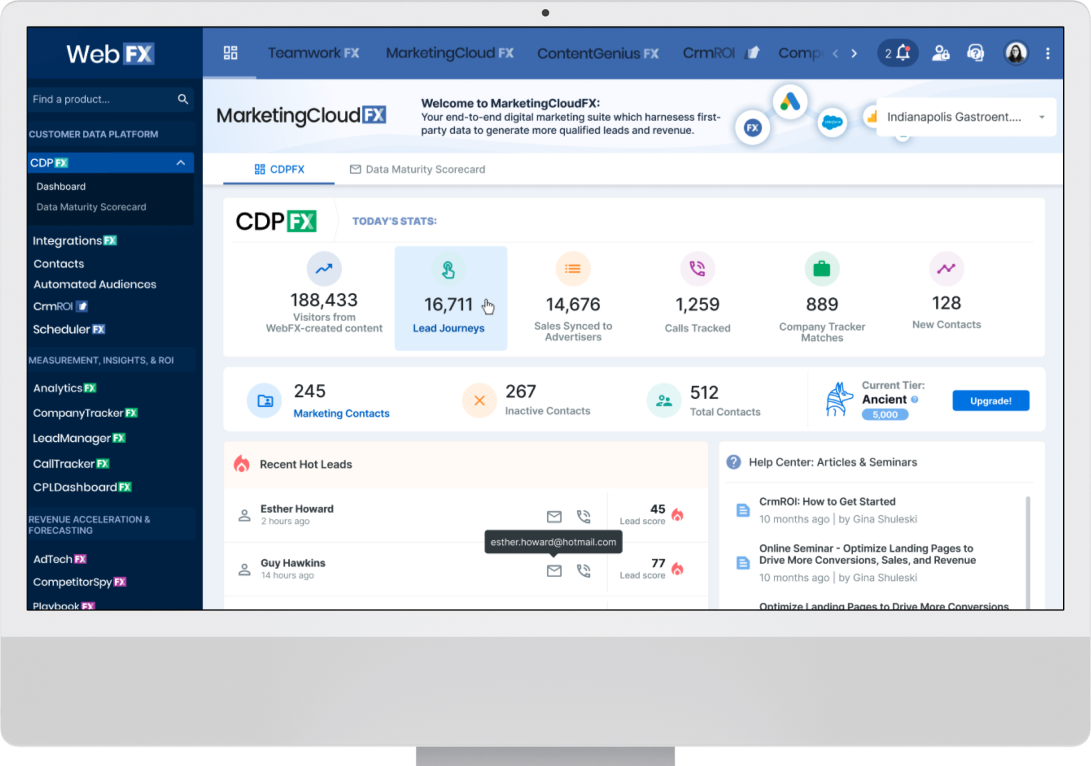 Our clients achieve tangible results because of our winning combo — expert digital marketers and insights from our technology platform, MarketingCloudFX. WebFX has engineered a custom-built software platform designed to help clients make smarter marketing decisions using tools like IBM Watson and Google Cloud Platform. Get real-time analysis on how your website is performing, what your pipeline looks like, what your competitors are up to, and what opportunities exist in your industry.
How We Drive Revenue
Looking to power up your digital strategy? WebFX offers a wide range of digital marketing services that work together to attract, delight, and convert leads. Toss in our proprietary tech-powered suite of tools, and your campaign is unbeatable.
Drive Website Traffic
Create & manage powerful ad campaigns
Collect, analyze and deploy marketing data
Improve brand messaging and conversion
Driving Digital Revenue For Our
1000+ Satisfied Customers
Empowering your business with actual results