Capture More Revenue From Search With the Best Local SEO Services
Drive more revenue in 2023 with WebFX's local SEO services. You'll reach (and convert) more people in your service area with customizable local SEO plans that include citation management, ROI tracking, AI and machine learning insights, and more. Request your proposal now to receive a flight plan, pricing, and strategy!
WebFX Local SEO Services Pricing
How many locations do you want to optimize?
Input your desired number of locations below to see a monthly pricing estimate.
"Working with WebFX has been wonderful. They are quick to respond to any question that I have and are eager to implement things quickly. WebFX listens to my comments regarding our business strategies and offers quality advice. I highly recommend WebFX to anyone wanting to experience how to effectively increase your local ranking when it comes organic searches on the web."
Outside Sales and Marketing
GRANITE SUPPLIER IN PA
Explore local SEO packages — or build your own
Learn what our fully-managed local SEO packages include below.
If you're looking for a custom plan, contact us online to build your plan with one of our experienced strategists!
| Features Included For Every Location | |
| --- | --- |
| Award-Winning Agency Expertise | |
| Dedicated local SEO expert | |
| Access to WebFX agency representatives (Google, Bing SMB, Facebook) | |
| On-Page Local SEO | |
| Local keyword research for 5 products or services | |
| Titles and meta descriptions (for 5 keywords per location) | |
| Address added to current website page(s) (if applicable) | |
| Quarterly SEO copy or GMB posts with locally-optimized terms | |
| hCard microformat/schema HTML tags addition to address on website | |
| Citation Management | |
| Automatic citation claiming and management across our in-network citations, including: | |
| – Google Business Profile | |
| – Bing | |
| – Apple Maps | |
| – Facebook | |
| Google Business Profile setup/optimization | |
| Google Business Profile address matching | |
| Facebook business page review | |
| Facebook check-ins/verification of location | |
| Glassdoor verification/setup of location | |
| CitySearch local optimization | |
| Setup of citation software and import of citation information for every location, including: | |
| – Business details and description (SEO Optimized) | |
| – Business name, logo, and cover image | |
| – Hours of operation, phone number, website, address | |
| – Payment methods | |
| – Social media links | |
| – 4 supporting business images uploaded (images provided by client) | |
| Active citation data management on 40+ local business websites | |
| Updates by WebFX team to location citation information as needed | |
| Reporting on citations built per location | |
| Review Management | |
| Notifications for reviews/social interactions across all tracked profiles | |
| Positive reviews can be automatically added to your website | |
| Custom Reporting | |
| Monthly reporting calls | |
| Monthly local SEO reports, including: | |
| – Profile views | |
| – Website visits from local profiles | |
| – Phone calls | |
| – Direction requests | |
| – Monthly reporting of local rankings | |
| – Rising and declining keywords | |
| – Google local rankings | |
| – Google organic rankings | |
| – Bing/Yahoo search rankings | |
| Wrap-up report with data for all locations | |
| Need more information? Call Us: 888-601-5359 | GET STARTED |
Explore self-managed local SEO plans
Manage key local listing citations in-house automatically with our self-managed local SEO plans:
| Number of Locations | |
| --- | --- |
| 5-25 Locations: (minimum 5 required) | $50 per location |
| 26-100 Locations | $42.50 per location |
| 101-150 Locations: | $40 per location |
| 151-200 Locations: | $37.50 per location |
| 201-300 Locations | $35 per location |
| 301-400 Locations | $32.50 per location |
| 401-600 Locations | $30 per location |
| 601-800 Locations: | $27.50 per location |
| 801-1000 Locations: | $25 per location |
| 1000+ Locations: | Custom |
| Local Profile Creation: (Normally for new locations) Includes up to 3 profiles, per location. (GMB, Yelp, Facebook) | $100 per location |
| Keyword Research & Syncing Google/Facebook & Yelp account | |
| Keyword Research: up to 25 locations (up to 20 hours) | $2,000 |
| Keyword Research: 26 to 50 locations (up to 35 hours) | $3,500 |
| Keyword Research: 51 to 75 locations (up to 50 hours) | $5,000 |
| Keyword Research: 76+ locations | Custom Quote |
| Have more than 1,000 locations? Call Us: 888-601-5359 | GET STARTED |
Client-managed local SEO is a great option for you if:
You currently have a local SEO campaign and are interested in taking it over on your own
You're just getting started with local SEO, but you have experience with the strategy
You're not interested in hiring an agency full-time to manage your local SEO
You want complete control of your campaign
WebFX offers client-managed local SEO services for any number of locations, and you'll be able to manage extensive parts of your campaign on your own. You'll also have access to our proprietary software, LocalFX. Got questions about our self-managed local SEO packages? Call us at 888-601-5359!
FAQs about local SEO
If you're looking to learn the basics of local search before investing in local search engine optimization services, browse these FAQs:
What is local search engine optimization?
Local search engine optimization (SEO) is the process of optimizing your online presence, from your website to online business profiles, to appear higher in relevant local search results, like "west hollywood plumber" for a plumbing company that serves West Hollywood, CA.
What is the difference between local SEO and traditional SEO?
There are a few differences between local SEO and traditional SEO, including:
Search intent: Local SEO focuses on searches with a localized intent, like "bakery near me," while traditional SEO focuses on non-localized searches, like "productivity app." Typically, businesses providing in-person services will use local SEO.
Tactics: Local SEO and traditional SEO also use different tactics. For example, almost all local SEO strategies will claim and optimize citation listings, like Google Business Profile, because of their impact on local rankings.
In most cases, companies will invest in both traditional SEO and local SEO because they drive revenue.
Why is local search engine optimization important?
Local search engine optimization is important for a few reasons, including:
Relevancy: Searches including "near me"have increased by two times over the past year. That means that more people are looking for an easier way to find businesses close to them online. With local SEO, you can reach users at a critical moment.
Conversion rate: An impressive 80% of local searches convert, which makes appearing in relevant local searches even more important. Increasing your visibility could transform your business, helping your organization expand its service area, teams, and community impact.
Tracking: You can also measure local SEO's impact by tracking visits, phone calls, and more. With WebFX's local SEO services, you can also track local SEO's bottom-line impact, attributing which in-store sales and leads closed because of local search.
With local SEO, you can improve critical metrics for your business, like:
In-store visits
Sales
Leads
And more
What are local SEO ranking factors?
Multiple local SEO ranking factors influence your rankings, including:
User experience
Backlinks
Keywords
Google Business Profile
Reviews
Proximity
Optimizing your company's website, plus local listings (like Google Business Profile) for local search rankings, takes time and skill. If you're like most businesses, you have a packed schedule, which can mean a neglected local SEO strategy. That's why organizations invest in local SEO optimization services.
How do you do local SEO?
When it comes to how to do local SEO, you'll need to focus on these seven local SEO strategies. If you opt for local SEO services from WebFX, we can handle all of these steps for you!
1. Optimize your Google Business Profile listing
Hallmarks of local search, Google Business Profile listings contain key information about businesses — and they appear when people search companies near them. For example, a quick search for "best pizza shop near me" yields the following results.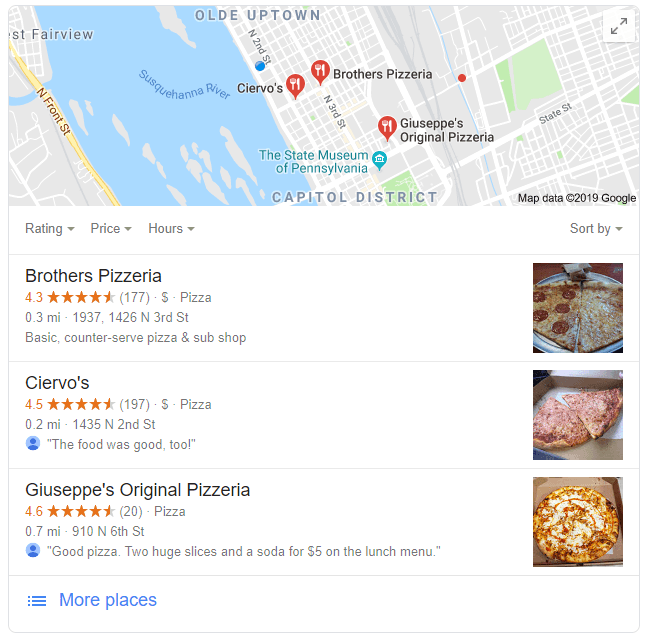 The listings at the top of search results make up Google's local SEO 3-pack. Searchers can see the locations of these pizza shops on the above map, and clicking the results displays the restaurants' Google Business Profile listings.
These listings contain key information like a company's address, hours, website, phone number, and even images.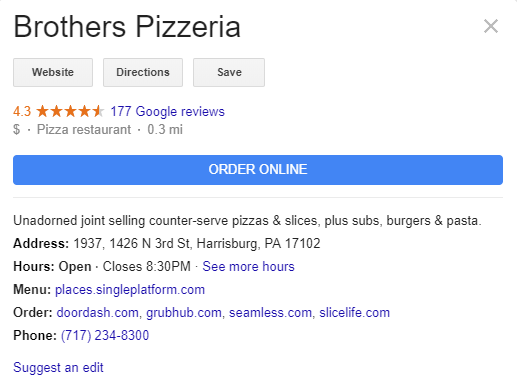 If you want your business to appear in Google's local SEO 3-pack, at the top of results, you need to claim and optimize your Google Business Profile listing. You'll also want to keep your business name, address, and phone number (NAP) information consistent across your online listings to improve your chances of earning a top spot in results.
For more information on how you can optimize your Google Business Profile listing, check out our helpful blog post.
2. Build local citations
In addition to claiming your Google Business Profile listing, you'll also want to build local citations.
These citations contain information like your company's name, address, phone number, and website.
Citation building campaigns can help you earn local listings on sites like Bing, Yelp, Foursquare, Facebook, Apple Maps, TripAdvisor, and more.
Sites like BrightLocal can help you get started building citations, and local business SEO services from companies like WebFX can ensure your citations are updated and driving relevant traffic to your website.
3. Target keywords
To rank at the top of local search results, you'll also need to target local keywords on your website and in your site content.
Let's look at an example.
If a dental practice in the Harrisburg area wants to rank in more local search results, they could optimize their page titles, meta descriptions, and site copy to include the keywords "Top Harrisburg Dentist" or "Award-winning Harrisburg Dentistry."
In addition, the practice may consider creating some location-specific pages on their site. For instance, they could create a page for "Harrisburg Dental Services," and highlight various dental services they offer to Harrisburg residents.
Targeting location-based keywords can help your business appear in more local searches so people in your area can find and contact you.
4. Monitor ratings and reviews
For local businesses, it's crucial to monitor and respond to online reviews.
Ratings and reviews can appear on your website, as well as third-party sites like Google Business Profile, Yelp, and Facebook. Positive or negative, it's important that you reply to all reviews to show customers you take their needs seriously.
People look at reviews before visiting local businesses, so keeping your reviews updated and responding to questions and comments will encourage more people to visit your business.
Worried about putting in the time to manage your business reviews? WebFX offers online review management services to keep your digital presence in tip-top shape.
5. Build links
Earning backlinks from other reputable, local businesses can also help to boost your local search rankings.
How do you earn links?
Start by creating valuable content that targets local keywords related to your business. If other sites like what they see, they can link back to your site in their content.
Search engines like Google consider both the number and quality of backlinks when ranking sites, so it's important to have a strong backlink profile, complete with links from authority businesses in the local area.
6. Analyze user experience
It's also essential to provide a great user experience (UX) on your site if you want to attract more local traffic.
If your website doesn't provide a positive UX, visitors will waste no time hitting the back button — and your bounce rate will soar. High bounce rates signal a poor user experience, and search engines won't rank your site highly if it provides a less-than-desirable UX.
Here are a few quick fixes for improving your site's UX:
Streamline your navigation and internal linking to make it easy for visitors to find the information they need.
Speed up your site with page speed optimization services.
Include visual and interactive elements to engage users.
7. Implement mobile responsive design
The final local SEO technique you'll want to invest in is making your site mobile responsive.
More than half of online searches — nearly 60 percent — occur from mobile devices. Oftentimes, searchers need information while on-the-go, especially when it comes to finding local businesses.
The on-the-go-nature of mobile usage makes it crucial for local businesses to adopt mobile responsive site designs. When your site is responsive, it will look great and perform well, no matter the device someone uses to access it — a desktop computer, mobile device, or tablet.
Not sure if your site is mobile-friendly? Check out Google's Mobile-Friendly test tool, and take it for a spin.
If you're not happy with the results, don't worry. WebFX offers mobile responsive design services to help you improve UX and rank higher in local search results.
How do WebFX's local SEO services drive revenue?
When it comes to local search, you're looking to drive more than traffic — you're looking to drive revenue. That's why our local SEO services use strategies that deliver the bottom-line results your business demands.
Here is how your dedicated WebFX team will turn local search into a revenue driver for your company:
Scale your local SEO strategy
Focus your keyword targeting on high-converting keywords
Activate your website's first-party data
Sync your local SEO strategy with your overall strategy
FAQs about local SEO services
Looking to learn more about local SEO services? Browse our FAQ:
What are local SEO services?
Local SEO services are digital marketing services that help businesses appear in search results for location-related searches, such as for users in close proximity to the business. For example, local SEO can help a pizza shop rank for the search query "pizza near me" in searches by nearby users.
How much do local SEO services cost?
What businesses should use local SEO services?
If your business operates locally, regionally, nationally, or globally, you should use local SEO services. Why? Because local search helps users find a reputable business in their area, whether they're looking for a bakery in their city, a vacation spot in their state, or an accounting firm in their country.
How do I choose a local SEO service provider?
If you're looking to invest in local SEO optimization services, here are some tips for finding a provider:
Read reviews: Reviews provide social proof and preview what it's like working with that local SEO company. So, see what past and present clients say. No company is perfect, but if you notice a trend, re-consider contacting the agency about their local SEO services.
Get transparent pricing: Local SEO agencies vary, with some offering pre-built local SEO packages and others custom solutions. Either way, these agencies should provide transparent prices for their services before signing with them. If they don't, continue your search.
Investigate rankings: Many companies test new strategies and refine tactics using their own website. So, see how these agencies rank in localized searches and check if their Google Business Profile follows best practices.
For more tips, check out our guide on how to hire an SEO expert!
What does a local SEO company do?
A local SEO company like WebFX works to improve your business's online presence in relevant, localized search results. WebFX, for example, uses on-page local SEO and citation management, plus our industry-leading team and revenue marketing tech to improve your presence and revenue from search.
Accelerate your revenue from local search with WebFX's local SEO solutions
From in-store visits that lead to purchases to phone calls that result in sales, WebFX delivers local SEO solutions that grow your bottom line. With our customizable plans, industry-leading team, and proprietary tech, your company can expand its service area, revenue, and market share.
Get started today by requesting a custom proposal, which will provide your team with a flight plan, strategy, and pricing. If you'd like to chat now, give us a ring at 888-601-5359 to speak with a strategist about your business and local SEO needs!