If your equipment rental company isn't using social media, you're missing out on an excellent opportunity to connect with your customers and prospects. Social media is where your audience spends their time — even site managers and construction contractors.
To connect with them on their favorite platforms, you'll need to invest in social media marketing, but doing so requires a deft hand. This guide will help you learn how to use social media for equipment rentals to drive results.
Keep reading for a step-by-step process you can follow, plus some bonus tips that'll elevate your social media strategy!
Want more social media tips like these? Check out our blog post on how to increase your social media engagement!
Not happy with your social media engagement?
We've got just the blog post for you.
Read the Blog Post & Watch the Video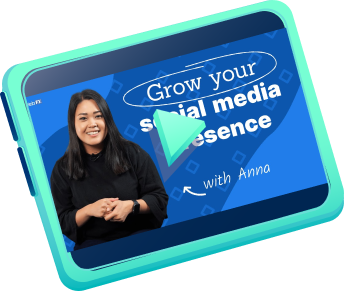 Why you should use social media for equipment rentals
When used as a strategic piece of a larger digital marketing strategy, social media can help grow your business and generate more equipment rental leads. The most notable benefits of social media for equipment rentals include:
Marketing where your audience is
How often do you check your social media? If you check it at least once a day, you're not alone. For 86% of users, checking social media is a daily activity, with 72% of users checking it multiple times a day.
When you choose your platforms according to how well they align with your target audience, you market your business where your target audience spends their time.
Building relationships and trust
Compared to other digital marketing channels, social media is the most conversational. You can build relationships with your audience by consistently communicating with your followers and engaging in the community.
These relationships help cement your brand in your followers' memory, making them more likely to rent from you when the time comes.
Growing brand awareness
When you post consistently on social media, you get your brand name out there for more of your target audience to see.
This promotion creates invaluable brand awareness opportunities, which helps prospects recognize you when your website appears in their search results or elsewhere online.
Promoting your other digital marketing channels
Similarly, social media allows you to promote your website and other digital marketing channels. If you're offering a new piece of equipment for rent on your website, promote it on social media! Created a new blog post? Share it on social media!
How to use social media for equipment rentals
Those benefits sound fantastic, don't they? If you're ready to leverage them for your equipment rental company but are unsure where to start, you've come to the right place!
Watch the video and follow these seven steps for a sure-to-win social media strategy for equipment rental companies:
1. Establish your goals
A successful social media strategy for equipment rental companies begins with robust goal-setting. Your goals guide the content you create, the metrics you measure, and how social media contributes to your larger digital marketing plan.
Some potential goals you might set for your equipment rental social media include:
These goals lean into the strengths of social media, helping you set realistic expectations for how your social platforms can contribute to your marketing strategy.
2. Define your target audience
Once you know what you hope to accomplish through social media marketing, you'll need to define your target audience. Along with your goals, your target audience forms the foundation for the rest of your social media strategy.
The platforms you post on, the content you create, and how you engage with your community depend on your target audience.
You might already know who your target audience is. If you rent construction equipment, you might target contractors and site managers. However, you can drill deeper than that. Do you want to target a specific niche within the construction industry?
You can choose multiple target segments, but the more specific you get, the more effective your social media strategy will be.
3. Choose your platforms
With your business goals and target audience in mind, it's time to choose which social media platforms make the most sense for your business. Look into the demographics of each platform to determine which most closely aligns with your target audience.
You'll also want to consider the types of posts and engagement most common on the platforms. These factors will help you determine whether the platform aligns with your capabilities and business goals.
While the right social platforms vary business to business, you want to ensure you only choose the platforms you can realistically maintain. Social media is all about consistency, so it's better to be on two platforms regularly than to post on five sporadically.
4. Create share-worthy content
Now that you've set a strong foundation, it's time for the fun to begin! Create your posts based on your target audience and the types of content most popular on your chosen platform.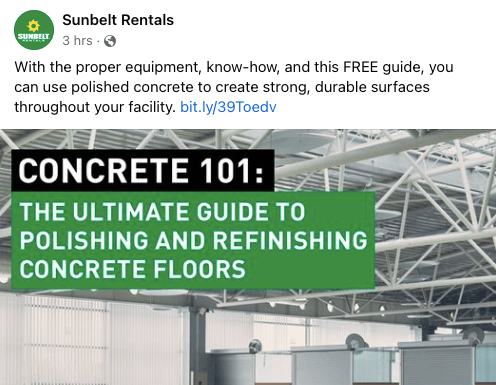 Get creative, and feel free to experiment with different post formats. Maybe you'll post factual information about skid steers on LinkedIn, but on Instagram, you could create a funny video about skid steers that leverages trending audio on Reels.
Think about your target audience and what they'd like to see. Every post should bring value to your audience, but you can add value in various ways. For example, the LinkedIn post is valuable because it's educational, while the Instagram Reel is valuable because it's entertaining.
Regardless of which type of value you create, think about the content your target audience likes to share and engage with on each platform. Does your audience share more informative content? Funny posts? Newsworthy articles?
The more engagement your posts receive, the more likely you will reach your social media goals.
5. Share and interact with others' content
While creating valuable content is vital, don't forget to interact with others' content. Social media prioritizes two-way engagement, and your audience will appreciate seeing you interact with other industry leaders.
By sharing other industry-relevant content, you build beneficial relationships with other companies and show your audience valuable posts they might not have seen otherwise.
For example, you could interact with and share posts from construction equipment manufacturers. These posts can provide valuable information for your followers, and your interactions will help you build relationships with potential business partners.
6. Schedule your posts
Between creating valuable content and interacting with your community, managing your equipment rental social media campaign is a time-consuming job. Because consistency matters so much on social media, consider scheduling your posts to ensure you don't fall behind on posting.
Tools like Hootsuite and Buffer allow you to create and schedule posts across various platforms. Not only will these tools help you stay consistent, but they make it far easier for you to organize your content across your social media platforms.
7. Measure and adjust your social media strategy
As you start posting, track the social media metrics that matter most to your goals. For example, you might track metrics like comments, shares, saves, and clicks if you want to increase engagement.
Tracking the appropriate metrics helps you gauge your social media performance so you can adjust your approach as needed. If you notice text-based posts don't generate the engagement you hoped, but your video posts receive many comments and shares, you might want to pivot to a more video-heavy strategy.
Social media tips for equipment rentals
While sticking to these steps will set your equipment rental company up for success, you can also follow these social media tips for equipment rentals to further elevate your strategy:
Measure strategically (go beyond vanity metrics)
Focus on relationship-building
Experiment with different content types
Integrate your social media strategy with your other digital marketing tactics
Respond to comments, mentions, and DMs
When you follow these tips and approach social media with a data-driven mindset, you'll see phenomenal results from your social media marketing.
74% of people use social media when making a purchasing decision.
Make their decision easy with a stellar social media presence. See how your brand can level up by requesting a no-obligation proposal today.
One of our experts will be in touch within 24 hours!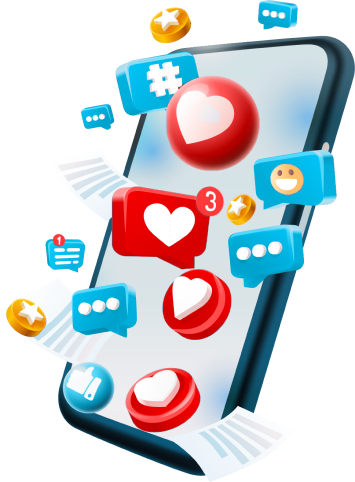 Partner with a do-it-for-me social media agency to take the burden off your shoulders
While this guide will help you craft a results-driving social media strategy, the steps still involve a significant time investment. If you'd rather spend your time running your business and interacting with customers, partner with a social media agency like WebFX to handle the social media for you.
Our team of 500+ digital marketing experts have created over 165,000 social posts for our clients. Our strategies have generated over 7.8 million leads and $3 billion in revenue for our clients, and we want you to be next.
To learn more about our social media services for equipment rentals, call us at 888-601-5359 or request a free proposal online today!
Earn a 20% greater ROI with WebFX