Digital marketing — promoting a business, product, or service using online channels and electronic devices — is increasingly important in today's world.
Digital ad spend surpassed traditional in 2019, 91% of companies use social media, and Google processes over 3.5 billion searches per day.
Nearly every business can benefit from a strong online presence and a results-driven digital marketing strategy.
Whether you're just starting out with Internet marketing or you're years into using it to promote your business, we want to help you get the information you need to succeed.
So, we've put together these free digital marketing resources. Browse through the articles listed below or click on the category that interests you most!
What is digital marketing?
Digital marketing, also called online marketing, uses online channels, electronic devices, and digital technologies to promote a business, person, product, or service to an online audience.
Digital marketing consists of strategies such as search engine optimization (SEO), content marketing, pay-per-click (PPC) advertising, social media advertising, social media marketing, email marketing, and web design. Marketing via these channels is valuable for building brand awareness, generating website traffic, attracting qualified leads, nurturing leads, driving sales, reducing customer churn, and improving overall customer satisfaction.
Why use digital marketing?
Digital marketing is one of the fastest-growing marketing strategies in the world and has been for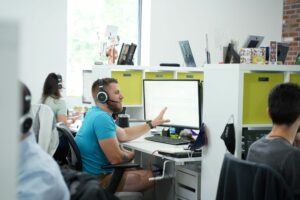 years. According to Forrester, companies will soon invest more than $140 billion per year in digital marketing.
Online marketing is a powerful, cost-effective, and transparent marketing solution for every business as it is highly customizable for almost every budget and industry. With digital marketing, multiple strategies can work alongside each other and benefit each other. It allows advanced targeting and personalization options, accurate campaign tracking and measurement, and continuous campaign performance feedback.
Learn more about the benefits of digital marketing
Digital marketing channels and strategies
Digital marketing encompasses a wide range of strategies that use online channels and digital technologies. The most common digital marketing strategies include:
Creating a digital marketing plan
To grow your business and actively compete with your competitors in the 21st century, you need to have a strategic digital marketing plan. Here's how to create yours in six steps.
Define your brand: Define the ins and outs of your brand so you can start narrowing down your target audience.
Create buyer personas: Determine who your ideal customers are, where they spend their time online, and what their interests are.
Set your marketing goals: Outline what you want to achieve with your digital marketing strategy and how you plan to measure your progress.
Select your marketing methods: Now that you know who you will be targeting and what you need to achieve, choose the best platform to accomplish these goals.
Set your budget: Define your budget and how you will allocate it as part of your digital marketing strategy.
Measure results: Determine key performance indicators (KPIs) and set up methods for tracking your campaigns' success.
Digital marketing analytics
Digital marketing analytics is the practice of measuring, managing, and analyzing your marketing campaigns' performance.
Marketing analytics involves processes and technologies that allow you to analyze and improve your digital marketing campaigns. Tracking and analyzing your marketing is essential because it enables you to summarize your marketing efforts, demonstrate which strategies work, show trends over time, and plan better for the future.
Working with a digital marketing agency
What does a digital marketing agency do?
A digital marketing agency completes research, creates digital marketing strategies, implements these strategies, and tracks their results. They may offer services such as SEO, PPC, social media marketing, web design, and more. Full-service digital marketing agencies provide a full suite of services, while other types of agencies focus on one or two channels.
Why work with an online marketing agency?
Working with a digital marketing agency has many advantages as they have the experience, skills, and resources needed to create strategies that drive superior results. You can also get results much more quickly than if you had to do everything yourself. With this time savings, you can focus on other essential aspects of your business.
How to choose a digital marketing agency
When choosing a digital marketing agency, it is important to consider these nine questions:
Do they have positive online reviews?
Does the agency have client testimonials?
How does the agency's own online marketing strategy perform?
Does the agency have strong internal leadership?
What kind of internal culture does the agency have?
Is the agency growing or stalling?
Is the agency transparent in its pricing and reporting?
Does the agency have a positive attitude and good communication?
Does the agency deliver results and perform consistently?
Learn more about working with digital marketing agencies
Want to learn more about digital marketing?
Want to learn more about digital marketing from the WebFX team? Subscribe to our newsletter for the latest trends, marketing tips, digital marketing expertise, and more!