Whether it's your peak season or off-season, you want your hotel and resort buzzing with activity, from business travelers dining in the breakfast area to tourists soaking up the sun poolside. The competitiveness of the market, however, is turning that into a challenge for many hotels.
An underused tool in the hospitality and tourism industry is social media. By adopting social media for your hotel or resort, you can share, connect, and chat with frequent guests, routine vacationers, and passing-by professionals, plus emphasize why potential customers should choose your retreat.
With more than 25 years of expertise in performance-driven marketing strategies for hotel businesses, WebFX provides personalized hotel strategies to attract customers with a history of boosting revenue by 20 percent.
Start boosting your bookings by contacting one of our social media specialists today!
Not happy with your social media engagement?
We've got just the blog post for you.
Read the Blog Post & Watch the Video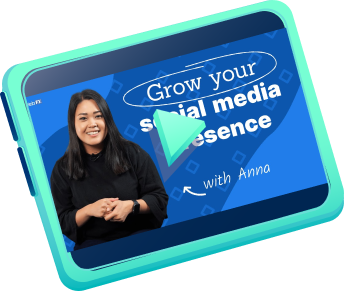 Why add social media marketing to your hotel's business strategy?
With more than a billion people on Facebook, plus 75 percent of Americans relying on it to shape their purchase decisions, social media is an essential tool for your digital marketing strategy, whether you're looking to increase your seasonal bookings or improve your loyalty program membership totals.
A few of the benefits of social media in the hospitality industry include:
More than 20 percent of users use social media to research hotels
More than 70 percent of users use social media to post pictures during and after their stays
More than 50 percent of users use social media posts from friends to inspire their trips
More than 50 percent of users like social media pages related to their travels
These statistics tie-in to the advantages of a social media strategy for hotels, which include:
Increase your visibility over competitors
Boost your engagement with followers
Establish your brand voice
Promote your unique selling points
Our social media specialists help you with obtaining those benefits. We learn about your brand to develop and launch a set of marketing strategies for your hotel or resort that resonates with audiences and keeps your rooms booked. Plus, you can monitor that success with real-time data and analytics.

Hear What It's Like to Work With WebFX!

"All of my interaction with our account manager has been so positive. I worried about the amount of money I was spending and she has made it worth my while. I understand there is a team behind her as well but I have been so impressed. Her responsiveness is outstanding."
Real Estate Rental
How to market a hotel with social media
When it comes to how to market your hotel, there are five features you want to focus on:
Set your marketing goals
As a digital marketing company for hotels, we live by this rule. A concise long-term goal, which you can break down into smaller goals, provides you with a roadmap of what benchmarks you want your social media presence, as well as revenue, in a month, a quarter, or a year to hit.
We'll also work with you one-on-one to define a realistic goal for your hotel's social media strategy. With our MarketingCloudFX software — the leading platform for tracking return on investment (ROI) — you can also see the leads our team drives for you, helping you reach your goal.
Find your target audience
In some instances, you may already know your target audience, and that's wonderful! Either way, it's essential to discover their social media retreats, whether it's Facebook, Instagram, or Pinterest. A lot of times, marketing strategies for hotels and resorts will focus on Facebook due to its popularity.
That doesn't mean you can't hop on Instagram or Pinterest to share photos and trip advice, though. It only means that you may want to focus more of your social media marketing efforts towards your target audience's preferred platform.
How do you find your audience's go-to hub online?
By creating a customer profile, as well as establishing the demographics of your audience. In most cases, your audience demographic will correlate with their preferred platform, while their profile will coordinate with the content you create.
If your audience consists mostly of women under the age of 35, for example, Instagram provides excellent access to that audience demographic. What if you're looking for an older audience, say 65 or older, though? Aim for Facebook.
For your reference, we have a great guide for targeting audiences online!
Promote your social media presence
Today, everyone's on the move. That's why providing a shout-out to your social media pages — especially if you're launching them for the first time — is critical. How can you share your online presence?
By adding social media buttons, links, or shout-outs in the following locations:
Your website
Your booking confirmation emails
Your print materials
You may also consider investing in advertising on your audience's preferred platform, like Facebook.
Engage your audience
A constant challenge for many hotels and resorts comes from the time commitment of social media. It's excellent to have a channel that's buzzing with activity, whether it's reviews, questions, or comments on posts. That's why the best hotel marketing campaigns allot time for engaging and responding to clients.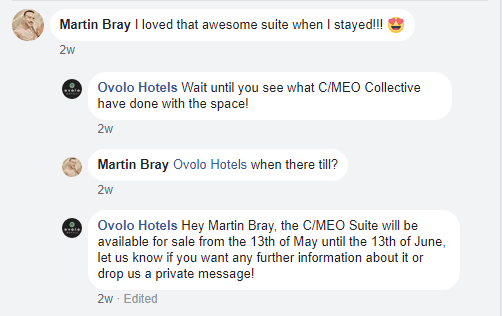 In many cases, that's not feasible for you or your team, which is where our hospitality digital marketing agency steps in to help. With minimal effort on your part, our social media specialists will make sure the marketing strategy for your hotel business not only does well, but also interacts well with audiences.
Understand your platform's features
An advantage of choosing our social media specialists, as well as collaborating with a dedicated account manager, is that they're experts when it comes to Facebook, Pinterest, Instagram, and even LinkedIn — as demonstrated by our client retention rate of almost 100 percent.
If you're unsure about the platforms you're integrating into your hotel's social media marketing plan, set aside some time to learn the different features available. You can even set up a dummy page to see what you can do, or partner with our digital marketing company for a one-on-one walkthrough.
5 hotel strategies to attract customers
Now, you know how to market your hotel, but what hotel strategies attract customers?
Share valuable content
Viewers want value. That's why it's essential to create and share valuable content with your target audience. While another market may appreciate pictures of sandy beaches, others may want insight into your conference spaces — a lot of times this will depend on your location if you're a part of a chain.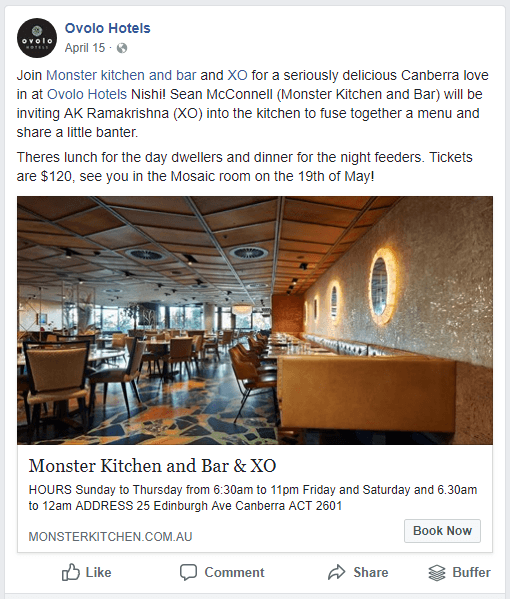 Add a widget
It's essential to provide your potential customers with a convenient way to book their rooms, as well as see which rooms are available on their travel dates — which is why 50 percent of hotels integrate a booking engine or widget onto their Facebook page. So, use it for your hotel's social media strategy!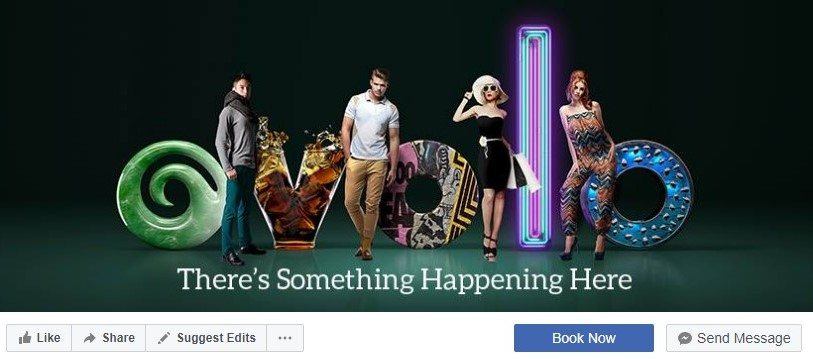 Customize your pages
A marketing strategy for hotels and resorts often naturally includes personalizing your pages. For example, you can add a personalized a cover image for your Facebook page and a unique description for your Instagram account. With pictures, you entice customers and sell an experience, while descriptions emphasize your brand voice.

Plan trip giveaways
A go-to marketing idea for the hospitality industry is a giveaway.
Offer a free trip, spa visit, or excursion. Provide an intimate dining experience at your hotel's restaurant. Or, partner with local businesses to expand your offering, such as a free stay at your hotel with a winery visit.
If you're focusing on marketing your hotel via Facebook, you can include an entry widget too.
Offer booking incentives
Another strategy for your hotel's social media marketing is providing booking incentives, such as one free breakfast or discounted spa treatment. In some cases, hotels will offer a free night if customers book a consecutive number of nights.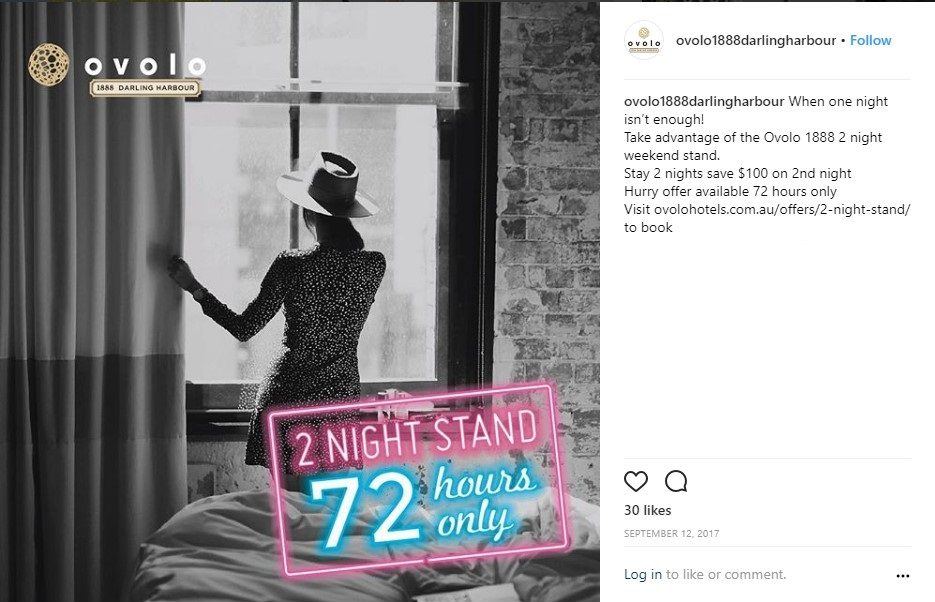 Our digital marketing campaigns impact the metrics that improve your bottom line.
See More Results

WebFX has driven the following results for clients:

$3 billion
In client revenue

7.8 million
Leads for our clients

5.2 million
Client phone calls
What to expect from our hospitality marketing agency
Results. Expertise. Personalization.
Whether we're developing your boutique hotel's or luxury hotel's social media marketing plan, we provide you with a customized social media marketing strategy that delivers valued leads and results. Plus, we're passionate about making sure you understand every aspect of that.
For some perspective on how our award-winning team does that, you're welcomed to explore our portfolio and testimonials. Or, skim through the following results that we drove for Ocean City New Jersey, a popular destination for locals and tourists:
Increased the number of website visits by 87 percent
Improved conversions by 40 percent
Decreased bounce rate by 11 percent
Improve your booking rates with social media for hotels and resorts
Ready to revitalize your hotel or resort's marketing strategy — or have questions about our services and rates? Contact us today to chat with one of our dedicated social media specialists for all the information you need!
Find out how WebFX can create an effective Internet marketing strategy for your website. Call 888-601-5359 or contact us online today for a free evaluation.
Earn a 20% greater ROI with WebFX