Competitor Geofencing Advertising Pricing in 2022
Competitor geofencing is one of the newest marketing strategies out there. Not only does it allow you to get super granular with your targeted ads, but most importantly, it lets you deliver ads to people who have shown interest in products that you offer.
However, determining a specific price range for the service can be difficult. First — because it's a newer service to the market, and second — price varies among different agencies. If you want to learn more about the pricing behind competitor geofencing, read on!



How much do professional competitor geofencing advertising services cost?
Curious about how much WebFX competitor geofencing advertising services cost? Browse our pricing now, or, keep reading to learn more about how much competitor geofencing advertising costs.
$1,000 – $3,600 monthly ad spend

Up to 15 conversion zones

Web form, ecommerce, and foot traffic conversion traffic

Desktop, tablet, and mobile audience targeting
$3,600 or more monthly ad spend

Up to 50 conversion zones

Quarterly banner ads

Single target address fences
Video: Geofencing explained
If you have any questions about what geofencing is or how it works, check out our video! Xander explains how geofencing can help you target your most qualified customers and increase the number of people that visit your storefront.
How much does competitor geofencing advertising cost?
In the grand scheme of your marketing campaigns, competitor geofencing falls somewhere in the middle price wise. Typically, your geofencing campaign won't cost as much as a brand-new website tagged at $50k, but it won't be as cheap as an email marketing campaign, either.
That being said, competitor geofencing is extremely beneficial, and is well worth the price you'll pay for ads.
On this page, we'll talk about the typical cost for a geofencing campaign.
Factors that impact the price of competitor geofencing
There are a few different things you have to consider when trying to determine a fair cost for a geofencing campaign. You'll need to consider things like how much it will cost to set up your campaign, what kind of budget you'll have for ad spend, how many zones you want to create, and more.
Let's talk more about each area of geofencing that you'll have to account for in terms of expenses. Since our main concern is the cost of geofencing ads, we'll talk about that first.
DISCLAIMER: Since competitor geofencing is somewhat new to the marketing industry, there isn't an extensive amount of information on pricing. Understand that the market is always changing, every agency is different, and that these prices are estimates.
Monthly budget for ads
As Xander mentioned in the video above, when you launch a geofencing campaign, the goal is to serve ads for your business' storefront when target customers are nearby. When they're within your "geofence," they become eligible to receive ads from your business when browsing the Internet.
However, you'll have to consider what kind of budget you're willing to set aside for ad spend. These are what will make or break a customer visiting your business, since the wrong ad won't get the job done.
In addition to targeting your audience through remarketing, you can also target keywords in your remarketing campaign. If you partner with a competitor geofencing agency, they can help you determine the best option for your strategy.
You want to be able to target highly beneficial keywords that you know will bring your target customers through your door. These keywords could be extremely general keywords, or they could be super detailed long-tail keywords.
When you choose to target general keywords, you'll pay more for each ad — mostly due to the fact that every business like yours is trying to target it, so there is more competition to rank for that keyword. This drives the price upward.
When you choose to target detailed long-tail keywords, you'll pay less, since less companies are targeting that keyword.
One thing to keep in mind though, is that when users search for your products on their smart phones as they walk or drive down the street into your geofence, they may not type long, detailed keywords. To save time, they may choose to use a slightly more general keyword.
For example, you decide to go out with your friends for a sushi dinner, but your favorite restaurant is closed. You're now left to find another sushi restaurant nearby. Chances are, since you're hungry and it's already past dinner time, you'll type in a more general keyword.
You may just search "sushi restaurant," instead of "spicy salmon roll near me."
Long-tail keywords fare extremely well for ranking organically, but when it comes to geofencing and ads, it's important to think general, too.
As far as ad spend, you'll likely pay anywhere from $1,000 per month to upwards of $30,000 per month for your targeted ads.

Budget for extremely granular targeting
When you implement a competitor geofencing campaign, you'll have to consider how granular you want to target your potential customers.

For example, you could simply target an area around your competitors' locations, but you might be interested in taking it a step further and targeting specific events, and even conferences.
This kind of ultra-specific targeting has potential to increase the cost of your campaign by around $1,000. Where does the cost come from? It's the number of locations and zones that you want to target that increases the price — and it's important to remember that it's not always going to be $1,000 dollar increase. Every geofencing advertising agency is different!
Is it worth the cost if you want to target these locations? Absolutely.

Budget for competitor locations and conversion zones
You'll also have to consider how much room you have in your budget to dedicate to the number of competitor locations you want to target.
Since most of the time, the number of competitor locations and conversion zones are included in a package, there's no surefire way to tell how much each costs. But obviously, the more you target, the higher the package cost.
Monthly management budget
After the agency sets up your geofencing, there is still more to be done. This strategy isn't much of a set-it-and-forget-it kind of technique, much rather you have to nurture it to succeed.
You'll have to monitor your campaign's performance on a routine basis. For example, you may assess the conversion rate, as well as click-through rate (CTR) of your campaign. You may also analyze the size of your remarketing audience, or the people who entered one of your geofences.

That being said, there is typically a fee for monthly management of your campaign if you opt out of doing it yourself.
Typically, a progressive monthly management fee will cost anywhere from $550 to $1500. However, every agency is different!
WebFX competitor geofencing advertising pricing
At WebFX, we want to be 100 percent transparent with our current and potential clients. We believe that it's extremely important to publish our pricing online, so that potential clients can get a feel for whether or not we are the right agency for them in terms of budget.
Ready to Grow? Get your FREE Quote Today!
We measure our success by how much we WOW our clients.
How much should I budget for my competitor geofencing campaign?
In order to determine how much you should budget for your competitor geofencing campaign, it's important to consider a few things. Keep in mind that every agency is different, and they offer different services for different prices.
Consider your competition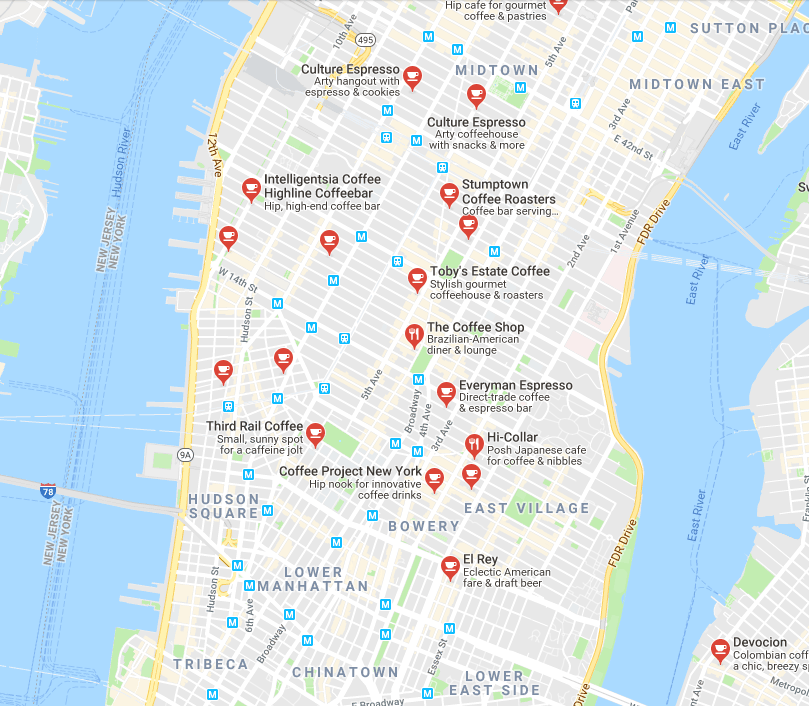 Competitor geofencing advertising is based heavily on outsmarting your competitors. That means outsmarting them in terms of keywords targeted, products offered, and even geofences created.
It goes without saying that some industries are far more competitive than others, which means you may have to allocate more of your budget to geofencing if you want to beat the competition.
For example, if you're a coffee shop in the middle of New York City, and you're not a Starbucks, the competition is going to be difficult to conquer.
Why? Take a look at this map of all the coffee shops that aren't Starbucks. Take into account that on top of these shops, there is a Starbucks just about every block.
You can see that in photo number two.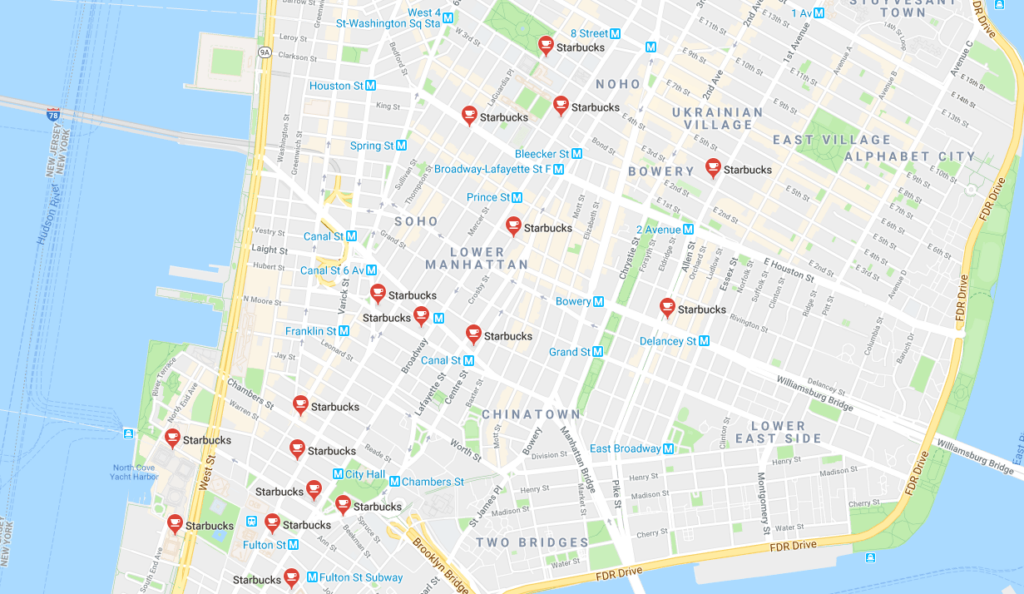 Since all of these shops are probably targeting keywords like "coffee in New York," "dark roast," or "caramel macchiato," you'll end up paying sky-high prices to target these keywords and win the ad auction.
If you want to outbid these locations for those keywords, though, you can expect that your budget will need to be a little higher than if you were in, say, Ashland, Pennsylvania. In a place like this with a low concentration of coffee options, you'll pay far less for your ads since there isn't any competition.
That being said, since you would be one of the few coffee shops in Ashland, you likely would benefit more from other forms of advertising besides geofencing.

Consider how many products and services you want to target
How many products and services do you offer? Are there any that you're really trying to sell?
You'll have to make a list of keywords that you want to target that relate to your products and services. Then, narrow it down to the ones that have the highest search volume and have the best chance of getting customers to visit your storefront.
Ultimately, the more keywords you target, the better. You're casting a wider net with more keywords, which means you'll have a higher chance of customers seeing your ads, and as a result, visiting your storefront.
However, the more keywords you target, the higher your budget should be.
Consider how many locations you have
If you're a multi-location business, you may want to draw more "fences" around more competition in each surrounding area. Matter of fact, if you do have more than one location, you should target more than one area with geofencing.
This ensures that you're covered no matter what storefront customers are closest to, and that you won't miss out on a sale at any of your locations.
Just like targeting more keywords allows you to cast a wider net into your sea of customers, targeting more locations does the same thing. It allows you to increase your potential for increased storefront visits, increased customers, and in turn — increased revenue.
Why is competitor geofencing important?
With more and more storefronts popping up every day, it's important to stay top of mind for customers, and especially to stay ahead of your competitors. Competitor geofencing takes top-of-mind marketing to the next level, since it meets your target audience literally where they're walking.
The strategy allows you to filter your customers and serve them ads based on things as granular as an event they're attending, a street they're on, or even when they're visiting a competitor. It's significant to note that your ads will appear when users browse the Internet or use mobile apps that include ads.
Searches on smartphones for locations close by is on the rise. Matter of fact, 65 percent of smart phone users who are looking for a restaurant are interested in finding a location that is walking or driving distance.

This stat speaks specifically to why geofencing is so important — to be able to attract and target those users that are looking for your products and services nearby.
It's not just important for the restaurant industry, though. Did you know that 50 percent of smart phone users will visit a store within a day of their online search? Even more interesting — one in three searches on a smartphone occur right before a customer visits a store.
That means that about 33 percent of people that enter your storefront did a smartphone search prior to visiting. Pretty intriguing!
That being said, competitor geofencing is proven to be extremely effective at targeting that 33 percent of people since they're looking to visit a storefront, and they're clicking on targeted ads for what they're looking for. How can a customer find or even know about your store if you aren't utilizing competitor geofencing?
How do you choose a geofencing location?
You might be wondering how to choose the best location to draw a "fence" for your geofencing campaign. Most likely, you'll want to draw a fence around your competition.
Why? When you draw your geofencing area around your competition, you serve ads to users who are interested your competition for their products and services. But why not remind them that you also provide the same products and services?
With a competitive geofencing remarketing campaign, you can.
Is the price for geofencing worth it?
If you're looking to take your business to the next level, but aren't sure how to do so, geofencing is the answer. The up-and-coming trend doesn't diminish the need for other marketing strategies like search engine optimization and a great web design, but it does help aid your business in gaining more local, storefront visits.
$1,000 – $3,600 monthly ad spend

Up to 15 conversion zones

Web form, ecommerce, and foot traffic conversion traffic

Desktop, tablet, and mobile audience targeting
$3,600 or more monthly ad spend

Up to 50 conversion zones

Quarterly banner ads

Single target address fences
When you pay for geofencing services, you're essentially paying to encourage local customers visit your storefront instead of your competitors.
Take American Eagle for example. The clothing giant has stores scattered through shopping malls and strip malls alike and uses geofencing to get more customers through the door. When a potential customer enters the geofence, American Eagle sends notifications to consumers encouraging them to check out their latest sale or see what's new.
The strategy resulted in a threefold increase in purchases for the already-successful clothing chain.
That's not the only business that benefited from geofencing, though. Take Taco Bell for example.
The popular fast-food chain utilizes a geofencing campaign for customers who use their app. After a taco-lover downloads their app, they'll get push notifications from Taco Bell every time they're in the vicinity of a location.
This is an effortless way to get consumers to order on the app when they're within a close radius to an actual location, and it's been so successful that it increased Taco Bell's annual sales by six percent.
WebFX is a top geofencing company
If you're ready to reap the many benefits of creating a competitor geofencing campaign for your business, WebFX can help!
We're a full-service Internet marketing agency located in Harrisburg, PA. Full-service means that we offer far more than just competitor geofencing — we also offer tons of services to compliment your geofencing campaign.
We have over 450+ subject matter experts working on our campaigns, and we've already driven millions of leads for our clients. Not to mention, we have 785+ raving fan testimonials that can speak to the quality of our services.
If you're interested in a full marketing campaign, here is a glimpse into our long list of services:
Search engine optimization
The common marketing strategy also known as SEO, is one of the most effective options out there. Just like competitor geofencing gets targeted ads in front of the right consumers at the right time, SEO does the same thing with organic results. SEO campaigns ensure that your content appears highly in search engine optimization pages so that users can find you in organic results.
Pay-per-click advertising
Also known as PPC, this strategy is extremely similar to competitor geofencing. It works the same exact way — by delivering targeted ads to users — except these ads are delivered when users search for a specific query and doesn't have anything to do with specific location. However, you can opt to serve your ads to users in a specific demographic location, but it won't require a geofence and is slightly less granular.
Web design
Web design is the digital business card of your business. It allows users to learn about your products and services, meet your staff, learn the history behind your business, and so much more. The design of your website has a profound effect on your customers and can even decide whether you make a sale.
Social media marketing
Social media is one of the best ways to share information and using it for business is a great marketing win. We can help you use social media platforms like Facebook, Instagram, Twitter, and more to promote your products and services to your target market.
We offer tons of other services that work extremely well with competitor geofencing, and we'd love to talk to you about your custom campaign with WebFX!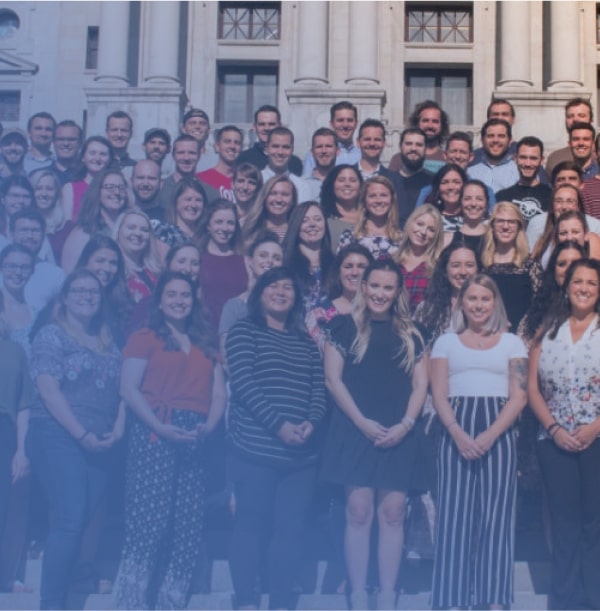 What's the next step?
To learn more about our custom geofencing services and how they can help your business, feel free to contact us online or give us a call at 888-601-5359 We can't wait to hear from you!